Melania Trump's Former Aide Once Divulged Her True Feelings About Ivanka (& It Was Harsh)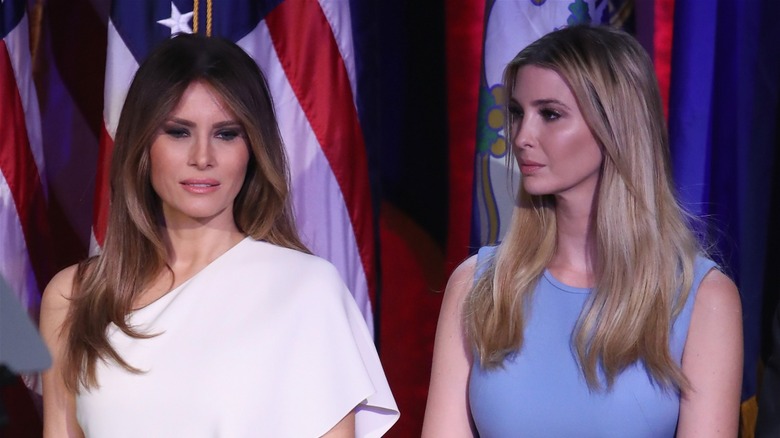 Mark Wilson/Getty Images
Stephanie Winston Wolkoff, Melania Trump's former friend and aide, wrote a tell-all book titled "Melania and Me: The Rise and Fall of My Friendship With the First Lady," in which she didn't hold back from putting the former FLOTUS on blast. Apparently, Melania did everything in her power to distance herself from her husband's daughters, specifically Ivanka Trump, whom Donald Trump shares with his late first wife, Ivana Trump. However, Winston Wolkoff revealed that their animosity was a two-way street, as Ivanka wasn't too keen on her stepmother either. As Melania currently keeps mum on her feelings about Donald's legal troubles, she'll probably stay forever quiet about the true nature of her relationship with Ivanka, too.
The former first lady is no stranger to controversies and public talk, but Winston Wolkoff really made sure to go public with everything she had on her, including that secretly recorded bizarre Christmas tape. She and Melania go way back; according to Winston Wolkoff's memoir, the pair met in 2003 and grew close over time. When the former POTUS got elected, Winston Wolkoff helped organize the presidential inauguration, The New York Times reported, and was hired by Melania to work as her White House assistant and advisor. She resigned a year later.
Melania dubbed Ivanka 'a snake'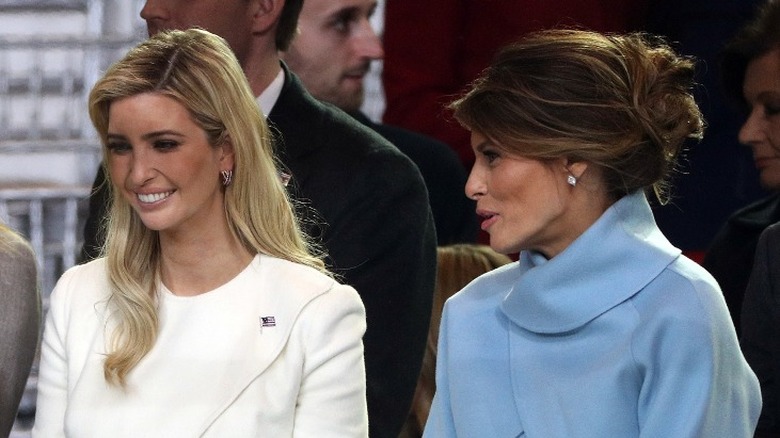 Patrick Smith/Getty Images
It was long speculated that Melania Trump and her stepdaughter Ivanka Trump didn't have the best of relationships, but when Stephanie Winston Wolkoff's memoir hit the market, Melania's true feelings about Ivanka were aired out in the open. According to Winston Wolkoff, the former first lady has a peculiar nickname for her stepdaughter:  "the princess," per Elle.
The meaning behind the seemingly innocent label is, however, far more harsh than one might think. Allegedly, after her father was elected president of the United States, Ivanka felt like the entire family had been chosen for the job. So much so that she wanted to rename Melania's then-office, the "First Lady's Office," to the "First Family Office," per Yahoo. A source close to the family shared with The U.S. Sun that Ivanka wasn't showing Melania "the respect a First Lady deserves" and that she was "constantly trying to steal the spotlight by overstepping her boundaries and behaving like her father's most trusted confidant, a la 'The Apprentice.'"
According to The Sun's source, Melania wasn't happy with Ivanka's "meddling" and her "incessant need to involve herself in just about everything in the White House, even if it didn't concern her." So, it didn't really come as a surprise when Winston Wolkoff shared that the former FLOTUS referred to Ivanka and her husband Jared Kushner as "snakes" in text messages on multiple occasions, the BBC reported.
Ivanka is allegedly behind Melania's plagiarized speech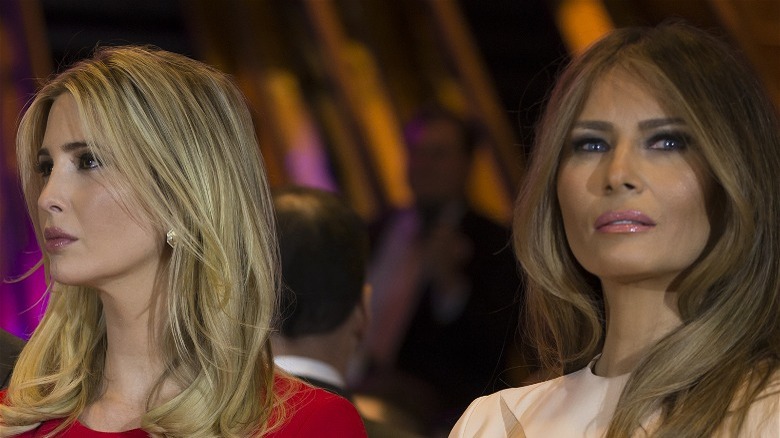 Lev Radin/Shutterstock
Even though Melania Trump has obviously made her true feelings about Ivanka Trump known, Stephanie Winston Wolkoff notes that Ivanka wasn't exactly a victim in the relationship. Other than wanting to take over the FLOTUS role, Ivanka apparently actively sabotaged Melania's speech at the 2016 Republican National Convention in Cleveland. Yes, that speech, in which Melania seemed to have copied half the words from Michelle Obama. However, it wasn't Melania who wrote the speech in question.
According to CNN, a junior aide by the name of Meredith McIver took the blame for the repeating passages and explained that she mistakenly included Obama's exact words after Melania said she was inspired by the lines. However, Winston Wolkoff says that Rick Gates, a campaign deputy and deputy inaugural director, was actually the one responsible for drafting the speech in question. The Guardian reported that Gates was at the time loyal to Ivanka, and Winston Wolkoff therefore speculates that the faux-pas talk wasn't so accidental.
Ivanka's alleged sabotage didn't stop there, as was revealed in the Winston Wolkoff confessional. The Daily Mail reported that Ivanka hosted a screening of "Finding Dory" in the White House while protests raged nationwide because of the infamous "Muslim Ban." Winston Wolkoff states that Melania believed the movie screening was "tone-deaf" and was sure Ivanka did it purposefully in the wake of the protests and was furious that her husband's daughter was even allowed in the screening room. While Ivanka's scheming has never been proven, it's safe to say she doesn't really like her stepmother.