Details About Ivanka Trump And Karlie Kloss' Feud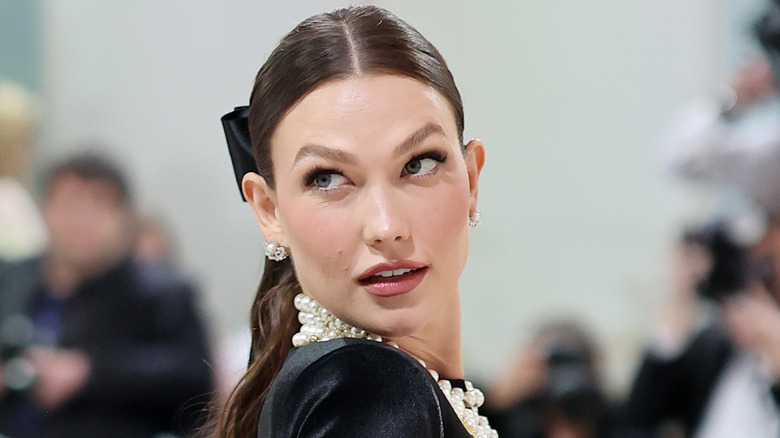 Mike Coppola/Getty Images
Taylor Swift literally put the bad blood between her and Katy Perry in a song, then did the same with Kanye West. Paris Hilton and Lindsay Lohan's dispute made "Mean Girls" look tame, and Gwyneth Paltrow and Martha Stewart once got caught in a very public dissing contest. When it comes to celebrity feuds, the tea is usually piping hot, and the details are plenty. But when it comes to Ivanka Trump and Karlie Kloss' rumored squabble, the public is left guessing.
The two women, who are married to the Kushner brothers, have had a bit of a complicated relationship. Trump has appeared to try and reach out to Kloss on a few occasions, only to get the cold shoulder. Then there's also the fact that the media appears to enjoy pitting them against each other every once in a while. Many outlets like to point out that some of Trump's success can be attributed to her father's fame, insinuating that Kloss is more deserving of her professional accomplishments than Trump. Still, neither has said anything disparaging about the other, but the press claims there is some tension, so naturally, the public is trying to glean whatever information they can from the two women's interactions. One thing's for sure: If Trump and Kloss are indeed locked in a disagreement, they are being pretty diplomatic about it. Let's take a more in-depth look at this rumored feud, shall we?
Karlie Kloss openly didn't support Ivanka's father's presidential campaigns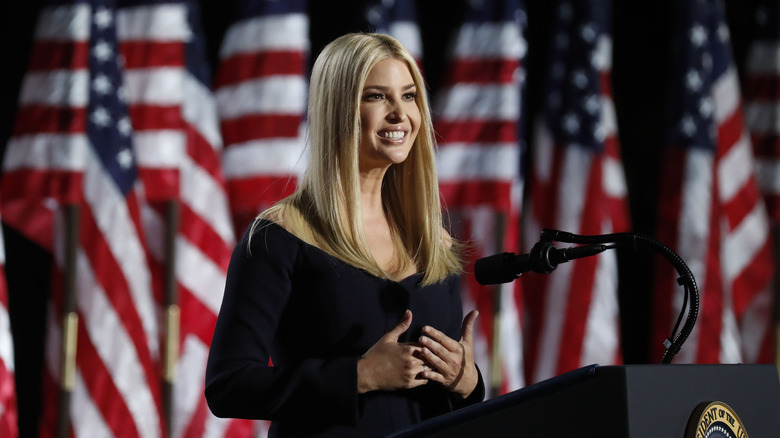 Bloomberg/Getty Images
Politics: It's as loaded a topic as they come, and anyone who's ever made the mistake of bringing it up at the dinner table knows just how explosive it can be. It's safe to say that it's been at the center of various family feuds, and more likely than not, the rumored squabble between Karlie Kloss and Ivanka Trump.
The two women are on opposite sides of the political spectrum, and it's no doubt made their relationship more than just a little complicated. Neither has been shy to speak out about their views. Trump served as the senior advisor to the president during her father, Donald Trump's term, and all the while Kloss made it clear that she did not support the Republican Party.
Trump and Kloss might be sisters-in-law, but the family bond hasn't done anything to sway either of them to join the other side, so to speak. When asked about her political stance on "Watch What Happens Live," Kloss gave it to them straight: "I voted as a Democrat in 2016, and I plan to do the same thing in 2020." She also made an appearance at one of President Joe Biden's campaign events that year. Needless to say, it can't be easy to see your sister-in-law campaigning for the opposition, and it's not too far-fetched to think that the political tensions caused some strife between the two women.
Karlie called the Capitol riots anti-American while Ivanka called them patriotic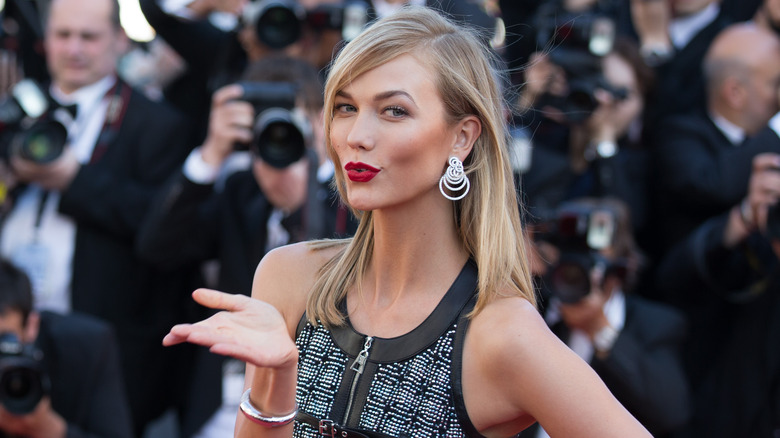 Magicinfoto/Shutterstock
Aside from their opposing political views, it also appears that Ivanka Trump and Karlie Kloss have very different ideas about patriotism. The January 6 Capitol riots made headlines worldwide, but instead of expressing outright condemnation, Trump appeared to be perfectly fine with the situation as long as people didn't get too violent.
Trump addressed the rioters as "American patriots" in a tweet, calling on them to "please be peaceful." The post quickly went viral, with many criticizing her choice of words. And then, a couple of hours later, Kloss took to Twitter to voice her opinion as well. "Accepting the results of a legitimate democratic election is patriotic. Refusing to do so and inciting violence is anti-American," she wrote. This appeared to be a direct comment on Trump's tweet, which was hastily deleted after the public backlash but lived on in various screenshots. In the comments of Kloss' tweet, one fan quipped, "Tell your sister-in-law and brother-in-law," to which Kloss replied, "I've tried." This response led to more negativity in the comments, with some calling Kloss out for mostly remaining silent about her in-laws' shenanigans in the White House instead of using her platform to speak up.
Sources close to the Trumps told Page Six that Kloss and Trump weren't exactly besties, but that Trump was still equal parts "surprised and hurt" when she saw Kloss' tweet about the Capitol riots. Other sources claimed they remain close.
Karlie has had to endure a lot of criticism because of her connection to Ivanka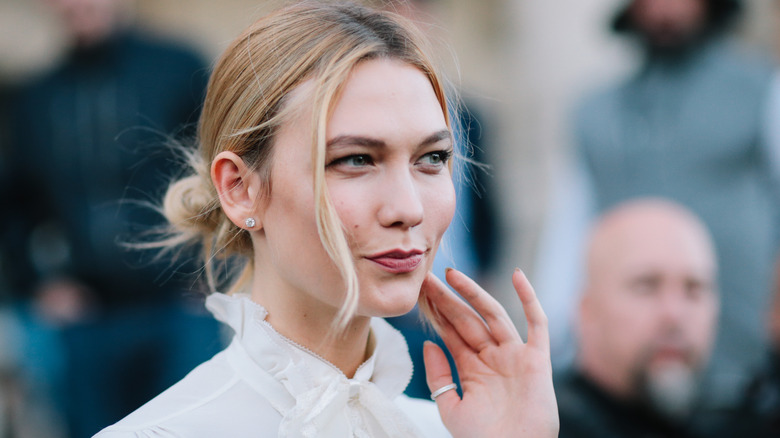 Edward Berthelot/Getty Images
One only has to look at some of the negative comments Karlie Kloss' tweet about the Capitol riots evoked to realize that her ties to the Trump family make her life infinitely more complicated. While she's a Democrat, people still associate her with the Trumps and their views, and some feel the need to badger her with accusations that she's not doing enough to distance herself from what some may call one of America's most infamous families. While she's remained mostly silent about her ties to the Trumps (which has evoked plenty of criticism in itself), she finally opened up a bit about what it's like to be connected to them in an interview with British Vogue.
"It's been hard," Kloss admitted to the outlet. "But I choose to focus on the values that I share with my husband, and those are the same liberal values that I was raised with and that have guided me throughout my life," she added. In another interview with the Wall Street Journal, Kloss said more of the same. "I've had to grow really thick skin as it relates to [being] impacted by other people's opinions," she said, adding that she no longer falls into the trap of reading comments about herself on the internet. Given all the flack Kloss gets for being associated with the Trumps, it makes sense that her relationship with Ivanka would be strained.
Ivanka praised Karlie for her work publicly, but she didn't acknowledge it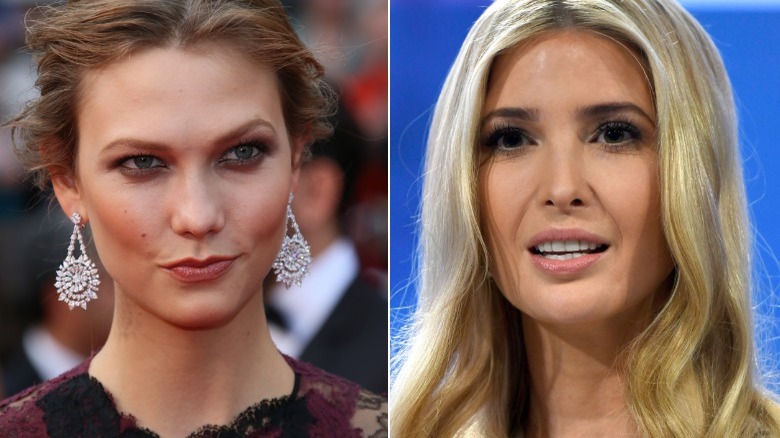 Denis Makarenko/Shutterstock & Riccardo Savi/Getty
When you give your bestie a public shout-out when they achieve a great feat, you kind of hope that they'd at least react with a thumbs-up or a heart emoji, right? But Karlie Kloss did neither when a very excited Ivanka Trump told her followers how proud she was of Kloss when she made her "Project Runway" debut. What's even worse is that people noticed, and some went as far as to mock the video and create their own spoof versions. Ouch.
The video, which Trump posted to Twitter, showed a closeup of her excited expression while "Project Runway" could be seen on the TV in the background. "Oh my gosh, Karlie, it's happening!" Trump said, then, as Karlie appeared on the screen, she added, "Amazing." The video got plenty of attention — not all positive. "Why does her laugh make my hair stand on end?" one comment reads. "Seriously, I think @karliekloss isn't as thrilled to be your sister in law [sic] as you are to be hers. I believe she is embarrassed to be associated with the trump [sic] name," another user replied.
To make matters worse, influencer and writer Tavi Gevinson went ahead and made a parody of the video. It's not clear whether Kloss actually saw the video or the backlash, but a simple acknowledgment from her would likely have stopped haters in their tracks. Instead, Trump was left hanging out to dry.
People close to Ivanka have criticized Karlie's lack of support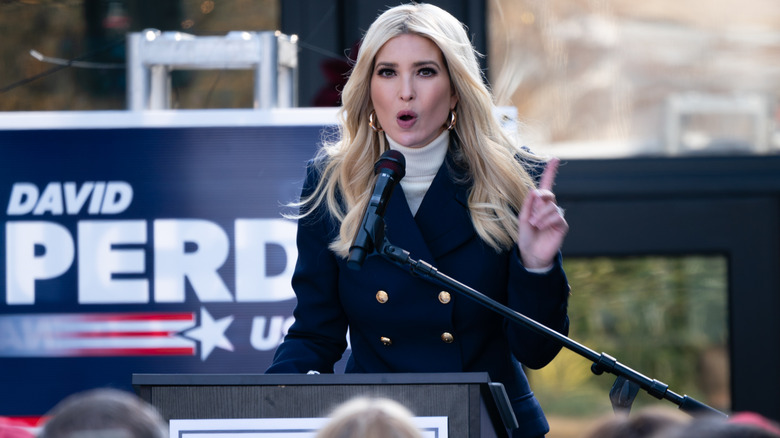 Elijah Nouvelage/Getty Images
It's no secret that some celebs feed info to the media via so-called inside sources, and there's a chance that, just maybe, Ivanka Trump did this to let the world know Karlie Kloss isn't as hands-on as she should be when it comes to the issues she champions publicly.
Inside sources who spoke to Page Six were quite critical of Kloss. Referring to Kloss' tweet about the Capitol riots and her claims that she tried to talk some sense into the Trumps, the insider alleged that Kloss wasn't being entirely truthful. "Karlie is public with her politics, but privately shies away from discussing them," they claimed, adding that Kloss hadn't engaged in any conversation with Trump regarding their opposing political views. A family friend added that Trump would be more than willing to engage in such a discussion and that Kloss was welcome to initiate it.
Additionally, the insider who spoke to the outlet went on to claim that Kloss is more of a talker than a doer. "Karlie likes to position herself publicly as an activist, yet she's never approached Ivanka on any of the issues [the model has] championed like paid maternal leave, women in STEM, and criminal justice reform," they said. Whether these insiders were speaking for themselves or took some directive from Trump, we'll probably never know, but the article did provide readers with Trump's side of the story while also managing to throw some shade at Kloss.
The media has pitted the two women against each other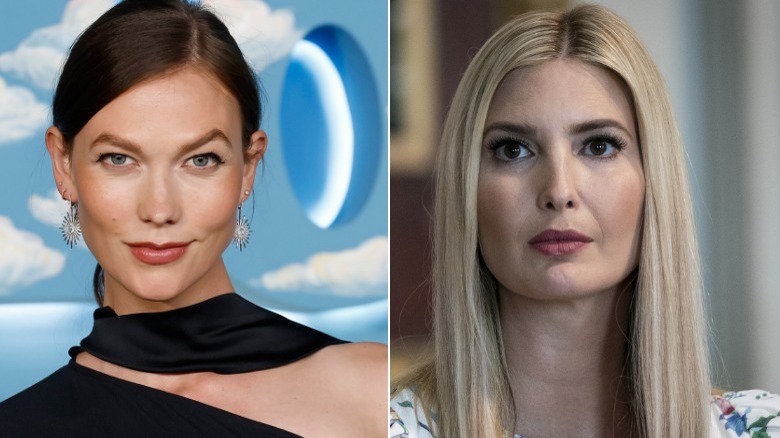 Taylor Hill & Drew Angerer/Getty
Since factual information about Karlie Kloss and Ivanka Trump's feud is pretty sparse, the media has, in some instances, opted to pit the two women against each other, insinuating that some of Kloss' accomplishments in fields Trump failed to excel in are proof that the two are at odds.
One comparison the media can't seem to help themselves from making is the fact that Kloss had a successful modeling career while Trump did not. And while barely anyone seem to remember Trump's modeling days, Kloss continues to have an influence on the fashion world. Modeling aside, many outlets also like to point out that many of the projects Trump launched have fallen flat, while Kloss seems to constantly climb the ladder of success with barely any missteps.
Trump has published two books, and while the first, titled "The Trump Card: Playing to Win In Work and Life," became a New York Times bestseller, her second title, "Women Who Work," was met with plenty of criticism. Her jewelry and clothing lines also fell flat. The latter faced plenty of controversy, thanks to animal cruelty charges from PETA and accusations that Trump copied designs for her shoe line. Eek! Kloss, on the other hand, established her lasting influence on the fashion world by hosting "Project Runway" and successfully launched Kode with Klossy (a program that teaches young girls how to code), which went global in 2023.
Karlie's husband appears to have copied Ivanka's engagement ring design for his wife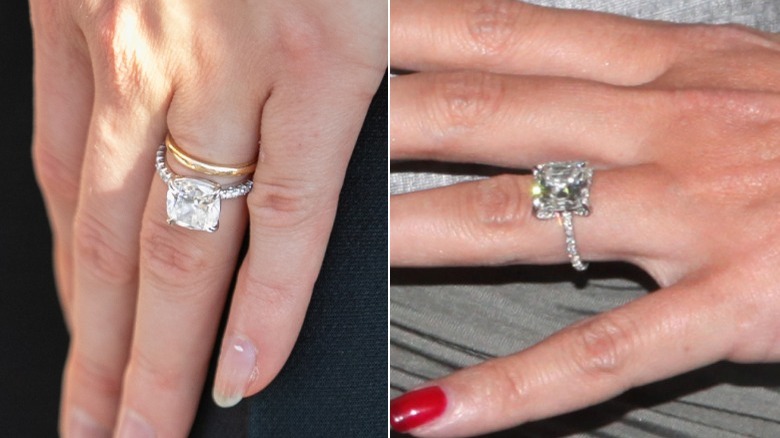 Marc Piasecki & Johnny Nunez/Getty & undefined
Another example of how the media is reaching for details about the suspected feud between Karlie Kloss and Ivanka Trump is the reports that Kloss' husband, Joshua Kushner, copied Trump's engagement ring design for his wife.
While even we have to admit that the evidence is pretty damning, this could be a simple case of Kloss and Trump having the same taste — they both did end up marrying a Kushner, after all. According to diamond expert Grant Mobley, Joshua likely asked his brother, Jared, for advice when he decided it was time to buy a ring, hence the similarities. "I think there's an obvious comparison to be made," Mobley told Page Six. "The sizes are very, very similar, as are the settings. That being said, every diamond is unique — no two diamonds are ever the same."
Still, at first glance, the two women's rings look almost identical, and there is a possibility that Trump wasn't very happy about that. Additionally, it appears that Joshua not only gave Kloss a similar ring, but also did his brother one better and bought a bigger diamond. Showing off much? According to Mobley, Kloss is sporting a 7-carat piece, while the diamonds in Trump's ring total around 6 carats. Eek! Most of us can probably agree that we won't be thrilled if our brother-in-law copies our engagement ring design for his wife. Just saying.
It appears Karlie and Ivanka might be mending their relationship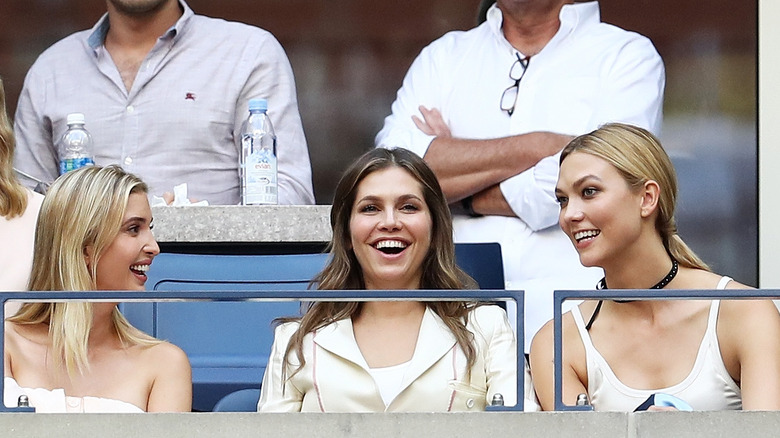 Elsa/Getty Images
While it's highly probable that Ivanka Trump and Karlie Kloss might've had some differences in the past, it appears that the two women might be ready to bury the hatchet (if indeed it exists) and finally become friendly sisters-in-law.
Many were sure that Trump and Kloss were feuding after their opposing tweets during the January 6 Capitol riots, but there's a small chance that they made amends after Donald Trump lost the election. Kloss welcomed her baby boy, Levi, that year, and shortly after, Trump and her husband paid Kloss a visit to say hello to the new member of their family. The couple was seen arriving on Kloss' doorstep, and there were no reports of the door being slammed in their faces, which we call a win.
Then there's also the fact that Trump has taken some decisive steps to put some distance between her and her father. Not only is she reportedly planning on changing her last name, but shortly after her father announced his 2024 presidential bid, Trump made a public statement, informing the world that she would not be throwing her efforts into campaigning for him. An inside source told the New York Post that Trump lost plenty of friends while working at the White House. Kloss might be among them, and perhaps Trump and Kushner paying Kloss' family a visit after the election drama was over is proof that Trump is eager to mend some broken bridges.