The Most Gorgeous Royal Wedding Bouquets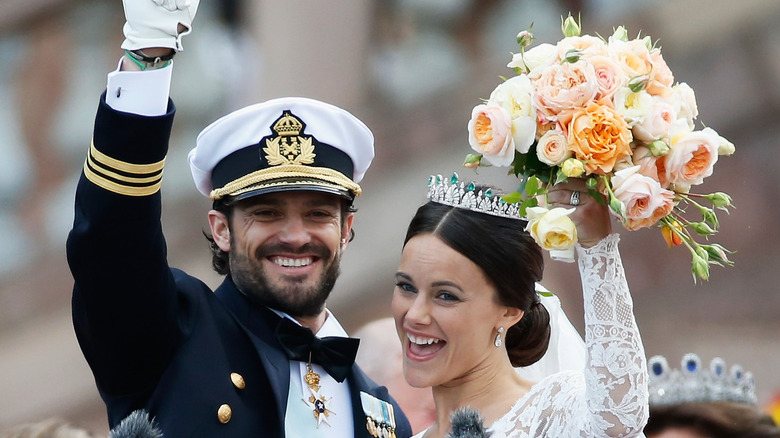 Luca Teuchmann/Getty Images
According to The Royal Collection Trust, the tradition of bouquets at weddings can be dated all the way back to the marriage ceremonies of ancient Rome. Thought to symbolize new beginnings, fidelity, and fertility, flowers have since then played an integral part in not only common weddings but royal ones as well.
In fact, quite a few modern royal bouquet traditions are linked to Queen Victoria, who married Prince Albert in 1840. Before their wedding, Prince Albert had gifted the queen a gold and porcelain orange blossom brooch, and in turn, the queen then wore orange blossoms to her wedding. The prince often gifted her orange blossom-themed gifts throughout their marriage.
Furthermore, Queen Victoria initiated the sprig of myrtle tradition — since her wedding, every royal bride in England has included a sprig of myrtle in her bouquet. Though many of the modern-day royal wedding bouquets are sprinkled with symbolism and tradition, some royal brides around the globe have elected to start their own new traditions and trends. Here, we're exploring exactly which royal brides have received the official two thumbs-up regarding their wedding day bouquets.
Lady Gabriella's namesake design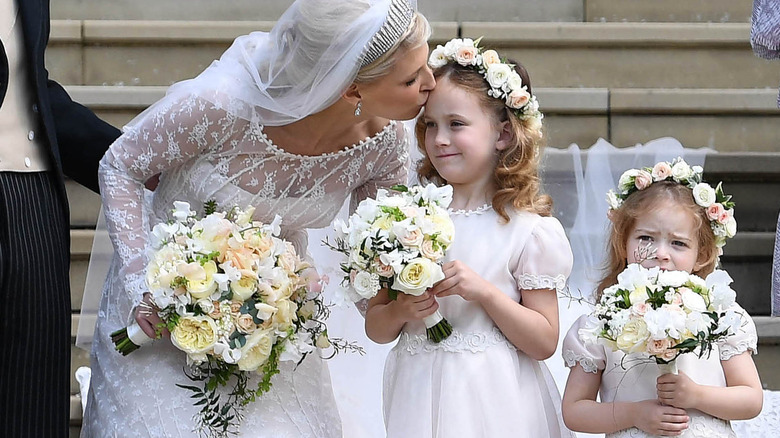 Wpa Pool/Getty Images
Lady Gabriella — who is the daughter of Queen Elizabeth II's first cousin Prince Michael of Kent — was raised inside Kensington Palace, so it was only natural that her wedding was to be a day of royal significance.
Lady Gabriella is said to have met financier Thomas Kingston around 2015, and though it hasn't been confirmed exactly how they met, the pair announced their engagement in September 2018. The wedding took place on May 18, 2019, in St. George's Chapel at Windsor Castle, with family members like Queen Elizabeth II and Prince Harry in attendance.
When it came to her bouquet, Lady Gabriella chose to mix up a bit of tradition with her own unique twist. Notably, her close friends and family address her as "Ella," so the first feature of her bouquet was the cream-colored David Austin Ella rose, which was named and created exclusively for the bride. (David Austin is famous for his United Kingdom rose gardens, where he has released over 200 different variations and breedings of the coveted flower.) According to The Royal Household, the bouquet also incorporated traditional myrtle, Juliet roses, lily of the valley, and white and apricot sweet peas.
Queen Camilla's nod to German tradition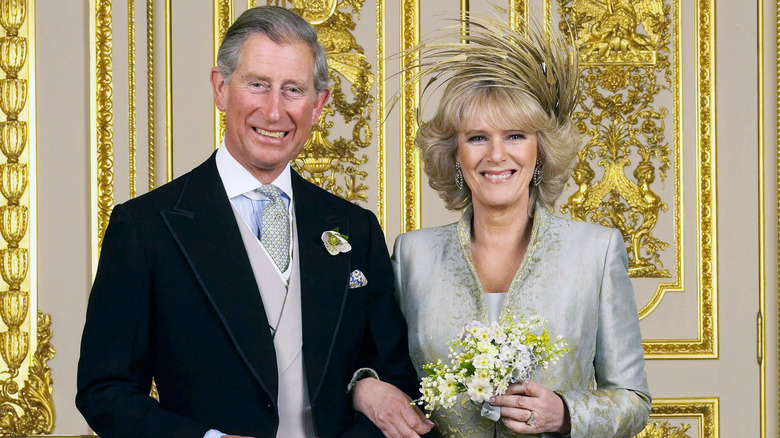 Tim Graham/Getty Images
Camilla, queen consort, was only 23 years old the first time she met King Charles at a 1970 polo match. The two reportedly fell in love shortly after, but the romance didn't last very long, as Charles joined the Royal Navy in 1971. Camilla became engaged to Andrew Parker Bowles, and the couple married in 1973. The two were able to remain friends over the years despite Camilla's union.
In an attempt to move on from the romance, Charles met Princess Diana and married her in 1981. Although both Charles and Camilla were married to other people, their feelings for each other never wavered and, eventually, they found themselves in an extramarital affair. After both Camilla and Charles divorced their partners in the '90s, they were finally able to resume their much-desired romance after nearly 30 years from when it first began. They were engaged in February 2005 and wed in April of that same year.
Since this was the second wedding for Camilla, she opted to keep her bouquet small and sweet. The petite yet lovely floral display was a dreamy mixture of lily of the valley, yellow, purple, and white primroses, and a sprig of myrtle from Osborne — Queen Victoria's Isle of Wight home. "Sprigs from the Osborne plants were traditionally incorporated into royal bridal bouquets," Osborne gardener Toby Beasley told Express. "It's a German tradition that signifies the innocence of the bride."
Zara Tindall's mixture of modern and traditional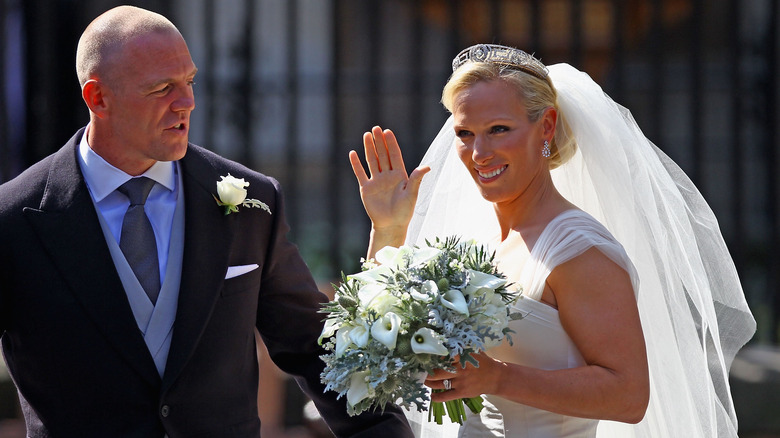 Jeff J Mitchell/Getty Images
Zara Tindall (born Zara Phillips in 1981), the one and only child of Princess Anne and Captain Mark Phillips, met rugby player Mike Tindall at the 2003 Rugby World Cup. "I was at the World Cup, she was out watching," Mike explained on an episode of the British survival reality show "I'm a Celebrity ... Get Me Out of Here!" (via People). "I got dropped from the semi-final. I was pissed off and so I went for a beer with another guy who got dropped and a guy who was over [in Sydney]. They'd met her before and they introduced us and then got chatting."
The pair started dating and were engaged by 2010, with their wedding taking place in Edinburgh the following summer. For the bouquet, Zara's choices were a unique combination of both unusual and traditional flowers. As a nod to Scotland, she incorporated thistle — the national flower of the country — into the arrangement, which was a very rare and unseen selection for a royal bride. The rest of the flowers in the display were all quite traditional, featuring calla lilies, hydrangeas, and foliage.
Princess Charlene of Monaco's teardrop stunner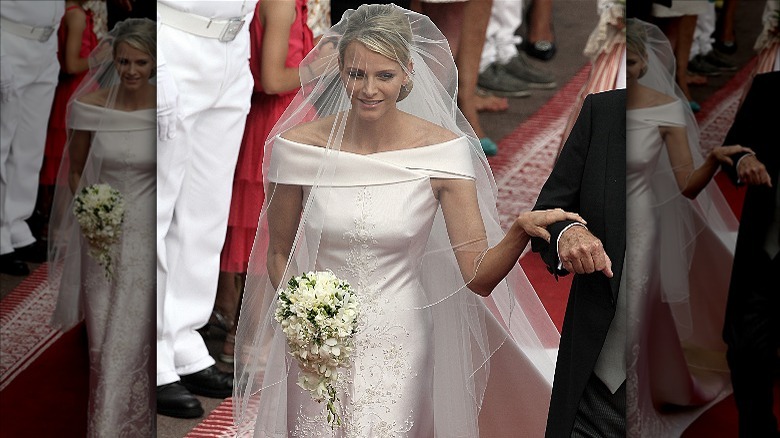 Sylvain Lefevre/Getty Images
Princess Charlene of Monaco, a former Olympic swimmer, and Prince Albert II met at a swimming event in 2000. Although the couple's 2011 wedding was seemingly every girl's dream, rumors told a different story. It was reported after his engagement to Charlene that Albert had fathered a secret love child — one that was conceived with someone else while he was already committed to Charlene.
Apparently, during their engagement, Charlene tried to flee back to her homeland of South Africa several times after hearing of the love child allegations; she was unsuccessful (per The Daily Mail). These escape attempts were never confirmed, with Charlene herself claiming they were false, so the wedding day still took place on July 1, 2011.
According to Sainte Dévote, the church where Princess Charlene and Prince Charles were married, it is customary for brides to leave their bouquets at the church as an offering. Just as Grace Kelly — who was also married at Sainte Dévote in 1956 — dropped her bouquet in the church, Princess Charlene did the same with her teardrop-style bouquet of gardenias, lily of the valley, and orchids.
Princess Victoria of Sweden's classic twist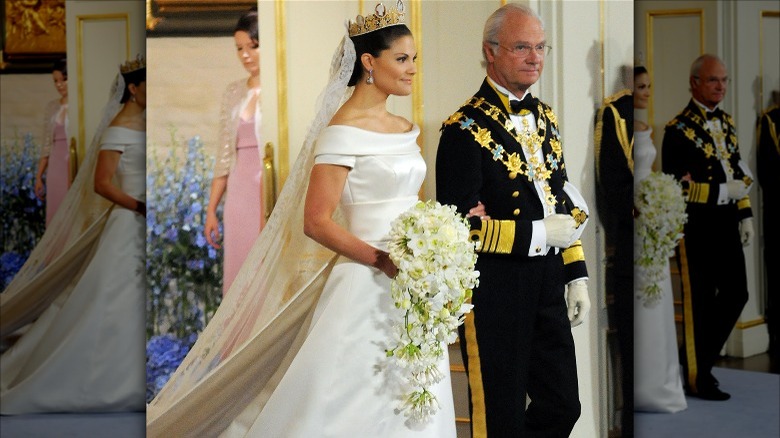 Torsten Laursen/Getty Images
Sweden's Crown Princess Victoria and Prince Daniel's relationship is certainly a love story of ups and downs, but one thing is for certain — the pair have been able to share an unbreakable bond over the years. After studying in the United States at Yale University, Crown Princess Victoria returned to Sweden, her home country. To lift her spirits from a recent breakup, she decided to join a gym, where she then met owner Daniel Westling. Westling became her personal trainer and the two soon formed a friendship; eventually, that friendship blossomed into romance. The duo were engaged in 2009.
Opting to get married on the same day as her parents, King Carl XVI Gustaf and Queen Silvia, Victoria also selected the same bouquet colors as her mother. However, while Queen Silvia's bouquet focused more on tradition, Victoria's took an elaborate twist on some of Sweden's royal traditions.
Her arrangement featured a massive list of flowers that cascaded into a breathtaking mixture of lily of the valley, peonies, roses, orchids, sweet peas, gardenias, and clematis. Also intermingled were cosmos, azaleas, waxflower, bleeding hearts, dicentra formosa, lilies, and geraniums. Of course, the bride added in the traditional sprig of myrtle as well.
Meghan Markle's simple statement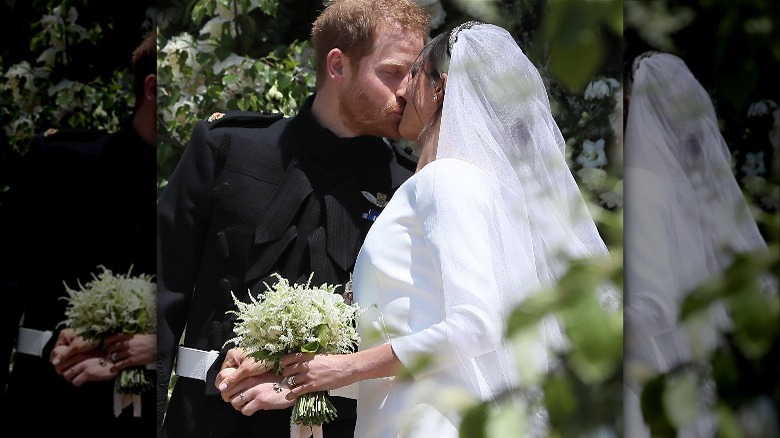 Wpa Pool/Getty Images
When Prince Harry's longtime friend Violet von Westenholz met Meghan Markle while working in public relations at Ralph Lauren, she figured out pretty quickly that introducing Meghan to the prince would be the right move.
"Meghan had been a part of the London social scene for a while and had slotted into the high society set really easily," one source explained to E! News (via W Magazine). "And so when Harry told Violet he was having trouble finding someone, Violet said she might just have the perfect girl for him." From there, a blind date was set up and the rest is history. A year later, the two were engaged.
For the royal wedding on May 19, 2018, Meghan's bouquet included forget-me-nots (Princess Diana's favorite flower), sweet peas, lily of the valley, astilbe, jasmine, astrantia, and sprigs of myrtle from Osborne, per The Royal Household. Moreover, to add an extra special touch to the bouquet, Prince Harry himself picked some of the flowers. According to the palace, "Prince Harry hand-picked several flowers yesterday from their private garden at Kensington Palace to add to the bespoke bridal bouquet designed by florist Philippa Craddock."
Queen Máxima of the Netherlands' message of completeness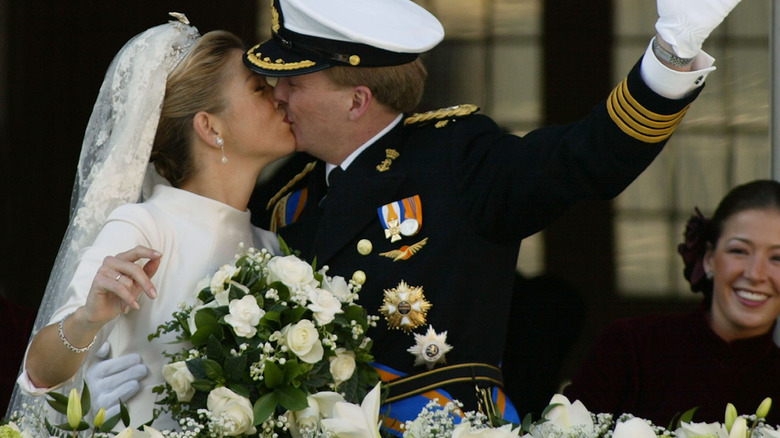 Sion Touhig/Getty Images
Argentine-born Máxima Zorreguieta met her future husband, Prince Willem-Alexander of the Netherlands, while she was vacationing in Seville back in 1999. When the pair crossed paths at a local spring fair, the prince opted to keep his royalty a secret. Although he eventually told her after they started dating, Máxima would keep his true identity a secret from her family for some time. After she finally did reveal his royal status to her kin, Máxima accepted a proposal from Willem-Alexander in 2001, and the couple was married in 2002.
Máxima selected a structured teardrop bouquet for the wedding, complete in a classic cascade style with shades of cream and white flowers and rich, green foliage. Within the bouquet were white roses, gardenias, and lily of the valley. Notably, lily of the valley is a common choice among royal brides, as it's said to mean "a return to happiness" or "you've made my life complete," while white roses often symbolize hidden love and secrecy — an ideal choice given the couple's history (per Royal Central).
Princess Catherine's royal protocol-approved lilies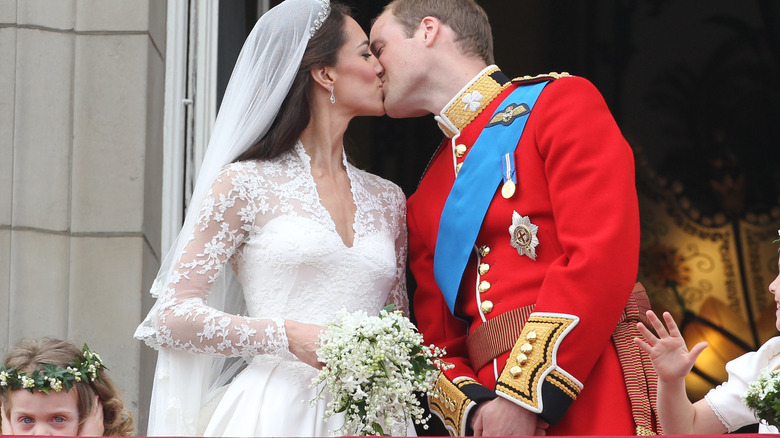 Anwar Hussein/Getty Images
Prince William and Princess Catherine of Wales' relationship started out as friends in the halls of Scotland's St. Andrews University. Both were studying art history, and they shared mutual friends along with a love of skiing. Catherine was shy and she often dressed rather conservatively; however, after she was chosen to sport a sheer, black ensemble over a bikini for a school fashion show, William began to see her in a completely different light. Reportedly, he turned to his friend Fergus Boyd that night and said, "Wow, Fergus, Kate's hot!" (via Mirror).
William and Catherine were married in 2011, and Catherine's royal wedding bouquet became a hot topic since it was quite different from what was common at the time. Consisting primarily of lily of the valley, the bouquet was a small and delicate balance of fresh, in-season flowers — and this was no accident. Selecting such common and in-bloom flowers was purely a stylistic choice by Catherine to give off an old-school, countryside theme, in turn starting new and modern wedding trends.
"In that old-fashioned royal way, Kate and William have used this opportunity to encourage people to buy British," Common Farm Flowers florist Georgie Newbery told The Guardian. "I'm very pleased."
Princess Sofia's unique pop of color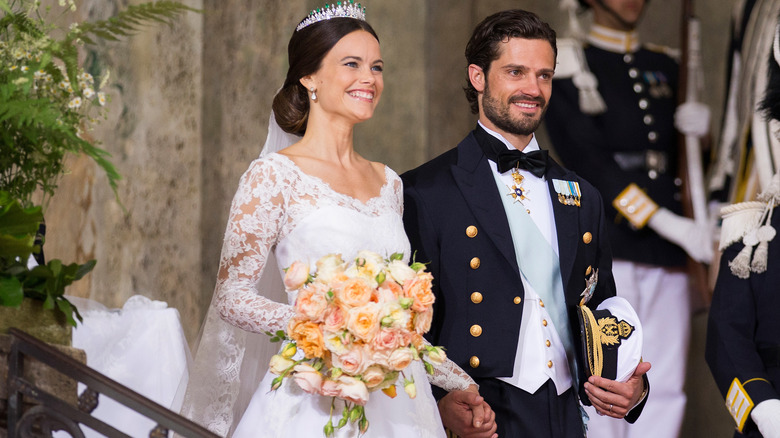 Andreas Rentz/Getty Images
Reminiscing on their first meeting at a lunch with mutual friends, Prince Carl Philip and Princess Sofia of Sweden recall it being "love at first sight" (via Hello! Magazine). "I don't think I knew the magic of love before I met Sofia," Prince Carl shared on TV4. "But ever since I met her, I've seen how love can change a person." After the two went public with their relationship, it initially caused a bit of controversy due to Sofia's past.
A former model and reality show star, the princess posed for several racy photoshoots in her career, causing many to question the prince's choice. However, Sofia proved that she wouldn't allow her past to define her future, and the duo got engaged in 2014.
The Swedish royal wedding took place in 2015, where Princess Sofia stunned in a Princess Catherine-style long-sleeve lace dress; her brunette locks were tucked neatly in an elegant low bun as a sparkling tiara completed the look. Tying together the bride's ensemble was a sophisticated pop of color coming from her bouquet, which was composed mainly of a blend of cream, pastel pink, and pale orange roses. Additionally, myrtle sourced from the grounds of Sofiero Castle was incorporated into the arrangement.
Queen Letizia of Spain's traditional symbolism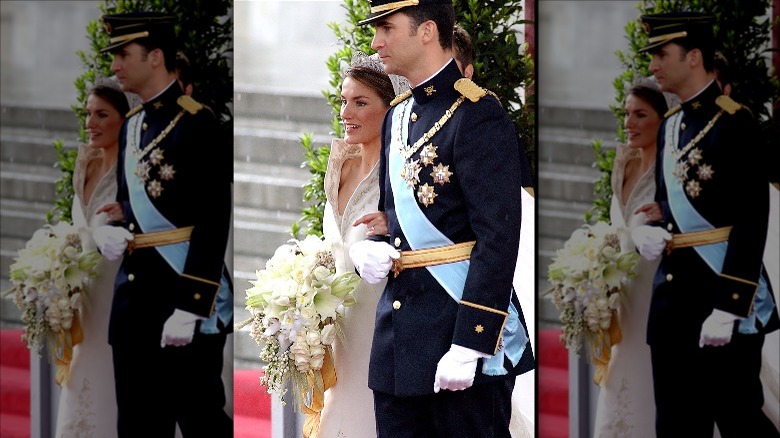 Carlos Alvarez/Getty Images
Before she became the queen of Spain, Letizia Ortiz Rocasolano — who was born into a family of journalists — was a reporter for the Spanish versions of Bloomberg and CNN. Fellow journalist Pedro Erquicia invited her to a dinner party in 2002, where she met, and instantly fell in love with, the then-Prince Felipe of Asturias.
The two dated for only a short few months before getting engaged in 2003, which caused some slight controversy in the public eye. Besides her being a commoner, Letizia was also a divorcée. But despite her upbringing and previous marriage, Letizia and Felipe married in 2004 at the Catedral de Santa María la Real de la Almudena in Madrid.
Arguably, the most unique aspect of Letizia's bouquet was the blue-tinted Hildegarde iris, which was a subtle nod to the royal dynasty of her new husband. The then-princess showed symbolic respect to her own region of Oviedo, where the apple blossom flower is famous for its distinctive May bloom. To commemorate the prince's grandmother, orange blossoms were chosen as a symbol of royal tradition.
Princess Mary of Denmark's touching ode to her mother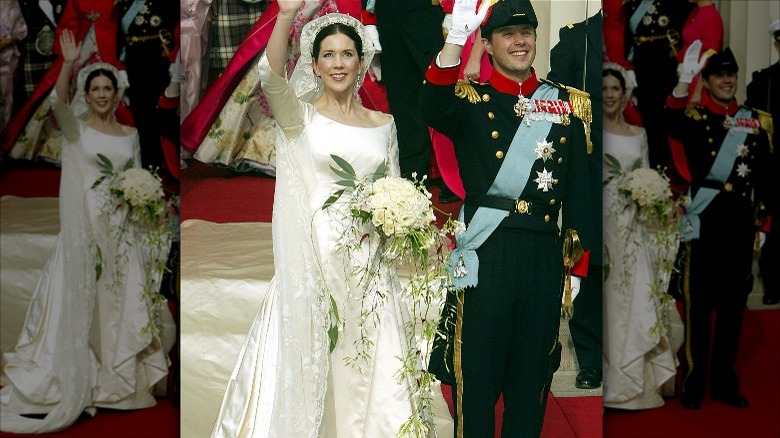 Pascal Le Segretain/Getty Images
When then-28-year-old Mary Donaldson first met Crown Prince Frederik at a pub in Sydney during the 2000 Olympics, she was completely unaware that she had just shaken hands with royalty. "The first time we met we shook hands," Mary said (via Now to Love). "I didn't know he was the prince of Denmark. Half an hour later someone came up to me and said, 'Do you know who these people are?'"
Shortly after, the pair began dating and embarked in a long-distance relationship — Frederik would often visit Australia in secrecy before Mary eventually moved to Denmark in 2001. Two years later, the couple announced their engagement and were set to marry in May 2004.
To honor both her Scottish heritage and her Australian upbringing, Mary included eucalyptus, roses, and a sprig of myrtle from Fredensborg Palace in her wedding day bouquet. Sadly, her mother was unable to be a part of the big day, as she had passed away in 1997, so the bouquet was later laid upon her grave in Scotland as a loving tribute.
Princess Marie-Chantal of Greece's understated elegance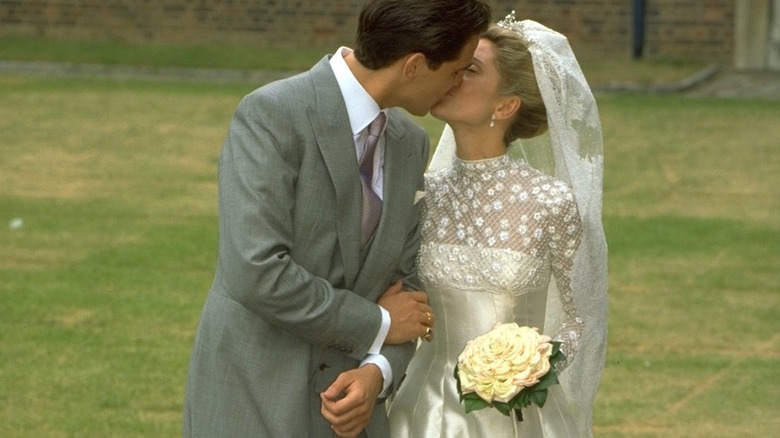 Maher Attar/Getty Images
Before London-born Marie-Chantal Miller enrolled in the 1993 New York University art program, she was a prestigious student who worked for Andy Warhol. After moving to New York for college, investment banker Alecko Papamarkou set her up on a blind date with Crown Prince Pavlos of Greece.
Although Greece's monarchy was dismantled in the 1970s, and the prince will never be able to ascend to the throne, his title as crown prince technically still remains. However, no matter what his title is or was, sparks flew instantly for the couple upon their initial meeting. "We clicked," Marie-Chantal told Vanity Fair, circa 2008 (via The Daily Mail). "It was love at first sight. I knew that he was the person I would marry."
The wedding ceremony took place on July 1, 1995, at St. Sophia's Cathedral in London. In attendance were 450 guests — including Queen Elizabeth II and then-Prince Charles — while an additional 850 people tuned in via satellite. The princess' bouquet was a simple one: a small and structured posy of cream roses for a classic, elegant look. As understated and minimal as the bouquet was, this might, perhaps, be what made it so unique among other royal brides.