The Duggars Suffer Loss Of An Estranged Family Member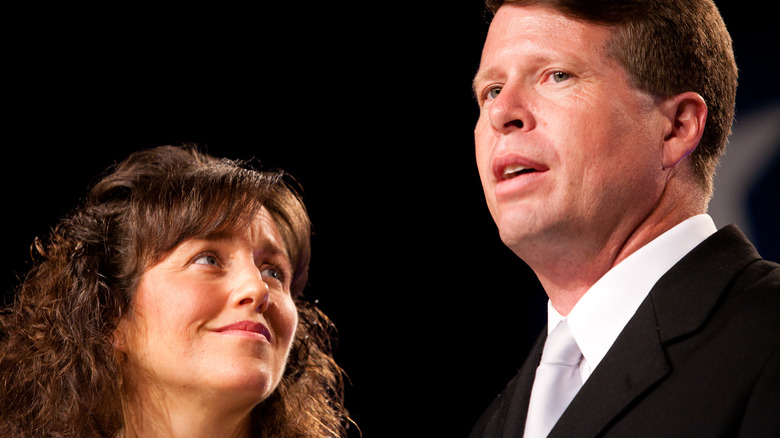 Brendan Hoffman/Getty Images
The year 2023 has not been good for Jim Bob and Michelle Duggar from "19 Kids and Counting" so far. The release of the revealing docuseries "Shiny Happy People: Duggar Family Secrets" has painted the Duggars and their religion, the Institute in Basic Life Principles (IBLP), in a bad light. While the couple has blasted the series, this is not the only drama they've dealt with. At the same time, their daughter, Jill Duggar Dillard, also announced a tell-all book about the family. In late June 2023, the Duggars suffered another blow when Jim Bob's uncle, Tommy Lester, died at the age of 75.
Lester, who was gay, was the brother of the late Mary Duggar, Jim Bob's mother. Lester reportedly died from cardiac arrest at his home in Arkansas on June 25. Per TMZ, the police went to Jim Bob and Michelle's home after Lester died, but it's unclear why this visit occurred. For unspecified reasons, Lester was not involved with the Duggars, according to The U.S. Sun. 
A source explained to the publication, "Nobody kept in touch with him at all. All the family knows is that he was gay and was married. He separated himself from the family when the oldest Duggar children were young." Nevertheless, at least one Duggar family member is said to be involved in Lester's funeral.
Ben Seewald is officiating Tommy Lester's funeral
While there are not many details available about Tommy Lester's funeral, his obituary reports that he will be laid to rest at Fayetteville National Cemetery in Arkansas on June 29. Lester was in the U.S. Navy and thus will be buried with military honors. Interestingly, Ben Seewald, Jessa Duggar Seewald's husband, is set to officiate the service. Many of the Duggar family members, including Jessa and Ben, have left the Institute in Basic Life Principles (IBLP), which is known to be anti-gay.
Ben and Jessa are now part of the Immanuel Baptist Church in Springdale, Arkansas, where Ben is a pastor. But like the IBLP, the Immanuel Baptist Church is also against homosexuality, according to their website. Jim Bob and Michelle Duggar, on the other hand, are still practicing with the IBLP. At the time of this publication, it's unknown which of the other Duggars, besides Ben, will attend Lester's funeral. Tommy Lester left behind his husband, Lawrence Nestrund. His obituary states, "Tommy will be remembered as a kind, gentle and intelligent man."