Days Of Our Lives' Thaao Penghlis Joins Podcast World With Show Close To His Heart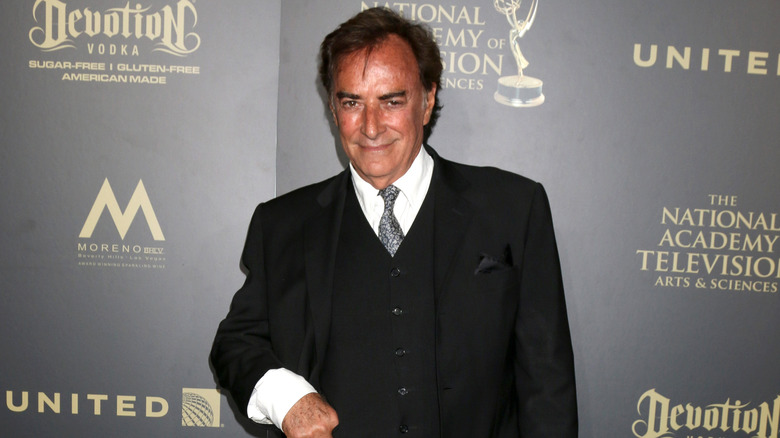 Kathy Hutchins/Shutterstock
Thaao Penghlis has been having a blast playing Tony DiMera and his evil twin Andre DiMera on "Days of Our Lives" on and off since 1981. Although he's done quite a few horrible deeds in his past, Tony would eventually partake in a classic love story with Anna Fredericks (Leann Hunley). It took three attempts to finally get married, making her Anna DiMera — the first two were foiled by a few ne'er-do-wells. Tony has been recurring regularly since 2019, although lately he's been on the back-burner. But when blabbermouth Anna was told a secret by Nicole Walker (Arianne Zucker) recently, it didn't take much for Tony to get her to spill the beans.
Nicole had confided in Anna the fact that she was pregnant, and Tony managed to get his ditzy wife to confess it. However, Nicole didn't know if the father was either Eric Brady (Greg Vaughan) or Tony's half-brother, E.J. DiMera (Dan Feuerriegel). Tony felt the two men should know, but Anna managed to talk him out of revealing it. 
While having fun playing Tony, Penghlis took some time recently to speak to fellow soap star Maurice Benard (Sonny, "General Hospital") on his YouTube show "State of Mind," and discussed his real life world travels. He even detailed a fascinating trip he took to Egypt, and what he experienced there. Now the actor is taking his knowledge of ancient civilizations and creating a new show about it.
Penghlis will share amazing ancient Greek information
Michael Fairman TV reported on a new venture that "Days of Our Lives" star Thaao Penghlis is working on. He's creating a podcast that will have four episodes, which will be both an adventure and detective story detailing real-world locations that were important story points in "The Iliad" and "The Odyssey" — poems which were written in the 7th century B.C. by Greek author Homer. Titled "The Lost Treasures," Penghlis will share discoveries about these locations made by Heinrich Schliemann, a German archeologist. The show will contain sound effects to enhance the listening experience, and is planned for a September release. In it, Penghlis will also share his fascinating reasons for wanting to disseminate this important information to podcast listeners everywhere.
The actor and storyteller has created Facebook and Instagram pages for the show. A few of Penghlis' fans have already posted their enthusiasm about this upcoming series, with one exuberantly writing on Facebook, "September can't come fast enough!! Good things come to those who wait. Looking forward to learning more about the 'Iliad' and the 'Odyssey' through Schliemann and yourself. Congratulations Thaao!! Cheers to you on your new podcast series!" Another passionate follower posted, "So excited for this! Thaao Penghlis is an excellent storyteller! Sound effects too? Wow!"
"The Lost Treasures" will certainly entertain and inform not just Penghlis' fans, but anyone who gets a chance to tune in!