Patent Leather Accessories Can Be Scuff-Free Thanks To Petroleum Jelly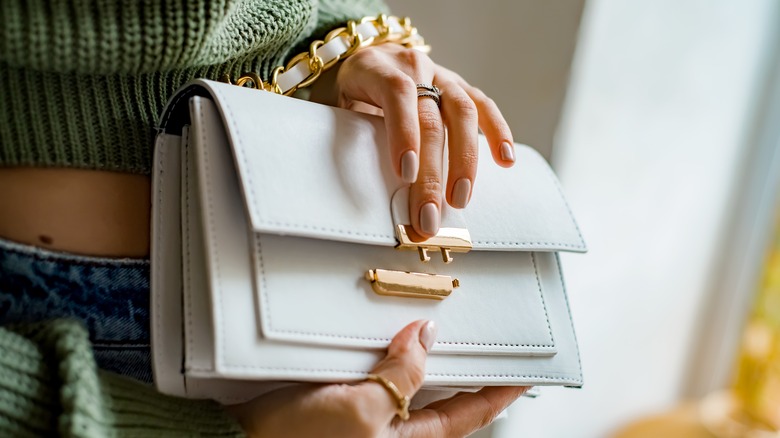 Chernova Yuliia/Shutterstock
Leather is all the rage, from the biker jacket that is a closet staple to the patent pants that you regret buying. And with sustainable and vegan leather on the rise, everyone can join in on the fun. However, this genuine material is not cheap. Investing in quality leather products also means having to upkeep it with maintenance. There is even a specific way to stash them.
"We suggest storing your leather goods stuffed and upright to maintain their shape," Karla Gallardo, the co-founder of luxury brand Cuyana, told CNN. "The most important thing is to ensure that your leather goods stay dry and avoid moisture or humid environments." Apart from storage, leather has to be conditioned and shined. Fortunately, petroleum jelly is an everyday item that helps with that. It sounds a little intimidating smothering a glob of jelly on your fancy shoes but it is a hack that works. However, it doesn't come without cons.
Petroleum jelly can shine, clean, and condition leather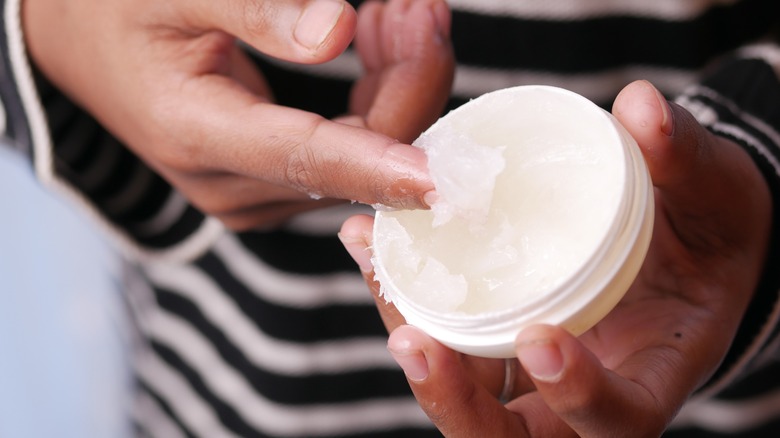 Towfiqu ahamed barbhuiya/Shutterstock
If you want glossy, scuff-free, and smooth leather, then you need petroleum jelly. You can use this household item as a leather shiner, conditioner, and cleaner. When applied to your collection, it creates a subtle shine, much like when used on skin. It can also take the place of leather moisturizers. With genuine leather, it is important to moisturize it so the material stays flexible, durable, and lasts for a long time. Depending on how often you pull out your leather purse and where you store it, it may need a restoring condition every six to 12 months.
The jelly also acts as a protective barrier from water and seals in the oils that the material's fibers absorb. Used correctly it won't stain your precious item. In fact, it removes shallow scratches, scuffs, and residue left behind from stickers or tape. 
You want to start with a clean accessory to get all the leather benefits of petroleum jelly. So, brush off any dirt and dust on your belt. Then simply rub the jelly on your leather goods. Let it sit for a few minutes to soften the leather and wipe off any excess. Now your edgy jacket and combat boots are brand new again. However, petroleum jelly can only be used on certain types of leather and doesn't give you the best conditioning as products designed for such.
Cautions of using petroleum jelly on leather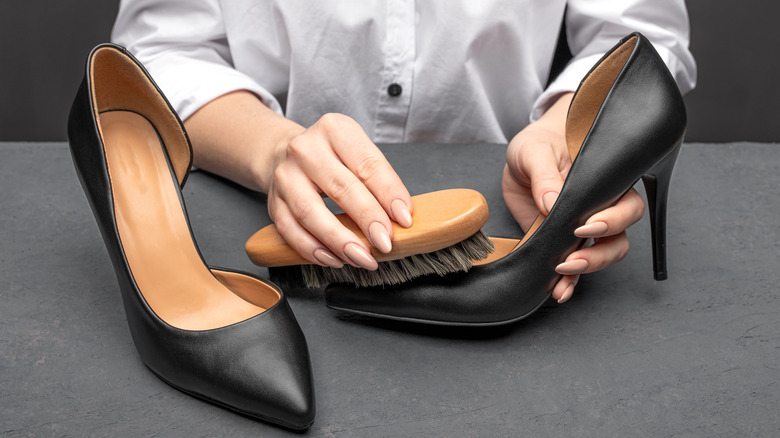 Galina_Lya/Shutterstock
Petroleum jelly is not compatible with Nubuck or Suede leather, and leather with silicone-based products. Too much jelly can cause your punk jacket to be greasy. If you over-apply the ointment, it can cause dirt and debris to stick to the clothing and become dull over time. As the petroleum softens the leather, it can also weaken its stitching and adhesives on your item, like rhinestones or patches. With unfinished leather, in particular, this jelly can cause the material to rot.
While petroleum jelly is great as a natural and DIY conditioner, it won't deliver the best moisturization your accessories need. It is ideal for a surface-level shine and softening but doesn't penetrate deep into the material's fiber. If you use this household ointment as a leather conditioner, you may need to apply it more often than the recommended six to 12 months. However, constant application can cause your clothing to warp.
As long as you use petroleum jelly sparingly and infrequently, you can enjoy your items for a while and kill that leather-on-leather look.