The Trendy Medium-Length Haircut That Looks Gorgeous On Everyone (Including You)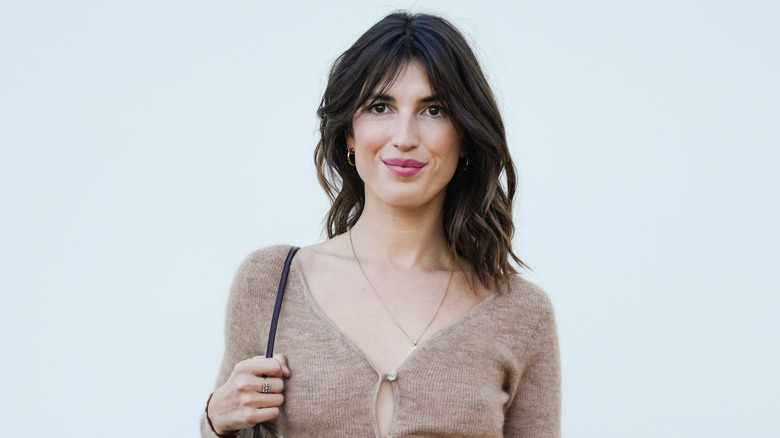 Edward Berthelot/Getty Images
There's something so chic and demure about rocking a bob. Cutting inches off of your hair into a razor cut, chin length bob is indicative of a woman who is in charge and never takes no for an answer. She drinks her whiskey straight and never panics when making a doctor's appointment on the phone.
Our associations with shorter hair are probably due to the age bracket that's historically gotten the cut. As women age, their faces tend to sag a bit more due to the lack of collagen – shorter hair tends to highlight their bone structure instead of calling attention to the parts of their face that's losing its structure. While a bob can operate as almost a rite of passage, the trendy short hairstyle also requires a lot of upkeep.
Committing to a bob can also be a drastic change if you have long tresses. Instead of taking the leap, opt for a happy medium: the clavicut.
What is a clavicut?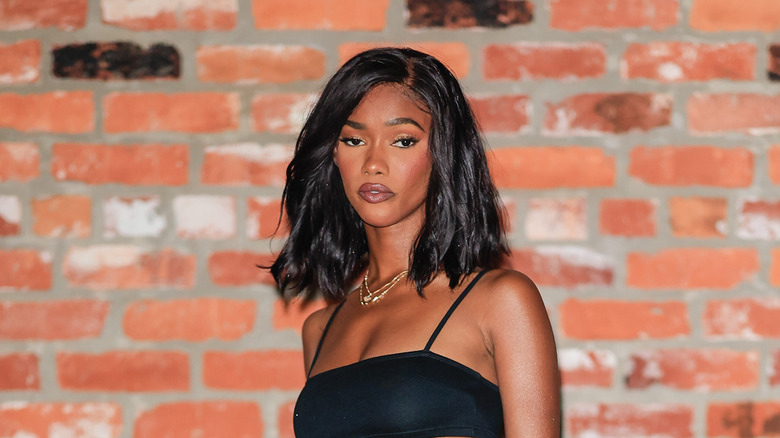 Rachpoot/bauer-griffin/Getty Images
The clavicut is the lob's (long bob) cooler, younger sister. While the lob falls somewhere in between your chin and shoulders, the clavicut stops at, you guessed it, the clavicle. The style offers the breezy, carefree nature of a bob, yet it actually is carefree. A bob, especially one that's extremely sharp, requires frequent appointments and trims to keep it in tip-top shape.
Meanwhile, the clavicut is low-maintenance while still framing the face perfectly. As the weather approaches, the urge to go shorter is certainly strong. However, the clavicut gives you the freedom to place your hair up in a ponytail or top knot without pesky, overgrown tresses tickling the back of your neck on a long and sweaty summer day. When it grows out a bit, there's no awkward length, particularly when you get it cut with layers. Unlike some shorter cuts, the clavicut works on every hair type and face shape. Whether you have a round face and pin straight hair or coils and sharp features, the clavicut highlights the face beautifully.
How to take care of your clavicut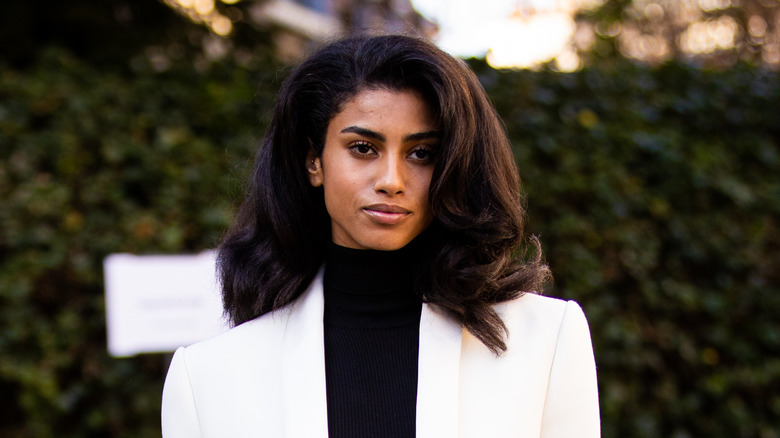 Claudio Lavenia/Getty Images
Since the clavicut looks like a lob that's grown out perfectly, you don't need to cut it frequently. If you're looking to keep it at about the same length, you can visit the salon about every three to four months. To grow it out longer, increase the space of time in which you get a trim. Although a professional will always do the best job, dusting your hair at home is surprisingly simple.
Getting rid of split ends at home doesn't require much — when brushing or combing your hair, look for the strands at the ends of your hair that tangle and knot together. On clean, dry hair, twist a small section of hair and snip off the parts that stick out, moving around your whole head until it's been trimmed. When styling, avoid products that weigh your hair down. Adding volume and bounce creates the illusion of a fresh cut. Blow dry your hair upside down and style with rollers for a chic, '90s blowout look. You can also try root clipping for bouncier curls.