Source Claims Josh Duggar's Wife Anna Has Been Kicked To The Curb By Jim Bob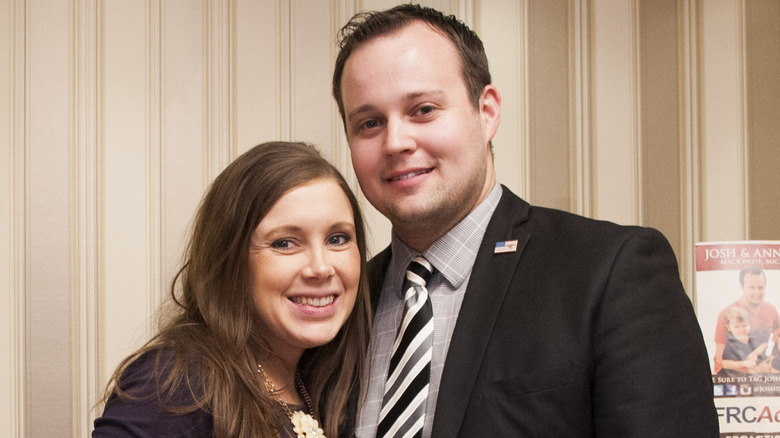 Kris Connor/Getty Images
This article contains references to the sexual abuse of children.
It seems Anna Duggar can't "count on" her in-laws for support anymore. The wife of scandal-ridden Josh Duggar, now serving more than 12 years in prison, is reportedly on the outs with Josh's father, Jim Bob Duggar. An unnamed source told The U.S. Sun that Anna and Jim Bob "got into an argument" sometime in spring 2023, after which Jim Bob ordered her off his property.
Anna (née Keller) joined the "19 Kids & Counting" cast in Season 2, when she wed the oldest son of the mega-family. The seasons that followed saw Anna and Josh welcome babies of their own, then move to Washington, D.C., for Josh's new position with the conservative Family Research Council. Their happy life proved to be a façade; in 2015, explosive reports revealed that not only had Josh molested several of his sisters years earlier, but he had also joined the Ashley Madison cheaters' website, looking for an affair. Choosing loyalty, Anna stayed by her husband's side and continued to expand their family. Then in 2021, when she was pregnant with their seventh child, Josh was arrested and sentenced on charges of receiving and possessing child sexual abuse material. 
Jim Bob had allowed Anna and the children to live in a refurbished warehouse on his large Arkansas compound. The Sun has previously reported the warehouse was once used as a "guest house," and reportedly it's not zoned as a residential property. 
Cousin Amy has urged Anna to leave
In the months since Josh's sentencing, various family members have gone public with their thoughts. Sisters Jill Duggar Dillard and Jinger Duggar Vuolo have been among the most outspoken, criticizing the strict religious congregation in which they were raised. In the explosive docuseries "Shiny Happy People: Duggar Family Secrets," Jill also slammed their father, Jim Bob, for pressuring her to defend Josh in an interview. It was "damage control," she said, in an attempt to keep the family's reality series going. 
Recently, Amy Duggar King recalled a "bold" confrontation with her disgraced cousin Josh after she learned he had abused several of his sisters. However, as she told Vanity Fair, the rules and secrecy instilled by the Institute in Basic Life Principles made it almost impossible for Josh to be held accountable for his actions. "Secrets breed in the IBLP," she said. In a 2022 interview with The U.S. Sun, King also expressed her regret that Anna Duggar will probably never divorce her husband, since the IBLP opposes divorce, even in cases of infidelity. "It's sad — so sad — and it just breaks my heart to think about it," she said.
It appears King's prediction is, sadly, accurate. An insider told The Sun that Anna and her children are currently living in Texas, where they frequently visit Josh in prison. 
If you or someone you know may be the victim of child abuse, please contact the Childhelp National Child Abuse Hotline at 1-800-4-A-Child (1-800-422-4453) or contact their live chat services.