The Most Daring Outfits Christina Aguilera Has Ever Worn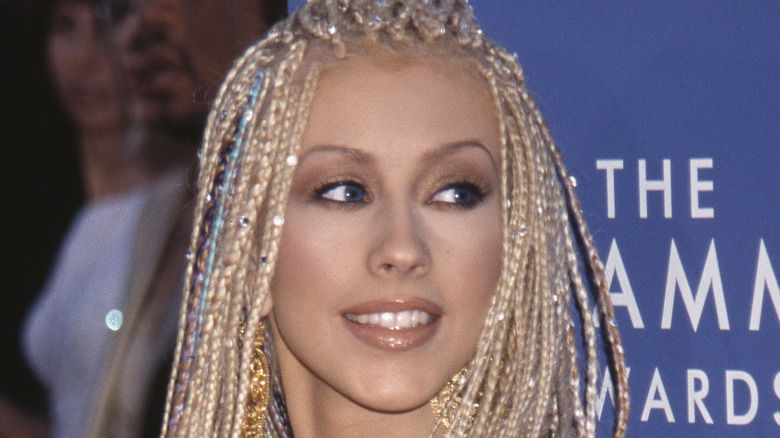 Michael Ochs Archives/Getty Images
Christina Aguilera. She's an icon, a diva, and an undeniable force of pop-hit nature. She's also a fashion hero, with so many memorable looks to her name it's almost impossible to count them. Aguilera has been pushing the envelope of style for years, expanding her closet to incredible limits, just like her famous vocal range. However, like many pop divas in modern history, Aguilera hasn't always hit the right note with her looks. Back in her early days, she wore some outfits that would be sure to make your grandma blush. Regardless, the songstress always rocked her looks with the utmost confidence.
From her early days as a bubblegum pop princess to her evolution into her bad girl "Dirrty" era, Aguilera has never been afraid to take risks. Whether it's wearing a scarf as a top, a skirt shorter than Taylor Swift and Matty Healy's romance, or a lace ensemble fit for the Moulin Rouge, Aguilera has tried it all and lived to tell about it. She may appear on more worst-dressed lists than best-dressed ones, but one thing is for sure — she's not about to change for anyone. 
Style isn't always about impressing the critics but staying true to your most authentic self and being unapologetic about it. Aguilera has plenty of sass, which is what makes these jaw-dropping looks as memorable as they are. Let's take a walk down memory lane.
That MTV Awards outfit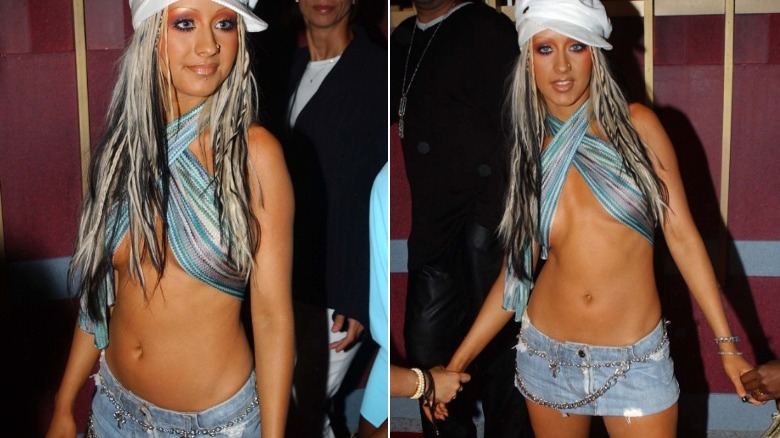 Jeff Kravitz & Jeff Kravitz/Getty
The early 2000s were a strange and confusing time for fashion, with multiple questionable trends out in force. Low-rise jeans were the best thing to have in your wardrobe, and the thinner the eyebrow, the better. Christina Aguilera decided that less was definitely more when she attended the 2002 MTV Video Music Awards wearing a carefully placed scarf as a top and a skirt that barely covered her butt. Of course, the entire look was capped off with a generous fake tan. It's amazing to think that just a couple of years prior to this, Aguilera was still the platinum-haired, rosy-cheeked youngster that brought us "Genie in a Bottle." 
According to an MTV write-up of the event, Aguilera was in top form that night: "Aguilera sat in a dressing room along with Brandy as they both got their makeup done. Before Aguilera went out in front of the crowd at Radio City, she was more concerned with making jokes with her friend and sending messages on her 2way pager than exchanging pleasantries with Usher, who was standing at arm's length."
Considering just how daring this look was, it's hardly surprising that it has been referenced many times since. Even for the time, an ensemble like this was a big chance to take, especially considering Aguilera presented an award at the event to none other than her arch-nemesis, Eminem. 
Pattern-clashing dream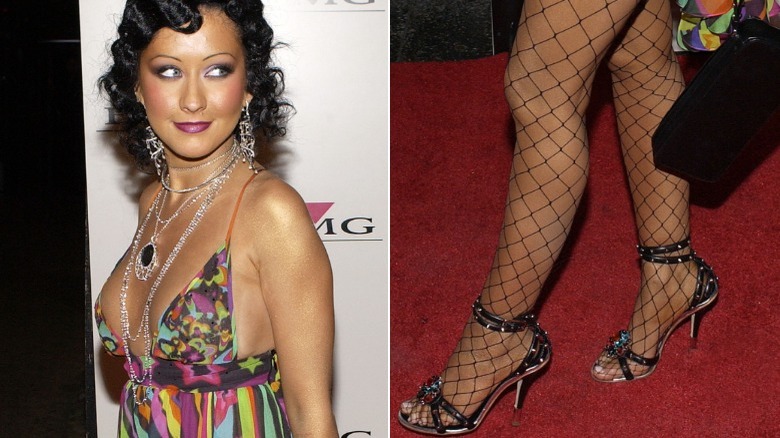 Vince Bucci & Vince Bucci/Getty
Everyone who knows anything about music knows that going to the Grammys is a big deal. Even if you're not nominated, it's the who's who event of the year, with the biggest names in the industry coming together to celebrate what they all love the most: the music. Back in 2004, Christina Aguilera decided to go all out for BMG's post-Grammys party, wearing a very bright and colorful top with stripes, stars, and other miscellaneous patterns, a black crochet skirt, black fishnet tights, plenty of necklaces (is one ever enough?) and studded heels. This look certainly isn't for minimalists, but what's the point of being a pop sensation if you can't be OTT? 
Let's not forget the famous 2000s body shimmer, which Aguilera looks like she bathed in if that golden shoulder is anything to go by. Her dark tresses were paired with razor-thin eyebrows, while her makeup was all about the color purple. 
The party, which took place at the Avalon Club in Los Angeles, was likely full of other equally jazzed-up stars whose outfits rivaled Aguilera's. 2004 was a relatively quiet year for Aguilera, who only had two songs chart: her cover of "Car Wash" for the movie "Shark Tale" and "Tilt Ya Head Back," a collaboration with Nelly. Even so, she was still very active in the industry at the time and appeared at multiple events, giving glam every single time. 
Ripped velvet and a towering perm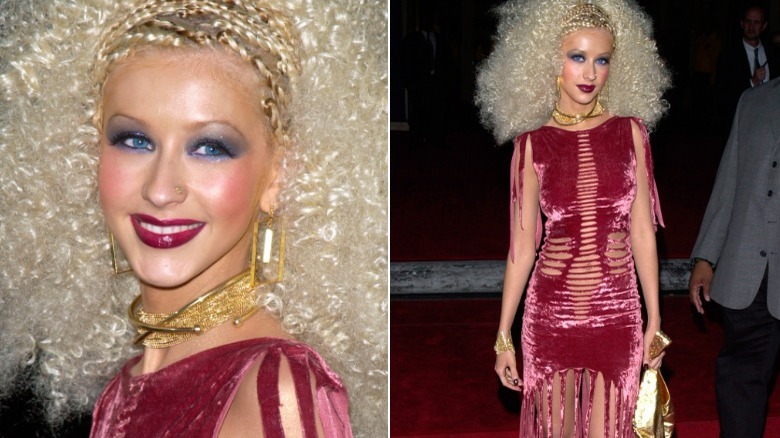 Featureflash Photo Agency & Featureflash Photo Agency/Shutterstock
There's a saying, "The higher the hair, the closer to God." If that's true, then Christina Aguilera was closer to the pearly gates than even the country singer herself when she attended the Blockbuster Entertainment Awards in 2001. This look had it all, from shredded velvet to a perm that one might describe as poodle-like. Aguilera paired her dress with a gold bag to match her accessories and topped it all off with a generous amount of purple eyeshadow and deep mauve lipstick. The hitmaker looked like a 2000s Greek goddess with a disco twist — and strangely, it worked. 
The shimmering effervescence of the pink velvet moved in tandem with Aguilera's gold jewelry and shimmery blond ringlets to create an unforgettable look. Love it or hate it, there was no one quite as outrageous as Aguilera on the carpet at that event, which was a solid win for the star. 
Plenty of fashion trends are coming back from this era now, but would any of today's music superstars dare to wear something like this on the carpet? We would love to see it, but it's doubtful anyone else could bring the radiance you need to pull it off. Long live Xtina! 
Her chaps era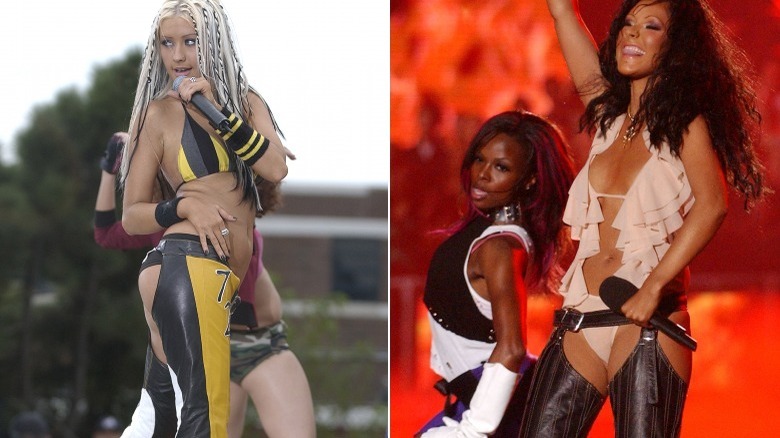 James Devaney & Jeff Kravitz & Theo Wargo/Getty
When most of us think back to Christina Aguilera's early 2000s looks, there's one thing that comes to mind faster than anything else: her chaps era. Aguilera debuted this bizarre but truly historic look in her 2002 "Dirrty" music video, which featured her dancing in an underground boxing ring wearing a bikini and a pair of chaps. This wasn't a one-off event, but something that sparked a slew of chap-based looks. She wore them to multiple shows and paired them with swimsuits on stage, making it part of her fashion genetic makeup. 
There is no one more aware of the impact the chaps had on pop culture than Aguilera herself, who paid homage to the black and yellow look by recreating it for the 2021 People's Choice Awards. She put a modern twist on it this time around but allegedly has the original chaps tucked away safely for a rainy day, telling People, "We definitely archived the look and God, I just hope they're still in good condition after all these years. ... [They are] "somewhere in the vault."
Another famous face, Kylie Jenner, also recreated the look in recent years. The beauty mogul dressed up as Aguilera in a red and black chap look from the "Dirrty" video back in 2016 for Halloween. It just goes to show that these looks continue to reign supreme. The internet never forgets, and neither do we! 
Short shorts and crop tops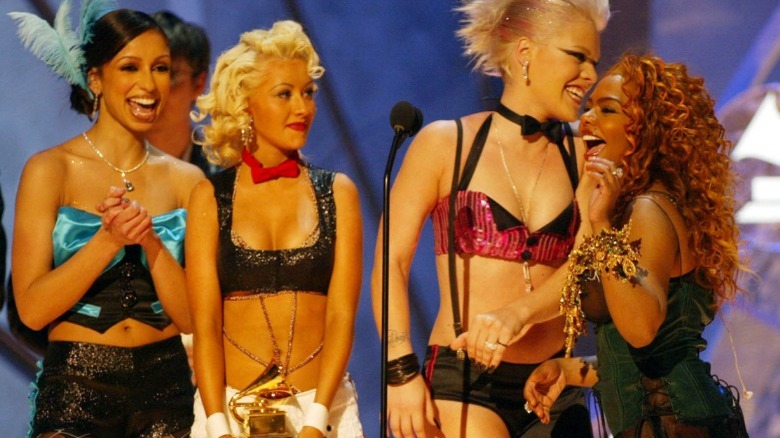 Dave Hogan/Getty
In September 2001, the world was gifted with Baz Luhrmann's "Moulin Rouge." The musical drama featured Ewan McGregor and Nicole Kidman as star-crossed lovers and was a big hit. What's more, it had an incredible soundtrack featuring a cover of "Lady Marmalade." The tune was reworked by Christina Aguilera, Pink, Mya, and Lil' Kim and became a huge hit in 2001, hitting No. 1 on the Billboard Hot 100. Not only was the song itself popular, but so was the music video for the track, which saw the four women dress in "Moulin Rogue"-inspired showgirl outfits. They stayed true to this aesthetic when they performed it at the 44th Grammys. 
It's hard to say which outfit was more outrageous, but Aguilera's white tassel shorts and red bow-tie combo make for an interesting presentation, especially because it was topped with little white cuffs and an elaborate belly chain. The group bagged an award that night for best pop collaboration with vocals, much to their delight. 
Red leather forever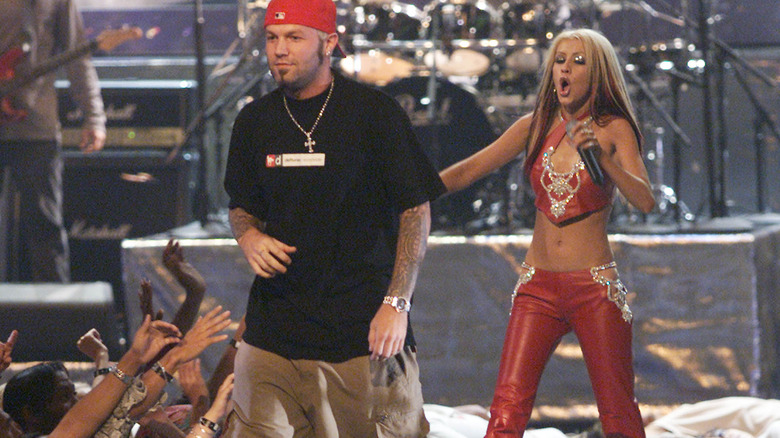 Frank Micelotta Archive/Getty Images
The year 2000 was notable for many reasons. Not only was it the turn of the century and the millennium, but it was also the year we saw something truly spectacular happen: Christina Aguilera performed with Fred Durst at the MTV Video Music Awards. The unlikely duo took to the stage to perform a strange medley of Aguilera's "Come on Over Baby (All I Want Is You)" and Limp BIzkit's "Livin' It Up". Though it was staged to look like Durst just got up from his audience seat on a whim, it was all strategically planned.
At the time, Aguilera was still a pop princess who had yet to go "Dirrty," while Durst was the bad boy of nu-metal. Their differences were visible in more ways than one: Aguilera wore a red leather combination that consisted of bedazzled pants and a tiny red halter top, while Durst wore his trademark backward red cap, black T-shirt, and combat shorts. The "Fighter" singer made sure her eyeshadow was especially glittery that day, and her hair was on point. Her poker-straight tresses had very on-trend red lowlights, which inspired many DIY dye jobs in months to come. 
If you're going to do a performance that everyone will marvel over for years to come, make sure you're dressed for the occasion. Aguilera clearly got the memo, while it was just another day at the office for Durst, who didn't see the need to change up his tried and true lewk.  
All that glitters is gold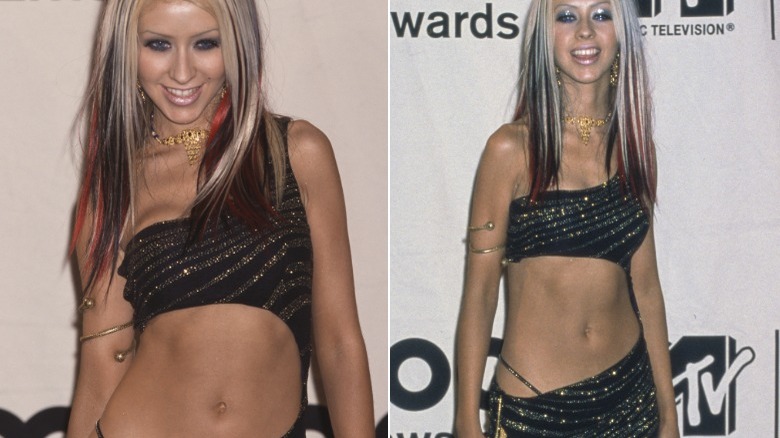 Michael Ochs Archives & Michael Ochs Archives/Getty
Is all that glitters really gold? According to this look, the answer is yes. Aguilera wore this dress with an extreme cutout to the 2000 VMAs. The skirt consisted of a thigh-high split and a thong string, which has recently come back into fashion. The gold glitter on black paired with the arm cuff and gold necklace made for a really of-the-moment outfit for Aguilera. Of course, she had to top it off with the dipped-in-caramel tan that she rocked for most of the 2000s. 
Aguilera loved to flash her abs during this period and often made them a centerpiece of her looks. Who can blame her? She wore this look to the same VMAs where she performed alongside Fred Durst, so it was interesting to see how she switched up her red carpet look for her stage outfit. Whether she's posing for photographers or belting out high notes, Aguilera knows how to keep her audience captivated and entertained.
As for how she feels about her previous trends coming back, Aguilera told InStyle: "I was big with statement baby tees — I loved them. Oh, and I loved a bandana. I still wear them sometimes — I'm really into these latex ones. I love cargo pants. It's always fun to see things come back and live in a new era."
Lady Marmalade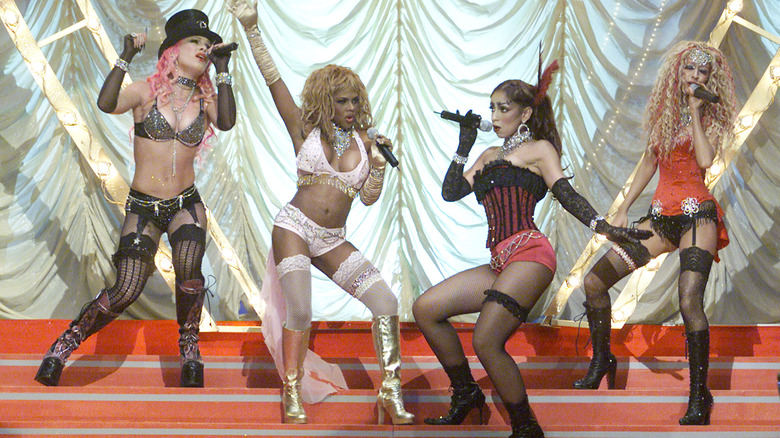 Kevin Winter/Getty Images
We may have already touched upon "Lady Marmalade" but it would be remiss to leave out the OG look from the music video for the "Moulin Rouge" track. All four of the girls, Christina Aguilera, Pink, Mya, and Lil' Kim, looked absolutely stunning in the video, but Aguilera's look may be the most memorable. With puffed-up curly hair and intricate makeup that featured bold eyeshadow and even bolder lip, the singer slayed with a capital S. Aguilera wore a red corset paired with black panties and stockings, making it look like she just stepped right out of the Moulin Rouge itself.
Despite having tons of creative moments to look back on in her career, Aguilera said to Vogue of the "Lady Marmalade" experience: "[It was] one of my favorite moments of my career. This was where we stopped apologizing for anything. It was an explosion of everything being at the right place at the right time. I loved [Pink, Mya, Lil' Kim] and working with them, and even seeing what they're doing now is so beautiful. When you share something like that and you can look back on such an amazing part of pop culture in that way."  
Aguilera went on to say that this time helped her to come into her own and make the transition from her debut record into the artist she would eventually become. According to her, "I got to just live my best life in this creative world." 
Everybody make a scene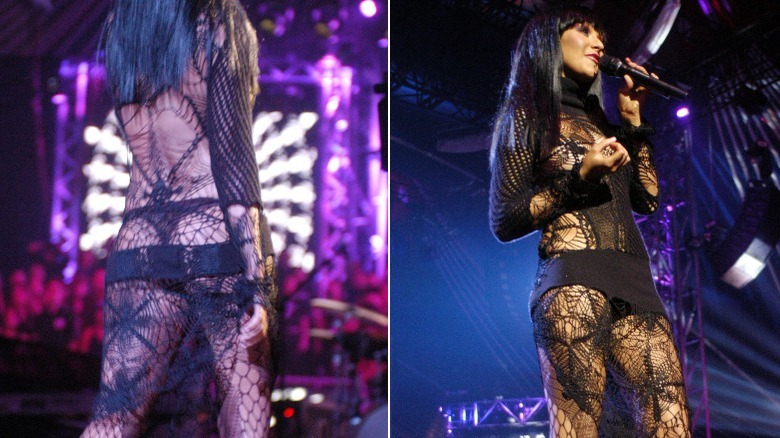 Jeff Kravitz & Jeff Kravitz/Getty
Believe it or not, this wasn't another Halloween ensemble. This is just what Christina Aguilera wore on stage at the 2003 MTV Europe Music Awards. The black crochet catsuit was totally see-through, with Aguilera's modesty protected with just a few small pieces of well-placed fabric. 
The songstress topped off the look with a deep tan and a black hairdo that Cleopatra herself would have envied. Red stilettos were the finishing touch — after all, a pop of color is important! Aguilera wasn't just a guest for the occasion, but the host, meaning she had several exciting outfits to change into throughout the evening. 
At one point, she came out carried by several shirtless men, and then later also donned a pair of chaps for a performance. Aguilera really let her fashion freak flag fly that evening, making it one particularly memorable awards show. 
She wore a raspberry beret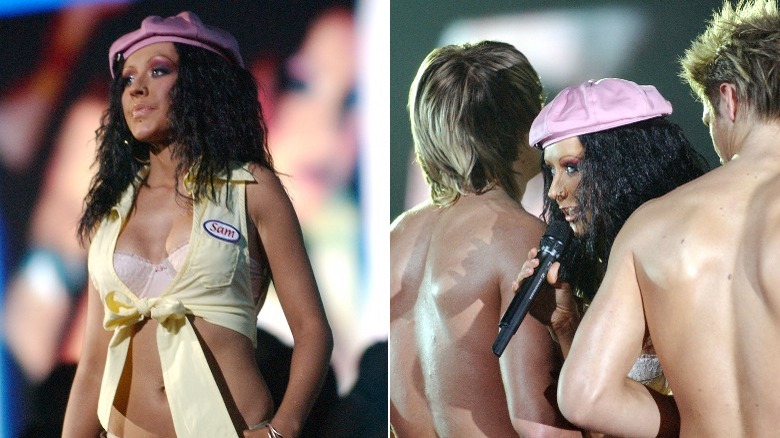 Jeff Kravitz & Jeff Kravitz/Getty
In another outrageous outfit from the 2003 MTV Europe Awards, Aguilera left little to the imagination. For this performance, she stripped down to a baby pink bra, left exposed by what may have been the tiniest yellow shirt in the world, tied into a bow. She matched these with a pair of beige chinos and a pink hat. The strange ensemble was only emphasized by Aguilera's crimped black hair and OTT eyeshadow. And of course, no 2000s performance would be complete without shirtless men to go with it! 
This entire getup was very reminiscent of Aguilera's style at the time, but her look would change the following year when she returned to her original platinum blond and took on a more refined pinup style look. Still, when most of us think of Aguilera's early naughties fashion, we'll always be reminded of deep tans, razor-thin eyebrows, endless black hair, and enough eyeshadow to make RuPaul say "Shantay, you stay!" 
The nurse will see you now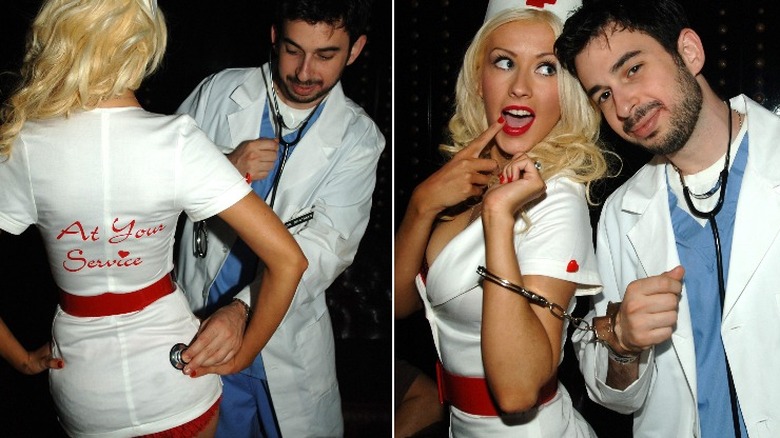 Denise Truscello & Denise Truscello/Getty
Everyone knows that celebrities like to go out all out for Halloween. While Christina Aguilera may not be quite as daring as the likes of Heidi Klum when it comes to October 31, she's never been afraid to get a little risqué. Back in 2005, Aguilera was head over heels in love for her soon-to-be husband, Jordan Bratman. Since spooky season came just before their November 19 nuptials, the couple decided to throw a joint bachelor/bachelorette party over Halloween in Las Vegas. Bratman dressed up as a doctor in blue scrubs and a white coat, while Aguilera wore a very short white nurse's outfit that said "At Your Service" on the back. 
Dressing up as a nurse for Halloween isn't the most original idea in the book, but Aguilera did her best to make it as sexy as possible, pairing the getup with red lipstick, red underwear, and of course, every medical professional's favorite accessory: handcuffs. 
The couple stayed together for five years, welcoming a son together before ultimately divorcing.