The Donald Trump Interview That United The View Panel Around Alyssa Farah Griffin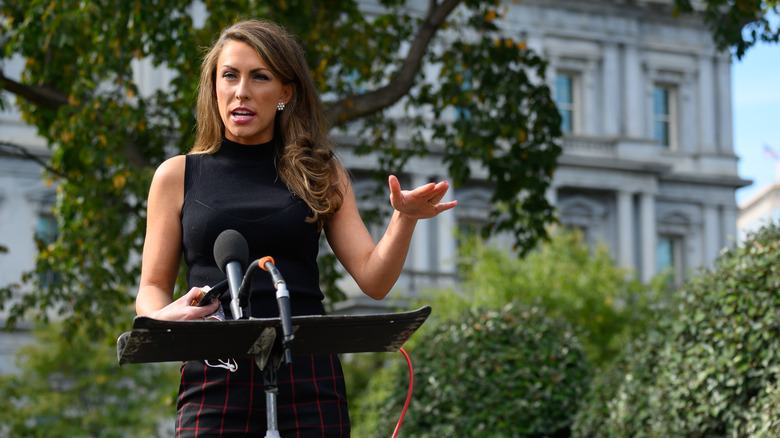 Bloomberg/Getty Images
Former President Donald Trump does not shy away from speaking his mind. The saying, "If you don't have anything nice to say, don't say anything at all," escapes him. The verbal attacks are frequent, and Alyssa Farah Griffin is one of the latest on the receiving end. Griffin held the position of Trump's communications director in 2020. Prior to joining the 45th president's administration, she worked for former Vice President Mike Pence from 2017 to 2019.
After resigning, like many of the former commander-in-chief's staff, Griffin spoke out against Trump. She later took her political commentary to ABC's "The View," where she is a co-host along with Ana Navarro, Whoopi Goldberg, Joy Behar, Sunny Hostin, and Sara Haines. Griffin admitted she's scared of her former boss, Trump, and believes he is unfit for office. However, according to the businessman turned politician, Griffin's flip-flopping opinion is all for the money.
"I have this woman named Alyssa Farah, she said the greatest things, long after she left: 'He's the greatest president we ever had,'" Trump alleged during a Fox interview. "Then 'The View' offered her a contract, but obviously only if she changed her views, and all of a sudden she can say negative things. Money gets offered to people, and some people change" (via CNN). The View co-hosts acknowledged the accusation on their daytime talk show, coming to the ex-Trump supporter's defense.
Alyssa Farah Griffin's co-hosts defend her against Trump
After playing a clip of Donald Trump's interview with Bret Baier for the audience, one of "The View" hosts, Sara Haines, quickly came to her co-star's defense. "Alyssa, just to clear your name, your name was shouted out at one point," Haines said on the June 20 episode. "Let me just remind him that the second he started denying the election was when Alyssa left. It was a year and a half later, with her view highly changed until she came to this show." Alyssa Farah Griffin thanked Haines and clarified that she did not swear an oath to a politician but the constitution and has a right to her opinion regardless if it varies from one she previously held.
Griffin also responded to the Trump allegations in a CNN interview stating, "I was on Fox News on January 7, the day after January 6, 2021, where I denounced him and said he was unfit for office and to resign, and I've done that every day since. I didn't join 'The View' until nearly two years later." The former communications director quit her position as communications director in late 2020 and made several appearances as a guest host before becoming a permanent panelist on "The View" in 2022.
Since leaving the Trump administration, Griffin has dealt with several counts of slander from her former boss, including far worse accusations than switching sides for a paycheck.
Donald Trump bashes Alyssa Farah Griffin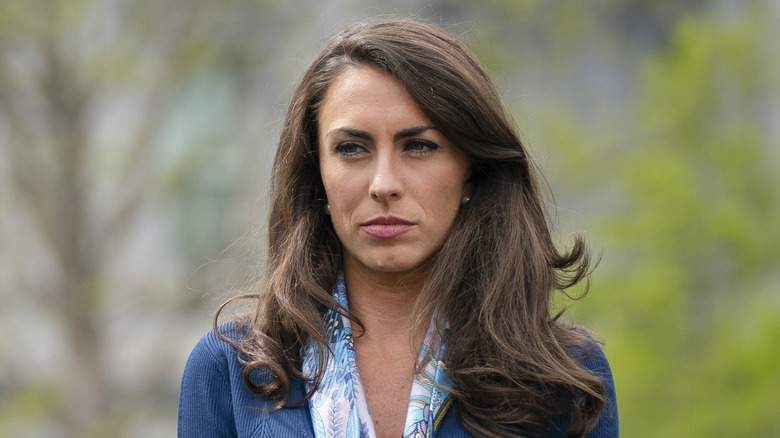 Drew Angerer/Getty Images
On his campaign trail, the 45th president did a town hall on CNN. After the event, Trump went on Truth Social to rave at the ratings. But it also seems Trump couldn't hide his hurt feelings over Alyssa Farah Griffin, as he took time to call her out. "Backbencher in the Trump Administration, Alyssa Farah, like so many other sleazebags, had only glowing reviews of the Trump Administration until long after she left. A loser then and a loser now! More to follow," Trump posted (via Deadline).
The ex-head-of-state also had choice words for Griffin after she claimed he acknowledged losing the 2020 election. "She was a 'backbencher' in the White House and is now a nobody again," Trump said in a statement. "We put her out there to face the public as little as possible" (via People).
Griffin stands firm as one of the few GOP against Trump. On "The View," she said, "I know him. I'm telling you he's unfit for office — all those other officials are — you should believe us because we saw it." The battle between the former president and his ex-communications director continues, especially as Trump campaigns for the 2024 election.