GH's Nancy Lee Grahn Gets Frank About The Fakery Of Beauty In Hollywood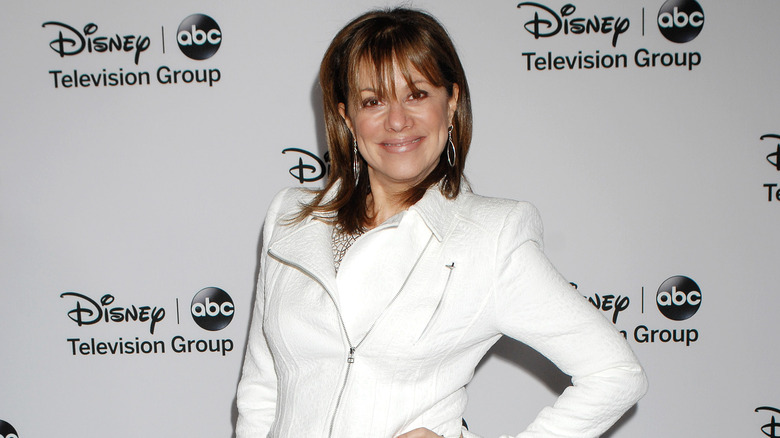 Ga Fullner/Shutterstock
Outspoken "General Hospital" star Nancy Lee Grahn, who has played Alexis Davis since 1996, dispelled a common misconception about film and television on Twitter, posting, "Dear lovely women, Always open about my age & most things. I'm getting many comments about how good I look for my age? It's smoke mirrors & some genetics. Never EVER compare urselves to actresses on TV or in movies. There's makeup, hair, lighting, plastic surgery. It's not real." A person who works on the show chimed in with the reply, "As Nancy's camera operator, I can attest that she looks even more beautiful and younger, off camera," to which Grahn responded, "I love you sooooo much ... and you are a beautiful liar. Xo."
The fans overwhelmingly complimented her, and a surprised follower echoed Grahn's sentiment with, "Wow, thank you for this. I've seen those comparisons ruin self esteem for so many. Especially younger girls. This is so important!" Everyone truly appreciated her words with one writing, "You are SO SWEET to be genuine and authentic enough to say that to your fans and followers!" Someone familiar with television behind-the-scenes replied, "I know magic of cameras in my line of work. However there is only so much a camera can do. Take credit for taking care of yourself and that is my inspiration from you!"
A viewer with a great sense of humor asked, "What? You mean the Kartrashians aren't real?"
Grahn's Alexis is dealing with a lot of chaos
Grahn had initially taken the part on "General Hospital" because it suited her single-mom schedule. When she needed to have back surgery in 2022, she stated that she was very lucky to have her job, which was extremely accommodating to her needs. And it's a good thing because Alexis has quite a bit on her plate lately. Her daughter Molly Lansing-Davis (temporarily played by Holiday Mia Kriegel), is dealing with endometriosis which has halted her plans to have a child with her husband, T.J. Ashford (Tajh Bellow). One of her other daughters, Kristina Davis (Kate Mansi), is starting up a bold venture by creating a homeless shelter to help the community — which is an issue because she's known for not completing projects.
Alexis runs a newspaper called The Invader, but has been longing to get her law license back as her heart is truly in the courtroom, fighting the good fight as an attorney. As she wrestles with all of the chaos in her life, she's also worked hard to gain the trust of Gregory Chase (Gregory Harrison) who has been helping her at the paper. The tenacious Alexis finally got him to tell her about a problem that's been weighing on him — he's got ALS, and the symptoms are starting to develop.
Although Alexis has her hands full, Grahn always makes time to engage with her fans and impart her wisdom.