President Biden And King Charles Rift Rumors Heat Up Again As UK Trip Nears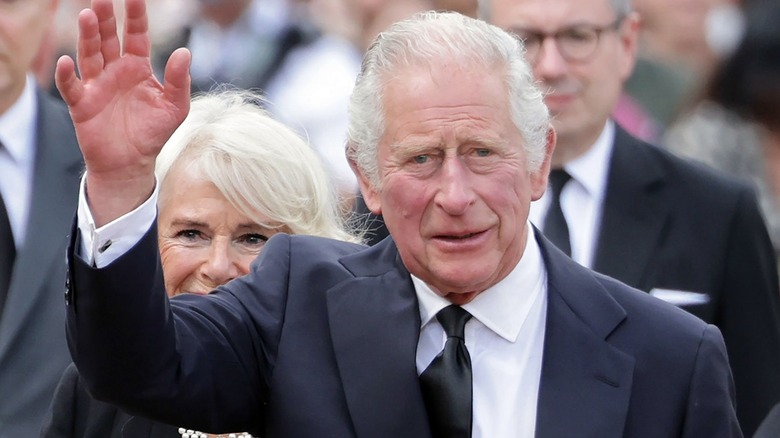 Salma Bashir Motiwala/Shutterstock
The relationship between President Joe Biden and King Charles seems to be friendly enough, but that hasn't stopped the rumor mill from speculating about a rift between the two leaders. That speculation only increased after Biden missed the coronation of King Charles and Queen Camilla on May 6. Though he was following the tradition of sitting presidents not attending coronations, some believed that the move was personal.
A month before King Charles' crowning ceremony, reports spread that while he wasn't attending the coronation, President Biden was indeed heading to Buckingham Palace for a state visit very soon. While there was no specific date for the occasion, many assumed that Biden would be making the multi-day visit during his travels to the United Kingdom in July. We now know that's not the case. According to the Daily Mail, Biden will not be met with the same 82-gun salute or banquet that former President Donald Trump received during his 2019 state visit. In fact, he'll spend less than 24 hours in the U.K. before flying on to mainland Europe to meet with N.A.T.O leaders. While many believe the lack of official fanfare that usually accompanies these meetings points to a feud between Biden and King Charles, that's not necessarily the case. 
President Biden's Buckingham visit will be brief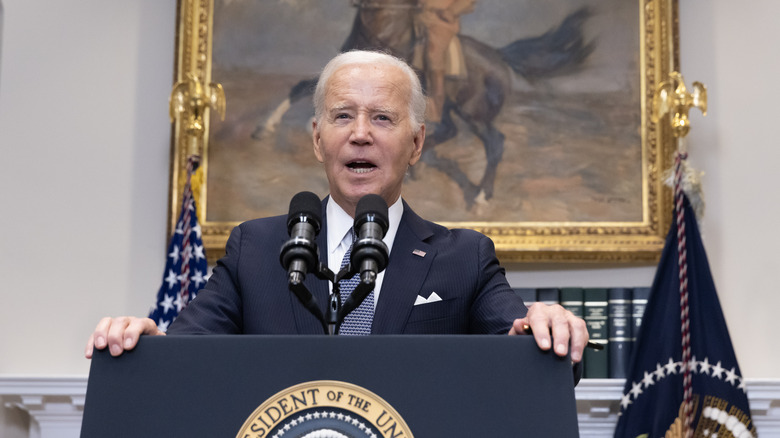 Bloomberg/Getty Images
President Biden has been confirmed to stop in London in July, but the trip will be a short one as Biden must fly on to Vilnius, Lithuania, to meet N.A.T.O. allies during the organization's annual summit, which will take place from July 11th through the 12th. A source close to the matter told the Daily Mail that the rumored state visit invitation in April was just a ploy to show the world that the men were not rivals in any way.
"There was never an invitation for a state visit. The point was to try to get away from headlines about Biden snubbing Charles over the coronation and show that the two had a decent relationship. And the White House managed to mess it up," the insider revealed.
Though some within the British media are touting Biden's forthcoming tour as a "mini-state visit," considering the preparation that goes into a full state visit, it would seem obvious that the event couldn't be pulled off with only three months of planning. A full state visit typically takes up to a year to organize. The host nation usually rolls out the red carpet for such visits, covering all travel accommodations and incorporating a dinner fit for — and attended by! — royalty during the four-day stay.
President Biden previously shared his desire to have a close relationship with King Charles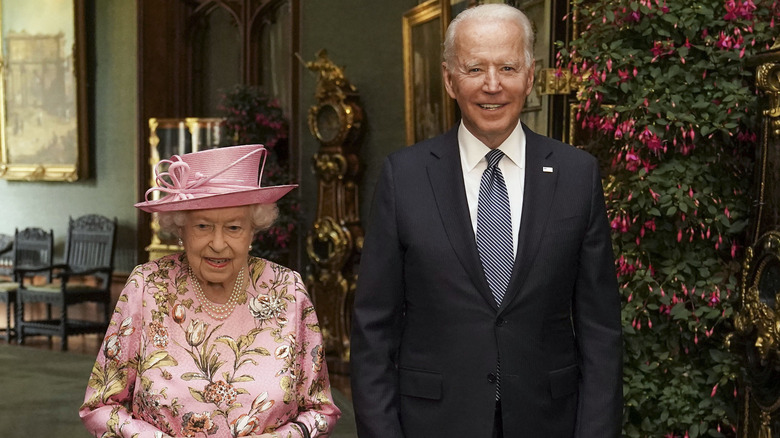 Wpa Pool/Getty Images
Though President Biden and King Charles haven't spent much time together, that doesn't mean there is turmoil between the two. In fact, Biden has previously shared his desire to maintain a great relationship with Charles. Shortly after Queen Elizabeth II passed away, Biden lent his condolences to the royal family via phone and in a tweet, where he also made public his views on a future allyship with the king.
"I spoke with King Charles III to offer my condolences on the passing of Queen Elizabeth II. I recalled her kindness, dignity, and constancy — and how she deepened the friendship between our nations," Biden wrote before adding, "I also let the King know that I hope to continue a close relationship with him." Biden and First Lady Dr. Jill Biden were also in attendance at the queen's funeral.
Judging by Charles' willingness to welcome Joe Biden to Buckingham Palace even for a short while, there doesn't appear to be any bad blood. It also doesn't seem that the U.S. commander-in-chief is purposefully snubbing Charles. Instead, he's simply busy with his own presidential matters.