What Is Haute Couture And Is It Really That Exclusive?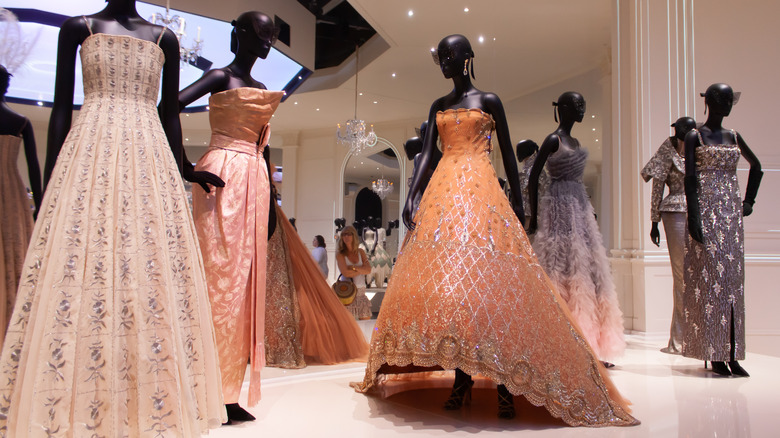 Ralu Spatareanu/Shutterstock
Christian Dior, Chanel, Givenchy, Balmain, and other high-end designers have distinct styles and target markets. For example, Chanel creations feature a timeless design focused on comfort and functionality. By comparison, Dior's designs are more sophisticated, incorporating bold prints, exquisite materials, and abstract patterns. But as different as they may seem, these brands have one thing in common: They all create haute couture garments.
The term "haute couture" gets thrown around a lot these days, but few understand its actual meaning. This expression means "high dressmaking" or "high sewing" in French and can only be used by designers who meet specific criteria, such as having a workshop in Paris with at least 15 full-time employees. These requirements were set by the Fédération de la Haute Couture et de la Mode, a French governing body founded in 1868, and apply to clothing, footwear, and fashion accessories.
Haute couture isn't just about luxury, however. These garments are handmade from premium fabrics and feature one-of-a-kind designs. "Haute couture is a spearhead in terms of creation, a fantastic laboratory for research, both in terms of craftsmanship and design innovation," FHCM president Ralph Toledano told Vogue. Given these aspects, it's no surprise that only a handful of designers worldwide can call themselves haute couturiers. 
Haute couture isn't a buzzword but a legally protected term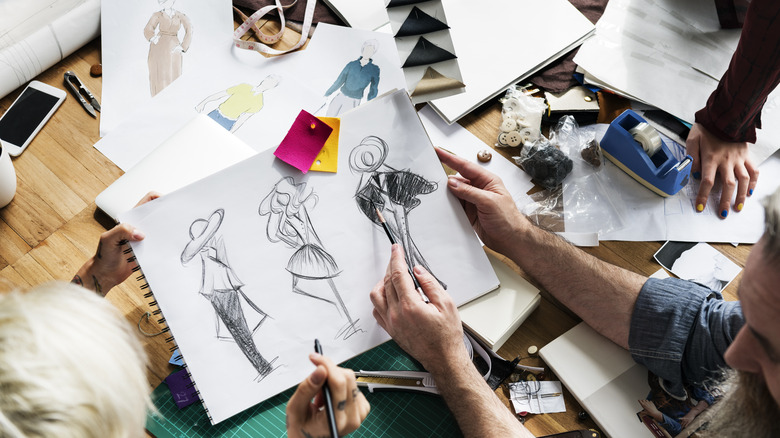 Rawpixel.com/Shutterstock
The term haute couture is often misused and misunderstood. First of all, it's not the same as prêt-à-porter and luxury fashion. Prêt-à-porter, or ready-to-wear, is used to describe high-quality garments available to the masses. These clothing items come in standard sizes to fit most people. Some ready-to-wear garments are of exceptional quality and can be considered luxury items. For example, Vera Wang, one of the biggest names in wedding dress design, creates luxury clothing, but her work cannot be labeled "haute couture."
Fashion designers must follow specific rules to qualify as haute couture. These include producing custom clothing for private clients, launching a new collection of at least 50 designs every season, and employing more than 15 people in a Parisian workshop. It goes without saying that haute couture garments are creative, unique, and made to the highest quality standards. "Haute couture is a land of free expression for designers, as well as an image builder for brands," said FHCM president Ralph Toledano in his interview with Vogue. 
The history of haute couture dates back to 1858 when English designer Charles Frederick Worth opened a couture house in Paris. His clientele included famous actresses, singers, and European royalty, such as Empress Eugénie. He was also the first designer to use human models instead of dolls to present his creations. Worth's garments were made to order, featuring lavish designs with intricate details. 
Very few brands are considered haute couture by French law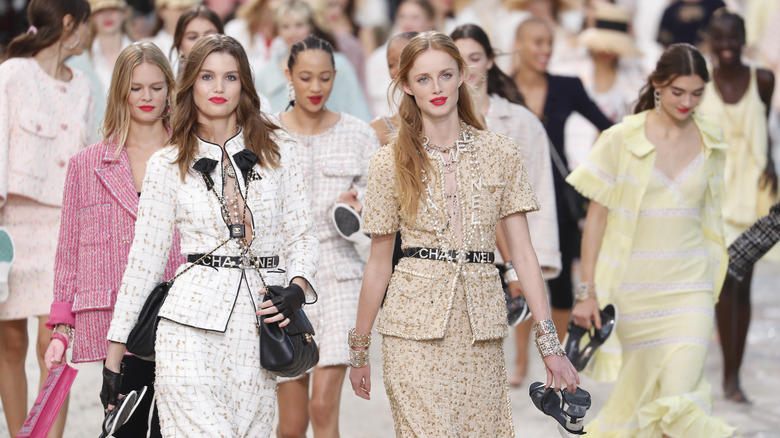 FashionStock.com/Shutterstock
The FHCM updates its list of haute couture brands each year, and very few names make the cut. A constant presence is Christian Dior, who changed the world of fashion through his work. The list also features 15 other names, including Giambattista Valli, Chanel, Alexandre Vauthier, Maison Margiela, Schiaparelli, and Alexis Mabille. Christian Lacroix, Escada, Nina Ricci, and other high-end brands are all former FHCM members.
Until recently, haute couture appealed to older generations, but that's no longer the case. "Whereas haute couture was usually reserved for older women, we have witnessed an interesting phenomenon of generational change, and millennials are now intelligently included," Ralph Toledano told Vogue. For example, Meghan Markle wore an haute couture Dior ensemble during a royal reunion that took place earlier this year. Her flawless look was praised by the media and fans alike.
At the end of the day, we can all agree that haute couture isn't dead, despite the rise of fast fashion. Roughly 4,000 people worldwide can afford these pieces, but those few customers are wealthy enough to drive the industry forward. For reference, a haute couture gown costs up to $150,000 and may require over 1,000 words of work, per The South China Morning Post.