Tragic Details About Britney Spears' Life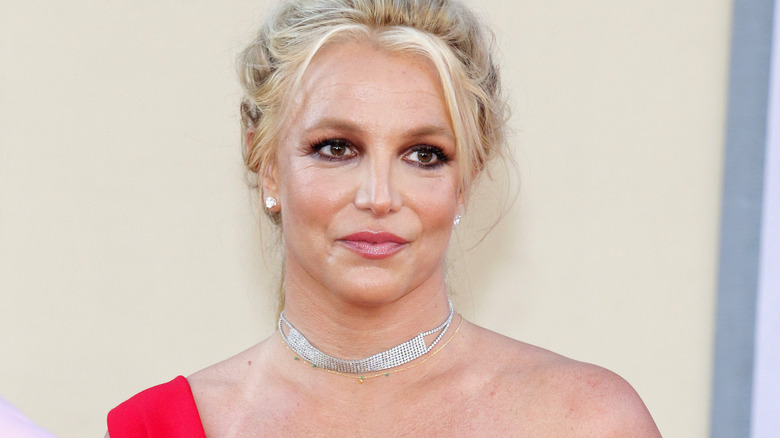 Tinseltown/Shutterstock
Trigger Warning: The following article contains language regarding substance use, child loss, and sensitive issues.
The pop star's name has been synonymous for years with groundbreaking hits, her conservatorship scandal, and, of course, the infamous head-shaving incident. But there's so much more to Britney Spears' life, which has been marred by tragedy from the time she was just a young singer in Kentwood, Louisiana. Spears made her debut on "Star Search" when she was 10, but didn't make it past the second round. The following year, she joined the cast of "The Mickey Mouse Club," accompanied by future stars, Christina Aguilera, Ryan Gosling, and Justin Timberlake.
A few years after the show was canceled, Spears signed with Jive Records and released her debut single "...Baby One More Time" in 1998 when she was just 16 years old, and it went on to sell 500,000 copies in the US on the first day it dropped. The music video that accompanied her smash hit, depicting Spears in a schoolgirl uniform — as well as lyrics that some speculated were about domestic abuse — raised some eyebrows. The single became her first taste of controversy, but it also launched the young pop sensation into the spotlight.
But things for Spears weren't all glitz and glamor, despite her celebrity status, and the pressure quickly began to mount. Let's take a look at the tragic details in Spears' life that led her to where she is today.
Her upbringing was unstable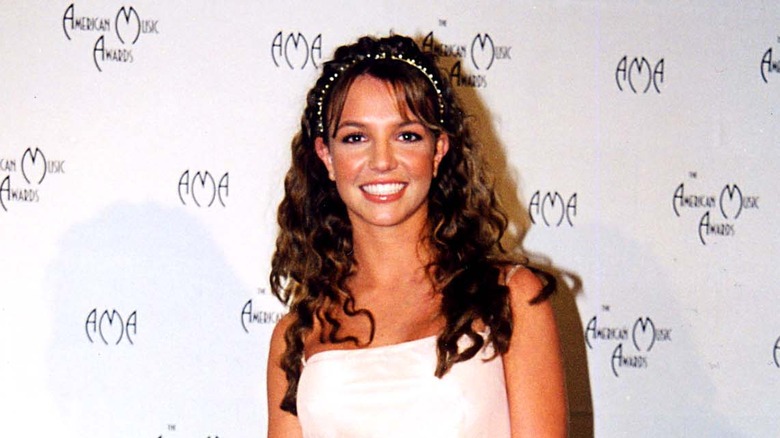 Jeff Kravitz/Getty Images
Jamie and Lynne Spears had a tumultuous relationship that resulted in an unstable upbringing for their children, Bryan, Jamie Lynn, and Britney Spears. Their bungalow home in Louisiana was often filled with tension, partly due to Jamie's reported alcoholism and gambling, and partly because of money woes. However,  the constant spats between their parents seemed to be the biggest weight on the young Spears' shoulders. Their uncle, William Spears, spoke with Mirror about incidents that occurred when Britney was just a child. "One time Jamie [Spears] was drunk and tried to drive off with Britney in the car. She was no more than five years old. I tried to stop him ... We got right into it there by the car, fighting in front of her. Britney was jumping up and down, crying," he recalled.
Britney was close with her mother Lynne and their family friend Felicia Culotta, who would alternate traveling with the young singer as she began her career. However, her father Jamie was reportedly absent for a large portion of Britney's early years of stardom. In 2021, "The New York Times Presents" released an episode about Britney's life, in which former Jive Records executive Kim Kaiman recounted, "I never talked to her father. The only thing Jamie ever said to me was, 'My daughter is going to be so rich she's going to buy me a boat.'" 
Britney Spears was overworked from a young age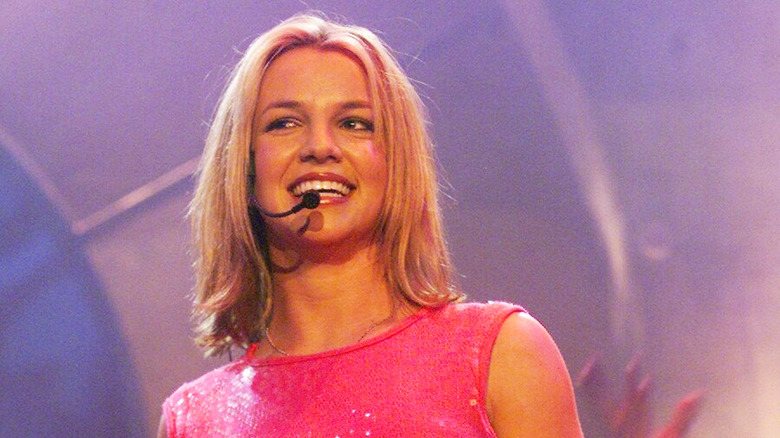 Dave Hogan/Getty Images
Like most child stars, Britney Spears dealt with a lot of pressure from a young age. Her first album was such a success, she became an overnight sensation and began touring constantly. Spears sat down with Rolling Stone in 2000, right before her second album "Oops!... I Did It Again" was set to be released. She discussed the mounting pressure she was feeling, saying, "Since the beginning of this year, I've been such a worrywart. My anxiety has just been crazy." She explained, "At the beginning of last year ... It was so new and exciting to me. Maybe I'm just changing and getting older, but I find I need to have my downtime, just to myself, or I'll go crazy."
Spears went on to describe the whirlwind her career had been so far, as at this point in her life, she was on a constant loop of performing, traveling, and making new music. When she was 18, Spears received a prescription for Prozac, a medication used to treat anxiety and depression. A source told the Mirror, "She had trouble sleeping and crying fits. She was restless and agitated." Spears' anxiety became evident to those around her, and it was clear her relentless schedule was causing problems.
She was constantly criticized for her image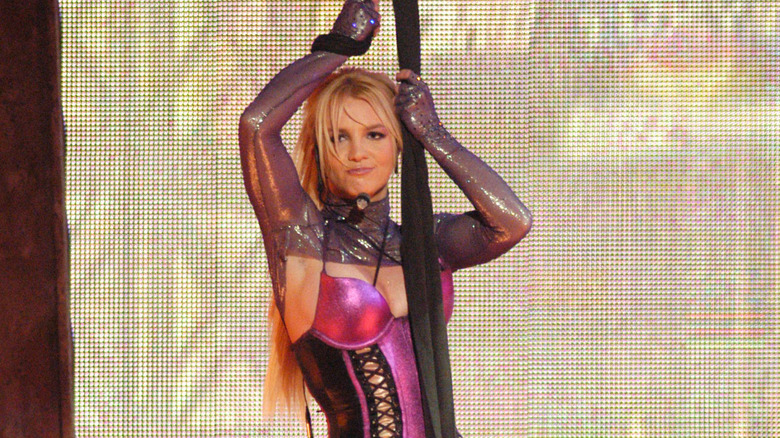 Jeff Kravitz/Getty Images
Disney Channel stars have always been subjected to the overt dissection of their purity and whether they should be role models for young fans. So when Britney Spears broke into the music scene, the suggestive lyrics in her songs and risqué music videos brought a lot of speculation over her image, and she was constantly criticized over her creative decisions.
A source who knew the pop star's former agent Larry Rudolph told The Guardian, "'[Rudolph was] obsessed with protecting this innocent, clean-cut image because it was what everyone was buying into." Another source told the publication, "The virgin thing was a complete fabrication. It was selling an image that people could have hope in."
As Spears got older, she began to shed the bubblegum pop star image she had portrayed for so long. In an infamous 2003 interview for Primetime with Diane Sawyer, Spears was grilled about posing for magazine covers wearing minimal clothing. The star responded, saying, "I hate to bring this up. But Kate Hudson, she's 22, she's in sheets. Jennifer Lopez, she poses very provocatively sometimes. Christina Aguilera. What's the big deal when I do it?" Spears later added, "It's like you can never win ... You can't please everybody."
Her breakup with Justin Timberlake was rough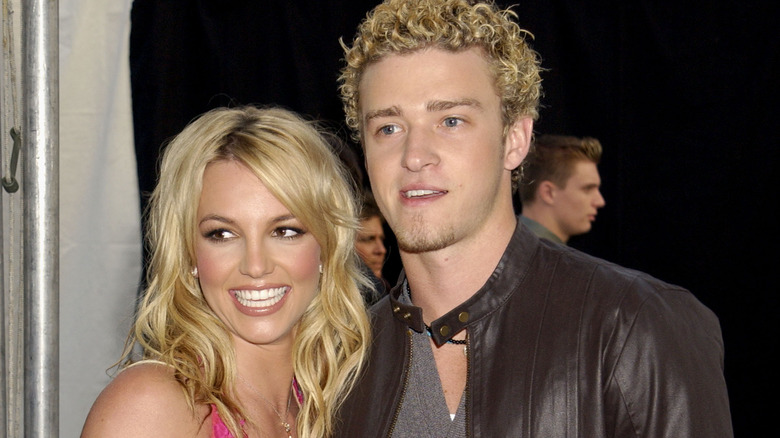 Gregg Deguire/Getty Images
In 1999, Britney Spears began dating her "Mickey Mouse Club" co-star and fellow pop sensation, Justin Timberlake. The couple seemed like a match made in heaven, frequently attending red carpets and other public events hand in hand. (Who could forget their matching denim ensembles at the American Music Awards in 2001?) Until it was revealed in 2002 that Timberlake broke up with Spears over her supposed infidelity.
The "I'm Not a Girl, Not Yet a Woman" singer was painted as a villain in the tabloids, with many siding with Timberlake in their breakup. It all came to a head when the NSYNC singer recorded "Cry Me a River" and released a music video that featured a Spears lookalike. While Timberlake detailed being cheated on in his song, Spears released "Everytime," a song about wronging someone and causing them pain. In her tear-filled Primetime interview after the breakup, Diane Sawyer pressed Spears on the cheating rumors. "I will always love [Timberlake]. He'll always have a special place in my heart," she said.
She later added, "I'm not technically saying he's wrong [about the infidelity accusations] but I'm not technically saying he's right, either." Having her name publicly dragged through the mud, then being questioned on camera about the rumors, it was certainly a difficult year for the young pop star.
Britney Spears has been hounded by the paparazzi for years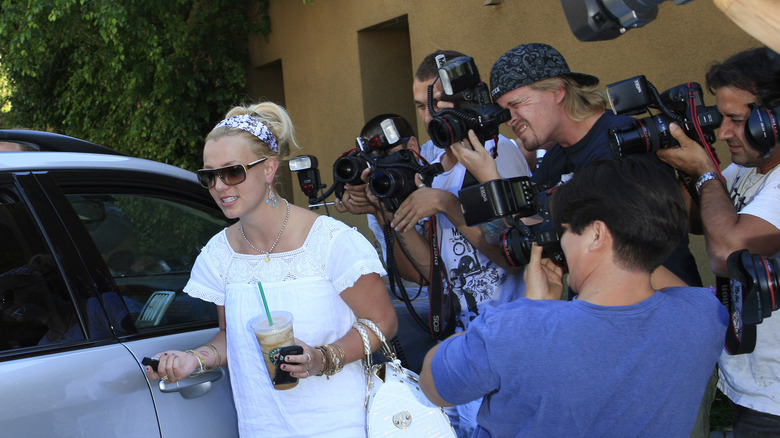 Joe Seer/Shutterstock
You could say today's celebrities face over-the-top attention from the paparazzi, but the 2000s were an even less forgiving time in the media — Amy Winehouse was even granted an anti-harassment injunction against the paparazzi in 2009. For Britney Spears, being one of the most famous stars at the time meant everyone was after photos that depicted her in a less-than-favorable light. The popularity of celebrity gossip bloggers like Perez Hilton fueled the fire and celebrities like Paris Hilton, Lindsay Lohan, and Britney Spears weren't seen so much as people, but rather entertainers the media could easily exploit.
in 2008, Nick Stern, one of the photographers in the "Britney Pack," a group of paparazzi who trailed Spears, detailed the dangerous and cruel methods he witnessed in an interview with Glamour UK. In one particular incident, there was speculation that Spears might have been pregnant, as Stern explained, "'And then one of the photographers had got a photograph up Britney's skirt with her bloodstained underwear. And they put the picture out and the caption was, 'Britney is not pregnant ... Period.' It was then sent around to publications to see if they wanted to buy the picture."
Of course, coverage of Spears' breakdowns over the years continued to be front-page news. And it wasn't until The New York Times released their documentary, "Framing Britney Spears," that the media took accountability for pushing the "Toxic" singer too far.
Her divorce led to a messy custody battle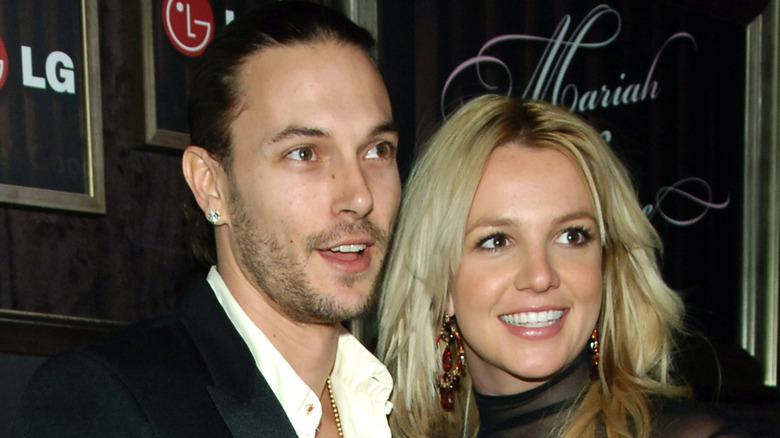 John Sciulli/Getty Images
The biggest year for Britney Spears' love life was arguably 2004, as she tied the knot twice at just 22 years old. The singer first married her childhood friend Jason Alexander in Las Vegas, but the pair had the marriage annulled less than three days later. In her second walk down the aisle, she married her former backup dancer Kevin Federline. They had two sons together, Jayden James and Sean Preston Federline, but the couple split up in 2006 and their divorce was finalized in 2007. In the pop star's documentary, "For the Record," she spoke about her marriage to Federline. "I think I [got] married for all the wrong reasons ... Instead of following my heart and, like, doing something that made me really happy. I just did it because ... for just, like, the idea of everything," she said.
Speaking with People in 2008, Federline said, "I didn't give her an ultimatum, but I was trying to work stuff out with her, and she didn't even talk to me or anything and went behind my back and filed [for divorce]. [I was] completely blindsided. It was a huge shock." What ensued was a difficult custody battle. Following their divorce, Federline and Spears co-parented their sons, but after Spears was placed under psychiatric hold in 2008, her ex-husband was awarded full custody and she was ordered to pay $20,000 a month in child support.
Britney Spears had a string of infamous meltdowns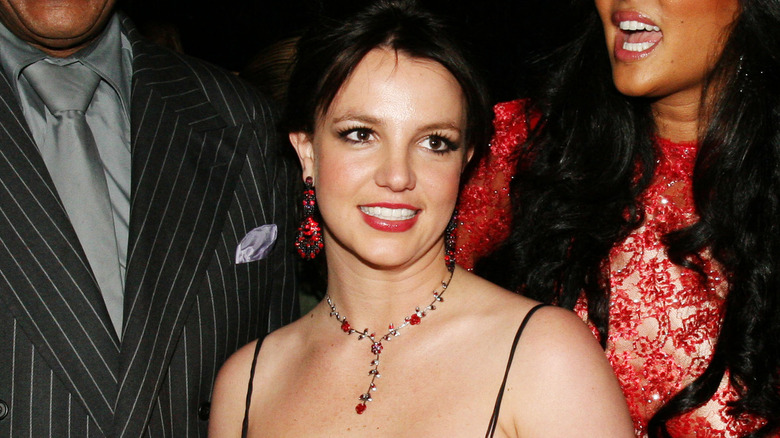 Johnny Nunez/Getty Images
In 2006, paparazzi captured Britney Spears driving with her infant son Sean on her lap, sparking controversy. A few more instances — including photos of her son in a car seat facing the wrong way and Spears stumbling while holding Sean — led to the public labeling the "Gimme More" singer an unfit mother. 
In February 2007, Spears walked into a hair salon and shaved her head, which would become one of the most highly-publicized moments of her life. Spears reportedly shared her reasoning behind the drastic move with artist Emily Wynne-Hughes. In the documentary, "Britney Spears: Breaking Point," Wynne-Hughes explained Spears' thinking, saying, "It was, you know, 'I just don't want anybody, anybody touching my head. I don't want anyone touching my hair. I'm sick of people touching my hair.'"
Following the incident, Spears checked into a rehabilitation center and continued to display concerning behavior. Unfortunately, by this point her reputation was badly damaged and it took years for her to rebuild it.
If you or someone you know needs help with mental health, please contact the Crisis Text Line by texting HOME to 741741, call the National Alliance on Mental Illness helpline at 1-800-950-NAMI (6264), or visit the National Institute of Mental Health website.
There were rumors of her substance misuse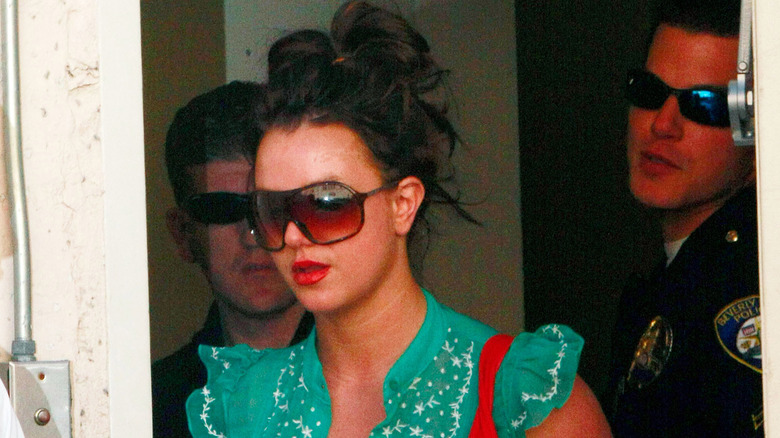 Marcel Thomas/Getty Images
Following her head-shaving incident and month spent in rehab, Britney Spears lost custody of her sons but was awarded visitation rights. She and Kevin Federline attended a custody hearing in which they were ordered to refrain from using alcohol or non-prescription controlled substances within 12 hours of seeing their children. According to the court ruling by Los Angeles Superior Court Commissioner Scott Gordon, "Based on the evidence presented, the court finds that there is a habitual, frequent and continuous use of controlled substances and alcohol by [Spears]." Only the "Womanizer" singer, and not Federline, was ordered to submit to regular drug testing.
Then, in 2012, Spears' former manager and supposed friend Sam Lutfi sued the pop star and her family for defamation. He told the jury (via Daily Mail), "'[Spears] liked to use amphetamines. Mostly everything that went wrong was because of this drug." He also claimed that the reason Spears shaved her head was to beat a drug test. However, the singer's mom Lynn Spears responded, saying that Lutfi had attempted to take over Spears' life and had been drugging her with prescription medication used to treat bipolar disorder and schizophrenia by crushing and mixing pills into her food. Ultimately, a restraining order was leveled against Lutfi and he was no longer able to interact with Spears.
Her father fell ill in 2018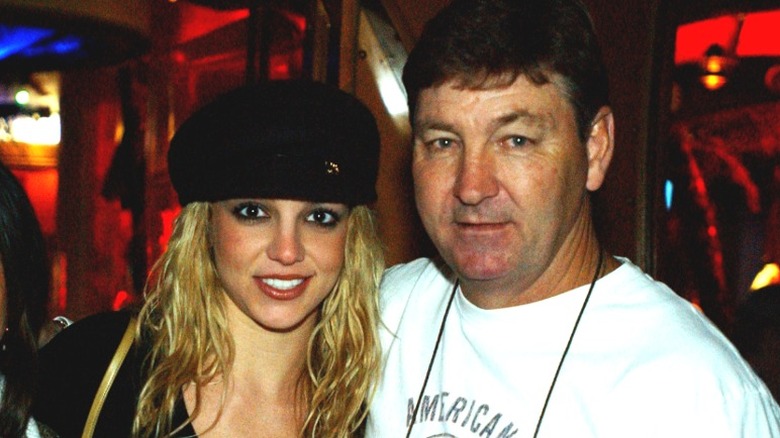 Denise Truscello/Getty Images
Britney Spears' relationship with her father has been complicated, to say the least. In November 2018, Jamie Spears fell ill and was rushed to a hospital in Las Vegas where it was discovered that his colon had spontaneously ruptured. After a successful operation, the pop star took to Twitter to let her fans know she would be canceling her Las Vegas residency, stating, "It's important to always put your family first ... and that's the decision I had to make." Spears added that Jamie "almost died."
Following a second surgery in March 2019, Jamie was in recovery. Shortly after, Britney Spears checked into a center for a supposed "all-encompassing wellness treatment." A source close to the family told People, "Her dad being sick has taken a toll on her. There is nothing dramatic going on with her — she just realized she needs to make sure to take time to care for herself." However, it was later revealed by Spears in an audio recording that she was forced into treatment by her father under the threat of being taken to court.
Britney Spears was under a conservatorship for 13 years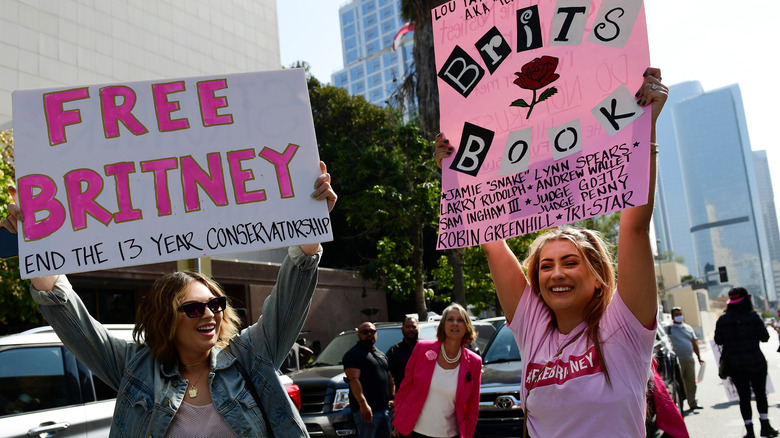 Chelsea Guglielmino/Getty Images
During the period in which Britney Spears displayed concerning behavior in 2007, her mental health was brought into question, and she was placed under psychiatric evaluation twice in 2008. During this time, a conservatorship was put into place, with Spears' father Jamie becoming her conservator, meaning that he was in charge of the singer's finances, career decisions, and personal life.
In a since-deleted audio recording, Britney Spears explained that the entire conservatorship was a setup. "I know now it was all premeditated. A woman introduced the idea [of a conservatorship] to my dad, and my mom actually helped him follow through and made it all happen." Spears went on to explain, "There was no drugs in my system, no alcohol, nothing. It was pure abuse." Spears also detailed the abuse she endured while under her father's control, which included monitoring what she ate, who she saw, when and where she performed, being forced to take medication, and not being allowed to remove her IUD so that she could have another baby.
In 2019, the singer made her dissatisfaction with the conservatorship known through her lawyer, refusing to perform again until her father relinquished control of her affairs. In 2021, the film "Framing Britney Spears" brought attention to Spears' conservatorship, and the #FreeBritney movement gained traction and media attention. Finally, in November 2022, after 13 years of others dictating her every move, Spears was freed from her conservatorship.
She suffered a miscarriage in 2022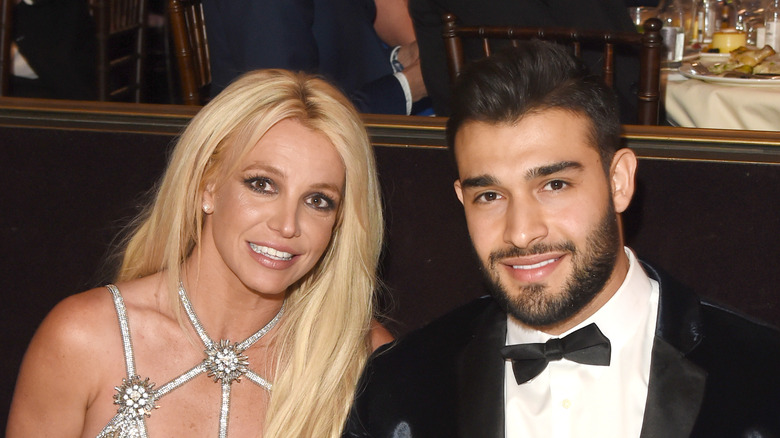 J. Merritt/Getty Images
In October 2016, Britney Spears met the man of her dreams on the set of her "Slumber Party" music video. Model and fitness trainer Sam Asghari charmed the "Circus" singer and they began dating soon after. Their 12-year age difference turned some heads at first, but they didn't let the gossip stop them from falling head over heels for one another, and Asghari became one of Spears' greatest supporters. He proposed to Spears in September 2021 and the happy couple have continued to share sweet moments on social media.
In April 2022, Spears announced on Instagram that she and Asghari were expecting a baby together. Tragically, just a month later, Spears updated her followers with an Instagram post that read, "It is with our deepest sadness we have to announce that we have lost our miracle baby early in the pregnancy ... Perhaps we should have waited to announce until we were further along however we were overly excited to share the good news." The singer added that they will "continue trying to expand [their] beautiful family." Spears and Asghari went on to get married in June of 2022.
Fans remain concerned for Britney Spears' well-being today
Now freed from the conservatorship that ruled her life for over a decade, fans are thrilled that Britney Spears has full control over her life again. However, the singer's online behavior has fans worried for her future, giving them reason to believe that she may not be doing very well. From frequently posting the same nude photos of herself to activating and deactivating her account, Spears' fans have been quick to comment their concerns about the pop star's wellbeing, with some fans even contacting the police asking for them to do a welfare check on the star.
In February 2023, a source told Page Six that Spears' had almost died, and that her family had planned an intervention for her, but it never happened. "If people knew Britney's actual medical status, I think it would reveal that her mental problems are far more severe than people realize," the source explained. However, Spears posted a video to Instagram that same day to alleviate her fans' concerns and call out the media for lying about her, yet again. "I'm here. I'm happy, and I'm well, and that's it. That's it. Liberty skip-skip-skip-skip-skip," she said in the post.