How Vanessa Trump Reportedly Found Out Donald Jr. Was Cheating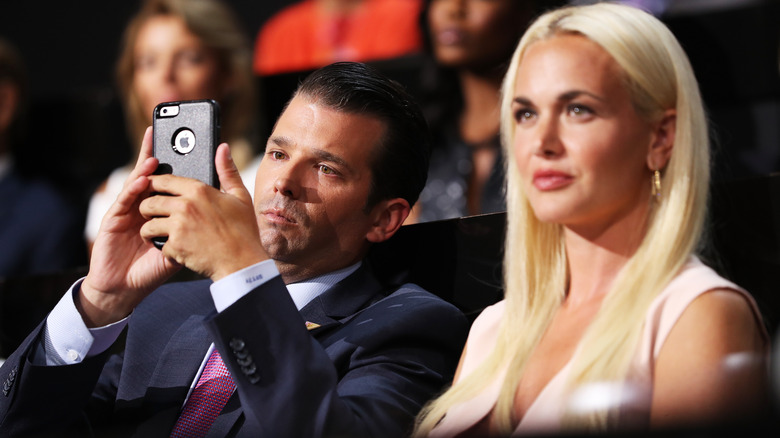 John Moore/Getty Images
There's no easy way to find out that your spouse has been unfaithful to you — but it's particularly disheartening to discover such infidelity through a series of "sexy texts." Unfortunately, this was the case for Vanessa Trump, the ex-wife of Donald Trump Jr., the oldest child of former President Donald Trump. Vanessa unexpectedly learned about the affair her husband had with Aubrey O'Day, who Trump Jr. met while the former Danity Kane singer was a contestant on the reality TV show "Celebrity Apprentice." Donald Jr. served as an advisor in the 12th season of the show, the season O'Day participated in.
One of People's sources claimed that the Trump Organization's executive vice president was taking a shower when O'Day's messages popped up on his phone — which Vanessa saw. This incident prompted the immediate end to said affair in 2012. O'Day herself called Trump Jr. her "ex" during the season three premiere of MTV's "Ex on the Beach," even going as far as calling him her "soulmate."  
"We both thought we were each other's soulmates. It's something we spoke about often. A soulmate is someone you spend a period of time, moment, of life with that you're connected as one. I had that with Don," the reality TV personality shared in an interview with People.
Vanessa and Donald Jr's marriage ended in 2018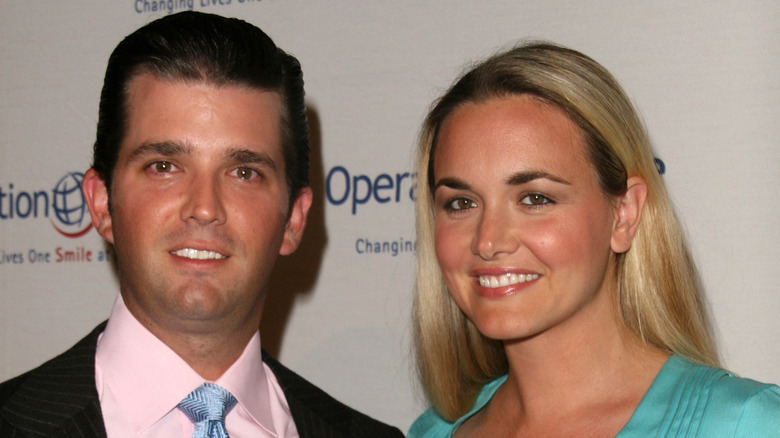 s_bukley/Shutterstock
Despite the setback that Vanessa and Donald Trump Jr.'s marriage endured following the affair, the two seemingly reconciled. However, their marriage ultimately met its end in March 2018 after Vanessa filed for divorce. Page Six reported that she sought an "uncontested" divorce — wherein both spouses agree on everything listed in the petitioner's complaint for divorce. "After 12 years of marriage, we have decided to go our separate ways. We will always have tremendous respect for each other and our families. We have five beautiful children together and they remain our top priority," the former couple said in their joint statement that was published via Page Six.
A source close to the former couple shared that the affair was not the only factor that caused their split and that their issues started even before Trump Sr.'s bid for the presidency. Donald Jr. played an active role during his father's presidential campaign. "Even before all this Trump presidency stuff started, they weren't good and their marriage was strained," the source told People.
Vanessa and Donald Jr. first met in 2003 at a fashion show in New York City where former president Trump introduced the two. Two years later, the pair tied the knot in Trump Sr.'s Florida home in 2005. Donald Jr. has five children with Vanessa: Kai, Donald, Tristan, Spencer, and Chloe. 
Donald Jr. is now engaged to Kimberly Guilfoyle
After his divorce from Vanessa Trump in March 2018, it did not take long before Donald Trump Jr. was seen with a new girl— former Fox News host Kimberly Guilfoyle. Guilfoyle is also a Republican, she has expressed support for Trump Sr., and even worked in his re-election campaign. She even gave an address at the Republican National Convention in August 2020. "President Trump is the leader who will rebuild the promise of America and ensure that every citizen can realize their American dream! Ladies and gentlemen, leaders and fighters for freedom and liberty and the American dream . . . the best is yet to come!" Guilfoyle said, via Insider.
The couple has been engaged since New Year's Eve 2020, when Donald Jr. popped the question during his birthday on December 31. But they only confirmed their engagement in an Instagram post by Guilfoyle for Valentine's Day in February 2022. "Falling in love with my fiancé more and more every day . . . @donaldjtrumpjr, you're my best friend, my support system and my forever guy. Happy Valentine's Day, I love you and can't wait for the adventures that lie ahead," Guilfoyle wrote.
The pending marriage will be Guilfoyle's third — previously being married to then-San Francisco Mayor Gavin Newsom (2001 to 2006) and furniture chain president Eric Villency (2006 to 2009)— and Don Jr.'s second after his divorce from actor Vanessa Haydon (2005 to 2018). There are no reports on wedding plans yet.