What We Know About Kourtney And Kim Kardashian's Dolce And Gabbana Feud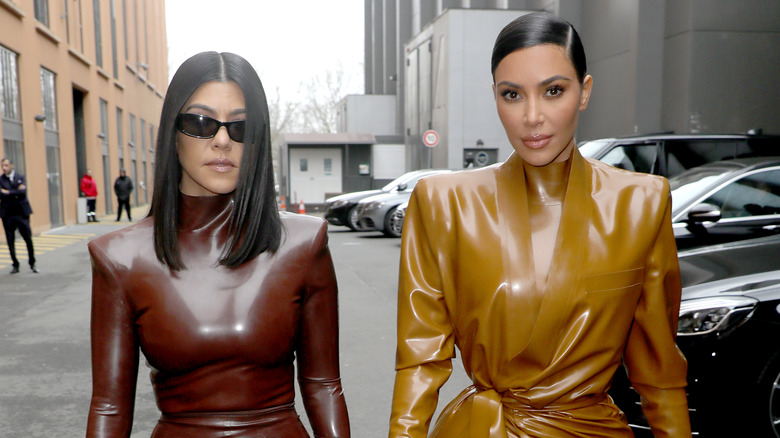 Pierre Suu/Getty Images
Fights and dramatic moments are not uncommon in the Kardashian family. However, the latest feud between Kim Kardashian and her older sister Kourtney Kardashian is seemingly one of the worst that the siblings have ever been involved in. During Season 3 of the family's Hulu reality series "The Kardashians," Kim and Kourtney have some serious bad blood between them which stemmed from Kourtney's wedding to Blink-182 drummer Travis Barker. When Kourtney and Travis tied the knot in 2022, the eldest Kardashian sister coordinated the nuptials with famed designers Dolce & Gabbana. A few months later, Kim collaborated with the designers for Milan Fashion Week, and Kourtney claimed that Kim had used her wedding as a way to secure the business deal, per Us Weekly.
"My mom has known Dolce & Gabbana for a long time and they were always asking me — even before the wedding — if we could do a book," Kim explained of the situation. "Kourtney and Travis just worked with [Domenico] Dolce and that was her whole vibe of her wedding. Then after the wedding, I got a call saying they wanted me to creative direct their fashion show in Milan. I think this is such a good opportunity that I don't want to pass this up," she added.
However, Kourtney didn't see it in the same light. Instead, she felt betrayed and hurt that Kim worked with the brand and used her wedding to help launch the creative partnership.
Kourtney feels like Kim copied her wedding designs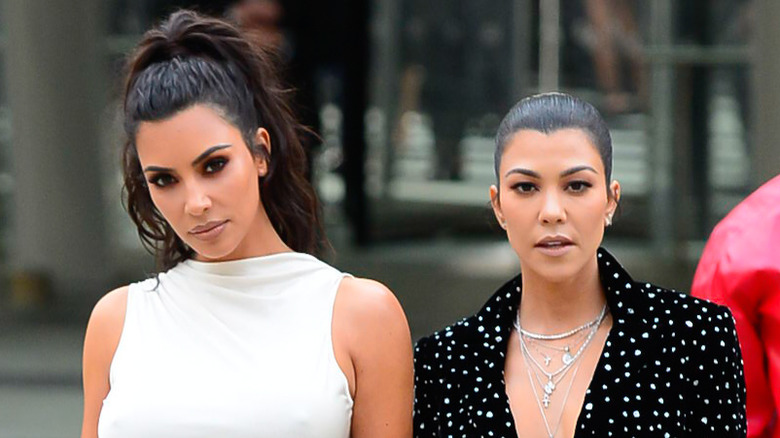 Raymond Hall/Getty Images
Once Kourtney Kardashian expressed her feelings about Kim Kardashian's collaboration with Dolce & Gabbana, the family also got involved. Kourtney told her younger sister, Kendall Jenner, that she felt like Kim was having conversations with the designers behind her back during her wedding (via The U.S. Sun). "It's not about business, it's just there's so much and it takes precedence over hurting your sister," Kourtney explained. "It's an abundance of excess. It's never enough. It's never just okay to not do something or turn something down because it doesn't make sense," she stated, adding that she felt like Kim's collaboration was "legit copying" her wedding. "The timing, 'cause it's four months after my wedding, this had to be being planned and worked on for months to get such a big production done," Kourtney later said, per PopSugar.
Meanwhile, Kim revealed that she didn't feel like she needed to ask Kourtney for permission to take the career opportunity. However, she did confess that she questioned doing the collaboration with the designers so soon after her big sister's wedding and that she wanted to wait a year. However, that didn't happen, and just four months later the collaboration went public.
Although the drama has been a huge part of the Kardashian storyline in Season 3 of the family's reality series, it certainly isn't the first time that Kim and Kourtney have butted heads over the years.
Kim and Kourtney have a history of feuding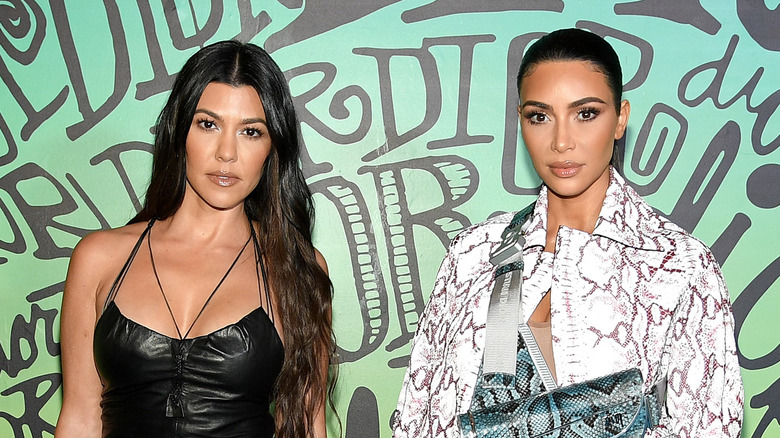 Dimitrios Kambouris/Getty Images
Over the years, fans have seen Kim Kardashian and Kourtney Kardashian disagree on several occasions. They've often gotten snarky with one another, but things really seemed to escalate in 2018 when Kim tried to organize a family photo shoot and Kourtney refused to adjust her schedule to work around Kim's busy life. The two then got into a fight, where Kim told Kourtney that she didn't understand what it was like to have a business or be passionate about something, saying that she didn't even need to show up for the photo shoot because she was the "least exciting to look at." Kourtney ended up skipping Kim's baby shower because of the argument.
The following year the two disagreed about their daughters' joint birthday party, which had a Candyland theme. Kourtney didn't want unhealthy treats at the party, while Kim argued that some candy was necessary for the theme. They've also fought over their style choices. In 2020, things got physical between the sisters when Kim accused Kourtney of not working hard and showing up for the family in the same way that she and their younger sister Khloe Kardashian do. The argument got heated and ended with the sisters pushing and slapping each other.
It seems that Kim and Kourtney may never fully agree on the situation with Dolce & Gabbana. However, it seems only time will tell what direction the sisters' relationship will take following the Kardashian family drama.