Get A Sneak Peek At Hallmark's New Countdown To Christmas Flick, A Biltmore Christmas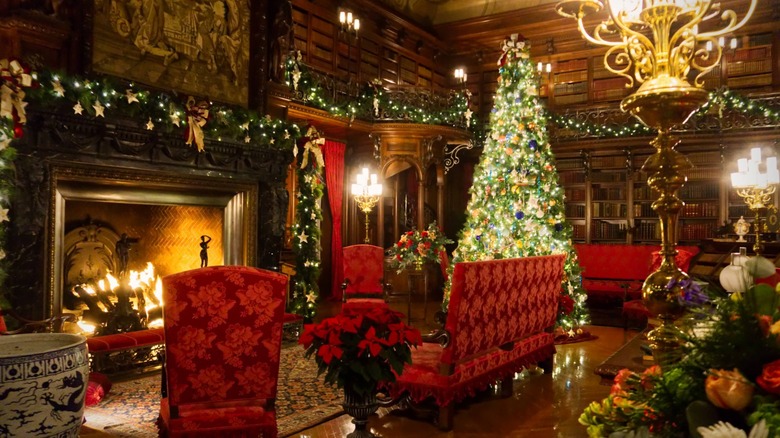 Delaney Juarez/Shutterstock
Actor Kristoffer Polaha adores working for Hallmark. While it is unsure if a new mystery series is on the way for Polaha, he has another movie with the network that will be coming out this holiday season. In this new flick, "A Biltmore Christmas," Polaha plays Jack Huston, a Golden Age actor filming the Christmas movie "His Merry Bride!" at the Biltmore House in the 1940s. Polaha's co-star, Bethany Joy Lenz, plays Lucy Collins, a screenwriter from the present day working on the script for a "His Merry Bride!" remake. While visiting the Biltmore House to inspire her script, Lucy knocks over an hourglass and is transported back to Jack's time.
Like any good time travel fiction, the introduction of Lucy into the past causes changes to the timeline. Plus, Lucy and Jack are falling for each other, but they are literally from two different worlds. Lucy will have to work to get everything back on track and get back to her own time — but will she and Jack be able to stay together somehow? In the world of Hallmark, anything is possible.
The Hallmark Channel took to Twitter to share their first sneak peek at "A Biltmore Christmas."
The sneak peek shows Lucy and Jack discussing love
In the featured clip from "A Biltmore Christmas," viewers can see Bethany Joy Lenz and Kristoffer Polaha walking the grounds of the Biltmore House in full '40s garb. Their characters Lucy and Jack are in the middle of a conversation about romance when Lucy says, "I am not down on romance! I just want to write something that's real and meaningful." Jack replies, "Can't get any more meaningful than two lonely hearts finding a little slice of happiness in this crazy world."
Of the film, Samantha DiPippo — Hallmark Media's senior VP of development and programming — told Variety, "Each year we look for ways to create exciting, new holiday viewing experiences for our audience. We know fans will love being transported back in time and the iconic, beautiful Biltmore Estate is the perfect setting to help fans get into the holiday spirit."
"A Biltmore Christmas" will be the first holiday movie released for the 2023 season and was filmed at the real Biltmore House in Asheville, North Carolina. The Biltmore House is well-known for its holiday traditions and celebrations. While this is not the first movie that has been filmed at the Biltmore House, it is the first one that was both filmed at and written to take place at the estate.