Sister Wives' Kody Brown Allegedly Faced Legal Threats In Utah Over Family's Polygamous Life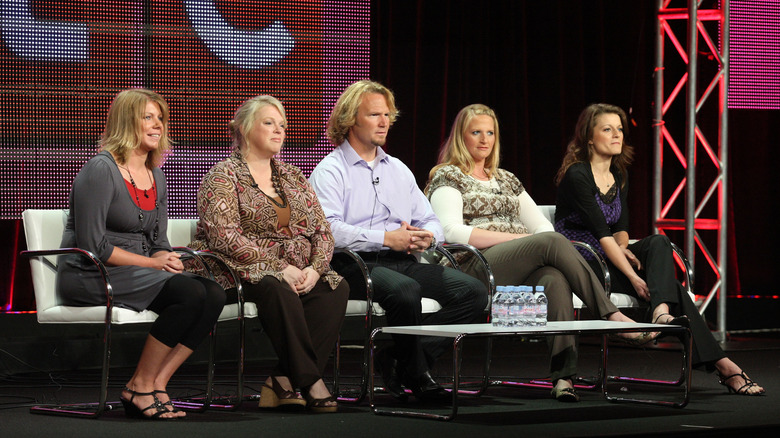 Frederick M. Brown/Getty Images
Since its premier in 2010, "Sister Wives" has courted controversy. From its shocking polygamist premise to its endless family drama, no other reality show has been able to rival it. Now, a new piece of drama has been unearthed, and it's a doozy.
Gwendlyn Brown, daughter of Kody and his third wife, Christine, isn't one to shy away from drama. As one of 18 kids, we're sure she's an expert at juggling controversy. She's used her non-traditional childhood (as both a child in a plural family and a reality TV show star) to build a pretty successful YouTube career. Her content mainly consists of "Sister Wives" reactions, where she shares her unique insight.
She's definitely not afraid to speak her mind, either. During a Q&A session, she revealed some shocking family secrets. Though legal trouble has been addressed on the show in the past, we never thought it went this far.
Run-ins with the law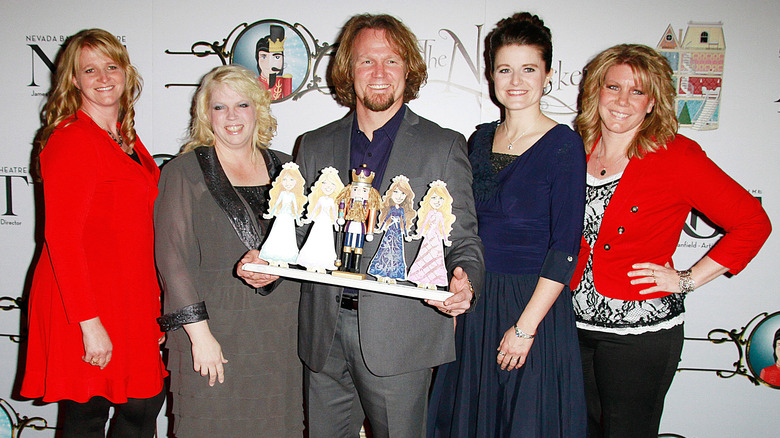 Marcel Thomas/Getty Images
While answering a question about why her family moved away from Utah, Gwendlyn Brown revealed her family's legal issues. She claims that "police were coming to [her] door when [she] was a kid," threatening to take her dad to prison for his polygamist practices.
If you look deeper into America's complicated legal history with polygamy, you'll see that this story is definitely plausible — every U.S. state has a law against polygamy in some shape or form. Most of these laws came into being during the rise of Mormonism in the U.S., which was perceived as a threat to the status quo. Enforcement of these laws is usually rare, since it's difficult to prove potential polygamist practices in a court of law. The Browns, being as high-profile as they are, were an easy target, however.
In a previous episode of "Sister Wives," Janelle Brown, Kody Brown's second wife, disclosed that her husband "could go to jail from anywhere from nine to fifteen years" because he was married to three other women outside of his legal marriage (via People). Because of these legal threats, the Brown family relocated from Utah to Nevada. Tired of keeping their lifestyle under wraps, they challenged Utah's anti-polygamy law in 2011, in the landmark Brown v. Buhman court case. Initially, they won, but the case was overturned after one year. However, Utah changed the law once again years later, successfully decriminalizing polygamy and changing it from a felony to an infraction.
The aftermath
On the surface, this law seems like it would be a turning point for the Brown family. While it was for a time, recent events have fractured the family, leaving fans wondering what their future could look like. Gwendlyn Brown, on her part, has criticized the show and her family in general. In a recent YouTube video, she explains that "a lot of the reason why we're all separated [is] we don't talk to each other, we don't express when there's a fault."
Seems like Gwendlyn is definitely onto something — her mother, Christine, divorced Kody for similar reasons. And she's not the only one. Janelle, a big supporter of Christine, is separated from Kody. Brown's relationship with his first wife, Meri, has also since dissolved. After many complications, where Meri admitted to wanting to make it work despite Kody's resistance, she revealed that they are no longer married. The only wife he's still married to is Robyn, who's been accused of being his favorite, and happens to be his legal wife. There's been lots of speculation regarding how the Sister Wives really feel about Robyn Brown, and if we learned anything from Season 17, it's that those feelings are far from positive.
Even Kody himself, the Brown family patriarch, has been questioning his decision to live a polygamist lifestyle. After Christine left him, he admitted that he's been questioning his religion and marriages: "The message we had to the world about functional polygamy seems so dysfunctional now" (via "Today").