Sheikha Moza Bint Nasser: Inside The Life Of Qatar's Elegant First Lady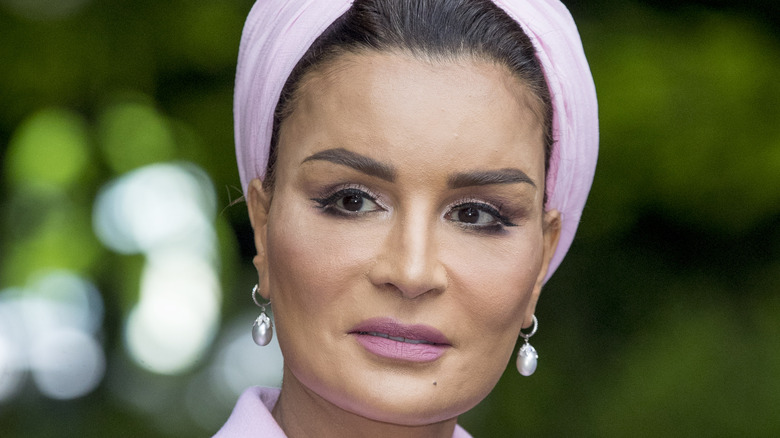 Patrick Van Katwijk/Getty Images
Moza bint Nasser Al-Missned was born in the Qatari town of Al Khor on August 8, 1959. At the time, her father was a prominent business owner and politician, but the family's fate changed when he was imprisoned for speaking out against the ruling emir regarding the inequitable distribution of the country's wealth. Following his release in 1964, the family fled Qatar and lived in exile in Kuwait and Egypt.
The future sheikha returned to her country and enrolled at Qatar University when the emir's son, Sheikh Hamad bin Khalifa Al-Thani, decided to marry her. At 18, she became his second wife and the daughter-in-law of her father's jailer. In 1995 her husband became the emir after overthrowing his father in a nonviolent coup. She is the mother of seven children and is said to be her husband's favorite wife. She is deeply involved in the financial decisions of the royal family and has captivated the world of high fashion with her flawless looks. She most recently made waves with the chic ensembles she wore to the wedding of Jordan's crown prince. 
Shockingly, she seems to have largely flown under the radar when it comes to coverage of royal families. That said, she certainly has the attention of the most discerning fashion experts. A jury member who decided Vanity Fair's best-dressed list in 2018 included her as a "Globalista" along with Meghan Markle and wrote, "Moza's wardrobe is the ultimate regal power statement — she is a modern Jacqueline Onassis."
She is highly educated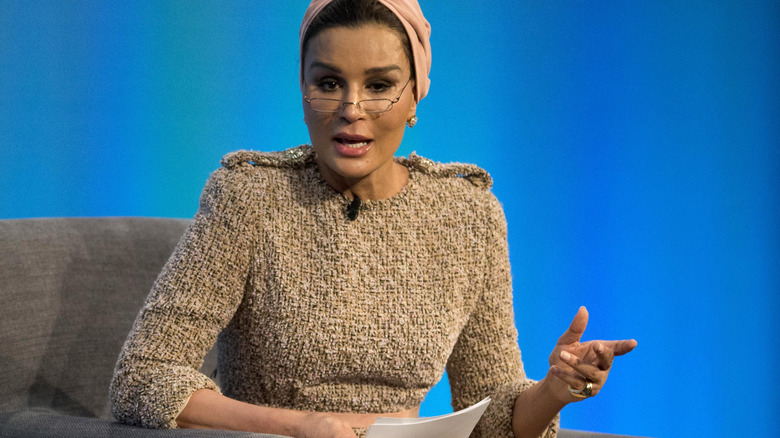 Wpa Pool/Getty Images
Sheikha Moza, who reportedly wanted to be a doctor before marrying into the royal family, ended up studying at Qatar University, where she earned a Bachelor of Arts degree in sociology. After that, she earned a master's in public policy in Islam from Hamad bin Khalifa University. She cites her father's dedication to educating himself while he was in prison as the inspiration and motivation for her to pursue her own studies. In addition to the degrees she earned, she has been presented with many honorary doctorates, including several from American universities.
Recognizing the importance of education and the doors it opens, she is devoted to ensuring that others have similar opportunities. "You need to educate people to be prudent, to be wise in terms of dealing with their ecosystem, their environment, with their health, with their sanitation ... when you educate an individual, you're really helping to bring up a healthy wellbeing," she said (via Doha News).
Her extensive education, however, seems to fly in the face of Qatar's oppressive male guardianship system. The inequitable conditions that are enforced in Qatar inevitably returned to the spotlight when it hosted the World Cup in 2022. Human Rights Watch recognizes that the country has made some progress but decries its treatment of women in general. A recent report titled "Everything I Have to Do is Tied to a Man" details that women must still get permission from their male guardians to do just about anything, including seeking a higher education. 
Moza bint Nasser is the glamorous face of one of the world's most oppressive regimes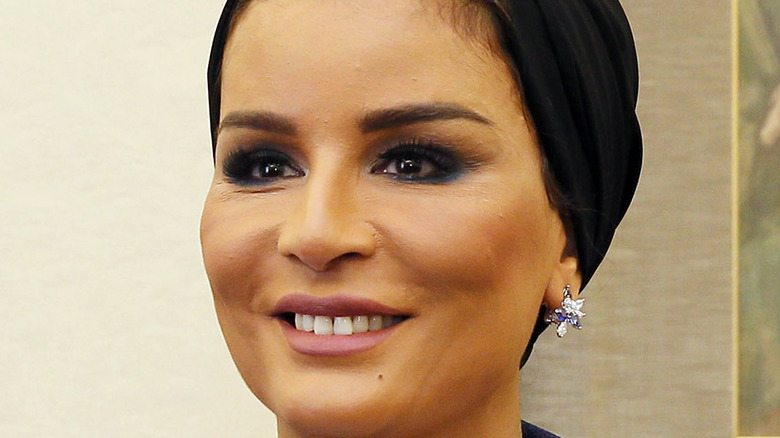 Vatican Pool/Getty Images
"Any people that want to develop their countries ... have to practice democracy. That's what I believe." These words were uttered during a 2003 interview for "60  Minutes" by Sheikha Moza's husband, the emir of Qatar at the time (via Christian Science Monitor). This is a curious statement coming from the leader of a state that is widely documented as oppressive to women, a regular perpetrator of human rights violations, and has made same-sex relationships illegal and punishable by law, to name just a few of its abuses.
Qatar's penchant for these unsavory practices has long been protested at home and around the world. As Qatar prepared to host the World Cup, many concerns came to light regarding the employment and living conditions of migrant workers. According to The Guardian, 6,500 perished between 2010 (when Qatar was named host) and 2022, when the event finally occurred. Many of these deaths happened during the construction of several additional sports stadiums and infrastructure.
Sheikha Moza, who cuts a sophisticated and outspoken figure, is an anomaly when it comes to how her freedoms compare to the average Qatari woman. Not only is she extraordinarily independent and well-traveled, but in a region where first ladies are not often seen in public, she is a constant globe-trotter, has her hand in the family's considerable financial operations, and bucks tradition by wearing a headscarf instead of a veil.
She is a fashion icon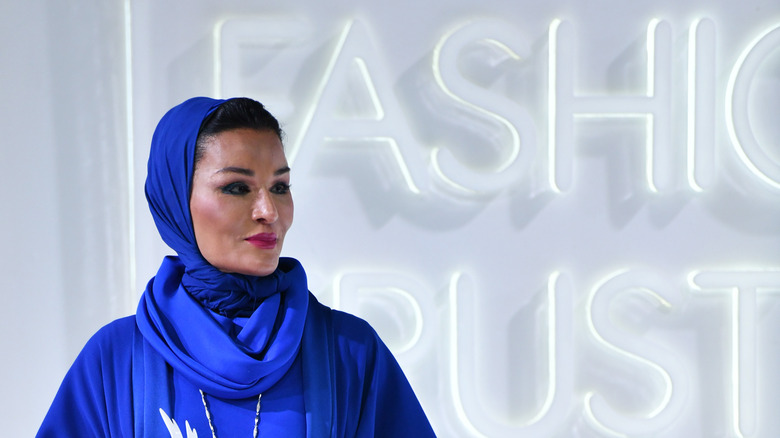 Craig Barritt/Getty Images
If Sheikha Moza wasn't already on every fashionista's radar, she certainly is after recently attending the wedding of the Crown Prince of Jordan. She arrived at the royal palace in a showstopping Valentino coat that was part of the designer's 1989 couture collection. Having solidified her place as a fashion icon as the sole inductee into Vanity Fair's International Best-Dressed Hall of Fame in 2015, her style is sophisticated, elegant, and modest.
"She is laying out ground rules: you can be fashionable and cutting edge, but there are boundaries," one expert who is based in Doha told The Financial Times. Her wardrobe includes top designers like Chanel, Hermès, Jean Paul Gaultier, and Valentino. She often pairs her outfits with stunning footwear by her favorite shoe designer — Christian Louboutin.
Having inspired Instagram accounts that showcase her fashion triumphs, she says that she doesn't use a stylist "because I wouldn't find anyone who understands what I want" (via The Daily Mail). She also loves spending time alone with her collection. "It's my mental treat. When I'm exhausted, I go to my dressing room and go through my closets, and I try to mix things and fix things," she said. Brazilian designer Victor Dzenk told O Globo newspaper what it was like to work with her: "In addition to being a beautiful woman, she is very calm, she speaks in a low voice, and she knows what she wants" (via The Daily Mail).
Her jewelry and accessory collections are unmatched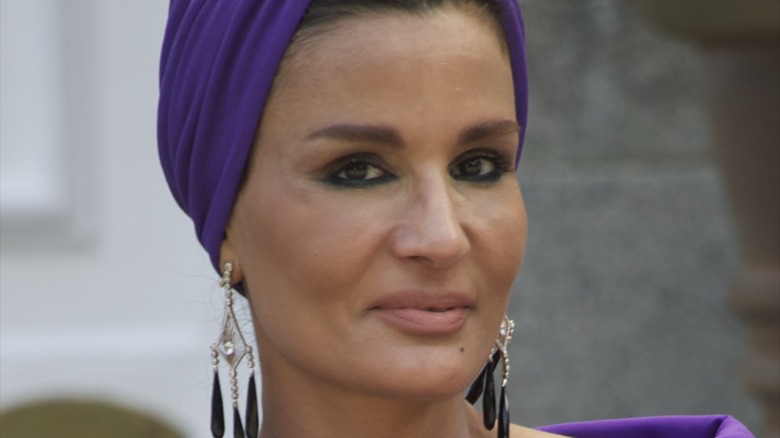 Carlos Alvarez/Getty Images
In addition to her one-of-a-kind wardrobe, Sheikha Moza owns an equally impressive collection of jewelry and accessories, which she uses to great effect. Her regal looks can include everything from diamond-encrusted necklaces to dramatic chandelier-style earrings to rings bearing enormous stones. She owns stunning pieces from exclusive jewelers like Cartier, Van Cleef & Arpels, Harry Winston, Buccellati, David Webb, and Chatila.
Harold Koda, former curator of the Metropolitan Museum's Costume Institute, characterized her style: "What Sheikha Moza has mastered requires aesthetic sophistication, discipline, and a decisive point of view. She deftly balances decorous societal expectations with stylish individuality. No one else will ever look like her" (via Vogue Arabia). 
Some of the sheikha's more spectacular pieces are a gold and coral necklace and earring set designed by David Webb, a pair of Cartier beetle brooches made in the art deco style, and a Cartier snake necklace that is covered with diamonds. Rumor has it, however, that the snake necklace was modified to match a modest J. Mendel gown during a visit to England. Sharp eyes noticed that two gigantic emeralds had been replaced with two gigantic diamonds for the occasion. Her accessorizing doesn't stop there. She is also partial to wearing magnificent statement belts that brilliantly accentuate her outfits. These include creations by Silvia Furmanovich, a Brazil-based designer well-known for her wood marquetry, an eye-catching leather piece by Bottega Veneta, and a unique metal belt by Giambattista Valli.
Moza bint Nasser is dedicated to improving education in Qatar and around the world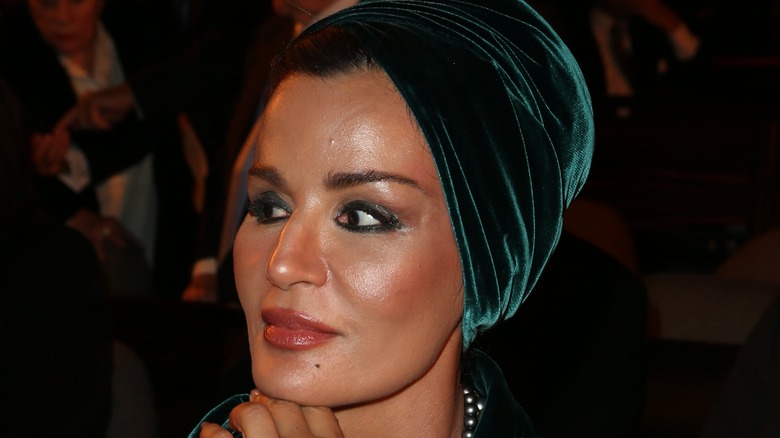 Michel Dufour/Getty Images
Sheikha Moza has dedicated much of her public life to expanding and improving educational opportunities for Qatari citizens and people worldwide. According to UNESCO, she has served at that organization as Special Envoy for Basic and Higher Education since 2003. Her official website lists all of her initiatives, including those dedicated to social development, health care, the environment, and more. 
Despite these admirable efforts, her apparent unwillingness to address Qatar's continued oppression of women head-on has occasionally sparked controversy. She proffers carefully crafted responses to defend her country's culture when confronted on the issue. "Islam has always guaranteed the full rights of women," she said at a 2006 Carnegie-Mellon University address, "and women have always occupied a central role in Islamic civilizations. ... It is important to remember that these women were consulted in forming legislative order in Islamic societies, and they heavily influenced policies that were to govern social, political, economic, and military issues" (via Harvard Divinity School). 
Her ability to put a positive spin on Qatar's questionable policies has undoubtedly helped her to accomplish some pretty impressive goals. One of these has been the establishment of satellite campuses of several American universities in her home state. "If you want to teach women, you have to teach men as well. If you have educated men, they will enable their women to be educated," she told The Financial Times. Hmm.
Moza bint Nasser has an impressive real estate portfolio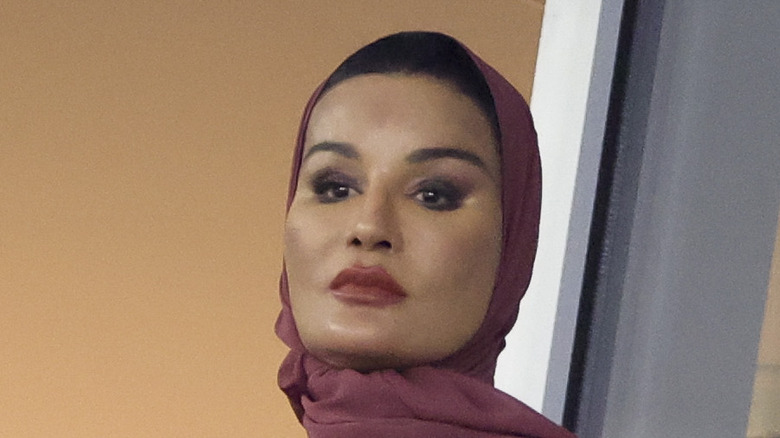 Jean Catuffe/Getty Images
It goes without saying that opulent homes are included in this family's vast real estate holdings. First and foremost is the Doha Royal Palace, which serves as Sheikha Moza's home base while in Qatar.  This is essentially a compound that is home to 15 different palaces and cost an estimated $1 billion to build. Reportedly covered in real gold accents, there is also space to accommodate parking for 500 cars.
An Italian design company called Mantellassi shared its involvement in a recent redecoration of the palace on its website. They say that their work was based on the design concept of a Tunisian architect named Walid Layouni. It is described as featuring a variety of design styles, including Baroque elements in the formal spaces and a deco glam style in the family's living spaces. 
In addition to her residence in the family palace, the sheikha has used her wealth to purchase several mansions in the toniest London neighborhoods. These include two Cornwall Terrace homes in Regent's Park that sit next right to each other. She acquired them several years ago with plans to convert them into one enormous mansion, but this project appears to be mired in legal problems. According to the BBC, it was recently discovered that the purchase was conducted through a shell company located offshore to save money.
She is often referred to as the actual ruler of Qatar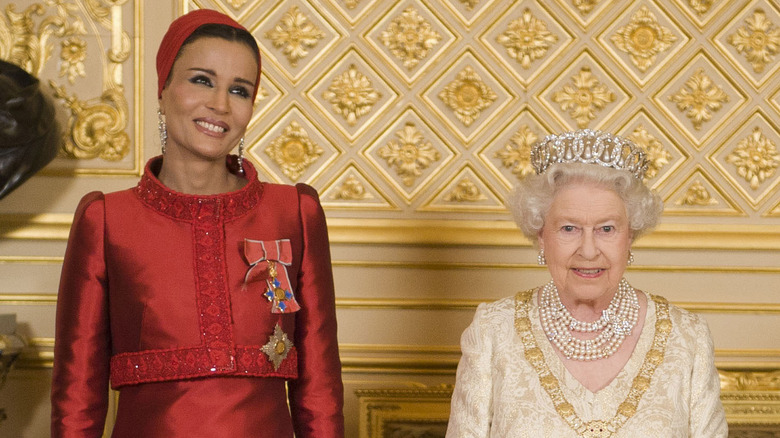 Anwar Hussein/Getty Images
Sheikha Moza is the only "forward-facing" and publicity-friendly wife of the former emir of Qatar, and as such, her power has only grown since her marriage to him as a teenager in 1977. It's reported she was not only the driving force behind her husband's successful move to overthrow his father's regime in 1995, but she did an encore performance to ensure that the role would go to one of her children next.
In 2013, apparently fueled by fears of her husband's death and how it might affect her future, she is suspected of having orchestrated similar manipulations that resulted in her son Tamim conducting his own bloodless coup.  As the mother of the current emir, she has cemented her power in the family's political, cultural, and financial decisions for the foreseeable future. 
Some suspect that the sheikha was behind Tamim's rise to power for a variety of reasons. A family member named Saud bin Nasser Al-Thani has spoken out publicly about the affair, asserting that Sheikha Moza's eldest son Jassem was supposed to become emir but strangely withdrew from consideration in favor of his brother. Bin Nasser says that the reason for the change in the succession plan was that she could control her second-born more effectively. He also makes outright claims that she is the person who is truly running Qatar and has installed several of her closest relatives in important positions to strengthen her control. 
Her family is very, very, very wealthy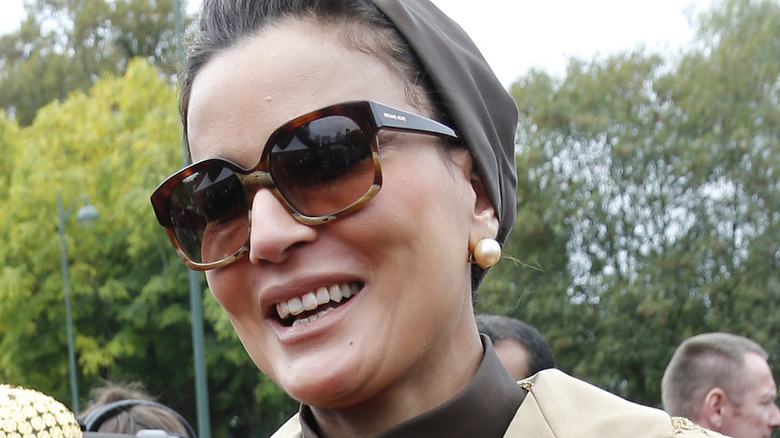 Jean Catuffe/Getty Images
Sheikhdoms have been synonymous with extreme wealth for several decades, due to the discovery of the world's largest petroleum deposits in the Persian Gulf. Qatar entered the game in 1971 when it struck the planet's largest gas field. As such, the current monarchy of Qatar, the Al-Thani dynasty, has no shortage of cash. The collective members of the family have an estimated net worth of a staggering $335 billion.
This includes the globe-trotting Sheikha Moza's portion, which is reportedly valued at about $15 billion. In addition to owning stakes in lots of valuable real estate like the Shard skyscraper in London, the family also owns Valentino Fashion Group, Balmain, Harrods (a luxury department store in London), and many other businesses outright.
The sheikha most certainly has access to her son's assets as well. These include a super yacht named Katara, which has a helicopter pad and room for 35 people on board. The royal family also owns a private airline with a fleet of 14 jets reserved for the exclusive use of the family and other high-ranking officials. Last but not least, if she needs some sporting entertainment, the sheikha can probably get great tickets to a soccer game. Emir Tamim bought the Paris Saint-Germain club in 2011, and the family is also looking to purchase Manchester United. 
Moza bint Nasser is deeply interested in art and architecture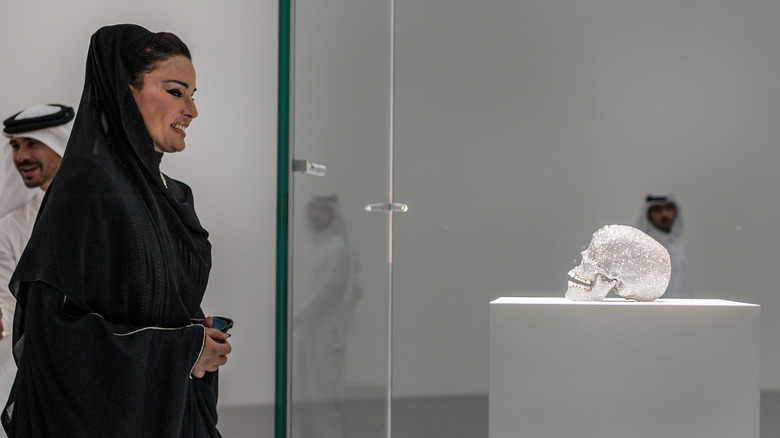 Niccolo Guasti/Getty Images
Sheikha Moza's interests and causes are extremely diverse. For starters, she has been intimately involved in Qatar's transformation and supervises massive construction projects that are designed to meet strict environmental standards while showcasing the protecting the small state's cultural legacy. The Qatar National Convention Center, which opened in 2011, used the latest methods when it came to water conservation and energy efficiency. Another pet project was the Msheireb development, which is set on 75 acres in downtown Doha. It consists of performance venues, public spaces, retail shops, and housing. She is very committed to honoring Qatar's culture and heritage, as well as its traditional art and architectural styles — all while promoting the global engagement of its citizens.
Of course, no palace would be complete without the ability to display some of the world's most valuable and recognizable artwork. The royal family's investments range from a brooch likely made by artist Alexander Calder to paintings by famous artists that they have purchased for astronomical prices. According to India Times, their extensive collection includes Mark Rothko's "White Center" which they bought for $72.8 million, pop artist Andy Warhol's "Men in Her Life," acquired for $63.4 million, and Cézanne's "The Card Players," which broke records when they paid $250 million for it.
Sheikha Moza's daughter Sheikha Al Mayassa bint Hamad bin Khalifa Al-Thani has been instrumental in amassing the family's massive collection of priceless artworks. Her annual budget is estimated to be $1 billion.