Patricia Arquette's Daughter Has Grown Up To Be Gorgeous
Kurt Krieger - Corbis/Getty Images
Patricia Arquette is a mother to two children, her son, Enzo Rossi, whom she had when she was a struggling actress, and later, her daughter, Harlow Jane. She shares Jane with her ex-husband, actor Thomas Jane. A lot has changed in the "Severance" actress' life over the years, and she now has two grown children who have brought much joy to her world. But who is her daughter? And why is there so much fascination surrounding her?
Jane shares many similarities with her mom, one of the most obvious of which is her appearance. They are strikingly similar, and good genes clearly run in the family, but she is also a budding actress eager to pursue a career in the entertainment industry. She has already landed several roles, including an extra-special performance that sees her star as a younger version of her mother on the Apple TV series "High Desert." "I was excited and nervous for her. I wasn't on the set that day. I gave her space to do her own thing," Arquette told the The New York Post of her daughter's acting. "She did a wonderful job." 
Fans of Arquette will be thrilled to know they will likely be seeing a lot more of her daughter in the future, and now that she's reached adulthood, it is time for her to make her mark on the industry. Let's discuss who Harlow Jane is and what you should know about her as she embraces life in the limelight.
Harlow is following in her mother's footsteps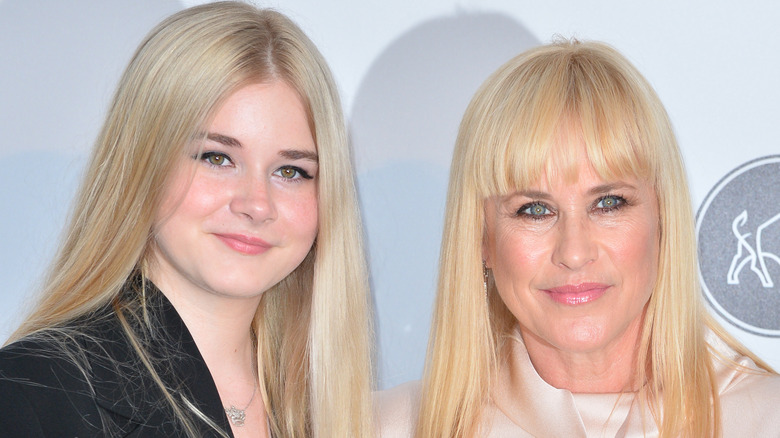 Featureflash Photo Agency/Shutterstock
Patricia Arquette's daughter, Harlow Olivia Calliope Jane, is now an adult, and rather than shy away from a life of fame, she's embracing it. Like her famous parents, she has pursued an acting career, but this is a path she was initially reluctant to choose for herself.
"I definitely rebelled against it for as long as I could," she told People magazine in an interview. "And then when I got into high school, I ended up going to this very arts-heavy boarding school, and I took a theater class. And that's when I decided, 'Yeah, I don't know if I can not do this anymore for the rest of my life.' I can't live a lie of wanting to be anything else."
As for why she tried to "rebel" against becoming an actor? She did not share this specifically but admitted to "secretly" loving the profession. She has been exposed to the industry from a young age because of Arquette and her father, Thomas Jane's careers. This means Harlow would have a general understanding of how Hollywood works, and perhaps that contributed to the lack of appeal. 
She has even played the younger version of her mother on 'High Desert'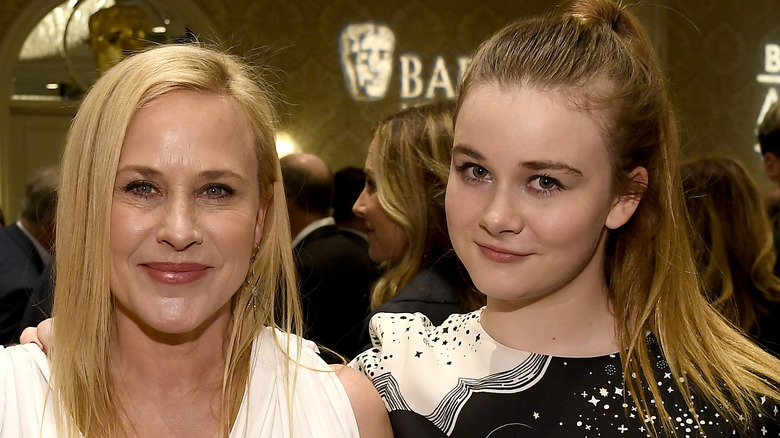 Kevork Djansezian/bafta La/Getty Images
Harlow Jane has already proved to the world that she has skills as an actress, and she's not landing roles based solely on her parentage. That said, there is one part that she did get because of her mother, at least in part because she appears as the younger version of Patricia Arquette's character, Peggy, in the Apple TV+ comedy series, "High Desert."
Thus far, it has not been a recurring role, and the performance was limited to one episode, but for many fans, it was memorable. It's also a role Jane approached with enthusiasm and dedication to achieving the most accurate portrayal, including getting fake teeth to look more like her famous mama. "I went to my dentist, and I had him put these artificial teeth over my teeth," she told People in a 2023 interview. "My mom has very specific teeth. And I was getting really into it. I cut my hair, dyed my hair. It was just so fun to me."
Patricia Arquette has praised her daughter's performance and explained to Variety why she was the perfect person for the role. "She watched me a few days on the set, and we talked a little bit — not as mother and daughter, but as actress to actress. I was so proud of her and not really surprised because she's really a deep person."
Patricia Arquette has praised Harlow for her strength
Emma Mcintyre/Getty Images
Patricia Arquette is impressed with Harlow Jane's acting abilities, and she's also proud of the young woman she has become. In a speech following her Golden Globe win for "The Act," rather than discuss herself, she spoke about her daughter.
"I feel like my daughter is so much stronger than I ever was ... kind of born strong," she began. "And I think I learned a lot about strength from her but I do see her negotiating this new world, and I think the world is changing ... and relationships between men and women, it has kind of been a conversation that we have needed to have for thousands of years, and we are starting to have this conversation."
This is a powerful statement from Arquette that may surprise some because of how much she credits it to her daughter. Many women would praise the actress for her strength and for being a champion for equal treatment of women in the entertainment industry. "It has been so beautiful to witness the way women have stepped up for each other when bad things happen to you.... I have emerged from it all with a new understanding of sisterhood and its meaning and more importantly, its obligations," Arquette said at a Visionary Women event in 2019. Arquette has worked hard to achieve all she has and hasn't forgotten how much she struggled in her younger years to make ends meet while raising a child.
Harlow has been on film sets since she was a child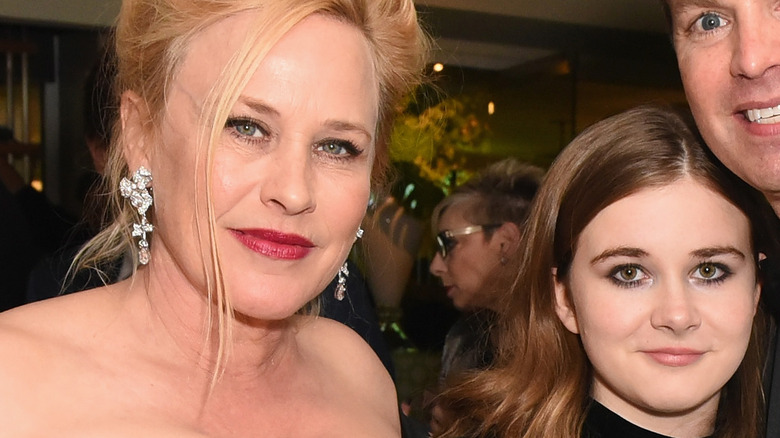 Filmmagic/Getty Images
Harlow Jane has been part of the entertainment industry since she was a child. And while she does have fond memories of being on set with her mother, it was not always the most exciting experience for her. When most of us watch a film, it can be thrilling, but seeing the work behind the scenes does not always elicit the same reaction. Jane has admitted that it was not a terribly inspiring experience as a child.
"Being on set, part of me was bored, because whatever your parent does ... it's not exciting — especially when you're a teenager," she told People. "You're going through life stages. You don't see the value in what your parents are doing." Despite this, there were some aspects of it that drew the young star in. "I loved going with my mom into the makeup trailer, and I loved watching on the screens. I loved watching the director work," she recalled. She knew this was the right career path for her, although it would take her several years for her to embrace it. 
Harlow's life was very different from her brother's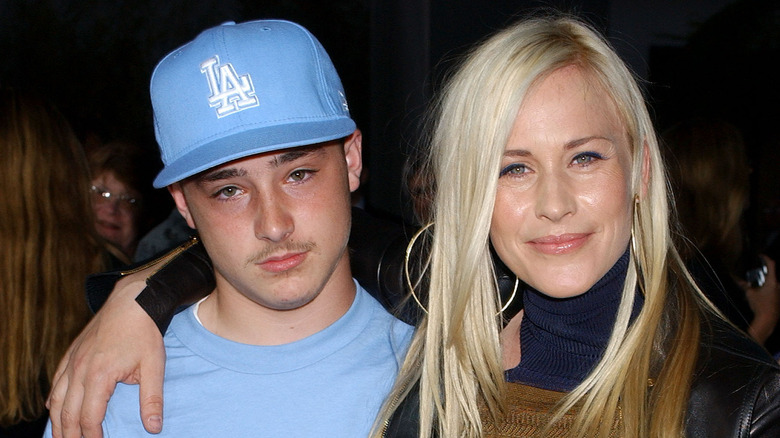 Gregg Deguire/Getty Images
Patricia Arquette became a mother to her first child, a son named Enzo Rossi, when she was a struggling 20-year-old. Rossi was born in 1989, and his father is musician Paul Rossi, but the couple did not remain together and split when Enzo was still an infant. Being a single mom was no easy task, and the "Medium" actress experienced financial difficulties, which she reflected on years later in a 2015 interview with HuffPost Live.
"I was a single mom when I was 20, and there were times where I didn't know if I could buy him diapers and could buy food," she said, later noting how her own life in many ways mirrored the role she played on the hit film, "Boyhood." It would be 14 years before she would become a mother for a second time, this time to Harlow Jane in 2003. The circumstances of her entry into motherhood were notably different from when she had her second child because by then, Arquette had had the chance to establish her career. Not only was she more financially stable, but her relationship status was also different. This time, she was not raising her child alone because she was in a committed relationship with actor Thomas Jane (whom she would marry in 2006, three years after Harlow's birth).
Her father is actor Thomas Jane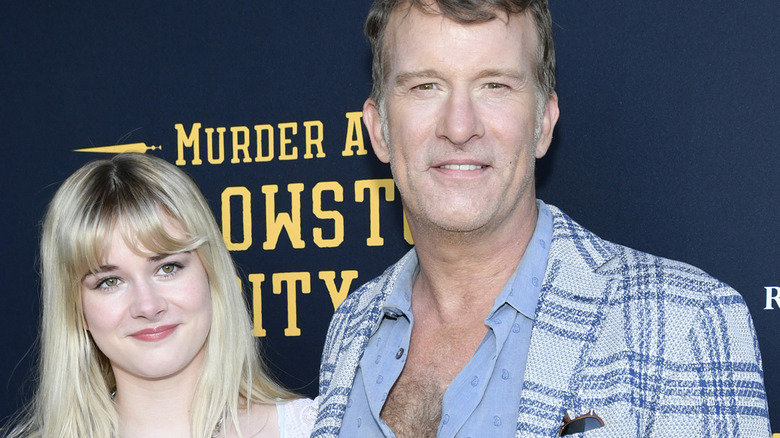 Michael Tullberg/Getty Images
Harlow Jane is the daughter of not one but two actors. Her parents are Patricia Arquette and Thomas Jane, who were married for four years. Arquette's representative commented on the breakup at the time of their divorce, telling People: "The split is completely amicable, and their prime focus is their daughter. They ask that their privacy be respected at this time."
Harlow reflected on what it was like growing up with creatives as parents and its impact on her life. "I think people who are artists and creative, we're pretty prone to our big emotions," she told People. "But also, it was beautiful. It was great. I'm lucky to have grown up around so much art and creation, and creativity. It was a general spirit of playfulness, even today."
Harlow benefits from a close relationship with her parents. Their star status also means the opportunities have come rolling in, with her appearing in a film alongside her dad. The movie in question, "Dig," was released in 2022. Thomas plays the role of Scott Brennan, while his real-life daughter plays his on-screen daughter, Jane. As for what it was like working with her dad? "It was my first real job, so I'd never done it before," Harlow told ScreenRant in a 2022 interview. "But I learned so much; it was a very valuable experience, so I'm really grateful that I got the opportunity."
Patricia Arquette was not big on discipline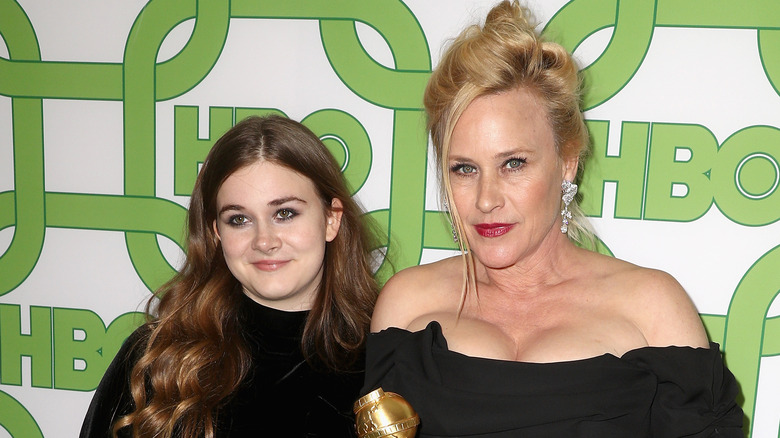 Frederick M. Brown/Getty Images
If you've ever wondered what it was like growing up with Patricia Arquette as a mom, her comments to USA Weekend in 2005 will give a glimpse into her parenting. And it turns out she is not a big disciplinarian (which makes her different from other, stricter celebrity parents). 
"I'm not a great disciplinarian. But luckily, Enzo didn't really need that. I just talked him through things," the "True Romance" actress said. She also acknowledged how her brother, David Arquette was there for her. "David helped me a lot with understanding him," she explained. "I'm going to have to reconfigure my skills for my daughter, because she's already like, 'No, Mama. No!'"
Harlow Jane's decision to push back and question what her mother asked of her could be a personality trait. But Thomas Jane has also shared a bit about his approach to parenting and how he takes issue with the influence of social media. "I have a teenage daughter, and I try to offer her a counterbalance. You know, she doesn't listen to her old man," he told MovieWeb in 2022. "But I try to offer, you know, a different perspective. And I think that's really all we can do, you know, awareness, spread awareness, what's really going on."
Harlow has a famous cousin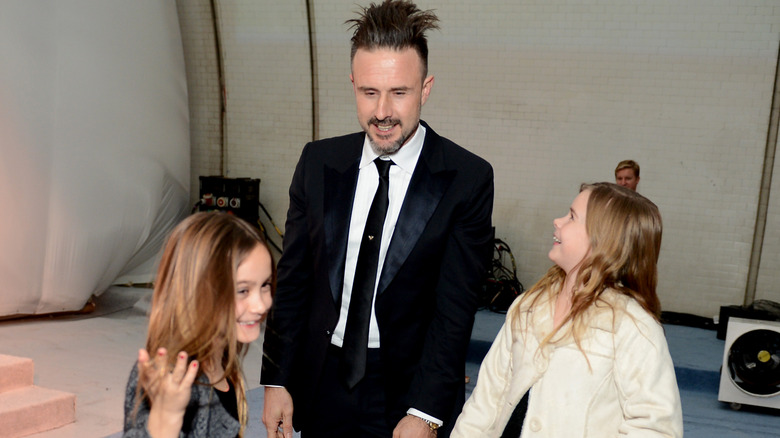 Michael Kovac/Getty Images
Harlow Jane is related to another very famous celebrity child, Coco Arquette. Coco is her cousin and the child of Courteney Cox and David Arquette (Patricia Arquette's brother). They are close in age; Coco was born on June 13, 2004, while Harlow was born on February 20, 2003, and according to an interview Patricia gave to People in 2007, they are absolute besties.
"It's a lovefest. Coco said Harlow is her best friend," the "Lost Highway" actress said. The two also grew up together (David Arquette once posted the sweetest throwback of himself, Coco, Harlow, and her father, Thomas Jane, on Instagram.)
While their bond is their own, they share other similarities, including having strong female role models and close bonds with their mothers. This doesn't mean it's all sunshine and rainbows, as Courteney Cox revealed in an interview with People magazine how she and Coco sometimes don't see eye to eye. "We fight. I've learned that boundaries are important and to keep them because I know it makes her feel safe," she said. "But I'm not always good with boundaries. I get worn out. You've got to pick your battles and decide what is important." Arquette has not spoken about her disputes with her daughter, but she has had her own feelings to contend with. Patricia told Time magazine about how she felt when her daughter attended boarding school. "I had this longing feeling of wanting to keep her close to me," she explained.
Harlow has learned American Sign Language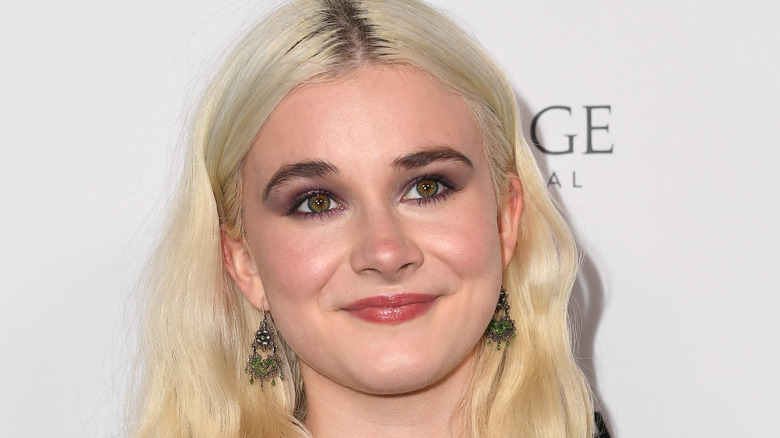 Steve Granitz/Getty Images
Another interesting fact about Harlow Jane is that she knows American Sign Language (ASL), which she learned for her role in the 2022 film "Dig." In her interview with ScreenRant, she discussed this learning experience, saying, "I basically had to learn it from scratch, I knew a couple of letters, literally just basic alphabet. But no, I essentially had to learn it from scratch, and I remember the script wasn't totally optimized for ASL. We kind of figured that out in the learning process of things."
Of course, learning a new language is never easy, and she admits in the interview that the screenwriter had to alter some of her lines to accommodate her. But the takeaway here is how dedicated she is to her work. Harlow may be young, but she approaches her roles with professionalism. She is the child of two big stars, but that doesn't mean she doesn't want to prove to the world that she deserves her place in the entertainment industry. 
She has never been afraid to express her unique style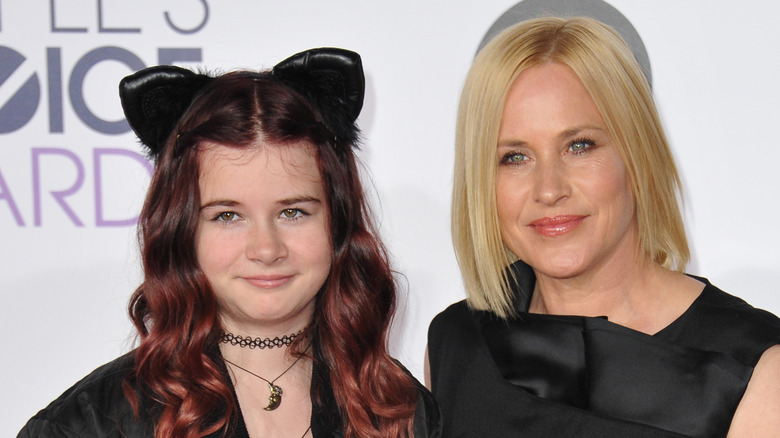 Featureflash Photo Agency/Shutterstock
Children of celebrities have advantages and disadvantages. One negative thing about having famous parents is they are automatically thrust into the limelight as fans try to discover more about their lives. This can pose certain challenges, including the pressure to look or act a specific way for fear of criticism or how their appearance or behavior could potentially impact their parents' careers.
Harlow Jane has never been afraid to express her unique style. One example of this was in 2015 when she wore cat ears and Doc Martens as she walked the People's Choice Awards red carpet alongside her mother, Patricia Arquette. Arquette proudly introduced Harlow, telling E! News, "This is Harlow Jane. She's my cat. She's my kitty daughter."
Harlow's willingness to embrace her individuality may owe some thanks to her closeness with her mother, who appears to have always been a great supporter of her. In an interview with People about her role in "High Desert," the young actress commented that she and Arquette are "very close."
Patricia Arquette has spoken about the difficulties of being a teenage girl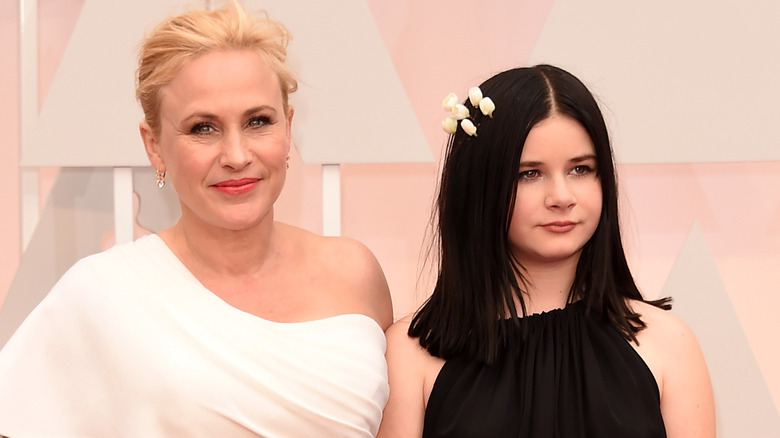 Jason Merritt/Getty Images
Having once been a teenage girl herself, Patricia Arquette is aware of teens' struggles and the emotions they sometimes struggle to process. Although her life experience doesn't mirror her daughter's exactly, she spoke to The Guardian about the general challenges of being a teen girl.
"It's always difficult to be a teenage girl," she explained in a 2015 interview. "The time I was most conscious of trying to be attractive was when I was a teenager. I see so many mixed messages in the world around her, and my message is always: 'You're beautiful, you're perfect, you're smart, you're funny. You're great, and you'll find the right person for you.'" She also admitted that the role models she had growing up were different from those her daughter has now. Still, Harlow Jane has a great relationship with her mom. As she plainly put it to People magazine: "I love my mom."