Jim Carrey And Lauren Holly's Marriage Lasted Less Than A Year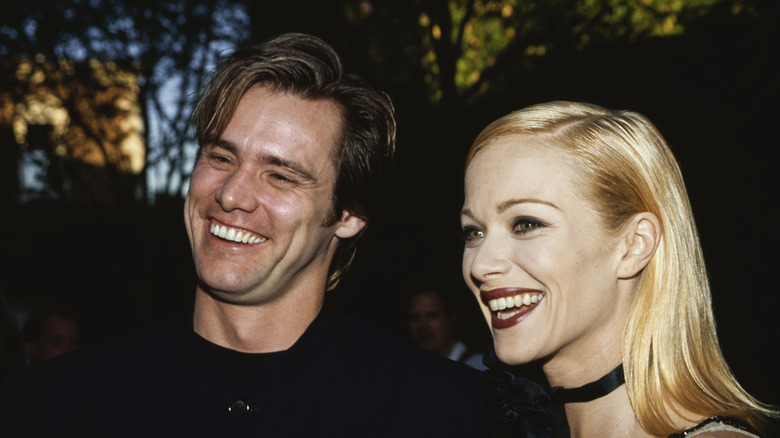 Michael Ochs Archives/Getty Images
Jim Carrey and Lauren Holly's romance was short-lived but beautiful. In a 1995 Rolling Stone interview, Carrey gushed about his future wife: "I am absolutely head over heels in love right now. It's wonderful. Lauren Holly is absolutely the most beautiful woman on the face of the earth to me right now, and she is brilliant, talented, selfless, caring, loving, the best combination of everything you could ever think of." And while they seemed happily in love, the media had a different perspective.
Although Holly and Carrey reportedly met in 1994 when she auditioned for "Ace Ventura: Pet Detective," they didn't start dating until they co-starred in "Dumb and Dumber" later in the year. While their relationship blossomed, Carrey was in the middle of divorce proceedings with his wife, Melissa Womer, which led many to wonder if the actor had been unfaithful. The tabloids even began to label Holly as a homewrecker, and Womer added fuel to the fire. 
In a 1995 New York Daily News interview, she said, "You don't have to be a rocket scientist to figure out what happened." Womer elaborated, "I personally think she may have been involved a lot sooner than they are letting on," (via Spokesman). And part of her statement can be attributed to the fact that the ex-couple had different ideas about when their relationship actually ended. While Carrey believed it was June 1993, she thought it was November. Nonetheless, Holly was the victim of numerous scathing remarks and invasions of privacy, which led to the end of her marriage to Carrey just nine months later.
Lauren Holly struggled with the media attention from their marriage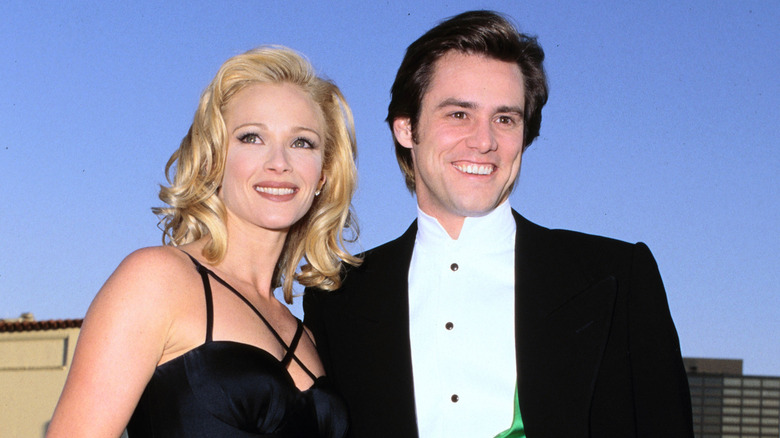 Steve Granitz/Getty Images
In a CBC interview for "George Stroumboulopoulos Tonight," Lauren Holly got candid about how fame affected her marriage with Jim Carrey. She admitted, "Our whole life became about ... we have to keep them out," adding, "They would do things like scale the fence in our house and live in our backyard and take pictures through our window or go through our garbage. We made our lives about running away from them and making sure we had privacy." 
The "NCIS" star also confirmed that her struggles didn't end after the divorce because then, she was labeled as a gold digger while still carrying the homewrecker label. In 1995, Melissa Womer told Rolling Stone that when she went to surprise her then-husband, Carrey, she found an intimate group in his room that included Holly, who rushed out shortly after Womer arrived. But Holly was adamant there was no crossover, telling the magazine, "I feel for Melissa, but they were completely apart when Jim and I met." 
The actor also acknowledged that she wasn't initially on board with the idea of dating a co-star, and it took her some time to get past the mental hurdle. In 1996, Holly filed for divorce, citing irreconcilable differences. Despite their short marriage, the two don't seem to have any bad blood. Speaking to Closer in 2019, Holly said that she remembers her on-set days with Carrey fondly because of all the laughs they shared, and confirmed they were still in touch. 
Jim Carrey has had several high profile relationships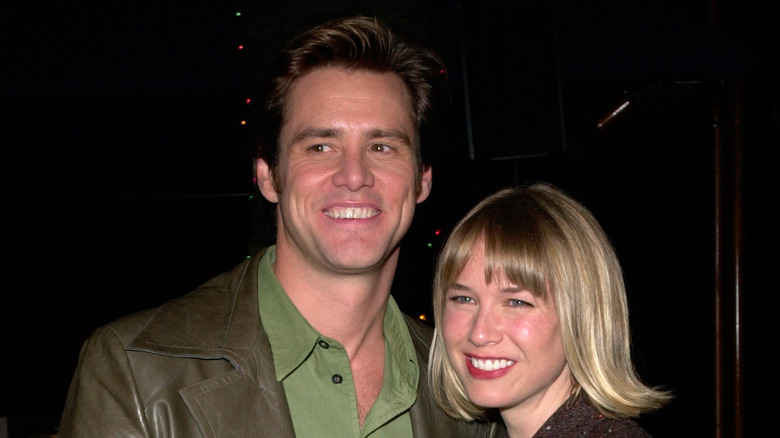 Featureflash Photo Agency/Shutterstock
After Lauren Holly, Jim Carrey remained single until he met Renee Zellweger on the set of "Me, Myself and Irene." While they had been introduced several times by mutual acquaintances, their love only blossomed after filming wrapped. Many speculated that the couple was engaged until they called things off after a year, but Zellweger denied the rumors in a Cosmopolitan interview. Despite how short-lived their romance was, Carrey referred to Zellweger as the "great love of [his] life" in his semi-autobiographical novel, "Memoirs and Misinformation," (via Today). 
Carrey followed up this great love with short-term relationships until he started dating Jenny McCarthy in 2005. The couple seemed to be completely head-over-heels with several public displays of affection, including Valentine's Day love messages in the sky and some hilarious moments. When Carrey confirmed their split via Twitter in 2010, many wondered why Carrey and McCarthy really broke up because they seemed happy on the outside. People have speculated that Carrey's mental health struggles played a part, or that McCarthy simply wanted to focus on raising her son. 
His next serious relationship was with Cathriona White, which lasted three years on and off. She tragically died by suicide shortly after the couple ended their relationship. White's estranged husband, Mark Burton, and her mother dragged Carrey into a major controversy about his ex-girlfriend's death. They alleged that Carrey gave White the drugs she overdosed on alongside STDs that worsened her mental state.