Ashley Park And Sherry Cola Praise The AAPI Representation In Joy Ride - Exclusive Interview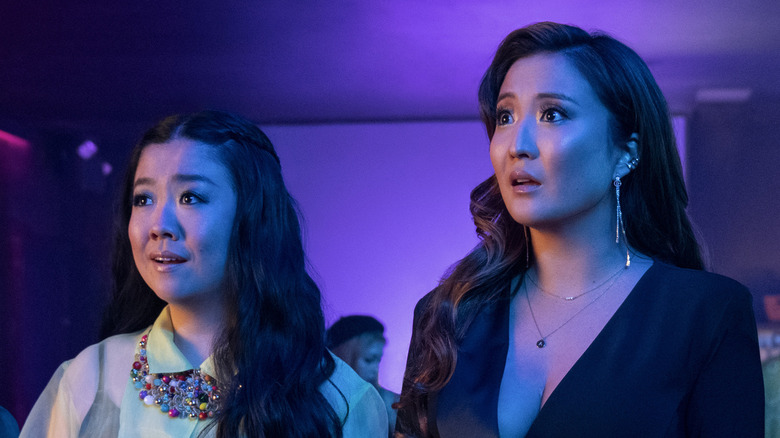 Ed Araquel/Lionsgate
In "Joy Ride," Ashley Park and Sherry Cola play Audrey and Lolo, women who have been friends since they were the only two Asians in their class in grade school. So when a trip to China comes up and Audrey, now a corporate lawyer, needs a translator, Lolo, an artist of "body positive" art, volunteers. After all, Audrey may look Chinese, but she was raised by white parents, so her ability to speak the language is limited. 
Of course, once they've reached the country and are joined by Chao (Ronny Chiang), the entrepreneur Audrey needs to impress, they realize they need to look up Audrey's birth mother so Audrey can prove her family is on board with her and Chao's deal. What ensues from there is a comedy of missed options and opportunities in all their raunchy glory. Audrey, Lolo, and the two other friends along for the ride, Kat (Stephanie Hsu) and Deadeye (Sabrina Wu), are in over their heads, but that doesn't stop them from trying.
Luckily, Park and Cola don't have nearly as dramatic lives as their characters. Park has had a stand-out career on the stage, with performances in "The King and I," "Sunday in the Park with George," and "Mean Girls," and has starred in the shows "Emily in Paris," "Girls5eva," and "Beef." Meanwhile, Sherry Cola is a comedian who has had starring roles in shows like "I Love Dick," "Claws," and "Good Trouble." Park and Cola came together to talk to The List about "Joy Ride," including what it was like to have Asian Americans in front of and behind the camera, and Park's take on being funny and touching in the same film.
AAPI people everywhere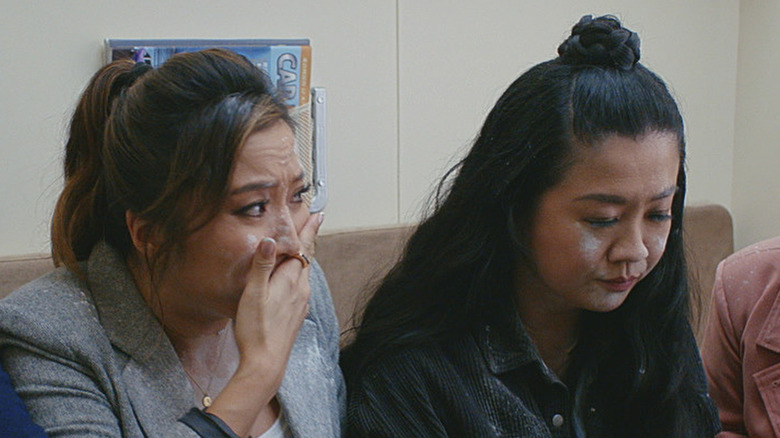 Lionsgate
This movie has a lot of AAPI [Asian American and Pacific Islander] people both in front of and behind the camera. What was it like to be on a movie like that?
Sherry Cola: It felt like home. It was a safe space. The trust between the actors and the producers and [director] Adele [Lim] and everyone on set — it felt like there was room to play and let loose.
Ashley Park: Yeah. This was my first experience with that. I'm so glad you said AAPI people behind the camera as well, and in positions of helming and leading the project. Actually, after this, I was like, "I must be part of 'Beef,'" because it [has] a Korean American showrunner as well.
It's not a testament to other sets we've been on not feeling like a safe space, but it was like, "Wow, for the first time, I don't have to navigate how to try to explain something to the people in charge because I can just focus on my character and our relationships and what is happening for the work." It gave us permission to be trusting and go for it.
Cola: Absolutely, and there's something, I want to say, addicting [about] when you work—
Park: Addictive.
Cola: Addictive?
Park: Addicting? No. Addictive.
Cola: Oh, I'm holding your pinky. I love it.
Park: Addictive. It's addictive.
Cola: It's addictive. No. Addicting.
Park: No, there's not—
Cola: I am addicted.
Park: Addicted. Nice, nice.
Cola: After working with such a beautiful AAPI set, you're almost addicted to that feeling of community and being on other sets that also speak the same language.
Park: I think "addicted" is a funny word to use right now. I think it's more about—
Cola: Drawn to.
Park: No, but also having the taste of something for the first time.
Cola: Right.
Park: It's like watching a little baby have ice cream for the first time. They're like, "Oh my gosh. How have I lived without this?" That's what it was.
Cola: Yeah. Cookies and cream.
Park: Yeah. Let's not bring addiction into—
Cola: Yeah, let's not get into addiction.
Funny AND touching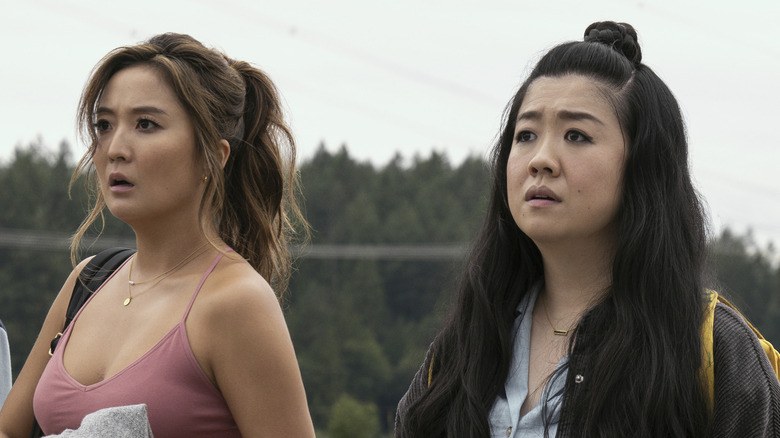 Ed Araquel/Lionsgate
Ashley, this was an incredibly funny movie, but it's also incredibly touching. What was it like for you to go from hilarious to these really, really touching moments?
Park: That's what moved me about the script the most at first, [and] that's something that hasn't changed. It was hilarious, iconic moments that I don't think I'll ever forget. [You're] feeling like you have to follow this protagonist, Audrey, into a heartfelt world and to follow this friendship in a heartfelt way and root for it.
First of all, [it was great] having Daniel [Dae Kim] as a scene partner, but also trusting the people at the helm of it — Adele, [screenwriters] Cherry [Chevapravatdumrong] and Teresa [Hsiao]. Every time I came to set and was like, "This is something I need to say," or "This is something I need to understand," [they were] so open to it.
That's what drew me to the movie and the character the most. I was like, "I've never been given the opportunity to have a character in this comedy world and also have this grounded story of finding yourself." We don't want to spoil it, but those kinds of interactions were really moving to me, and I don't think they gave it less attention than the rest of it.
"Joy Ride" premieres exclusively in theaters on Friday, July 7.
This interview has been edited for clarity.