Do HGTV's Property Brothers Fake Their Shows? Here's Their Honest Answer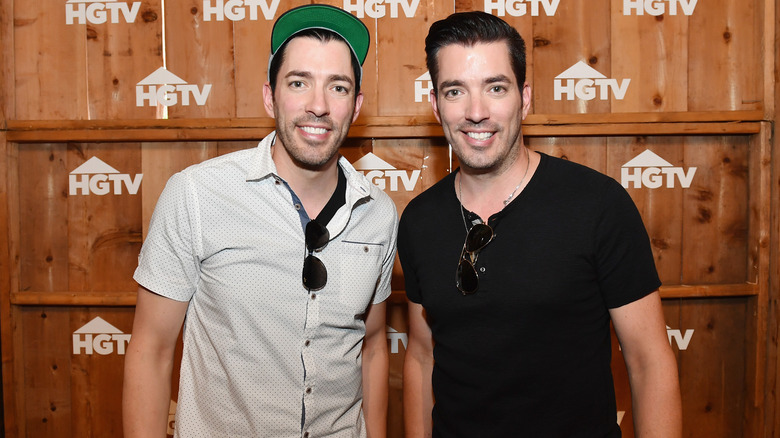 Jason Davis/Getty Images
A New York Times reporter observed what the cameras don't show you on HGTV's "Property Brothers," getting a behind-the-scenes look into the Scott brothers' production process. In the course of this experience, they discovered that not every moment of the show is quite as candid as it's made to seem. In regards to this, Drew Scott remarked, "At the end of the day, it has to be interesting television. But when we find a load-bearing wall, we are really finding a load-bearing wall."
While much of the show is inspired by actual events, what's captured on film is not exactly happening in real time. For instance, the NYT reporter mentioned that the day before they arrived on set, the house being renovated had its small metal chimney blown off amidst an intense wind storm. Rather than let this dramatic moment go to waste, the production team recreated it. But this time on camera and a day later. They had construction men working on the house while strong winds blew and featured Drew expressing intense concern for their safety. This moment of panic was recreated over the course of three takes, according to the on-site journalist.
The contestants are carefully curated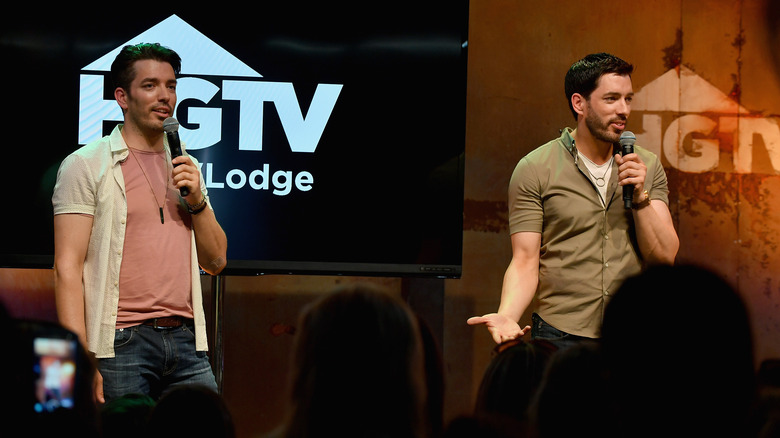 Jason Davis/Getty Images
The genre title, "reality TV," is somewhat of an oxymoron. We all know that if it's an entertainment production, there's a little off-screen magic that makes sure the show keeps viewers interested and pleased. But, the audience is always left to guess just how "real" their reality show is. On "Property Brothers," the contestants are made out to be normal,  everyday people selected from a pool of random submissions. The contestants are not by any means paid actors, but they are still thoroughly weeded out by casting directors to ensure they are likable and entertaining.
In the list of requirements for the 2019 "Property Brothers" casting call, there are standards that the contestants must meet to be considered. Some of these requirements are logistical like they have to be 21, seeking to move to a fixer-upper in the right location, have a substantial budget, and have availability on their schedule. But others are looking to ensure there will be chemistry on set between them and Drew and Jonathan Scott.
For example, they require you to be "Outgoing, energetic, opinionated and fun with unique stories to tell." In addition, they must "Be enthusiastic about working with Jonathan and his design team, who have the know-how to help create your dream home." The production crew tries the best they can to guarantee contestants will get along with the brothers and enjoy the process before they even step foot on set.
The final reveal isn't always depicted accurately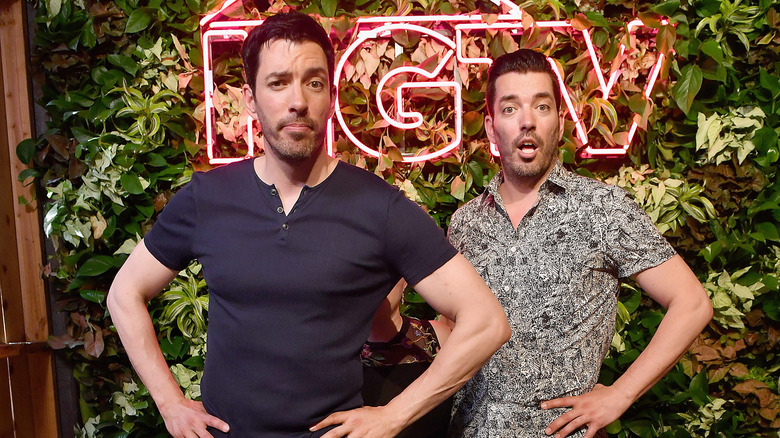 Jason Davis/Getty Images
Scott Brothers Entertainment has produced several reality TV shows surrounding real estate. But with every episode of the HGTV series "Property Brothers," Drew and Jonathan work together to make their show contestants' dream house become a reality. Each episode begins with the clients buying a run-down house and ends with a grand reveal of the house once the Scott brothers have renovated it. This is always a moment of excitement and joy. However, some of the off-screen details are left out of the on-screen moment.
Many viewers noticed that this ending scene only airs a select number of renovated rooms. In a Facebook post, the show addressed these comments: "Typically, we renovate the entire house. However, for the length of each episode, we focus on three to four rooms." So, in reality, the show's guests are getting a sneak preview of what their house will look like, not the final product. 
In addition, not every excited reaction from their guests is as genuine as the show makes them out to be. In an interview with the New York Times, contestants Mindy and Paul King explained that the crew had them re-film the reveal scene four times to get them to appear excited enough. This was because, in reality, they were very disappointed by the final renovation. Despite these white lies, we are not totally surprised. As Drew Scott pretty much put it, it's television; what do you expect?