Meet Shemar Moore's Girlfriend, Jesiree Dizon
Hollywood heartthrob Shemar Moore has been a long sought-after bachelor for much of his 30-year career. After landing his role as Malcolm Winters on "The Young and the Restless" from 1994 to 2006, the actor went on to date Grammy-winning singer Toni Braxton and actor Halle Berry among others. He also hosted the resurgence of "Soul Train" from 1999 to 2003, later becoming a staple on "Criminal Minds" in 2005 as Derek Morgan, remaining on the TV drama for 11 seasons. With such an illustrious career and women lining up to date him, it looks like the star has finally found his queen in Jesiree Dizon, whom he has been with for at least two years.
While the couple keeps their relationship mostly out of the public eye, glimpses of their romance can be seen on each of their social media platforms. Dizon might've successfully taken one of television's favorite men off the market, but this blazing mama is no housewife. Her career in fashion has opened several doors for Dizon, and she is showing no signs of slowing.
Jesiree Dizon is a model, actress, and beauty entrepreneur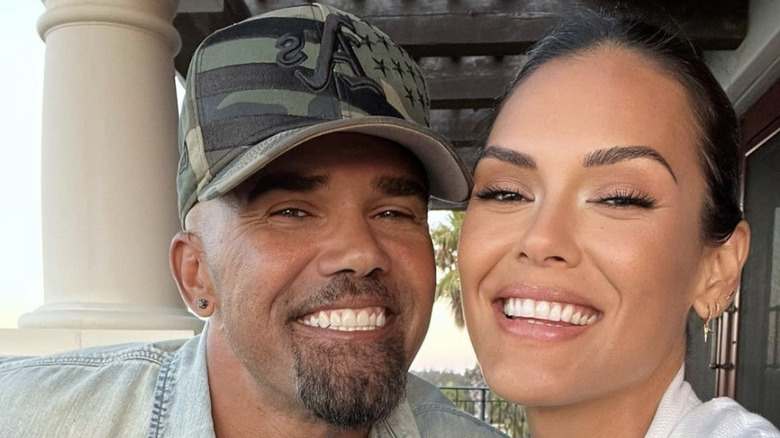 Michael Tullberg/Getty Images
Jesiree Dizon is not just your typical pretty face. She works as a successful model, signed with several agencies, including the world-renowned Wilhelmina Models and Renew Artists Hawaii. Additionally, Dizon landed several successful campaigns with companies such as Champion, Gap, Fabletics, Merle Norman Cosmetics, and several others, as documented on her Instagram profile, which sports over 92,000 followers.
Along with her impressive modeling resume, Dizon has secured multiple television roles, thanks in part to NTA Talent Agency, which she is also signed to. She has secured slots on "Hawaii Five-0," "CSI: NY," and "Solver," to name a few. When the mom of three is not on camera, she is growing her makeup brand, J Bird Beauty. Dizon showcases her cosmetic looks, as well as her clients, on the IG profile for the imprint. Per the bio, Dizon is still accepting new clients who can book her for all makeup and grooming needs.
Jesiree Dizon also has a child with actor Stephen Bishop
While Jesiree Dizon and Shemar Moore welcomed their daughter, Frankie, in January 2023, the multi-talented beauty was already a mother to her teenage son, 16-year-old Kaiden, and five-year-old daughter, Charli, from previous relationships. Ironically, Charli's father is none other than actor Stephen Bishop. Dizon dated the "Run the World" staple from 2015 to 2019. The exes are seemingly both committed to raising their little girl, who has already begun her own modeling career. In April 2023, Bishop shared that Charli had earned a spot in a recent Ralph Lauren campaign after previously working with Uggs, Nike, and Gap in just a short amount of time.
It appears that Dizon and Moore are still going strong. On Father's Day, she penned a touching tribute to the first-time dad. Sharing a video of him spending quality time with baby Frankie, she wrote, "Daddy looks good on you. HAPPY FIRST FATHER'S DAY, STUD. We love and appreciate you more than you know." Things look to be going well in the blended family with the thriving couple.