How Many Times Was Lisa Marie Presley Engaged?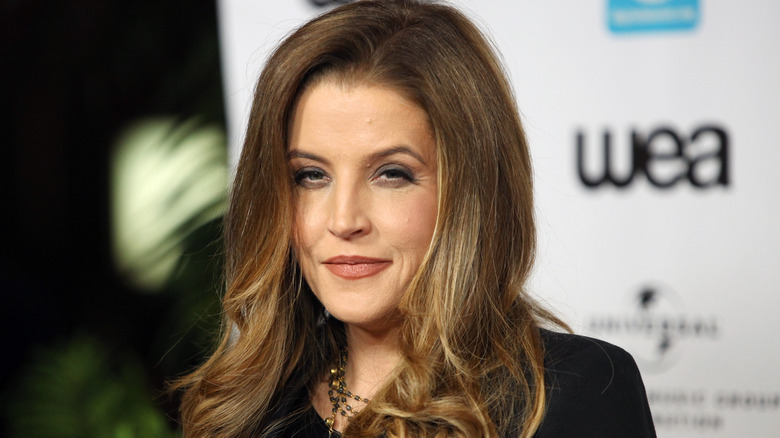 Michael Tran/Getty Images
As the only daughter of Elvis and Priscilla Presley, Lisa Marie Presley had a distinctly unique life experience that oscillated from star-studded and thrilling to tragic and challenging — her love life being no exception. The singer, humanitarian, and sole heir to the Presley estate was never the same after Elvis died, a world-shaking moment in 1977 that she had to endure at only 9 years old. 
Following her father's death, Lisa Marie began rebelling against her mother, prompting Priscilla to send her daughter to various private schools. Lisa Marie would later recall she never felt like she fit in at school, remembering herself as a melancholy loner (per the Los Angeles Times). 
This loose sense of self, paired with the daunting shadow of her megastar father, seemed to manifest in her love life, causing irreconcilable power struggles and a long string of failed relationships closely watched by the public eye.
Lisa Marie first married in 1988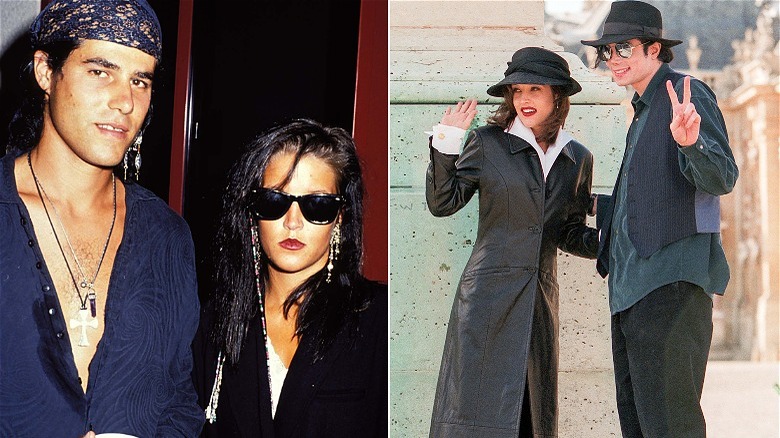 Jeff Kravitz & Stephane Cardinale - Corbis/Getty
From 1988 to 2021, Lisa Marie would be engaged five times and married four. At only 17 years old, she flew into her first marriage to musician Danny Keough, a partnership that gave Lisa Marie her first two children: daughter Riley and son Benjamin. Lisa Marie told Marie Claire that her relationship with Keough faltered largely due to who her father was — the immense power gap, she said, was ultimately too much for the couple. 
Still, Lisa Marie remained lifelong friends with Keough, telling Rolling Stone in 2003, "The smartest thing I've ever done is have children with this man, because I knew this is the one man I could be connected to for the rest of my life." Nevertheless, she quickly remarried 20 days after her 1994 divorce to another member of musical royalty: Michael Jackson. The complete timeline of Lisa Marie and Michael Jackson's relationship began in the '70s at a Jackson Five concert, but the pair didn't form a close friendship until the '90s. 
This, too, would prove to be a short union, and the couple filed for divorce just under two years after marrying. Outlets reported that there were no property disputes, and the two planned on remaining friends. However, Lisa Marie would later tell Marie Claire that leaving Keough for Jackson was "the biggest mistake of my life."
Lisa Marie's love life into the 21st century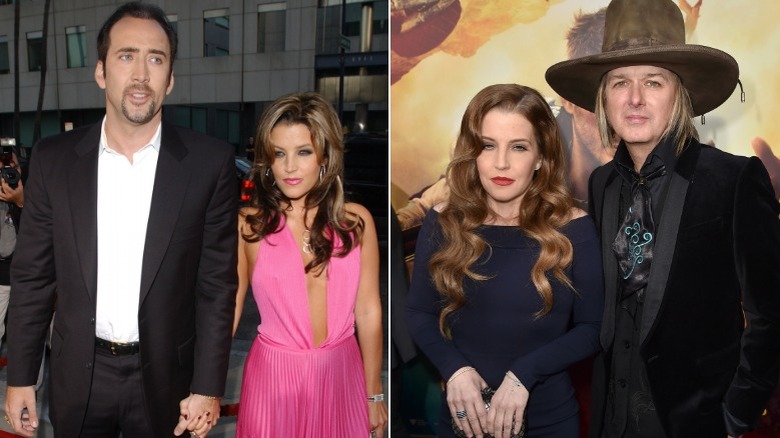 Vince Bucci & Kevin Winter/Getty
Shortly after her divorce from Michael Jackson, the news broke in 2000 that Lisa Marie Presley was engaged to Hawaiian musician John Oszajca. By the following year, the engagement was called off, and Lisa Marie went public with her relationship with A-list actor Nicolas Cage. The couple married in 2002 before splitting only 107 days later. Lisa Marie released a statement calling the marriage a mistake, citing "irreconcilable differences" for their split (via the BBC).
Lisa Marie's fourth and final marriage took place in Kyoto, Japan, in early 2006 to guitarist and music producer Michael Lockwood. Lisa Marie's ex-husband Keough served as the best man, Riley was the maid of honor, and Benjamin was a groomsman. Lisa Marie and Lockwood would have two children: fraternal twin girls, Harper Vivienne Ann and Finley Aaron Love. While this marriage would be Lisa Marie's longest, it certainly wasn't the least turbulent. 
In 2017, the couple's twins were placed in protective care following allegations by Lisa Marie of inappropriate images of children on Lockwood's computer. However, the criminal case was later dropped by the Tennessee Bureau of Investigation citing a lack of evidence. Lisa Marie and Lockwood's divorce was finalized in 2021, five years after the couple's initial split. The heartbreaking death of Lisa Marie would come two years later in 2023, marking an end to a life wrought with tragedy.