Erin Krakow Promises 'Action And Adventure' On When Calls The Heart Season 10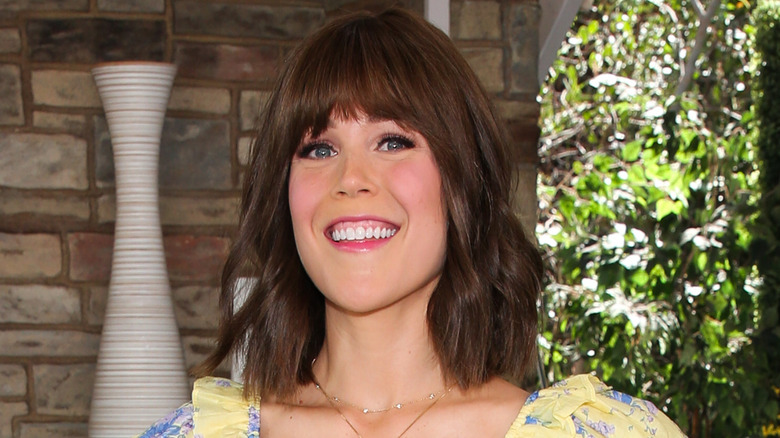 Paul Archuleta/Getty Images
The beloved Hallmark drama series, "When Calls The Heart," will return for Season 10 on July 30, 2023, and it sounds like there's a lot to be excited for. On July 4, actor Erin Krakow previewed what fans can expect about the new episodes during an interview with TV Insider. She revealed that there are lots of amazing storylines in Season 10 because "there's still so much left to tell." The actress also promised drama as well as plenty of action and adventure, and heartwarming scenes with the show's children. "It's just a very full, exciting season," Krakow said in summary. 
Not to mention, the 100th episode is coming up during the season, and according to Krakow, it will be a major event for the characters. She shared, "It is a celebration of our community, and we get to see everyone enjoying a special new feature in Hope Valley." The Hallmark star noted that rather than the special episode feeling separated from the rest of the season, it will actually be a cohesive part of the storyline.
'When Calls the Heart' Season 11 has already been confirmed
Hearties everywhere have even more to celebrate than Season 10 and the 100th episode coming up: the show has already been renewed for Season 11. In a statement about the new seasons, Erin Krakow said, per Variety, "I'm so thrilled, proud, and grateful to Hallmark that the show has been renewed for Season 11. We have so many more stories to tell." She praised everyone who makes the show happen in front of and behind the camera and emphasized that fans can look forward to a lot more romance and adventures in Hope Valley.
Lisa Hamilton Daly, the Hallmark EVP of programming, called "When Calls the Heart" a standout in the Hallmark catalog while announcing Season 11. "We're thrilled that we're able to bring more stories of faith and community to the homes of millions of viewers," she said in the statement. Daly also gushed about how much fans enjoy the experience of watching the show and promised more excitement to come in upcoming seasons.