Who Is Andrea Mitchell's Husband, Alan Greenspan?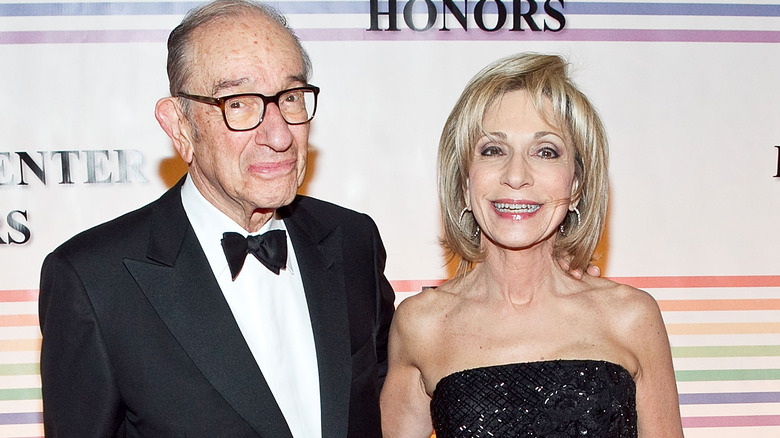 Paul Morigi/Getty Images
Andrea Mitchell is a renowned award-winning journalist with an impressive resume. She currently hosts "Andrea Mitchell Reports," a news show on MSNBC. Moreover, Mitchell is the Chief Foreign Affairs Correspondent for NBC News and appears on "NBC News Nightly News with Lester Holt." Since 1997, Mitchell has been married to celebrated economist Alan Greenspan. Born in 1926, the New York native was once the chairman of the Council of Economic Advisers for President Gerald Ford.
However, Greenspan is best known for being the chairman of the Board of Governors of the Federal Reserve System from 1987 until 2006. During his time in this role, Greenspan, who has a laissez-faire economic ideology, ensured the market remained stable during the 1987 stock market crash and the 1997 Asian financial crisis. Despite this, Greenspan's economic policies have also been criticized for doing more harm than good. Mitchell, on the other hand, has had nothing but praise for Greenspan.
Shortly before they tied the knot, she told The Washington Post, "He is so supportive of me intellectually and emotionally." She added, "He's so interested in what I do, what I think. He shares ideas with me. ... He is the least patronizing, least condescending person I know." At the time of their nuptials, Mitchell was 50 and Greenspan 71. Mitchell was previously married to a man named Gil Jackson, and this was also Greenspan's second marriage.
Alan Greenspan's first marriage was annulled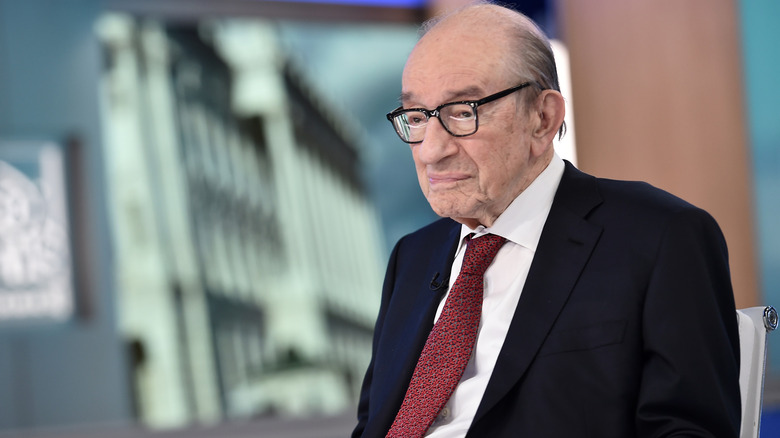 Steven Ferdman/Getty Images
Long before Alan Greenspan married Andrea Mitchell, he had a short-lived marriage to painter Joan Mitchell — no relation to Andrea. According to The New Yorker, Greenspan and Joan met on a blind date and married eight months later, in 1952. After 10 months, the marriage came to an end. Joan told the publication, "I can only tell you that it had nothing to do with respect for each other or even fondness for each other, but a real difference over what we wanted out of life." Rather than go through the divorce process, the pair found that annulling the marriage was more convenient.
There was, however, a silver lining. His relationship with Joan led him to meet writer Ayn Rand, who later heavily influenced his economic policies. After his divorce, it took him years to start a new relationship. Greenspan and Andrea met in 1981 through her work.
According to The Washington Post, the couple had their first date in 1984 at the now-shuttered French restaurant Le Périgord in New York. After 12 years together, CNN reported that Greenspan and Andrea married in April 1997 at the Inn at Little Washington. Seventy-five people were in attendance, including one of Greenspan's exes, journalist Barbara Walters. Andrea told the publication that their ceremony was beautiful.
Alan Greenspan has a Presidential Medal of Freedom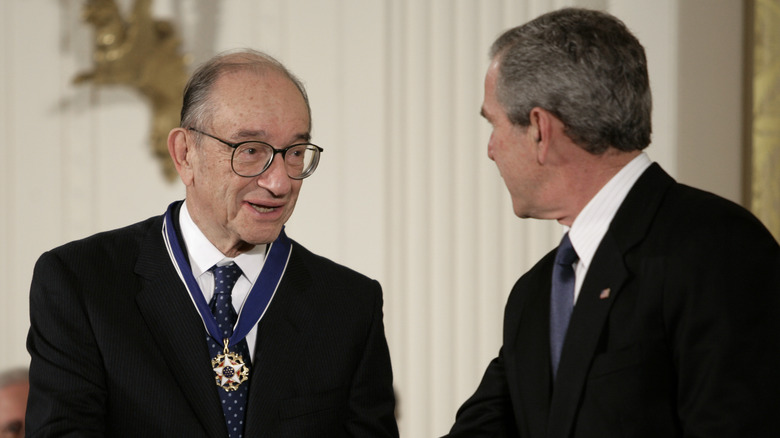 Brooks Kraft/Getty Images
Although they are both in the spotlight, Andrea Mitchell and Alan Greenspan keep their relationship private. However, Mitchell did tell The Washington Post in 1997 that Greenspan was funny and that they didn't like to travel and preferred to stay home. She also said, "One thing that's so refreshing about Alan is that he is upfront with people, he doesn't do things behind people's backs."
In November 2005, Greenspan, alongside actor Andy Griffith and singer Aretha Franklin, was awarded a Presidential Medal of Freedom by President George W. Bush. During the Ceremony, Bush commended Greenspan and said, "The era of Chairman Greenspan will always be known as one of phenomenal economic growth, high productivity, and unprecedented innovation and opportunity for all our citizens. He is a believer in economic freedom, open and flexible markets, and boundless human creativity" (via George W. Bush Archives).
Shortly after this honor, Greenspan retired. However, he's kept busy in the years since leaving behind his position as chairman of the federal reserve system. In 2007, he published a memoir, "The Age of Turbulence: Adventures in a New World." Moreover, Greenspan, who at the time of this publication is in his late 90s, still speaks out about the economy. In January 2023, CNN reported that Greenspan said he believed a recession in the United States was imminent.