Who Is Keke Palmer's Boyfriend, Darius Jackson?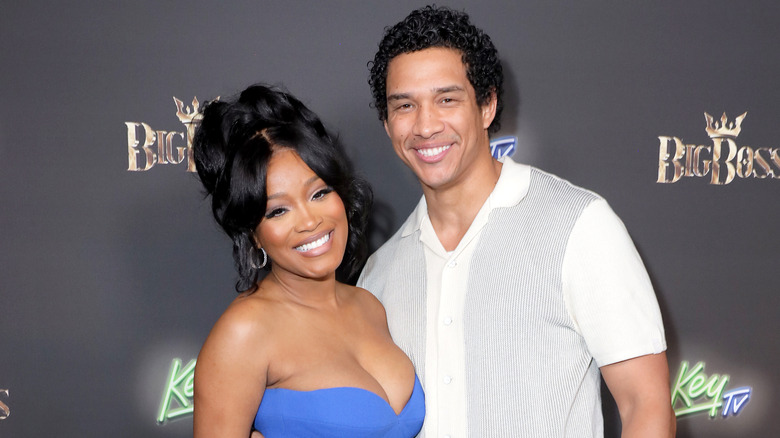 Rebecca Sapp/Getty Images
Keke Palmer, a beloved childhood star-turned-trailblazer, is undoubtedly a force to be reckoned with. The 29-year-old launched her own project, Key TV, in November 2022, where she plans to delve into writing and producing alongside acting. In addition to these accolades, Palmer is also a new mom. She and her boyfriend Darius Jackson welcomed their son Leodis Andrelton Jackson, nicknamed Leo, on February 25, 2023.
The couple has been keeping their relationship pretty lowkey, but all came to light after the "Hustlers" star was seen enjoying herself at Usher's Vegas residency show earlier this week. In response to a now-viral video of Palmer dancing with Usher, Jackson tweeted, from an account that has since seemingly been deleted, "It's the outfit tho . . you a mom." As the R&B icon serenaded her to "There Goes My Baby," Palmer stunned in a sheer, polka-dotted dress with a bodysuit on underneath.
Social media went ablaze over Jackson's public critique of the beloved actor and quickly flew to her defense. "Don't date a baddie if you're gonna be this insecure," one fan replied, garnering more likes than Jackson's original tweet. Palmer has previously discussed the types of people she doesn't like to date — including fellow celebrities. Up until now, Palmer's baby's father has remained relatively out of the limelight.
Keke and Darius' relationship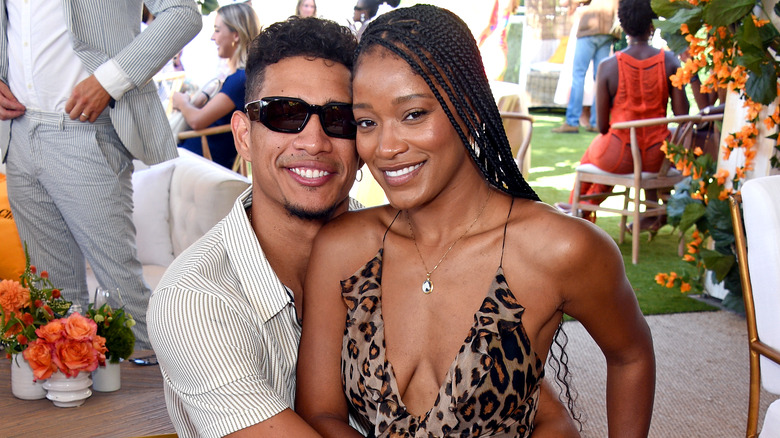 Gregg Deguire/Getty Images
Jackson, who goes by Darius Daulton, is a fitness trainer. His bio for Inspire Fitness reveals that he is a former Fresno State University football player, and is pursuing a career in sports media. He met Palmer at Issa Rae and Diddy's Memorial Day Party in 2021. The two are connected via Rae's HBO comedy "Insecure", which Palmer appeared in for the show's later seasons. Fans of the show may remember Jackson's older brother, Sarunas Jackson, who portrayed the titular love interest "Dro" Peña.
Palmer and Jackson decided to go public in 2022, though they had been IG-official since 2021. In a now-deleted Instagram post, Jackson wrote: "You've been a blessing from above. Never would have expected summer 2021 to turn out the way it did, but here we are." Of her boyfriend, Palmer shared with Bustle, "This is the happiest I've ever felt with someone. So why would I go out of my way to hide this person?"
In December 2022, Palmer hosted an unforgettable episode of "Saturday Night Live," revealing her baby bump during the opening monologue. Since then, the new parents have shared their journey through parenthood with baby Leo sparingly on social media. In a heartwarming Instagram post, Palmer gave an inside look at their first 48 hours as parents. Since then, Jackson has recently faced major backlash from the internet after he publicly criticized Palmer's outfit choice.
Darius' public criticism and backlash
After his public statement of disapproval, thousands of fans immediately jumped to Palmer's defense. Nonetheless, Jackson doubled down on his statement, replying to critics via Twitter on Wednesday: "We live in a generation where a man of the family doesn't want the wife & mother to his kids to showcase booty cheeks to please others & he gets told how much of a hater he is." He continued in the since-deleted tweet, "This is my family & my representation. I have standards & morals to what I believe. I rest my case." 
More fans called out the hypocrisy of Jackson's words, pulling up shirtless photos he previously posted of himself. Others called attention to the unfair standards women, particularly mothers, are held to in terms of body positivity. "Darius Daulton publicly calling out Keke Palmer like this reminds me of the women I personally know who often feel like the moment they have a child their autonomy is stripped," one thinkpiece read. "Men never have their fatherhood weaponized when having fun compared to mothers."
Despite the internet going ablaze over her partner's audacity, Palmer appeared unbothered by her boyfriend's statements and has not responded to them publicly. Shortly after, she posted a recap of her girl's night at the Usher concert on Instagram. The actor captioned the sizzling snaps, "I wish I had taken more pictures but we were running late!"