Gwen Stefani's Kids Live Incredibly Lavish Lives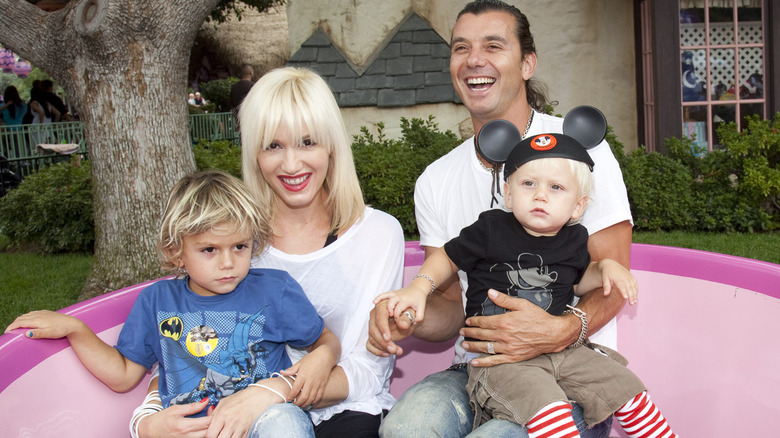 Handout/Getty Images
Gwen Stefani has been slinging hits for years, but there's one thing she does better than anything else: being a mom. The No Doubt frontwoman shares three sons with her ex-husband, British rockstar Gavin Rossdale. Stefani and the Bush musician may have parted ways back in 2016 after 13 years together, but they still share their boys, Kingston, Zuma, and Apollo. We all know it's not easy when parents break up, but these kids seem to be doing pretty well. Not only do they have the constant support of their two parents, but they've also got a famous stepdad too, country star Blake Shelton, whom Stefani married in 2021. 
Stefani and Shelton have an estimated combined net worth of around $280 million according to Hello!, while Rossdale's $45 million is hardly chump change. With this much money flying around, it's hardly surprising that the Stefani-Rossdale kids live a pretty lavish life. When they aren't ferrying between sprawling mansions with incredible views, they're hanging out on private jets and dropping some serious cash on birthday parties. Their famous parents may not be together, but they spare no expense when it comes to raising their boys in the best, most glamorous way possible. 
After all, if you've got it, flaunt it — and if you want it, buy it! 
Gavin Rossdale's kids have the best backyard in Los Angeles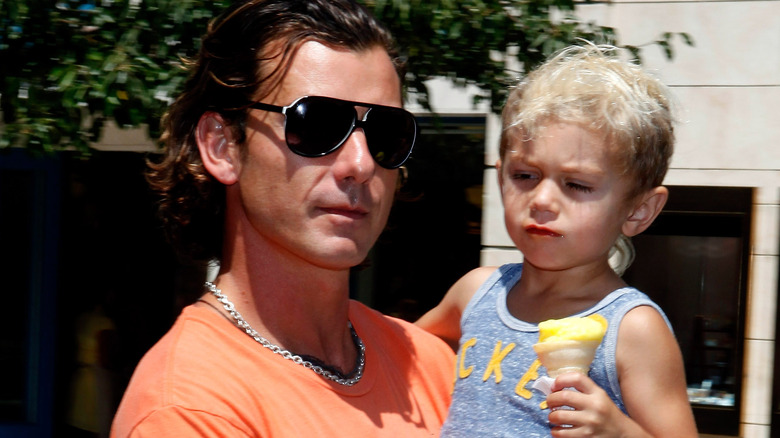 Jean Baptiste Lacroix/Getty Images
Everyone knows that being a rock star can be a tempestuous business, but selling millions of records certainly comes with some perks. Rossdale and his band, Bush, have been around since the early '90s, releasing their ninth studio album at the end of 2022. Thanks to his constant work, Rossdale has been able to amass quite the property portfolio. He owns a home in London's swanky Primrose Hill area, but in 2016 he upped the ante and splashed out around $7.6 million on a Studio City bachelor pad that looks like something straight out of Architectural Digest. The beautiful, modern property has plenty of things to keep three lively kids entertained, including a backyard that, while not traditional, has plenty of space for them to burn off energy. 
Complete with stunning views across Los Angeles, the yard has soccer goals, a tennis ball slinger, and even a punching bag if things get a little tense. Rossdale shared some snippets of the impressive property on his Instagram in 2020 with the caption: "Woo-hoo. Just messing around, backyard style."  
If that's not enough to keep the kids amused for a few hours, then the six-bedroom residence also has a pool that they can splash around in. There's never a dull moment at home when Dad is a Grammy nominee!   
Gwen Stefani's net worth means birthdays are a big deal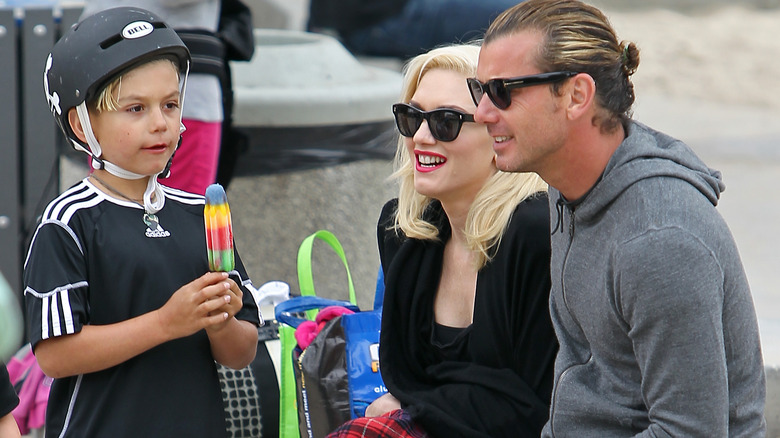 Jb Lacroix/Getty Images
A birthday is usually a big deal for kids, even when they aren't part of a famous family. They start talking about what they want to do to celebrate their special day months before the event, but that's just part and parcel of being a kid. When your parents are multi-award-winning, platinum-selling musicians, it's not just a special trip to the movie theater, but a full-blown event that costs thousands of dollars. When it comes to turning a year older, the Stefani-Rossdale clan knows how to do it in style. 
Back in 2022, Gwen Stefani used her hard-earned cash to pull out all the stops for 8-year-old Apollo's big day. She didn't hire a venue (though let's face it, she can afford it) and threw an epic house party instead. Not only was there a special football-themed cake, but there were also strobe lights and laser tag. Of course, this wasn't the first time Stefani went all in for a birthday bash. 
Back in 2010, her oldest son Kingston turned 4 years old. Some might argue a child that age should be happy with ice cream, but this family doesn't do anything halfway. Stefani and Gavin Rossdale reportedly spent $15,000 on the event, which included a very healthy guest list of 100. The party had everything you might expect, from a castle bounce to a face painter. 
The Stefani-Rossdale boys get the best of both worlds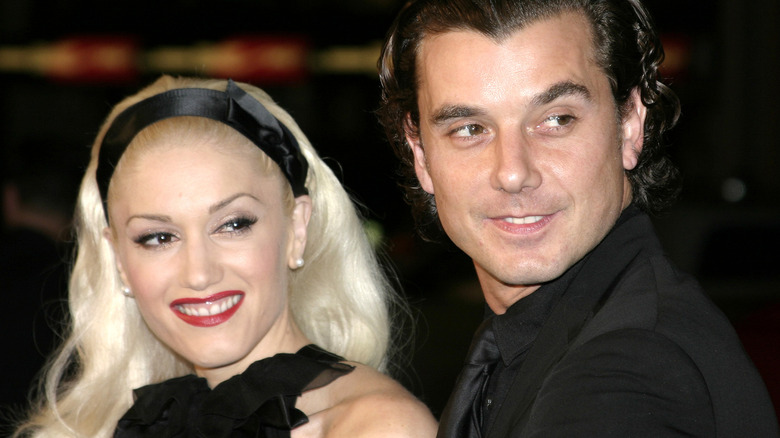 Tinseltown/Shutterstock
Gavin Rossdale and Gwen Stefani got hitched in 2002, and for the majority of their marriage, they seemed like the perfect couple. However, if Hollywood has taught us anything, it's that all that glitters isn't gold. Stefani filed for divorce in 2016 after discovering Rossdale had cheated on her with their nanny. This bombshell is enough to make any post-split relationship rocky, but when it comes to parenting their sons, they've managed to reach steady ground — even if they're not exactly on the same page. 
Rossdale explained how he and Stefani raise their kids during an appearance on Adrianna Costa's "Not So Hollywood" podcast, "I think you can go one of two ways. You can either do everything together and really co-parent and see how that goes, or you can just parent. And I think we just parent. We're really different people. I don't think there's much similarity in the way we bring them up but I think that gives them an incredible perspective to then choose which pieces of those two lives they'd like to inherit and move on with and which part of themselves come out of the whole process."
This means that Kingston, Zuma, and Apollo may really have the best of both worlds when it comes to how they navigate the world. If mom isn't down for one thing, dad might be — and isn't choice the most luxurious thing of all? 
The boys get fed the best meals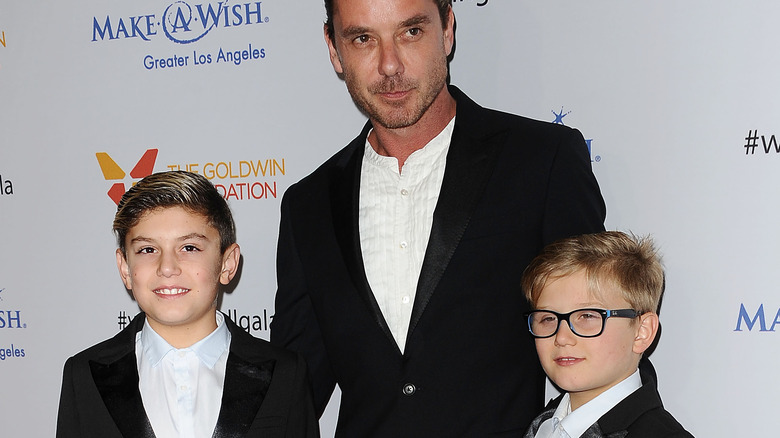 Jason Laveris/Getty Images
Gavin Rossdale may be a rockstar that can afford a private chef, but why outsource when you're a dab hand with a cut of beef yourself? Rossdale loves cooking up a storm in the kitchen and even has his own dedicated Instagram page where he shows off his dishes: @eatwithgavinrossdale. The bio reads, "This is for my boys and those I love — food is an act of love — sustainability is key." At the time of this writing, the page has over 200 posts and 9,311 followers, so it's not just a flash in the pan (pardon the pun!) 
Gavin has tried his hand at all sorts of dishes, from agnolotti with ricotta and spinach sage butter to truffle roast. The big question is: What do his sons love the most? In April 2022, Rossdale shared a video of a family dinner set up on a table that featured all sorts of delectable dishes. The caption read: "Steak au poivre — mushrooms with fontina — fries — tomato salad — spinach and pickled onion salad — simple corn — simple steak for Apollo — I love it when the boys order the food we have — yeah it was delish." 
Even though they have access to the best restaurants in town, these kids can feast like kings at home without having to set foot outside. This takes home cooking to the next level. 
They get treated to lavish shopping trips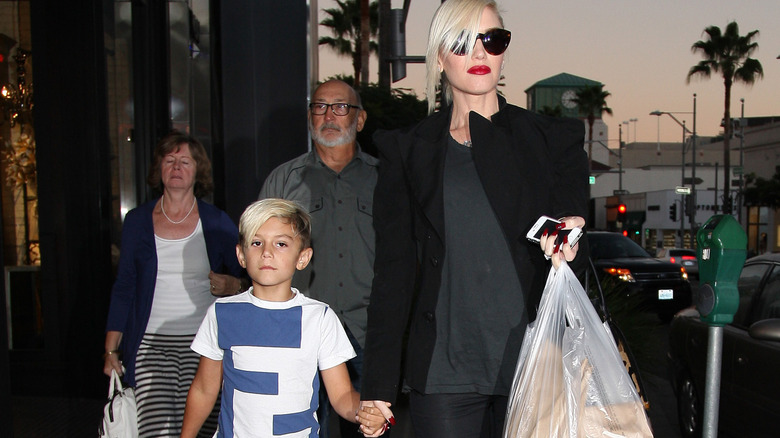 Bauer-griffin/Getty Images
Gwen Stefani might be a superstar songstress, but she's also a fashion icon. She has changed her style more than once and always manages to nail it no matter the vibe. She even owns her own clothing line, L.A.M.B. It's only natural that her sons would have a penchant for shopping, too. The family has been spotted hitting stores numerous times, including back in 2015 when Stefani was photographed taking her boys for some retail therapy in Los Angeles. A couple of years before that, Stefani and her then-husband, Gavin Rossdale, were spotted treating the kids to a new bunch of toys.
Even after their split, this is one family tradition that shows no signs of slowing down. Earlier in 2023, Rossdale had some one-on-one time with his eldest son, Kingston. The father-son duo looked fashionably chic in casual hoodies as they made their way around stores in Malibu. Kingston made at least one purchase if the shopping bag in his hand was anything to go by, while Rossdale looked content enough just accompanying his child. 
It's only a matter of time before these kids have wardrobes to rival their mom's. 
Private jets are the norm for Gwen Stefani and Gavin Rossdale's children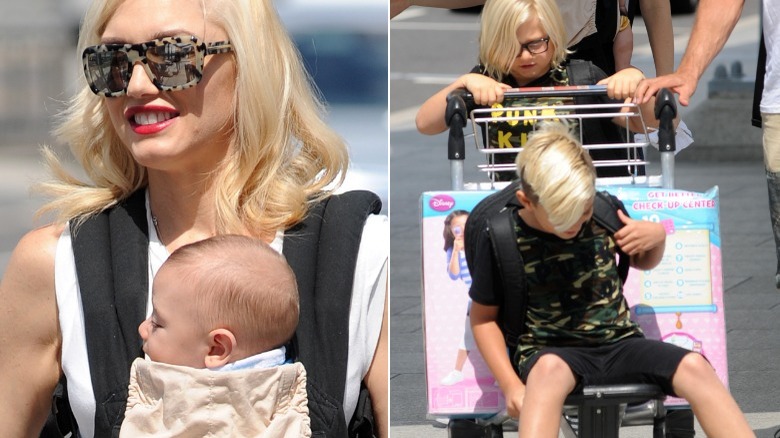 Sav & Sav/Getty
When you're as rich and famous as Gwen Stefani, traveling like a "normal" person on an economy flight isn't exactly an option. Not only is there too much luggage to cart around, but just being on the plane would also cause a disturbance among the passengers. No one wants to be stuck on a public flight for 10 hours with fans clambering over themselves to get photographs, no matter how well they mean. Instead, plenty of A-listers choose to charter private jets — if they don't own one outright, of course!
Because of their parents, Kingston, Zuma, and Apollo Rossdale have been on several private jets over the years. That's pretty impressive considering how young they are, but that's just the way the cookie crumbles when you win the genetic lottery.
In 2018, the "Don't Speak" singer hopped on a jet with her boys at Burbank Airport, though it wasn't clear where they were headed. Two short years later, Stefani was spotted getting off of another jet in Los Angeles with her kids, all of whom were wearing masks thanks to the pandemic. 
Having Blake Shelton as a stepdad comes with perks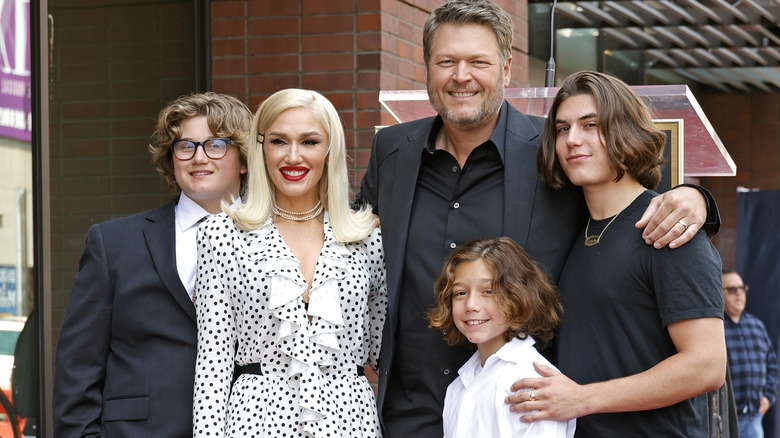 Frazer Harrison/Getty Images
When Gwen Stefani and Gavin Rossdale split, it came as a surprise to many. After all, 13 years can be a long time to stay with someone in Hollywood. Stefani was quite vocal about how devastating the divorce was for her, telling Harper's Bazaar: "It was the beginning of hell. Like six, seven, eight months of torture, trying to figure out this big secret. ... My dreams were shattered. All I wanted my whole life was to have babies, be married, like what my parents have." 
Thankfully, Stefani was able to pick up the pieces and move on when she found love with her co-star on "The Voice," country legend Blake Shelton. This coupling led to a second marriage in 2021, which gave her sons a pretty great stepdad. Not only does Shelton seem to have a top-notch relationship with the kids (as he told People: "They've taught me something about myself that I never knew ... I'm someone they actually lean on"), but they also get some more famous perks. 
For instance, Shelton owns a sprawling ranch in Oklahoma that the kids get to visit regularly. This country homestead is miles away from the glitz and glam of Los Angeles and London, offering them a taste of good, wholesome living, complete with horses and a private chapel Shelton built. Stefani's sons were also VIPs when Shelton was honored with a star on the Hollywood Walk of Fame in 2023.
They get to travel the world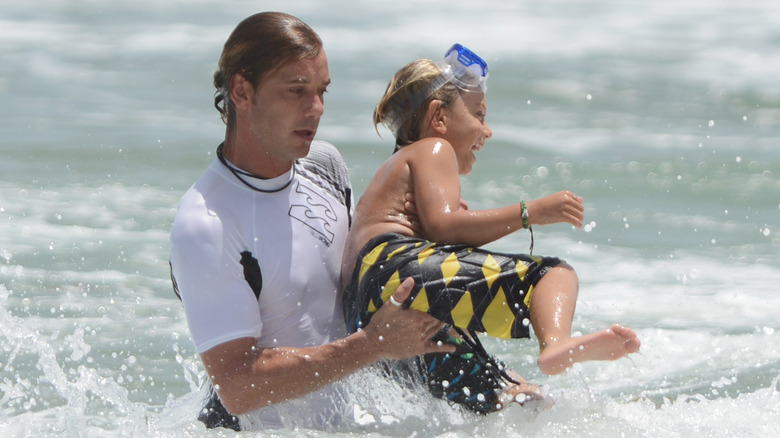 Uri Schanker/Getty Images
Travel is a privilege most of us don't get to enjoy anywhere near as often as we would like. Getting the time off is one thing, but being able to afford it is something else entirely. Even a simple weekend away can cost a small fortune. Thankfully for Kingston, Zuma, and Apollo Rossdale, money is no object, and their parents aren't working a 9-to-5. These kids have been packing suitcases and traveling for as long as they can remember, whether it's touring with their mom or going on vacation. 
They make sure to spend a decent amount of time exploring home soil, too, and took a trip to Montana back in 2015. Stefani shared a photo of herself wearing a cowboy hat at the time, carrying Apollo, who was very little, on her chest. The Instagram caption read: "Wow #Montana u r so beautiful #favoritevacaever #neverwanttogohome." Stefani also took the kids to Florida in 2018 alongside her future husband, Blake Shelton. The songstress shared pictures of their antics on Instagram as they enjoyed a boat trip. Not only did Shelton come along for the ride, but so did some of his family. 
When it comes to letting their hair down and relaxing, no one has it better than these kids!