What We Know About Clint Eastwood's Relationship With Christina Sandera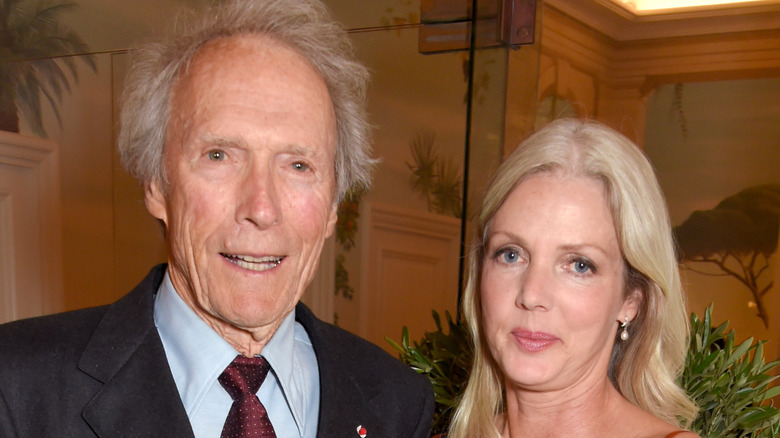 David M. Benett/Getty Images
Clint Eastwood's celebrity status spans generations. He rose to fame in the 1960s, appearing in iconic Spaghetti Westerns like "The Good, the Bad, and the Ugly" and "A Fistful of Dollars" before moving on to star in '70s flicks like "Escape from Alcatraz" and "Dirty Harry." These days, he's known for his behind-the-scenes work — he's directed Oscar-winning hits like "Million Dollar Baby" and "Unforgiven." As of 2022, he's the oldest American actor on record to direct and star in a film.
Not only has Clint Eastwood headlined his fair share of award-winning projects, but he's also had a series of high-profile relationships. In 2014, a year after divorcing his second wife, the actor-director began dating Christina Sandera, a Mission Ranch Hotel and Restaurant hostess. Eastwood purchased and renovated the property in the late '80s, technically making him her boss. Since then, the pair have been going strong, attending regular red-carpet premieres and sharing a home in their beloved Carmel-by-the-Sea, California.
Clint Eastwood and Christina Sandera make the perfect red-carpet pairing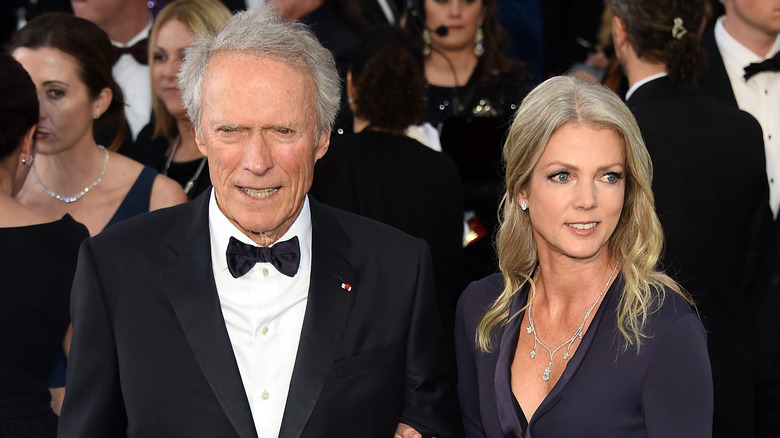 Ethan Miller/Getty Images
Although both Clint Eastwood and his girlfriend, Christina Sandera, prefer to keep their private lives, well, private, they can't say no to a red carpet appearance. They made their relationship red-carpet official in 2015 when they attended the Oscars, Eastwood dressed in a tux and Sandera clad in a classy navy blue gown. Since then, they have attended premieres for several Eastwood-led projects, including "Sully" and "The Mule" — a few of the actor's kids and even his first wife, Maggie Johnson, joined them at the latter.
In 2014, an anonymous source told Us Weekly that "[Christina Sandera] lives with him in his house he used to share with Dina [Eastwood]," adding, "Clint's kids have all met Christina and like [her]." Over the decades, Clint Eastwood has dated several women who, like Sandera, are removed from the entertainment industry. He had a serious relationship with Jacelyn Reeves, a flight attendant with whom he shares two children — including actor Scott Eastwood.
In general, his exes have positive things to say about him. "I realized what a good actor he was after hanging out with him for a year or two. I thought, 'You are nothing like any of your movies,'" Dina Eastwood told CBS News, adding, "The closest character I've seen him play is Robert Kincaid in 'Bridges of Madison County' — the loving guy who shreds the carrots for dinner and does the dishes and says, 'Can I get you anything?' and 'Wanna dance in the living room?' That's Clint."
Clint Eastwood prefers to protect his family's privacy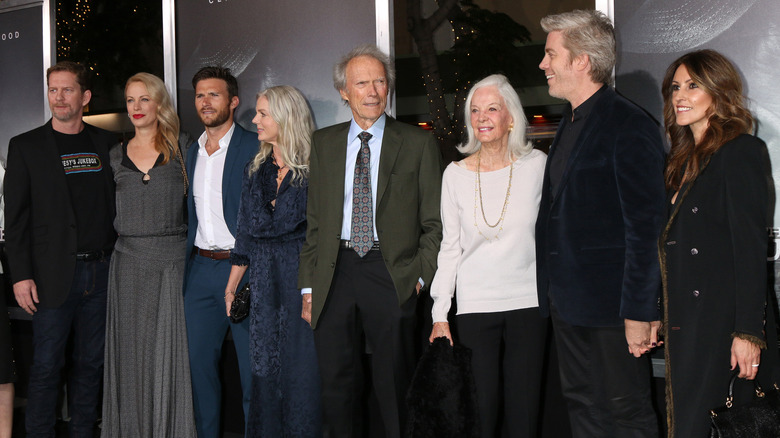 Kathy Hutchins/Shutterstock
In the words of the "Million Dollar Baby" director, "There are other people that are involved there, and they're vulnerable people. I can protect myself, but they can't." Eastwood prefers to protect his children — and his romantic partners — from the trappings of Hollywood. Based on her lack of social media presence, it seems Sandera has chosen to remain out of the spotlight, at least for now.
That being said, a few of Eastwood's eight kids have decided to give acting a shot. His son, Scott Eastwood, is perhaps the most successful of the bunch, starring in films like "Suicide Squad" and "The Longest Ride." According to Scott, his dad has taught him some pretty valuable lessons. "Like he says, it's feast or famine for an actor," he told Esquire. Fortunately, part of being an Eastwood means that "feasting" is a bit more likely. Clint cast two of his other children, Kathryn and Francesca, in small roles for his 2014 film, "Jersey Boys," and the Oscar-winner's real-life daughter, Alison Eastwood, played his fictional daughter in "The Mule."
The Eastwood legacy, it seems, will continue on for another few generations at least.