Prince William Seemingly Marks End To Royal Kilt Tradition At Scotland Coronation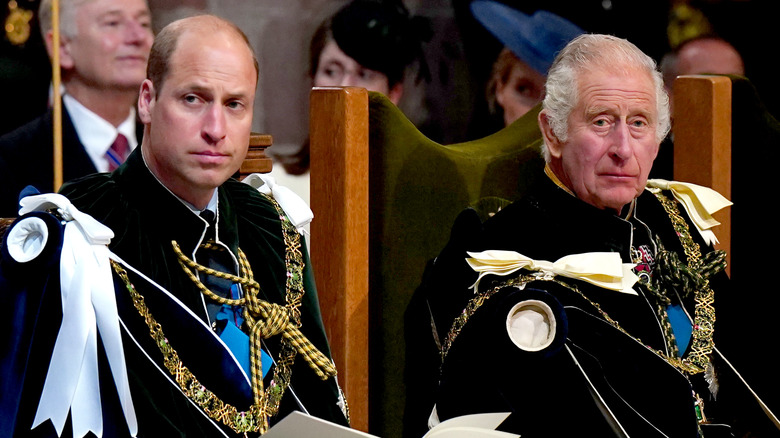 Pool/Getty Images
William, Prince of Wales, and Catherine, Princess of Wales attended the second coronation event for King Charles III, held in Scotland. But the Duke of Rothesay, which is what William is called in Scotland, was notably not wearing a kilt. Wearing a kilt has been a longtime royal tradition when visiting Scotland with men in the royal family wearing a kilt when in Scotland for over 100 years, since the time of Queen Victoria. But it's not something William has done since childhood, according to the Daily Mail. Nor, for that matter, has his brother Prince Harry, Duke of Sussex, but since William is the future king, if he decides to not wear a kilt in Scotland, that could be the end of the tradition.
Instead of a kilt, William wore robes denoting his membership in the Order of the Thistle, Scotland's highest order of chivalry. Admittedly, King Charles also didn't wear a kilt for the coronation event itself, but he did don a kilt sometimes during his Scottish visit. He and Camilla, Queen Consort were there before the coronation event for Holyrood Week, "an annual celebration of Scottish culture," as noted by the Royal Household website, which this year included a marking of the king's coronation. It was a day filled with pageantry and excitement, but King Charles' Scottish coronation was also marked by loud critics of the monarchy.
Prince William bucks Scottish tradition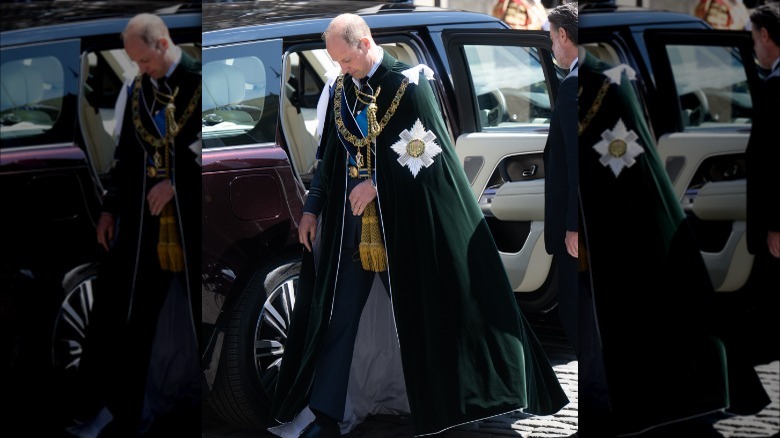 Samir Hussein/Getty & undefined
William, Prince of Wales, and King Charles III both grew up in a family that had, as Richard Kay described for the Daily Mail, "a unique — if eccentric — set of house rules when it comes to how to dress in Scotland — the men wear kilts, not just on official engagements but during their off-duty moments too." Throughout his life, King Charles III has frequently been seen wearing a kilt when he's in Scotland, starting with a photo of him wearing one for his seventh birthday. And his father Prince Philip was also often spotted in a kilt.
William not wearing a kilt has been noticed before, and some are disappointed in that and wish he would keep the tradition going. "Especially being Lord of the Isles, it would be the perfect vehicle to popularize the traditional Highland dress, particularly to a younger generation," John Sugden told The Times. Sugden owns Campbell's of Beauly, which has made kilts, jackets, and other clothing for the royal family for years.
We have yet to see any Wales children wearing a kilt, so that could mean the tradition will die out if William lets it go. The Prince and Princess of Wales do at least have a kilt for Prince George; he was gifted a handmade kilt in 2014.