What Is It About Taylor Swift's New Classic Timeless That's Making Fans Swoon?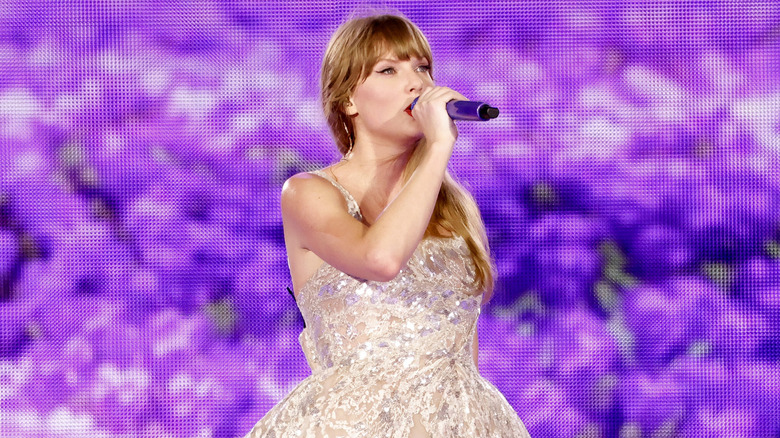 Taylor Hill/tas23/Getty Images
Taylor Swift knows a thing or two about writing a love song, but you already knew that. The multi-Grammy award-winning singer seems to have perfected the craft of composing lyrics that would either make you want to dance the night away or sulk in the corner of your room with a box of tissues in one hand and a glass of wine in the other. The songs on "Speak Now (Taylor's Version)" are not an exception, of course, especially the ones that Swift dug out from her famous vault of unreleased songs for the world to hear.
Any Swiftie can tell you that "Speak Now" is chock-full of tracks that are dedicated to Swift's former lovers. For instance, "Back to December" is supposedly about Taylor Lautner and their short-lived fling that ended up in heartbreak, while "Dear John" is dedicated to John Mayer. The six From the Vault tracks are still up for further interpretation, although fans are convinced that "When Emma Falls in Love" might be about Emma Stone and her relationship with Kieran Culkin, and "Foolish One," may refer to her experience with Jake Gyllenhaal.
But if there's one vault-harvested song that will likely reach "All Too Well" levels of iconic, it would probably be "Timeless," with legions of Swifties noting that the track is nothing short of romantic. Why? Because it may just be about the love story of her grandparents.
Timeless is about a love that transcends time
You're crying, we're crying, everyone's crying. Swifties can't help but gush over Taylor Swift's newly-released From the Vault track "Timeless" on Twitter, with many agreeing that it may well be the "most romantic song ever written". As part and parcel of most T.S. songs, "Timeless" packs a beautiful story, but judging from the lyric video, it may be Swift's ode to her late grandparents, Marjorie Finlay and Dean Swift, both of whom she's written about in the past. We're getting "Folklore" and "Evermore" flashbacks!
This time around, though, Swift appears to be singing about their love story that survived against all odds. "On a crowded street in 1944 and you were headed off to fight in the war / You still would've been mine, we would have been timeless," the lyrics read. "I believe that we were supposed to find this, so, even in a different life, you still would've been mine." See what we mean by romantic? "Taylor Swift is the greatest storyteller, THE WAY I CAN VISUALIZE TIMELESS THE ENTIRE TIME FROM THE FIRST NOTE IS IMMACULATE LIKE OH MY GOD," one fan gushed. "Whoever stopped Taylor Swift from releasing Timeless in 2010 needs to be stoned like I'm so serious there's no excuse this song is just perfection," joked another.
Whether the song is really about Swift's grandparents or just a love story she conjured out of thin air, one thing's for sure: we want more. Perhaps she has a 10-minute version of "Timeless" lying around somewhere?