John Stamos Took Home Two Pieces Of The Full House Set (And He Still Has Them)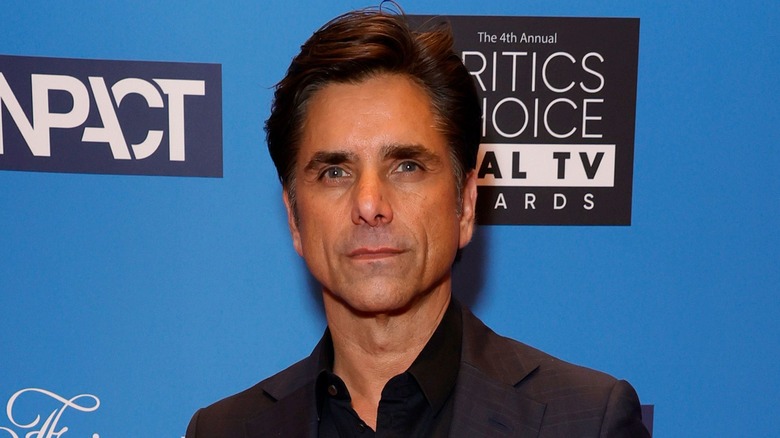 Frazer Harrison/Getty Images
John Stamos has worked on many well-known projects over the years. The actor has appeared on shows such as "ER," "Entourage," "Thieves," "Step By Step," and more. He even appeared as Blackie Parrish on "General Hospital," and more. However, his best-known part has been playing the role of Uncle Jesse on the iconic family sitcom "Full House." Stamos loved the show so much that he even admitted to stealing some props from the set. Over the years, Stamos has shared his love for the show and his co-stars such as Bob Saget, Dave Coulier, Candace Cameron Bure, Jodie Sweetin, Andrea Barber, as well as Mary-Kate and Ashley Olsen.
In 2022, when "Full House" celebrated its 35th anniversary, Stamos spoke about the show. "When it first came out, the reviews said it wouldn't last until Thanksgiving," Stamos told People. Of course, the show ran for eight seasons and became one of the most beloved shows of all time. It even spawned a sequel series titled "Fuller House," which included five seasons and streamed on Netflix.
"When it ended, it was time to move on. I was trying to keep my distance from it," Stamos said of the series. "And it just got bigger every year, bigger and bigger. I got to the point too where I'd done enough work that I felt I was able to do other things and prove myself as an actor. And so now I just absolutely love it. I just love it."
John Stamos took the iconic Full House couch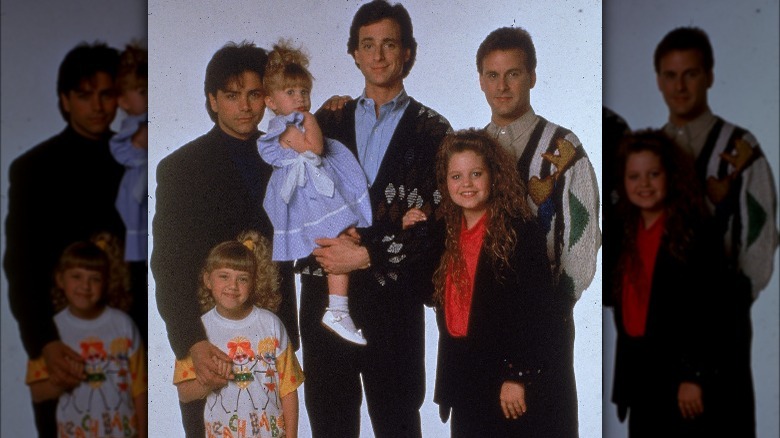 Fotos International/Getty Images
John Stamos held his time on "Full House" so deep in his heart that when the show ended he knew he wanted to keep some of the most recognizable pieces from the set. So, he took what he wanted, which included the show's memorable red doors and even the iconic blue couch from the Tanner living room. During a 2022 interview on "The Drew Barrymore Show," Stamos revealed that put the doors from the set to good use.
"I stole a lot of things from that show, from all shows. We were building a bathroom on our house and I said, 'Oh I have these old doors from Full House,'" Stamos shared. "But every time I walk out of the bathroom I expect people to clap and applause, you know when you make an entrance on a sitcom," he joked. Of course, that wasn't all the actor took from the set. "And the couch too, the original couch," he added of his collection, which sent Drew Barrymore into a state of shock as she joked about buying the piece of furniture from him.
Of course, this wasn't the first time that Stamos has surprised people with the knowledge that he owned the original "Full House" couch.
John Stamos' Full House co-stars were stunned after learning he owned the couch
In 2020, John Stamos took to Instagram to share a photo of his son, Billy, trying to get to a set of stairs in their home. However, the little boy was unable to get to the area because Stamos had moved the original "Full House" couch in front of them, using it as a makeshift baby gate. "Baby safety gate or one of the most iconic couches in pop TV history? You, make the call," the actor captioned the post. While fans loved seeing the couch pop up on Stamos' social media feed, his former co-stars were seemingly stunned by the fact that he owned the pieces of TV history, per Entertainment Weekly.
"I don't know what it is John, but it comforts me," commented Bob Saget, who played Danny Tanner on the show. "You got it?! Not Bob?" Candace Cameron Bure, who portrayed DJ Tanner, added. "WHAAAAATTTT?!" Jodie Sweetin, who played middle sister Stephanie Tanner, stated. "Thief," Andrea Barber, who portrayed wacky next-door neighbor Kimmy Gibbler, said.
Of course, there were multiple couches used while filming "Full House" over the years. One of them was even used during the show's sequel series "Fuller House." However, the one that Stamos has in his home is likely the one that he holds the most dear to his heart.