How Do Kelly Ripa And Mark Consuelos Keep With Up Pop Culture? Ask Their Daughter, Lola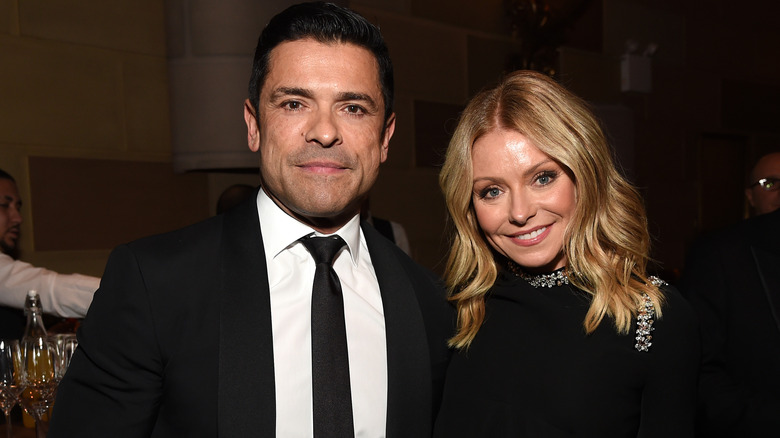 Michael Kovac/Getty Images
Now that Mark Consuelos has joined Kelly Ripa in a full-time role on "Live," he and his wife both have to ensure that they are up-to-date on all things pop culture for their morning coffee talk segment as well as for many of the interviews that they conduct with their guests. And while it may be a challenge to stay on top of some of the biggest stories in entertainment, Consuelos and Ripa have a secret weapon; their daughter, Lola Consuelos. When it came to the "Vanderpump Rules" scandal, for example, Lola was quick to clue her dad in. Consuelos and Ripa chatted about "Scandoval" on their morning talk show and Lola fired off a text when her dad wasn't all in on being #TeamAriana. "Lola texted me when we were going in about the Scandoval episode, and she said, 'You better watch yourself. You better watch what side you're taking because it could be very bad for you,'" Consuelos explained (via People). 
It seems Lola is the perfect person to help clue her parents in. Back in May, she graduated from New York University, and, as a recent college grad, she's really at the age where she's dialed in to many of the things that her parents discuss on their daytime show. And Lola takes her honorary role of pop culture advisor very seriously. 
Lola Consuelos keeps her parents in the know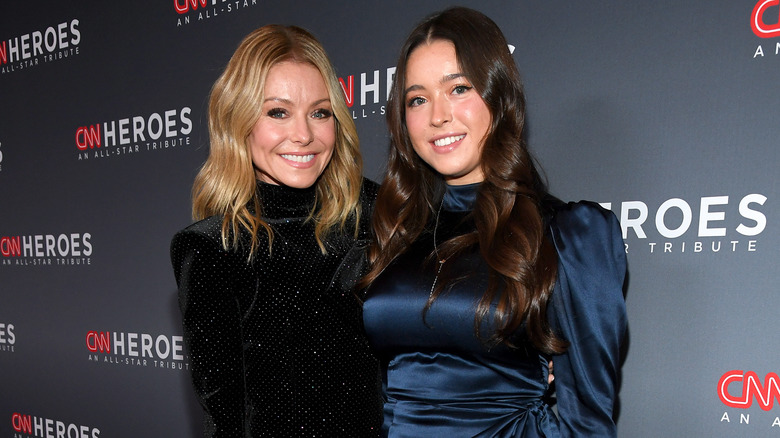 Kevin Mazur/Getty Images
In order for Lola Consuelos to really dig in on "Vanderpump Rules" with her parents, she told them to watch part one of the reunion — and then they discussed it over dinner, per People. The Bravo-verse was rocked when they found out that Tom Sandoval was cheating on Ariana Madix with Raquel Leviss. Most of the watching world really empathized with Madix — but Mark Consuelos had a totally different take. When he expressed that he was on Tom Schwartz's side in the whole matter, Lola wasn't too thrilled. However, Lola's job as pop culture informant seemed to be a success; Kelly Ripa and her husband are "very invested now."
Lola has moved back home following graduation, and while she's definitely a key player in her parents' understanding of the entertainment side of the news, she hasn't really caught on to the boundaries her mom and dad are trying to set. For example, on another episode of "Live," Ripa and Consuelos shared that Lola just walks into their bedroom without much notice. "At this point, anything you walk in on is your problem," Ripa told her daughter, according to Entertainment Tonight. 
Lola Consuelos is supportive of her parents working together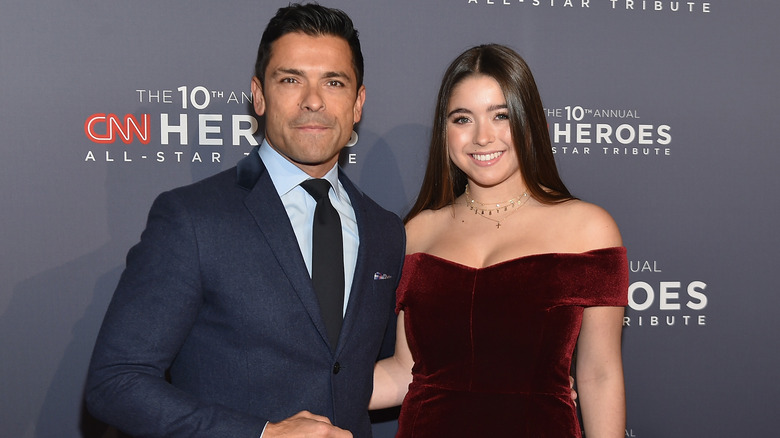 Mike Coppola/Getty Images
With big changes happening at home and at work for the Ripa-Consuelos family in 2023, the family unit appears more tight than ever. In February, Kelly Ripa's co-host Ryan Seacrest left the show and Ripa's husband stepped into his full-time role. "I get to share a coffee with you every morning before the show and now I'll have one with you on the show as well," Mark Consuelos told his wife on the air, according to "Good Morning America." "This is going to be amazing! I can't believe after all these years of listening to you talk for free, I found a way to get paid for it. Is this a great country or what?" he later joked.
On Consuelos' very first day as his wife's co-host on "Live! With Kelly and Mark," Lola Consuelos was sitting in the front row supporting her parents, E! News reports. Perhaps her parents will consider putting her on the payroll for those insider pop culture tips.