How Barbies Have Changed Over The Years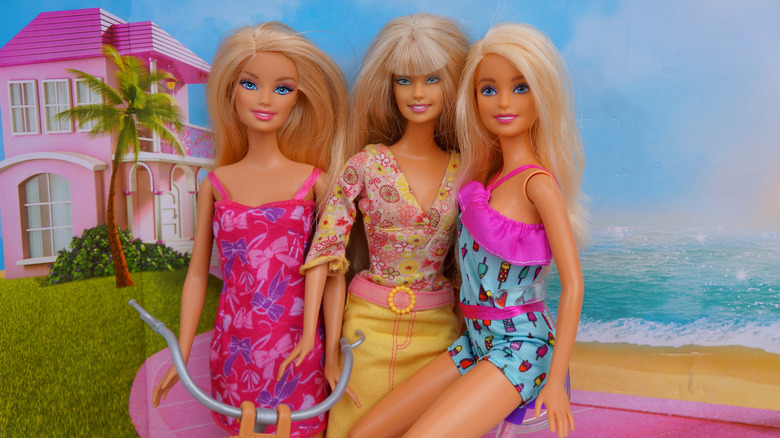 Brenda Rocha - Blossom/Shutterstock
Over the years, Barbie has become more than a simple toy. She's one of the most recognizable brands, a fashion icon, and a global sensation. From the moment the doll made her debut in the late '50s, she's received her share of both praise and criticism. According to Barbie Media, Ruth Handler created the doll with the vision of her being an aspirational figure for young girls, and the plastic doll has certainly become that both for better and for worse.
To this day, the fashion doll has a grip on pop culture; "Barbiecore" continues to dominate 2023's fashion and beauty trends. And the "Barbie" movie, starring Margot Robbie and Ryan Gosling, is predicted to do huge numbers at the box office. But it's no simple feat to stay that relevant throughout multiple decades. Barbie has done it by adapting to the times, pushing boundaries, and of course, always keeping up with trends. These significant moments in Barbie history show just some of the ways Barbie has changed and evolved over the years. 
The first Barbie had 1950s style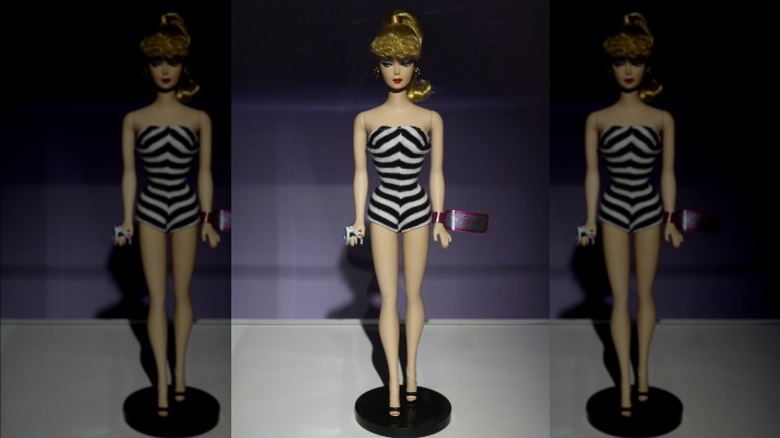 Frazer Harrison/Getty Images
Mattel lists March 9, 1959, as Barbie's official birthday, as it was the day that the first Barbie doll was launched at the New York Toy Fair. This first iteration of Barbie was modeled after 1950s beauty standards and style. She wore a black and white striped one-piece bathing suit and a signature ponytail with ringlets in her bangs. Perhaps the most noticeable difference in style between the original Barbie and the one we know today is in the face. The 1959 Barbie's makeup was modeled after 1950s movie stars, and the look is anything but subtle — and we mean that in a good way. She has full red lips with an exaggerated cupid's bow, sharply angled eyebrows, and dark eye makeup. That makeup may not be practical for a day at the pool, but we love it regardless. 
Though she's changed a lot over the years, this 11-inch doll was the first building block for what Barbie has come to represent today. Introducing Barbie was also a huge game-changer in the toy industry, as she was a doll for kids, but not a kid herself. The cofounder of Mattel, Ruth Handler, envisioned the doll as a way for children to imagine what their own grownup lives might look like. 
Ken came on the scene in 1961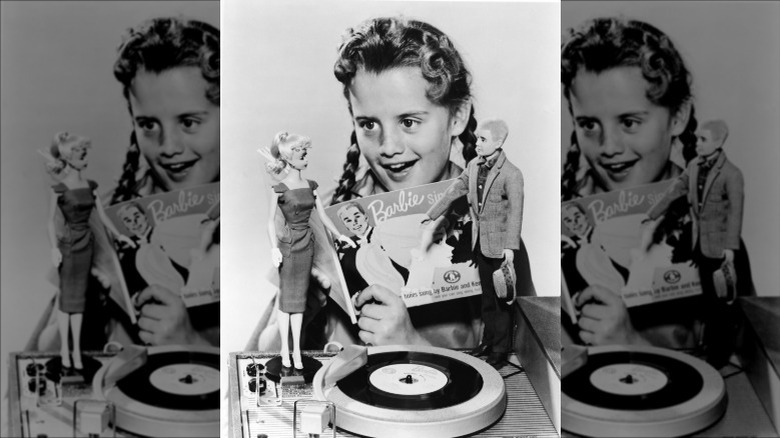 Hulton Archive/Getty Images
In 1961, Barbie got a boyfriend, and the pair have been together ever since. Though Ken never became as popular as Barbie, he's often purchased alongside the fashion doll. 
Ken wasn't introduced until two years after the original Barbie doll. The first Ken made his debut at the American International Toy Fair. He stood 1 inch taller than the original Barbie and wore red swim trunks. His swimsuit look was the perfect complement to the 1959 Barbie in her signature striped swimsuit.
Barbie's beau has also changed over the years. Ken's original molded plastic hair was eventually replaced by rooted hair that looks more natural and can be styled. In the '90s, Mattel even released a Ken doll called Shaving Fun Ken with facial hair that could be shaved off. Now, if you're more of a fan of the doll's classic look, don't worry — you can also still buy molded hair Kens. His wardrobe also expanded to introduce new styles and grow with the times. Often Ken dolls are sold with outfits to match Barbie's looks, just like the original swimsuit pairing.
1965 introduced Astronaut Barbie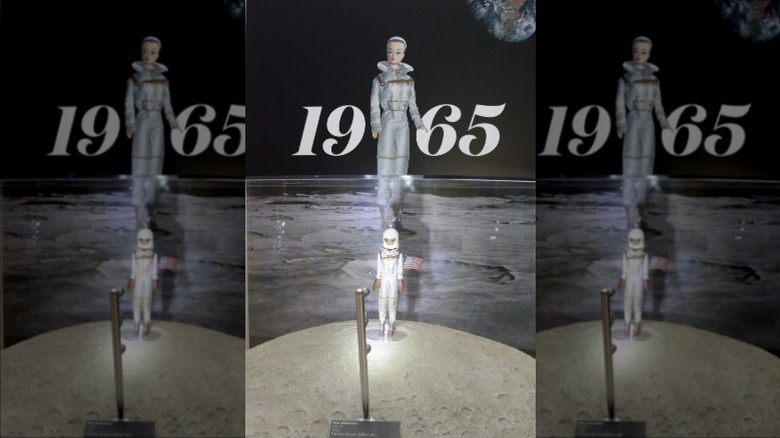 Gabe Ginsberg/Getty Images
Though she's often thought of as only a fashion doll, Barbie has been pushing boundaries for decades. Looking back at Barbie's "work history," she's had over 200 careers since launching in 1959. Through her many cutting-edge jobs, Barbie acts as an aspirational figure for the young children who love her.
And Barbie's first big career move may have been one of her most impressive. Since she's always on trend, it should be no surprise that during the height of the space race, Barbie would take to the stars. In 1965, Mattel introduced its first astronaut Barbie doll. The "Miss Astronaut" doll wore a fashionable and utilitarian silver space suit. Using astronaut Barbie, children could play out landing on the moon before Neil Armstrong took his first steps in 1969. And As the National Air and Space Museum points out, this was several years before actual women astronauts became part of NASA in 1978. In her own way, Barbie has been making a statement and breaking glass ceilings for decades.
In the 1960s, Barbie got a bubble cut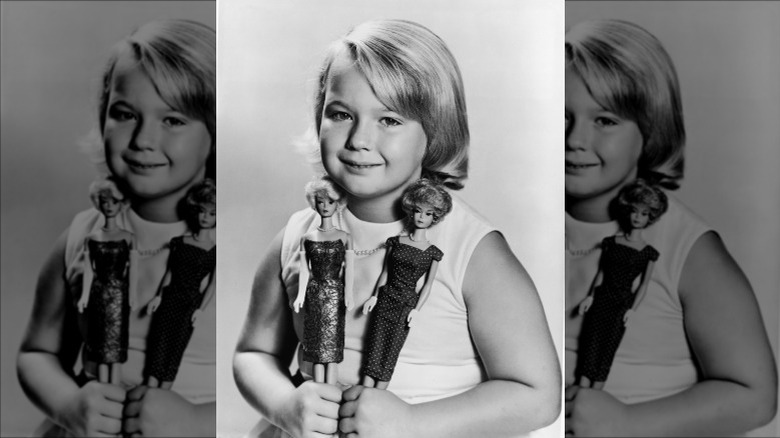 Hulton Archive/Getty Images
From the moment she first stepped on the scene, Barbie has adapted to the styles and trends of the times. One of the first changes to the original Barbie doll design was swapping out her ponytail for a short "bubble cut" in the 1960s. The Bubble Cut Barbie was introduced in 1961 and sold throughout the decade. As the name "bubble cut" implies, these dolls had shorter hair styled with a lot of volume to make a rounded shape.
The stylized bubble cut or bouffant hairstyle was quite chic at the time and worn by many fashion icons, including Marilyn Monroe, Jackie Kennedy, and Elizabeth Taylor. So, it was only fitting for Barbie to try the trendy look out for herself. Bubble Cut Barbies had the same vintage facial features as the original 1959 Barbie design, but the new hair and '60s-inspired dresses made them perfect for the new decade.
The first celebrity Barbie was introduced in 1967
If you've ever taken a stroll down the toy aisle, then you've likely seen Barbie versions of a number of celebrities. Tina Turner, Laverne Cox, Zendeya, Kate Middleton, Jennifer Lopez, and many other cultural icons have had their likeness made into collectible Barbie dolls. But long before any of those public figures were made into Barbies, the celebrity Barbie doll trend started with Twiggy. Yes, the model was the first celebrity who inspired Mattel to create a doll in their likeness. The Twiggy Barbie hit shelves in 1967.
Twiggy is an internationally successful British fashion model known for her mod style, large eyes, and unique makeup. The doll version of Twiggy had the same coiffed blonde hair and signature eye makeup with drawn-on black lashes as the real Twiggy. And, of course, since she was modeled after the 1960s fashion icon, the doll came with the chicest of '60s clothes.
In a 2021 Instagram post, the legendary model shared some throwback snaps of her Barbie and noted its significance. "It was the first 'celebrity' doll of its kind," she wrote. "And of course she had a range of fabulous outfits." We'd expect nothing less.
Malibu Barbie debuted in 1971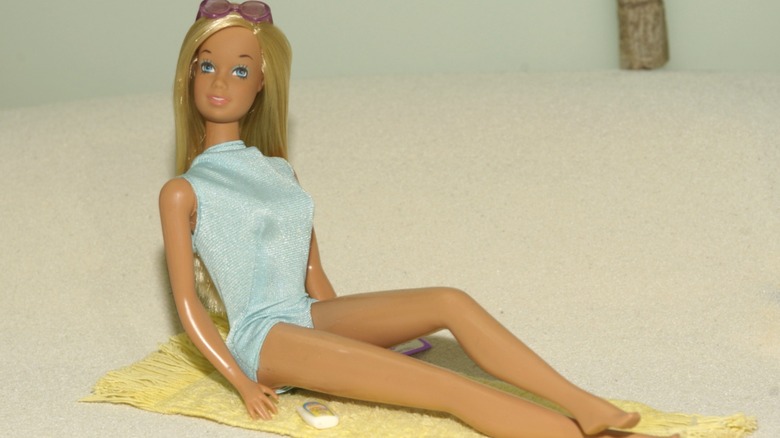 Lawrence Lucier/Getty Images
One of the biggest changes to Barbie's look came in 1971 when Mattel introduced the now-famous Malibu Barbie. The beach-loving doll was a casual and groovy alternative to some of the earlier designs. Barbie exchanged her updo and curls for long, straight hair, and instead of pale skin, the Malibu Barbie looked like she spent her days in the sun.
Some big changes were also made to the style of Barbie's face. Instead of the red, pouty lips of the '50s and '60s, Malibu Barbie's big smile includes teeth. And as Barbie Media points out, the new face mold also changed Barbie's eyes. Originally, Barbie's gaze was directed to the side, but Malibu Barbie's eyes look straight ahead. As The Girl Museum notes, Malibu Barbie's overall expression "depicted confidence." 
Malibu Barbie's impact has been lasting, to say the least. Per Deadline, before the "Barbie" movie hit theaters in 2023, a real-life Malibu Barbie DreamHouse went up on Airbnb. 
In 1977, Superstar Barbie got a friendlier look
Barbie got yet another makeover in 1977 with the release of Superstar Barbie. Like Malibu Barbie, the Superstar version's look was more friendly and soft than the original vintage Barbie. But she also had a more glamorous overall style than the 1971 beachy look. The face maintained the open smile and forward-facing eyes introduced by Malibu Barbie but with the addition of light blue eyeshadow to match her glitzy vibe.
Superstar Barbie has become quite a defining moment, thanks to the hot pink color of her evening silky gown, shoes, and boa, which is still the color palette that Barbie is typically imagined in today. The Superstar Barbie also had removable jewelry so kids playing with her could get Barbie ready for her night out. According to Stacker, this iteration of Barbie could also be purchased with your own necklace and bracelet to match the fashionable and fabulous doll.
The first Black and Latina Barbies were released in 1980
In 1980, Mattel made a huge step forward in terms of diversity when it released the first Black and Latina Barbie dolls. The toy company had previously made its first Black doll in 1968, but she was a friend of Barbie named Christie. It wasn't until the 1980 that a Barbie doll named Barbie was released with non-white features.
In the film "Black Barbie: A Documentary" (via The Independent), the creators of the first Black Barbie doll discussed their journey and vision for creating the doll. Kitty Black Perkins was the first Black doll designer and the creative mind behind the first Black doll. "There was a need for the little Black girl to really have something she could play with that looked like her," Perkins said. When creating the doll, the designers made a point to make this Barbie different from any before her. Perkins said she was inspired by Diana Ross when styling the doll. "I wanted her just to reflect the total look of a Black woman," Perkins continued. "We made her lips a little bit fuller; we made her nose a little bit wider. So if you really kind of put the two dolls side by side, you can really tell the difference."
1985's Day-to-Night Barbie is a gal on the go
The Day-to-Night Barbie was another iconic moment. The popular doll was originally released in 1985 and came with a changeable wardrobe. The first look is a signature pink business suit complete with a briefcase for the day. Then the doll transforms from the buttoned-up style into a pink top and tulle skirt to dance the night away. When it comes to balancing work and fun, this Barbie can have it all.
This particular Barbie ensemble is quintessential Barbie — so much so, Margot Robbie referenced it during the "Barbie" movie press tour in 2023. The Oscar-nominated actor wore a replica of the look to the Seoul premiere. Just like the Day-to-Night Barbie doll, the actor sported a pink skirt suit with a matching pink neck scarf. She even had white and pink pumps and a brimmed hat with a pink and white polka dot band. Then in true Barbie fashion, Robbie transformed into the night look with a pink bodice and tulle skirt later in the evening.
1992's Totally Hair Barbie raked in the sales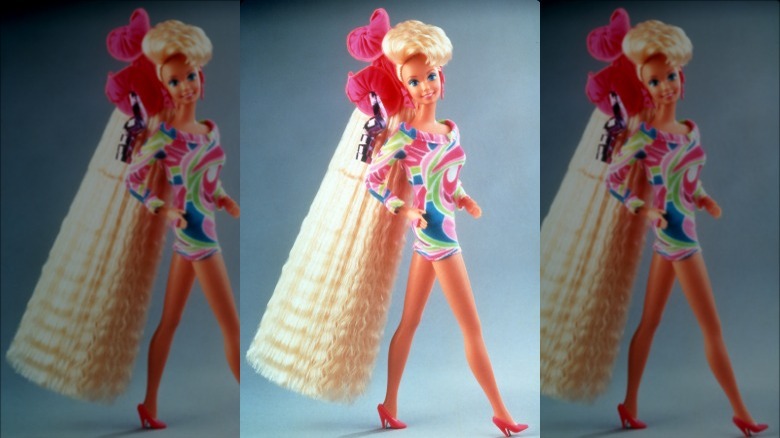 Yvonne Hemsey/Getty Images
In 1992, Barbie embraced the popular long, crimped hair trend with Totally Hair Barbie. Her shiny, crimped hair was complete with '90s style bangs and reached all the way to her ankles, the longest Barbie's hair has ever been. The doll wore a bold, patterned mini dress and came with hair accessories to match the flashy fashion of the '90s. In addition to her show-stopping hairdo, her large statement earrings and blue eye makeup make her look ready for a night out. What's more, each doll came with styling gel and a comb to make the hair exactly how you want, only adding to the fun.
No Barbie has managed to outsell Totally Hair Barbie. According to Guinness World Records, Totally Hair Barbie holds the record with over 10 million dolls sold. Clearly, when Barbie designer Carol Spencer came up with the idea to, as she told Mattel Creations, "dress the doll with her hair," she absolutely nailed it.
Barbie became president in 2000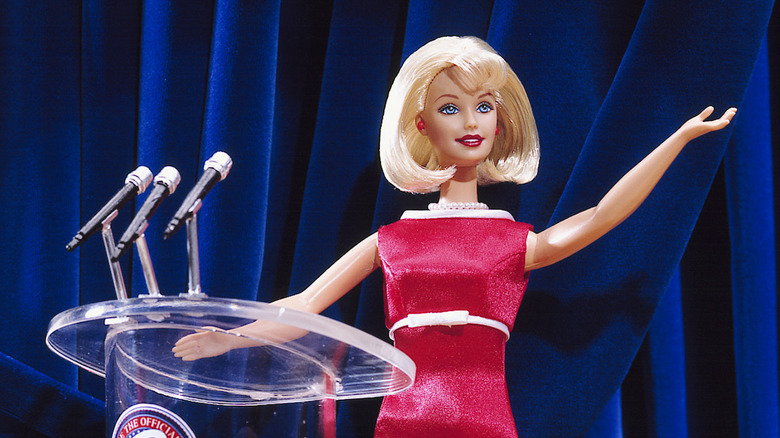 Yvonne Hemsey/Getty Images
Although there's yet to be a female president of the United States, that's not the case in the wonderful world of Barbie. Barbie made her first run for president in 2000. More than a decade before Hillary Clinton was the Democratic nominee, President Barbie was inspiring young girls to reach new heights.
This Barbie got a slight redesign to go with her political campaign. Her typically long hair was cut into a sensible bob at her chin, and she has red lipstick on. The doll came with a blue pantsuit, pearl necklace, and a red gown to change into, presumably for President Barbie's inaugural ball.
Erin Loos Cutraro, founder of She Should Run, spoke to Forbes about the importance of putting Barbie in leadership positions. "The more girls play at being the leader of the free world, the more obvious it will be that they can aspire to that role," she said. "We want girls to see themselves in their dolls."
Barbie got a belly button in 2000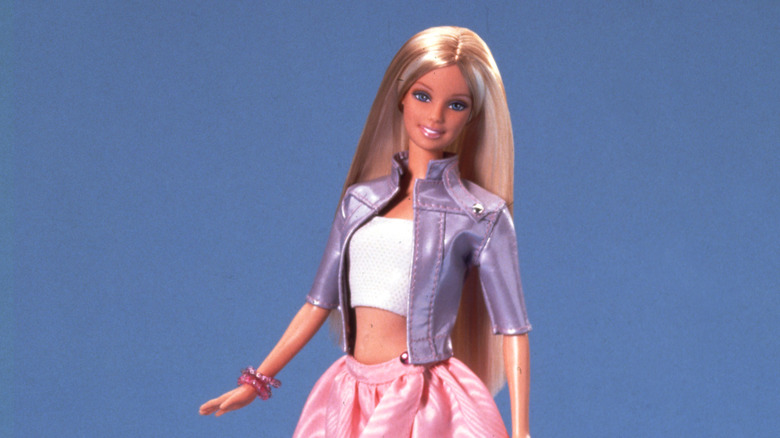 Getty Images/Getty Images
In 2000, Mattel also released Jewel Girl Barbie. The youthful doll was inspired by the pop stars of the early 2000s with glowing skin, straight hair, frosted lips, and shimmery eyeshadow. Needless to say, she would fit right in with Britney Spears, Paris Hilton, Christina Aguilera, Jessica Simpson and so on. What's more, she wore a crop top with a low-rise skirt — a very '00s silhouette, indeed. But the thing that sets this Barbie apart from every other Barbie? Jewel Girl Barbie was the first Barbie to have a belly button.
Some other changes were made to Barbie's physique in this release. The BBC points out that this Barbie had a more athletic frame and a bendable waist. The more athletic build gave Barbie a slightly more realistic figure, though Jewel Barbie still had a very thin frame that many felt set an unrealistic body image.
Barbie introduced new body types in 2016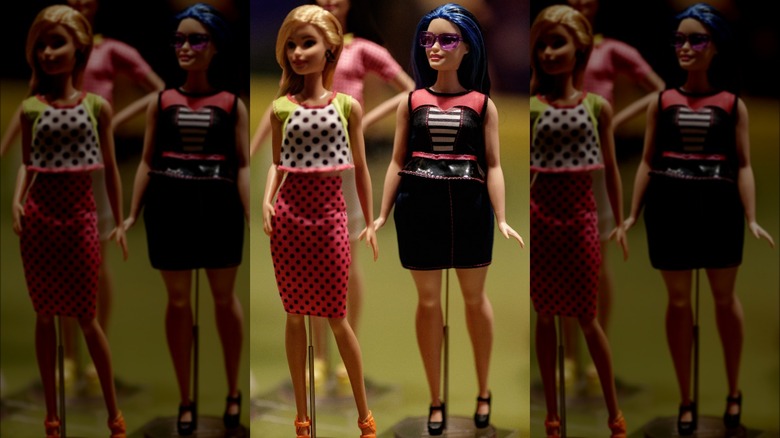 Eduardo Parra/Getty Images
Mattel made the biggest change to Barbie's design in 2016 when the company released multiple dolls with varied body types. Along with the original Barbie design, petite, tall, and curvy dolls became available for purchase. The line of inclusive Barbies also featured skin tone and hair texture options in an attempt to more closely reflect the diversity of Barbie's customer base.
As noted in a Time cover story, Barbie faced backlash for years for the unrealistic standards the doll set for women. Though Mattel argued the brand has always been for female empowerment with Barbie's many memorable careers to show for it, there have also been controversies, such as a 1963 Barbie doll that was sold with a diet book that included the toxic instruction of "Don't eat." This 2016 release was a big shift away from those problematic sentiments. "Some people will say we are late to the game," Evelyn Mazzocco, head of the Barbie brand, said. "But changes at a huge corporation take time."
The new body types were definitely a huge step towards inclusivity, but it's evident the work isn't over. For example, as one woman told Time, the curvy doll could be fuller figured. "There are shapes that are curvier and still are beautiful. My daughter definitely has curves, and I would want to give her a doll like that," she said.
Barbie continued to strive for inclusivity in 2020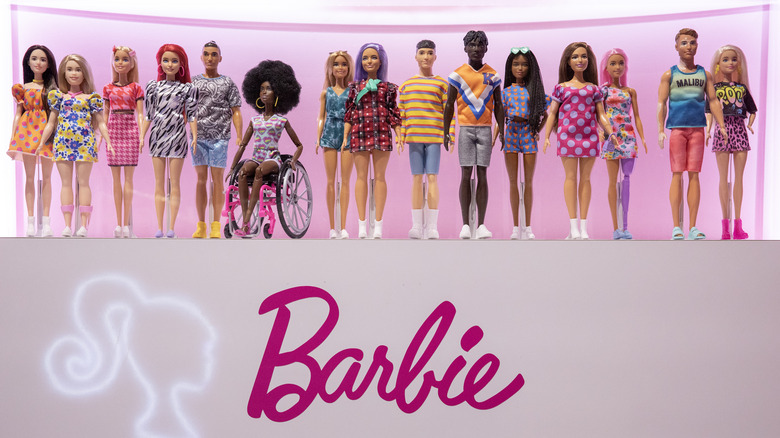 Bloomberg/Getty Images
Barbie's mission to diversify has continued since the 2016 release. Along with the varied body types, Mattel has added to its Fashionista line to include disabled dolls. One of the 2020 Barbies had a prosthetic limb, one wore a hearing aid, and another came with a wheelchair. Mattel also released a doll without hair and one with vitiligo, an autoimmune disorder that causes the loss of skin pigment. In a statement obtained by Forbes regarding the new line of dolls, Mattel said, "As we continue to redefine what it means to be a 'Barbie' or look like Barbie, offering a doll with vitiligo in our main doll line allows kids to play out even more stories they see in the world around them." 
It's been said time and time again, but seeing yourself represented in pop culture — whether it be a movie or a doll — is important. As one teen girl who wears a hearing aid told BBC's Radio 1 Newsbeat, "If, when I lost my hearing, I could've remembered playing with a Barbie who needs the same technology as I do, it would've made the idea of needing that technology so much less daunting."
Looking at the lineup of Barbies today, it's impossible not to see just how far she's come from the original 1959 design. And we'd be willing to bet she will only keep evolving.