Barbiecore Dominating The Golden Globes Proves There's No Escaping The Trend In 2023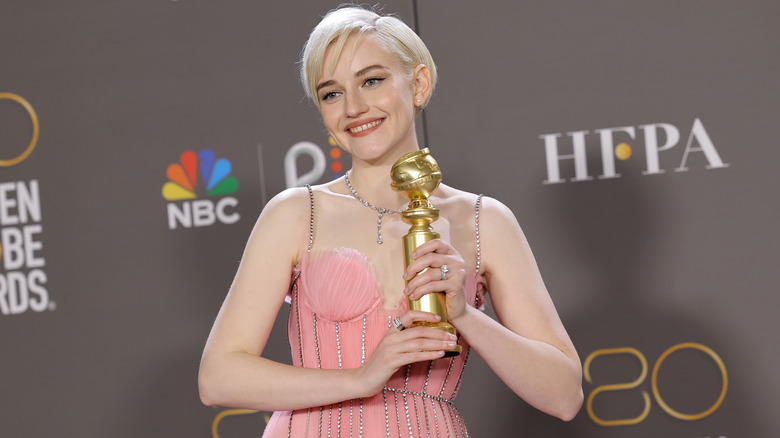 Amy Sussman/Getty Images
Barbie, the iconic doll created by the toy company Mattel, has always been a beloved staple in pop culture. However, there has been even more hype surrounding Barbie lately as a movie by the same name is set to hit theaters this year (via Glamour). The film, starring Margot Robbie and Ryan Gosling with Greta Gerwig directing, is highly anticipated. It's no coincidence then that a new style has taken over TikTok and runways as we approach the release of the "Barbie" movie. 
The Barbiecore trend is best explained by stylist Samantha Brown (via CNN). "Barbiecore fashion is anything that references the fabulous world of Barbie," Brown told the outlet. "Particularly in hot pink and bubblegum." Barbiecore even took over the runway at the 2023 Golden Globe Awards, and some of our favorite looks of the night were focused on the color pink. In fact, several stars were rocking pink gowns and Barbie-inspired looks.
Pink was a major theme at the Golden Globe Awards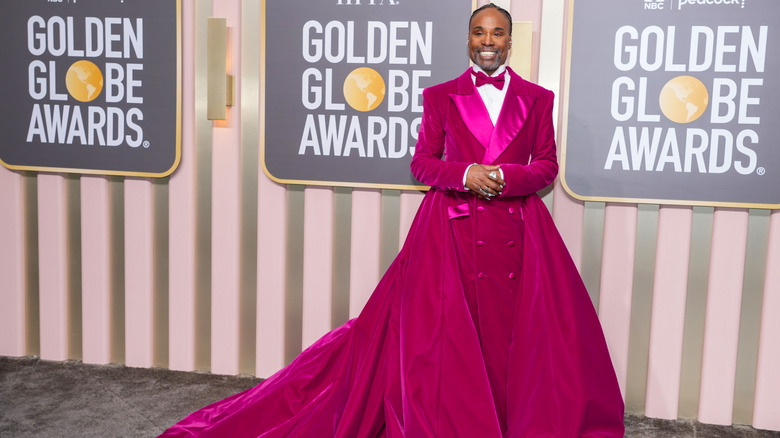 Kevin Mazur/Getty Images
The 2023 Golden Globe Awards embraced the Barbiecore fashion trend. Many stars showed up to the ceremony wearing different shades of pink. Of course, Margot Robbie, the star of the "Barbie" movie, came dressed for the part (per Marie Claire Australia). Her long blonde hair and gorgeous pink mermaid-style gown looked like she had just stepped off the set as Barbie herself.
Even men got involved in the trend, with Seth Rogen showing up to the awards in a bubblegum pink suit. It was a fan-favorite look, with one fan commenting on Twitter, "[U]nbelievably dashing man Seth Rogen is."
Billy Porter, who never disappoints on the runway, took his iconic tuxedo dress that debuted four years ago at the Oscars and gave it a Barbiecore upgrade (via Page Six). Instead of the classic black he originally rocked, this year's gown was magenta. We later learned during the ceremony that Ryan Murphy had asked him to wear the original gown as he presented him with the Carol Burnett lifetime achievement award, but it was in a museum. So, the look got a pink revival instead.
Even Chloe Flower, the pianist of the night, was wearing a pink behind her instrument tonight. It looks like Barbiecore will continue to trend into 2023.