What We Know About Michael Strahan's Girlfriend Kayla Quick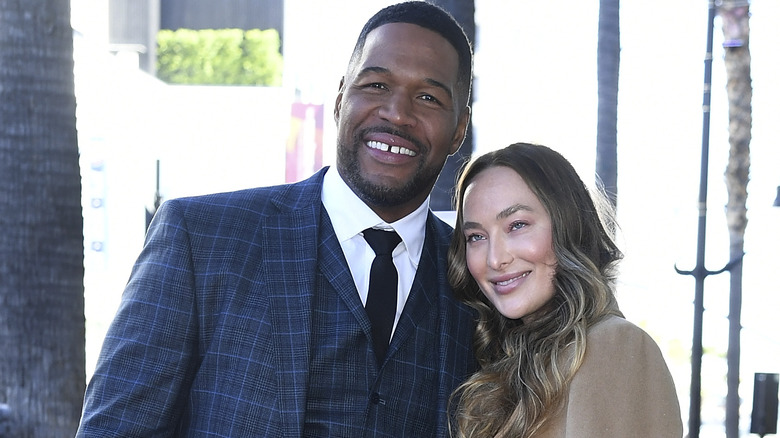 Jc Olivera/Getty Images
From pro athlete to "Good Morning America" and cameo actor, Michael Strahan and his charming, gap-toothed smile have been entertaining and enchanting us for years. And we're not the only ones. After two ex-wives and an ex-fiancée, he's found a long-term love with girlfriend Kayla Quick; the pair went public in 2015 and have been going strong ever since. 
Candid shots have been captured of the couple frolicking in the ocean on vacation, and out and about after working out, but their relationship has mostly been kept on the down low, with Strahan preferring to keep his romantic life private. Not even a deep-dive on his Instagram account produces a personal photo of Strahan and Quick loving it up together.
Recently, though, that seems to be changing. The couple appeared together, posing for cameras, when Strahan received a star on the Hollywood Walk of Fame in January 2023. In April, Quick and Strahan's daughter, Isabella, appeared in an Instagram reel ad for 100 Coconuts. Strahan is an investor in the company and commented, "Two of my favorite humans and my favorite Coconut Water! Perfect combo." In June, Quick was seen in an Instagram photo book-ending Strahan's twin daughters with him during a graduation celebration. And although it seems like Strahan may be starting to reveal more of his relationship, that grad photo didn't mention who or what Quick is to the family, leaving us to ask, just who is Kayla Quick?
Quick's career -- from waitress to fitness guru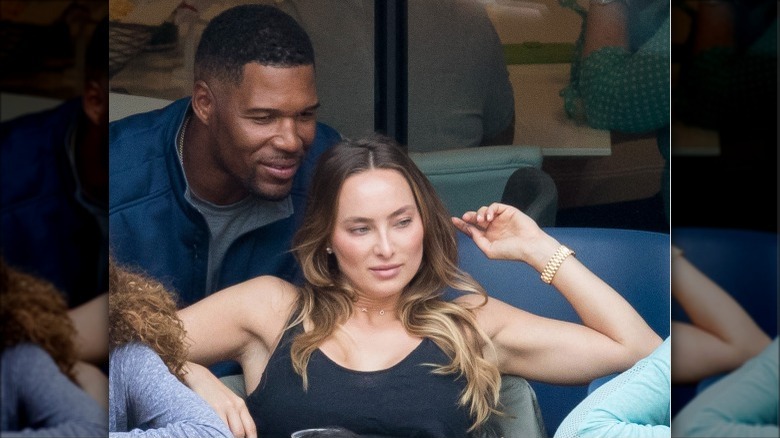 Bbd/Getty Images
Michael Strahan may hobnob with celebrities during his anchor duties on ABC News' "Good Morning America," but his past romantic relationships have never included anyone with a famous name, save perhaps an engagement with Nicole Murphy, Eddie Murphy's ex-wife. Instead, Strahan tends to prefer women who hail from everyday walks of life. When he met Kayla Quick, she was employed as a waitress in Port Charlotte, FL, and the new couple made their debut at a Super Bowl party in 2015.
Quick has since held a series of self-employed jobs, including wardrobe consultant and closet organizer, real estate saleswoman and developer, and most recently, she was the CEO and founder of a health and wellness company called Fizzness. On her LinkedIn profile, she writes, "As an avid health and wellness enthusiast, I have transformed my interests into a business with purpose, to help others feel good and look good from the inside out!" It appears, though, the company may have taken a break, since both the website and Instagram sites have been wiped, leaving only a static image.
She has, however, continued to do ads for 100 Coconuts, alongside Strahan's daughter Isabella. Quick has appeared in Instagram reel ads as recently as late May, often showing off her toned figure in bikini tops and beachwear. In one promo, she even shows off part of her fitness routine, as she sizzles in a 100 Coconuts custom sports bra and leggings.
Her relationship with Strahan's kids
While Michael Strahan hasn't exactly been jumping on couches revealing his true love for Kayla Quick, he hasn't been keeping his relationship status a secret. On an episode of "Watch What Happens Live with Andy Cohen," the host asked if he was single. "I am in a serious relationship," he confessed, followed quickly by, "You want me to give you a full name? None of your business." He went on to share his reason for remaining close-lipped about his romantic life. "One thing I learned? The whole public relationship thing doesn't work. I prefer to do my thing and live my life away from that. It puts too much pressure on it."
Quick must agree because you won't find her on social media with Strahan anywhere, other than in rare photos on the "GMA" anchor's account, usually with family. Although he doesn't mention her by name, you can see Quick joining in driving lessons with Strahan's daughters and posing in matching Christmas pajamas with the family, indicating she has a good relationship with his four children from previous relationships.
Strahan's first child, daughter Tanita, was born in 1991, and his son, Michael, in 1994. Quick was born in 1989, making her rather close in age to her boyfriend's eldest offspring. Strahan himself is 18 years older than Quick.