All The Stars Who Exited Virgin River Ahead Of Season 5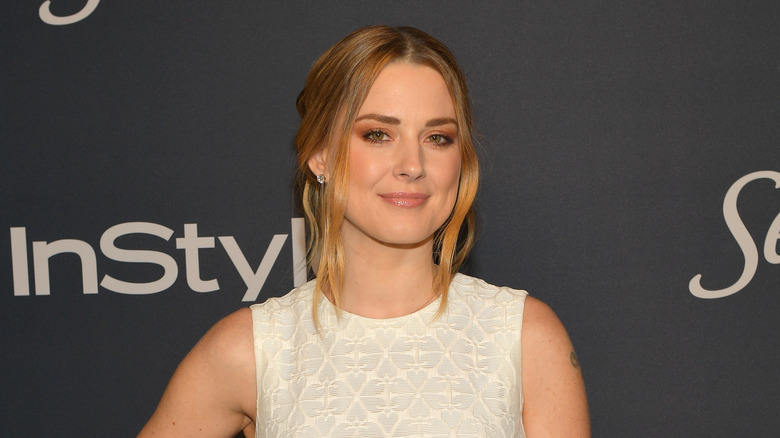 Matt Winkelmeyer/Getty Images
"Virgin River" has mastered the art of leaving us wanting more. After the shocking finale of Season 4 of "Virgin River," you can bet that fans of the popular Netflix series are eagerly awaiting the next drama-filled season to arrive. We need to find out who the father of Charmaine's twins are! Thankfully, it won't be much longer before all of us are whisked back to the cozy, small town to get our fix of adorable Mel and Jack moments. Now that the show is in post-production, small secrets and updates on what to expect from Season 5 have started to be unveiled.
While we can expect a return to many of our favorite locales in the upcoming season, not everything in the show will remain the same as we remember. That includes the lineup of characters. Some of the stars of "Virgin River" have indicated that they won't be making a reappearance in the Northern California town, and the first one left us feeling remarkably nostalgic. Grab your tissues; your favorite might be among the missing.
This star will be gone for at least a season
To go ahead and get the most pressing question out of the way: Yes, Mel and Jack will be returning to continue their developing love story in "Virgin River." Now that we've finally gotten the answer to who the father of Mel's long-awaited pregnancy is, it looks like the show's leading couple will have a moment of peace.
Fan favorites whose stories ended with dramatic cliffhangers will all be back in the upcoming season, according to a pic shared by the series' official Instagram account. Annette O'Toole (Hope), Colin Lawrence (Preacher), and Tim Matheson (Doc) will all be back to continue their storylines. We can expect to see the return of all the core characters from Season 4, although the main plot of Season 5 is yet to be revealed. Lauren Hammersley, who plays Charmaine Roberts, wasn't pictured in the Insta photo, but we can assume she'll also make appearance since Season 4 revealed her character's huge secret.
However, one star who wasn't pictured at the table read has confirmed that he won't be returning for Season 5. Grayson Maxwell Gurnsey, who plays Ricky, says his character isn't coming back anytime soon after leaving Virgin River to join the Marines. Talking with Express, Gurnsey said, "[H]e needs to move out of the way so other plot lines can develop." He added that Ricky would be away "at least a season."
The show's creator won't be returning
There is one behind-the-scenes member of the wildly successful show who has reportedly decided to walk away from their role. Surprisingly enough, it's the woman who created it.
Sue Tenney is the mind who designed all the cozy small town vibes and tantalizing drama we've witnessed so far. Before she began work on "Virgin River," Tenney was a part of the magical Hallmark series "Good Witch" and family comedy "7th Heaven." She launched "Virgin River" in 2019 and has served as the executive producer for every season of "Virgin River" up until Season 5. The next season is slated to start this fall, but Tenney is not anticipated to be a part of it.
Netflix, as well as the cast and crew of "Virgin River," have been strangely silent on Tenney's sudden departure from the show. So far, the only person from "Virgin River" who has made mention of her quiet exit is the new showrunner, Patrick Sean Smith. "Sue had moved on to work on other projects," is the brief explanation he gave during an interview with TVLine.