Meet Kelly Clarkson's Kids, River And Remy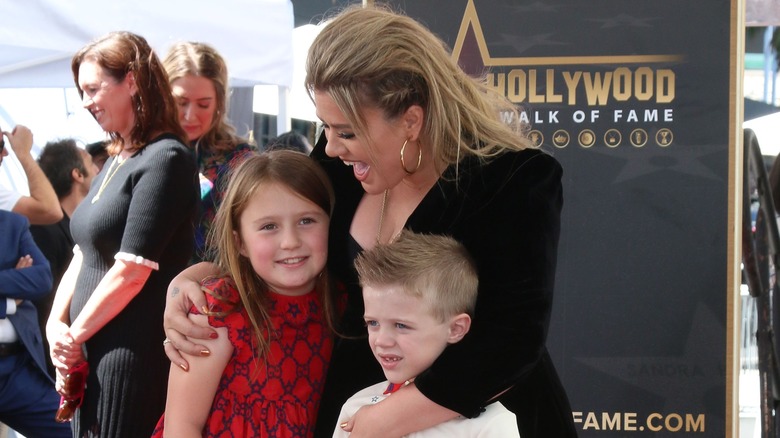 Kathy Hutchins/Shutterstock
Singer Kelly Clarkson wears many hats these days, but being a mom has been one of her greatest joys. The television host had two children during her eight-year marriage to music exec Brandon Blackstock. Sadly, the couple filed for divorce in 2020, and a nasty battle over money, property, and custody ensued. In the end, things were finalized in March 2022, with Clarkson having to fork over $115,000 per month for spousal support until January 2024 and an additional $45,601 monthly for child support, despite her having primary physical custody of their kids, River and Remy.
Now that the dust has settled, the Grammy Award winner has returned her full attention to raising her children. The little ones are occasionally seen on her talk show and Instagram, though she has done a pretty good job of keeping her children's time in the spotlight at a minimum. Judging by the negative side of social media, this seems to be a great choice for Clarkson. 
Kelly Clarkson wrote a book based on the adventures of her daughter, River
The "Stronger" singer welcomed River, her first child, with ex-husband Brandon Blackstock on June 12, 2014. Though she was Clarkson's first bundle of joy, River was Blackstock's third. He shares two older children, Savannah and Seth, with his ex-wife Melissa Ashworth. While her mom is the superstar, River is popular in her own right, serving as the inspiration behind two children's books.
The first one, titled "River Rose and the Magical Lullaby," was released in October 2016 and follows the main character, River Rose, as she goes on an adventure that stems from a magic lullaby. The innovative kid's novel is equipped with a link that allows its young readers to listen to the song performed by Clarkson exclusively for the story. Famed illustrator Laura Hughes is the mastermind behind the gorgeous animation throughout River's tale.
Following the success of the read, a second book titled "River Rose and the Magical Christmas: A Christmas Holiday Book for Kids," was unveiled in October 2017. As Clarkson explained to People, her vibrant daughter and their travel adventures are what motivated her to write the books. She began writing fun stories based on trips they'd taken to places such as Asia and Australia. Getting a head start in entrepreneurship, Clarkson is confident that River is going to grow into a successful business owner one day due to her already independent and creative personality.
Remy overcame speech and hearing issues at an early age
Remington, affectionately called Remy by his family, stole the hearts of many during a September 2021 appearance on "The Kelly Clarkson Show" alongside his mother and big sister. While Coldplay's Chris Martin was performing, Remy hilariously blurted out, "I need to go to the bathroom," sending the audience erupting in laughter. Since coming into the world on April 12, 2016, the little boy has been a resilient showstopper, having overcome some speech and hearing challenges.
As a baby, he had a condition that prevented him from hearing properly due to an excess of wax clogging his ears. His mother revealed that the family had no idea Remy was dealing with such issues until he got to speaking age. Unfortunately, his communication was delayed by almost a year. Thankfully, by 2020, Remy was speaking more clearly, something that Clarkson and her ex-husband, Brandon Blackstock, are extremely grateful for.
Clarkson's children are just as famous as her, even if they aren't a part of the spotlight as much as she is. River accompanied her mother on the red carpet during the 2022 People's Choice Awards. Remy, on the other hand, doesn't hang out at the star-studded events too often, but his fanbase has already been solidified.