The Plastic Surgery Procedure Gisele Bündchen Regrets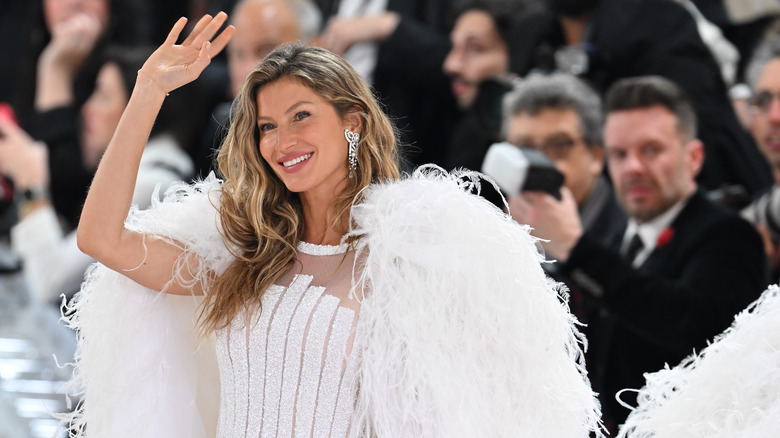 James Devaney/Getty Images
Between 2002 and 2016, Gisele Bündchen graced the covers of over a thousand magazines, including Vogue, Esquire, Forbes, Allure, and Time. Famously dubbed the "King Midas of Fashion," she has been one of the highest-paid models for years. Although Bündchen walked away from the modeling world in 2015, she has remained in the spotlight. Today, she's a Goodwill ambassador, philanthropist, book author, and entrepreneur.
In 2018, Bündchen published "Lessons: My Path to a Meaningful Life" to share her story and the challenges she faced. In her memoir, she confessed to having had cosmetic surgery in 2015, a decision she came to regret. "When I woke up, I was like, 'What have I done?' I felt like I was living in a body I didn't recognize," Bündchen told People. "For the first year, I wore [baggy] clothes because I felt uncomfortable," she added.
Last year, nurse practitioner Jennifer Leebow told Life & Style that Bündchen might also have had a brow lift and fillers, but the former model didn't confirm these rumors. However, the supermodel talked openly about the one cosmetic procedure she regretted for years.
Gisele Bündchen regrets getting breast implants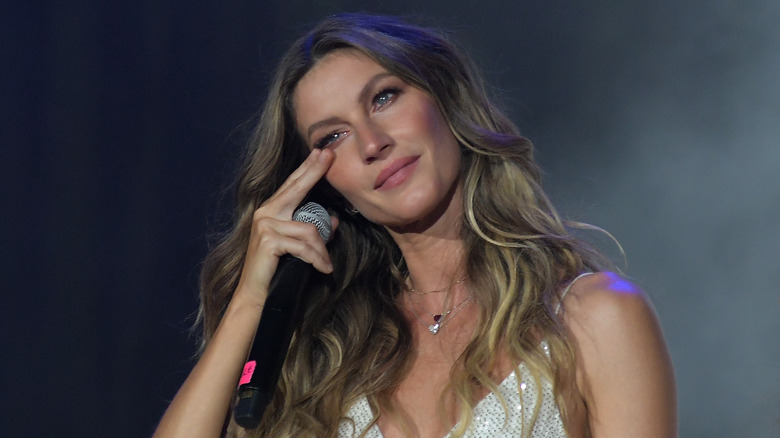 A.Paes/Shutterstock
Supermodel Gisele Bündchen admits that, in her younger years, she cared too much about what others thought of her. "Like, I wanted to belong, I wanted people to like me, and it was important to me, so I would go out of my way to say yes to everybody. I wanted to please everybody. God forbid I would, like, disappoint anyone," she told The Guardian. This mindset contributed to her anxiety and panic attacks and, possibly, fueled her decision to get plastic surgery.
The Victoria's Secret Angel gave birth to a baby boy in 2009 and a baby girl in 2012. Both of her children preferred feeding on one breast, which took a toll on her body. "All I wanted was for them to be even and for people to stop commenting on it," she confessed in her interview with People. In 2015, Bündchen secretly went to Paris to undergo breast augmentation surgery. The model wore a burqa to hide her identity.
But, as mentioned earlier, the supermodel immediately regretted her decision. Bündchen's ex-husband, Tom Brady, supported her every step of the way, but it still took her more than a year to feel like herself again. Today, she sees this experience as a life lesson that made her stronger. 
The supermodel isn't afraid of aging
Gisele Bündchen's best tips for beauty and wellness revolve around mindfulness, regular exercise, and proper skincare. The former Victoria's Secret Angel is now 42 years old, but she doesn't plan to have plastic surgery anytime soon. "I believe that outer beauty is a reflection of your inner balance and peace," she told Allure. Bündchen also agrees that aging "is a beautiful thing and a natural part of life, but it can also be challenging."
Over the years, the supermodel became more comfortable in her own skin. As she told Allure, wrinkles and other signs of aging reflect her life experiences and make her feel grateful for having lived those moments. Apart from that, she's a strong advocate of good nutrition, resorting to whole foods to stay young inside and out. "It is very important to drink plenty of water and eat food that comes from the earth, like fruits and vegetables, rather than processed food. All of this is reflected directly on the skin," said Bündchen in an interview with Vogue France. 
The Brazilian beauty also loves natural skincare. According to Vogue France, she uses organic coconut oil to remove her makeup and achieve a healthy glow. Her skincare routine includes rose water, lavender, and natural anti-aging serums. One thing is for sure: whatever she does, it works. The model looks stunning with or without makeup, and she's not afraid to go bare-faced in front of the camera.