A Look At Kenny Chesney's Private Relationship With Girlfriend Mary Nolan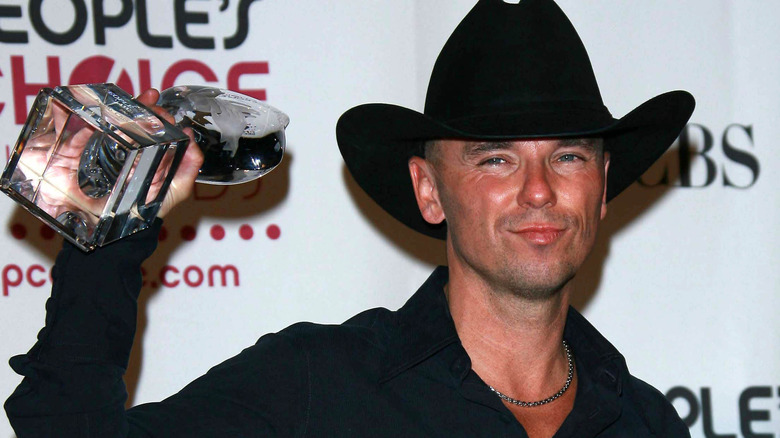 s_bukley/Shutterstock
Award-winning musician Kenny Chesney may be one of the most notable names in country, but he does a great job of keeping his personal life under wraps. This could be largely due to invasive tabloids in the early 2000s over his sexuality. In a 2007 "60 Minutes" interview, Chesney slammed rumors that he was gay, and made it clear that he was not interested in constantly having to defend his sexuality. "No, I'm not gay, but I didn't want to draw any more attention to it. I didn't have to prove to anybody that I wasn't. I didn't feel like I really did," he explained (via Hollywood Life). 
The rumor was sparked after he and his former wife, Renee Zellweger, announced their break up in September 2015.  By December of that year, they'd annulled the marriage, citing fraud. According to Chesney, the couple chose to list "fraud" as the reason because they felt it would lead to a quick annulment. Unfortunately, once people learned of their way of ending the marriage, the whispers began.
Chesney, who is said to be worth around $190 million, has since moved on to longtime girlfriend Mary Nolan. He has chosen to divulge very little about her and their time together.  Likely learning from the media circus surrounding his prior relationship, the private union has seemingly worked well for them.
The couple first began dating in 2012
Though the intimate details regarding how the couple met are unknown, many sources have reported that Mary Nolan and Kenny Chesney began seeing one another in 2012. It is believed they met during one of his concerts. It's unclear if she was there as a fan or a performer. Either way, the two have been together since.
After they began dating, the pair kept things quiet, though Nolan has accompanied her sweetheart to several red carpet events. She was seen at the 2014 American Country Countdown Awards, where Nolan was photographed proudly supporting her famous boyfriend in the audience. She was also next to Chesney in 2016 during the Country Music Association Awards, where Chesney was honored with the Pinnacle Award, one of the most highly esteemed within the genre. The recognition is bestowed upon those who have demonstrated groundbreaking feats within country music. Nolan and Chesney packed on the PDA that night, exchanging kisses on the cheeks before he walked onto the stage.
Mary Nolan was the one to adopt Kenny Chesney's beloved dog from the shelter
Mary Nolan may be a bit of a mystery, but what is known is that she loves animals as much as her significant other does. In fact, it was Nolan who rescued Kenny Chesney's beloved dog, Ruby, from a shelter. Sadly, the loyal pup died in December 2022 after a battle with cancer. While mourning his adored companion, Chesney made a rare mention of Nolan, crediting her with bringing Ruby into their lives.
"[Ruby] is forever grateful that Mary saved her from the shelter. But really, they ended up saving each other," the "Get Along" singer wrote in a heartfelt Instagram caption. As for Nolan's mourning of their dear pet, that has also been kept confidential, as her official Instagram imprint (@ruby_inthe_rough13) is locked, with any attempts to follow her requiring approval. Though, a dog page set up for Ruby (@darubagirl) is still active.
In 2022, several outlets began to speculate that Chesney and Nolan had tied the knot. In true form, neither has confirmed a wedding took place. While fans would love a glimpse into their bond, the couple's 11-year connection seems stronger when left out of the news.