Hallmark's Lacey Chabert Had Her First Kiss On The Set Of Party Of Five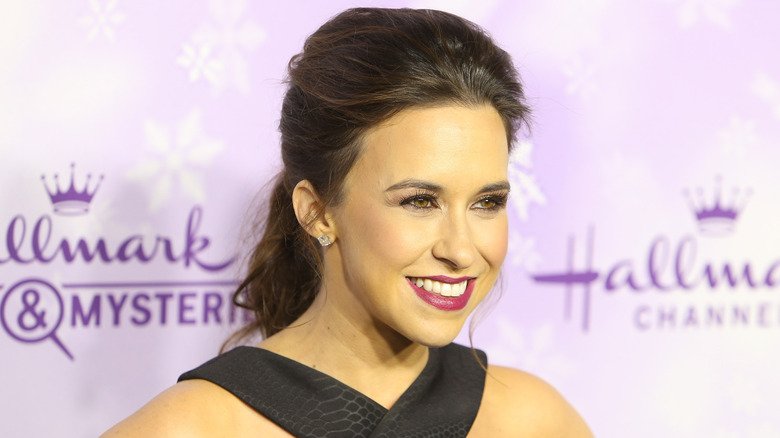 Michael Tran/Getty Images
Before she was the queen of Hallmark Christmas movies, Lacey Chabert played a chatty teen named Claudia Salinger in the television drama "Party of Five." The family-oriented show ran from 1994 until 2000, making Chabert barely in double digits when filming started and 17 when the show wrapped. The plot was centered around Claudia and her four siblings, who navigate life after their parents were killed in a car accident, making them orphans.
The show touched on many serious topics, including grief and growing up. As one of the youngest members of the cast, Chabert grew up alongside Claudia, and some of her special moments were caught on camera.
A first kiss is always a bit awkward, but Chabert's had some extra pressure, as the actor had hers on the set of "Party of Five." On "Access Live," she revealed that she also got her first bra on the show and went through everything a normal girl would, just on screen. Despite being a tad embarrassed at the time, Chabert shared that she's forever grateful for the experience and is incredibly lucky that her on-screen siblings turned into real-life family.
The cast was always there for her growing up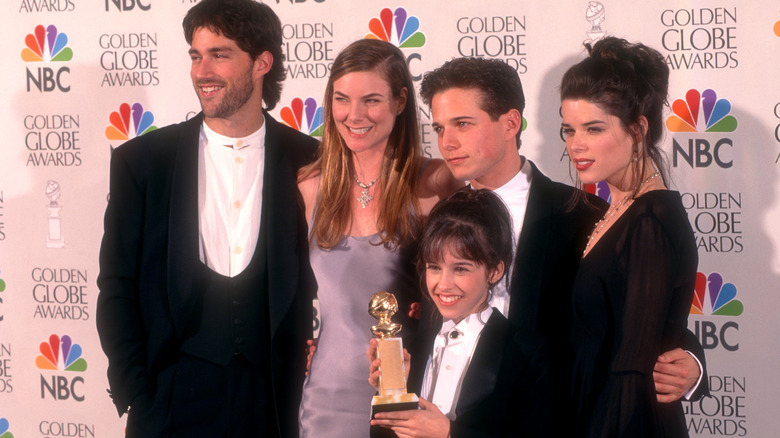 Ron Davis/Getty Images
Child actors unfortunately don't always have the best experiences in Hollywood at their young ages, but Lacey Chabert has nothing but praise for her "Party of Five" gig. The Hallmark star says she's beyond thankful to have played the character of Claudia Salinger, and she added that the violinist was often ahead of the actor's real life.
"It was a little bit of a different way of growing up, and not everyone can relate to it," Chabert shared in an episode of the "Hey Dude... The 90s Called!" podcast. She continued by saying her character actually had to have her first kiss on screen before the actor had one in real life, and she ultimately went through all the awkward teenage phases along with Claudia (per People).
When speaking with Vulture, the Hallmark veteran admitted it was mortifying having her co-stars see her kiss a boy for the first time, and she was often embarrassed when filming those "firsts" scenes. However, the rest of the show's cast did contribute to Chabert's positive experience on set, making it easier for her to grow up in the public eye (via People). "When I think back on it now as a mom, especially now, I am so lucky that I was surrounded by such wonderful people," the Hallmark star said of her "Party of Five" colleagues, adding that they were always supportive and gentle while she was going through delicate adolescent moments.
Hallmark is reuniting a Salinger sibling duo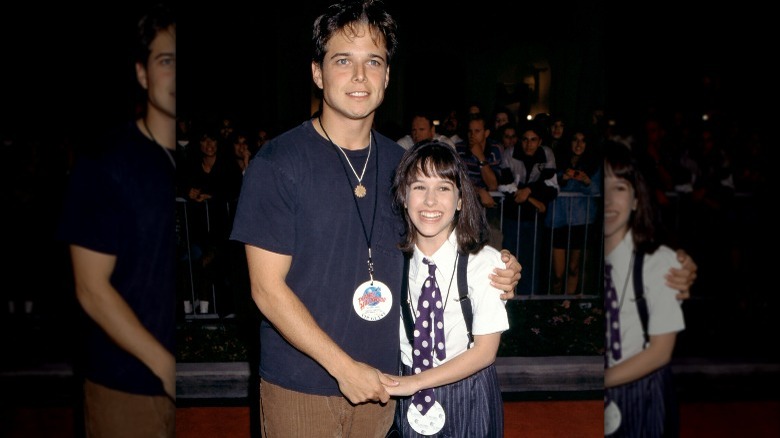 Ron Davis/Getty Images
The cast of the beloved '90s drama has stayed close over the years, reuniting whenever they can. They went through a lot together on screen and in real life too, as Lacey Chabert revealed in the podcast episode. "They're a part of my life now. And it's been nice to grow up together, become parents ... [and] go through different phases of life together," she said (via People).
Chabert will get to play siblings once more with her former "Party of Five" brother, Bailey Salinger, who was played by Scott Wolf. The duo will reunite on screen for Hallmark's original movie "A Merry Scottish Christmas," which is set to air during the 2023 Countdown to Christmas, according to the Hallmark Channel's official site.
She also shared that the ex-siblings have discussed an on-screen reunion for a while and that the Hallmark Christmas flick was the perfect opportunity to make that happen. "Reuniting after all of these years to tell such a beautiful story together is a dream that I'm so glad is coming true," said Wolf (via Variety), adding that working with Chabert in the nineties was one of his most treasured experiences.