DAYS' Kristian Alfonso Is The Mind Behind Megan Hathaway's Return To Salem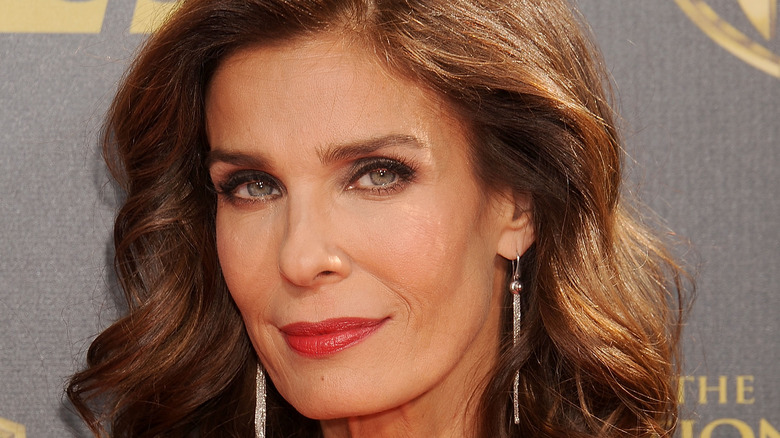 Gregg Deguire/Getty Images
Megan DiMera (Miranda Wilson), a cunning villain on "Days of Our Lives," was seemingly killed in 1985 when she was tossed into an electrified hot tub that she'd set up as a trap for Hope Williams (Kristian Alfonso). Since the beginning, Megan was in love with Bo Brady (Peter Reckell), who only ever had eyes for Hope. After her nefarious father, Stefano DiMera (Joe Mascolo), brought her back to life, Megan had been on a campaign to also bring back Bo, who died of a brain tumor in 2015. 
On her path, Megan brainwashed several people to do her bidding including Harris Michaels (Steve Burton), John Black (Drake Hogestyn), Steve Johnson (Stephen Nichols), and the revived Bo — who ultimately got shot. But with the help of several others, Hope was instrumental in stopping Megan and ridding the good guys of her mind control. As Hope waited by Bo's side for him to recover, the villainess herself was shot when another brainwashing plan went awry, but she survived and escaped to scheme another day. 
Hope's derring-do on the show isn't just related to the storylines, as Alfonso was instrumental in securing Wilson's return as Megan. "Days" fans were extremely happy, with one posting on Twitter, "She was magnificent. Especially today. I thought they'd kill her. Glad they didn't. Can't wait for her return. And you know she will." Wilson recently credited Alfonso with her spectacular return to the soap, too. 
Wilson would gladly return full time if asked
After "Days of Our Lives" star Miranda Wilson completed her current run as Megan DiMera, she told Soap Hub that when the show celebrated its 50th anniversary in 2015, the concept of Megan's return "started tongues wagging." She added that the general consensus was, "Wouldn't it be amazing if she came back?" When the idea of bringing back Bo Brady and Hope Williams was brewing in the creators' minds a few years later, for the spin-off series "Beyond Salem: Chapter 2," Wilson revealed that Kristian Alfonso suggested that Megan's return could be instrumental in helping explain the iconic couple's return. 
The producers took Alfonso's words to heart, and Megan has been on the main show now for a few months, only recently wrapping up her current stint. In fact, July 6 was her final episode (for now). "I would definitely come back if asked," she joyously stated. The soap star also discussed the many moments where Megan resembles her father, Stefano DiMera, sharing, "It's about really embodying that deep frustration, hatred, jealousy. All of those qualities that make Megan the 'evil person' that she's made out to be." 
She fondly remembered actor Joe Mascolo too, noting, "I know that for me, as the actress, Stefano or Joe — both — are constantly in my mind. It's always a reference point for me. He's there as Stefano, my [TV] father, and he's there as Joe Mascolo, my very dear friend. It's very much in the framework of what I bring to Megan."