Days Of Our Lives Star Jessica Serfaty Is Reportedly Engaged To Billionaire Boyfriend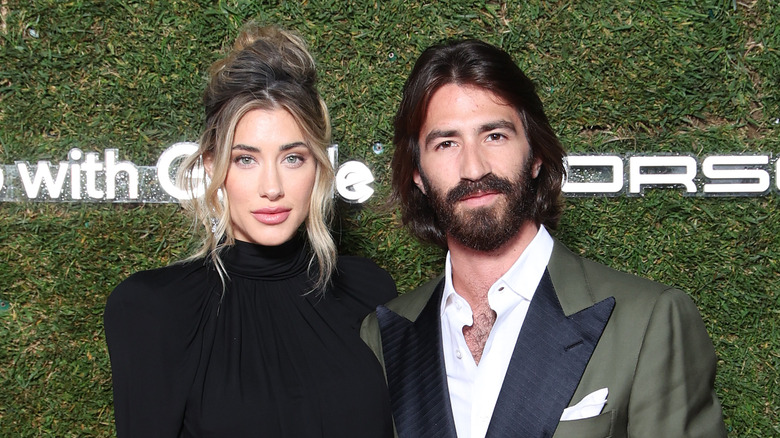 Daniele Venturelli/Getty Images
Jessica Serfaty is an "America's Next Top Model" contestant turned actor. In 2022 she took on the role of Sloan Petersen on "Days of Our Lives," and Serfaty cemented her return to the soap opera in 2023 when "Days of Our Lives" put Serfaty on contract. With her career on the rise, Serfaty has more to celebrate. In July 2023, Page Six revealed that she is reportedly engaged to Leonardo Maria Del Vecchio. Leonardo Maria is the son of the late Leonardo Del Vecchio, founder of ​​EssilorLuxottica, a company that manufactures glasses for Chanel and other luxury brands. Per Forbes, Leonardo Maria is worth $3.5 billion.
Leonardo Maria, who is Italian, is said to have recently proposed to Serfaty on the Amalfi Coast. At the time of this publication, neither has publicly confirmed their engagement, and there's little known about their relationship. A source told Page Six that the couple has known each other since 2017 and said, "They were always friends and in touch, but in other relationships so never acted on their attraction."
The source added, "They reconnected not too long ago after both of their other relationships ended. The timing was perfect for them and they instantly fell in love after a long friendship." This, however, will not be the first marriage for Serfaty or Leonardo Maria.
Both Jessica Serfaty and Leonardo Maria Del Vecchio are divorced
What you need to know about Jessica Serfaty is that before entering the spotlight, she was a teenage mother and wife. At 17, she married a man named Ididia Serfaty, and the couple shares a son named Roman. Ididia told the Daily Mail that his marriage with Jessica crumbled after she decided to pursue a career in the entertainment world, which led her to leave behind her home state of Arkansas for Los Angeles. Jessica and Ididia eventually divorced, and Jessica moved on to various high-profile men. In 2016, she was linked to Joe Jonas before dating One Direction's Niall Horan. Jessica also had a serious relationship with actor Ed Westwick. According to People, Westwick was ready to pop the question to Jessica in 2017 until sexual abuse allegations against Westwick derailed these plans. In 2019, Jessica became engaged to entrepreneur Kaan Gunay. As for Leonardo Maria Del Vecchio, he tied the knot with model Anna Castellini Baldisserra in June 2022. The marriage ended that same year.
While Jessica and Del Vecchio are active on Instagram, they rarely post about each other. However, in late June 2023, Jessica uploaded a video kissing her alleged fiance with a caption that read, "When in Portofino." That same day, Del Vecchio posted a romantic photo of the two of them together. In the caption, he wrote, "Since 2017."