Kim Kardashian's Speak Now Vibe Has Everyone Talking About Her Rumored Feud With Kourtney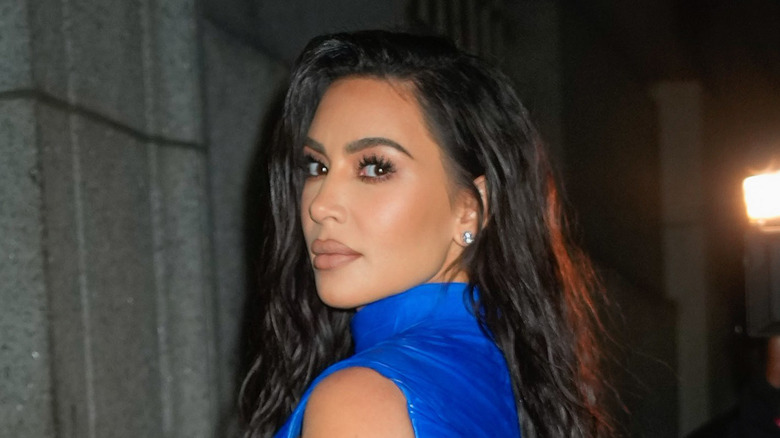 Gotham/Getty Images
Is Kim Kardashian a Swiftie? A "Speak Now" girlie, no less? Color us intrigued –– or should we say, "Color us purple?" On Saturday at Dolce & Gabbana's Alta Moda show in Italy, Kim Kardashian stunned in a show-stopping off-the-shoulder Dolce & Gabbana gown and proved that purple is, in fact, her color. Swifties were quick to note that purple is also "Speak Now"'s color. Taylor Swift famously sported a similar-looking purple gown on the cover of her album "Speak Now" and "Speak Now (Taylor's Version)." The latter was released just one day prior to the Dolce & Gabbana event. 
Did Kim intend for there to be any significance behind her color choice or any comparisons to be drawn between her and Ms. Swift? We doubt it, but that certainly didn't stop folks from speculating. Comments along the lines of "KIM IN HER SPEAK NOW ERA" and "speak now (kim's version)" flooded the comment section on Kim's Instagram post about the 'fit and garnered thousands of likes. Of course, fans have been speculating quite a bit about what's going on inside Kim And Kourtney Kardashian's relationship, since Kourtney came clean on an episode of "The Kardashians" about her feelings that Kim was "copying [her] wedding" by taking on a partnership with Dolce & Gabbana right after Kourtney married Travis Barker in a dress by the famous designer. Consequently, if Kim wanted to "speak now," about her sisterly feud, then a Dolce & Gabbana show is quite the place to do it. 
Fans suggest that Kim's ensemble is another move in her fight with Kourtney
We cannot confirm or deny whether, in Taylor Swift's words, there were "horrified looks from everyone in the room" when Kim Kardashian showed up at the Dolce & Gabbana show in the now-infamous look. We can, however, confirm that folks had plenty to say on the Instagram post featuring the ensemble. And, the comments weren't just about the Kim and Swift connection; they were also about the Kim and Kourtney Kardashian feud. One commenter quipped, "Kourtney somewhere crying right now," while another added, "Kourtney is shaking in her boots rn."
In the "Speak Now (Taylor's Version)" prologue, Swift, herself, describes the "Speak Now" era as "unfiltered and potent," which of course, is aligned with the album's title and theme. So, if Kim is, in fact, in her "Speak Now" era, then we may be able to put our sleuthing hats away for the time being; Kim will have to come right out and tell us what she's thinking. Before we officially put those sleuthing hats away, though, it's worth noting that the titular song on "Speak Now" is about stopping a wedding. And, of course, Kourtney's wedding was the start of the feud. When it comes to the Kardashians, there's one thing we can all agree on: they know how to say quite a bit with just a dress.