Why Amy Robach Scored A Bigger Payout From GMA Than T.J. Holmes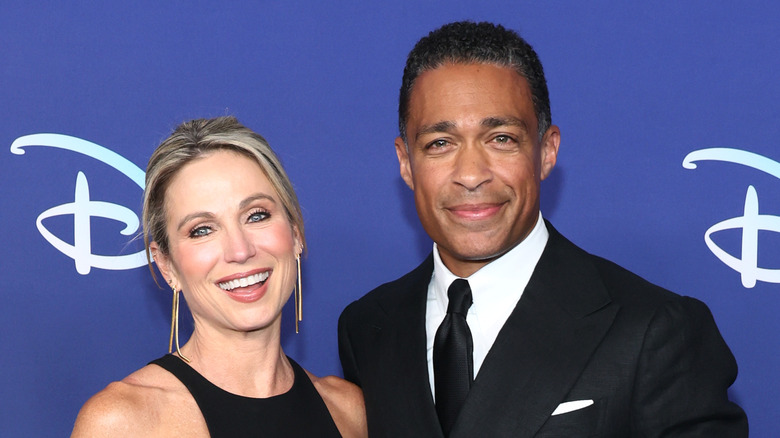 Dia Dipasupil/Getty Images
After being let go from ABC following an inappropriate workplace relationship, it turns out that Amy Robach got a larger severance package than her affair partner, T.J. Holmes. News of their relationship first shocked the internet when reported in late 2022. More than just a simple rumor heard through the grapevine, photos of the co-hosts holding hands in upstate New York soon emerged.
The floodgates soon opened, with more details about the "Good Morning America" co-hosts affair coming out. ABC swiftly took action, removing the two from the air when the rumor mill started turning. Before the official suspension, ABC spent a month conducting an internal review. The investigation looked into whether or not Robach's and Holmes' actions were ultimately unaligned with ABC's policies.
Still, they remained tight-lipped about why exactly Robach and Holmes parted ways with ABC, eventually releasing a statement that read, "After several productive conversations with Amy Robach and T.J. Holmes about different options, we all agreed it's best for everyone that they move on from ABC News. We recognize their talent and commitment over the years and are thankful for their contributions."
Why did Amy Robach receive a larger payout?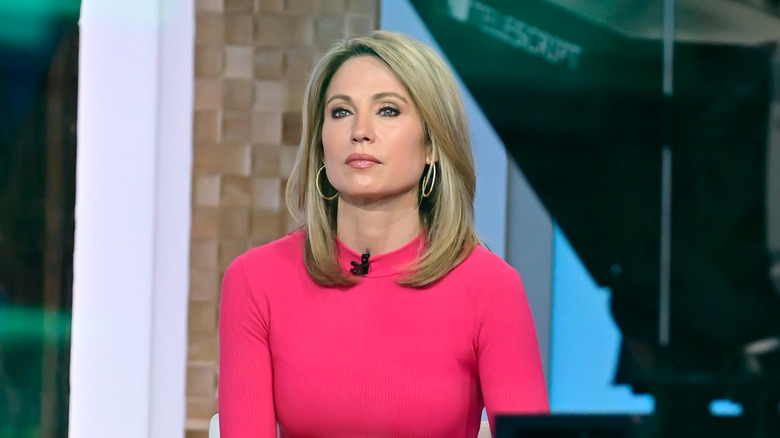 Raymond Hall/Getty Images
While it's safe to assume that Amy Robach and T.J. Holmes were let go for the same reason, Robach received a cushier payment once she left "GMA3." Although the details of how much both parties were given in their severance package are yet to come out, Robach had been at ABC longer than Holmes, giving her a better payout, according to Page Six. She joined the company in 2012, two years before Holmes came on. She also took on more roles within the network, having appeared on "20/20" as well.
ABC may have paid the duo what was left in their contract and perhaps a little more. "It's possible that they could have gotten paid more to sign an NDA — and to keep the peace," said a source to the outlet. There's no news on what T.J. Holmes was making at the time, but Celebrity Net Worth claims Robach's salary was $3 million.
When did Amy Robach and T.J. Holmes get together?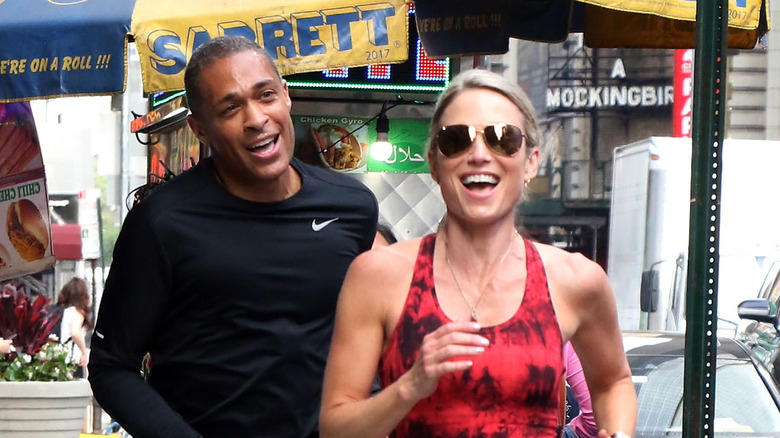 Mediapunch/bauer-griffin/Getty Images
Although the now-couple joined ABC around the same time, Amy Robach and T.J. Holmes' relationship began several years later. They became co-hosts in 2020, spending time together on-screen. The following year, the two started training for a marathon together, giving them time off-screen to develop a relationship. There's no solid date for when Robach and Holmes got together, but Robach filed for divorce from her then-husband Andrew Shue in August of 2022.
Holmes filed for divorce from his wife, Marilee Fiebig, in December of 2022, after his and Robach's affair was already public knowledge. For Holmes, this isn't his first brush with infidelity — the anchor has cheated on Fiebig with other women, including an intern 13 years younger than the seasoned journalist.
Despite Holmes' history of adultery, he and Robach are reportedly still together. Though currently unemployed, the happy couple were spotted vacationing together in Puerto Vallarta, Mexico, per the Daily Mail. Robach was seen sporting a David Yurman promise ring hung on a gold Tiffany chain — a gift from Holmes.