The Time Jennifer Lawrence Mistakenly Believed She Met Elizabeth Taylor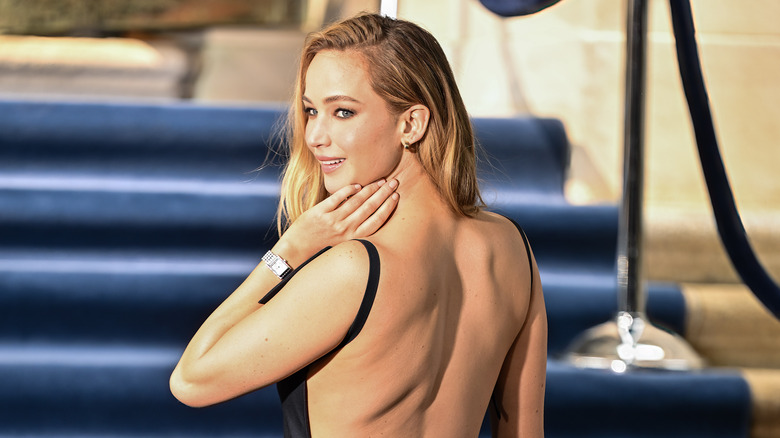 James Devaney/Getty Images
Jennifer Lawrence isn't afraid to own up to her embarrassing moments. Recall the handful of occasions she has tripped in public, like her unforgettable 2013 Oscars fall. Poised and elegant in her red-carpet gown, Lawrence only made it a few steps before dropping to the ground. But once she made it to the podium (not running away in tears as many of us probably would have done), the actress comically acknowledged her stair splat with class.
In true JLaw form, we're learning that tripping in front of millions isn't even her most cringey moment! In an interview with Jimmy Fallon on "The Tonight Show Starring Jimmy Fallon," Lawrence recalled the time she thought she was having a pleasant interaction with the (long deceased) Elizabeth Taylor. Recalling that the older woman came up to her and was being so nice, "In my head, I just went, 'This is Elizabeth Taylor.'" She continued, "The whole time she's talking to me, I'm going, 'Oh my God, this is Elizabeth Taylor.'"
While Lawrence could've walked away believing she had met the icon, things only got worse. She told Fallon she returned the woman's compliments ten-fold, "'Me? No, you. Your movies that I can't name. Your fashion moments that I don't know. You're unbelievable!'" The interaction thankfully ended when JLaw grabbed a passing friend to rave about how she met Elizabeth Taylor and was politely informed that the woman was most definitely not her.
Mistaken identity is just the tip of the iceberg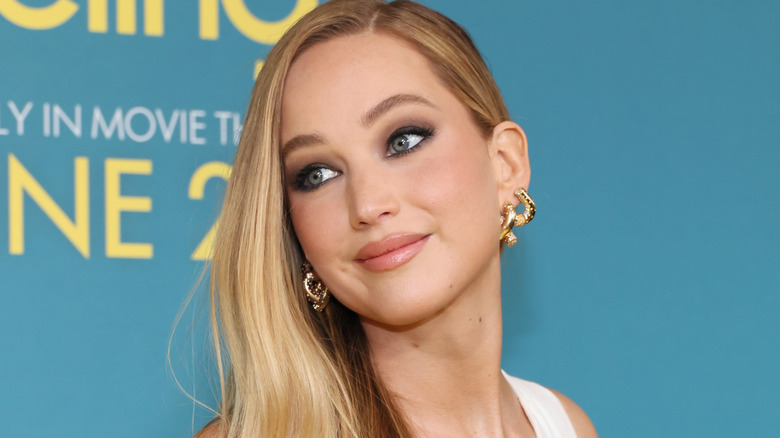 Dia Dipasupil/Getty Images
Mistaking an unassuming older woman for a dead movie starlet was just the first embarrassing moment in her tales of misfortunes. Jennifer Lawrence went on to regale Jimmy Fallon on "The Tonight Show Starring Jimmy Fallon" with how she once passed by director Francis Ford Coppola sitting with a group of people at a restaurant in Paris. Prior to this moment, Lawrence had never met the film icon, but she gathered her resolve and went to meet him.
The actress noted she was barefoot on the way to his table but figured no one would notice with her dress. She introduced herself to him and his entourage while gushing over his previous successes. Naively thinking she had pulled off the meeting with cool confidence, Lawrence told Fallon, "I went back to my table, and [I realized] my entire dress was unzipped, and my thong was out."
She laughed it off, "So I'm barefoot, and my whole ass was out. I thought the shoes were going to be the problem." While we haven't all been there, none of us are immune to a wardrobe malfunction.
There are some things Lawrence isn't ashamed of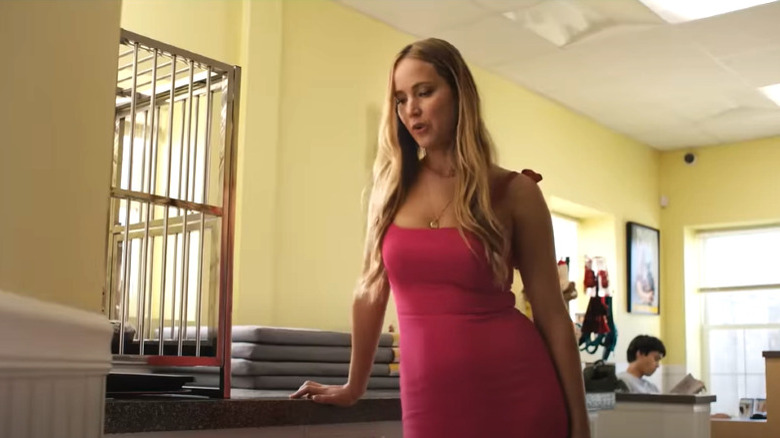 But oddly enough, situations many of us would probably blush at are things Jennifer Lawrence isn't embarrassed about. One of the summer's bawdiest films, "No Hard Feelings," stars Lawrence as a thirty-something-year-old woman hired to seduce a couple's son before he goes off to college — a role that involved getting completely nude on-screen.
As you can imagine, a movie with this trope has several NSFW scenes. Lawrence told Variety, "Everyone in my life and my team is doing the right thing and going, 'Are you sure? Are you sure? Are you sure?'" The actress quipped, "I didn't even have a second thought."
Actress Cameron Diaz sat down with Lawrence and praised her for the film, saying, "You were born to do hard R comedies. It might be your sweet spot," (via Interview). Lawrence admitted that it may have been the earlier raunchy scenes of her acting career that empowered her to confidently bare it all. "Once you do it, then that's done," she said, according to Yahoo! She's made a stunning transformation since the early days of "The Hunger Games" iconic movie franchise, and we love this side of Lawrence, fearlessly pushing herself outside of her comfort zone!