Days Of Our Lives' Sal Stowers Announces Engagement With Romantic Photos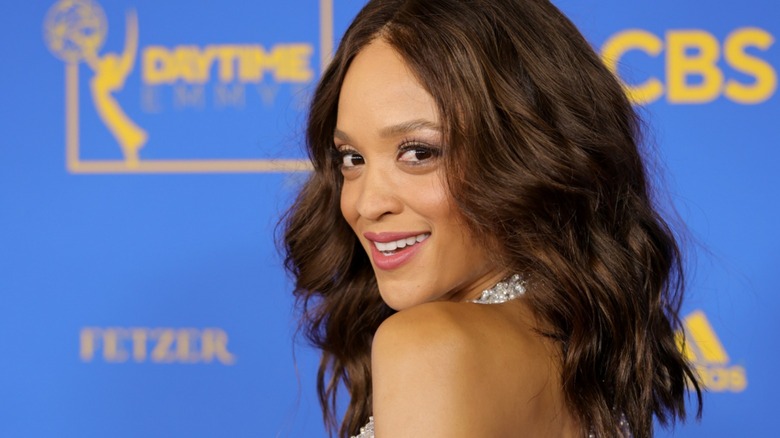 Amy Sussman/Getty
Sal Stowers from "Days of Our Lives" has more than a surprising new career — she also has a surprise fiance! Stowers took to Instagram on July 10 to share three romantic photos with her new husband-to-be. In the caption, she admitted that she has kept their engagement a secret since late April: " ... The Love Of My Life got down on one knee and asked me to be his wife. I said YES!!! Soaking it all in being engaged to this incredible and gentle man. Holding on to him forever and ever." Stowers then included the infinity symbol emoji to signify the forever she wants to spend with her man.
Stowers' "Days of Our Lives" co-star Lamon Archey, who played her husband Eli on the show, commented his congratulations on the engagement. Other notable well-wishers include another "Days of Our Lives" co-star, Robert Scott Wilson, and "The Flash" actor Candice Patton.
In addition to getting engaged, Stowers has recently returned to Days of Our Lives
Sal Stowers' future husband is John-Michael Carlton, who also has experience in the entertainment industry and has had guest-starring roles on many shows, such as "New Girl," "Bull," "Blue Bloods," and "Chicago P.D." Stowers also guest-starred on "New Girl," and besides her role of Lani on "Days of Our Lives," you may know her from "America's Next Top Model."
In addition to this exciting development in Stowers' personal life, her professional life has recently had an exciting update as well: Stowers has brought Lani Price back to "Days of Our Lives." It was announced June 22 by Soap Opera News that she would be coming back to the soap in early July. On June 26, the "Days of Our Lives" Twitter account confirmed by sharing a video of Stowers with Lamon Archey.
Stowers and Archey left "Days of Our Lives" about one year prior to Stowers' recent return. Archey returned to the soap in June 2023 for the "Days of Our Lives" Juneteenth celebration, along with Marla Gibbs and Cameron Johnson.