Winona Ryder's Most Famous Exes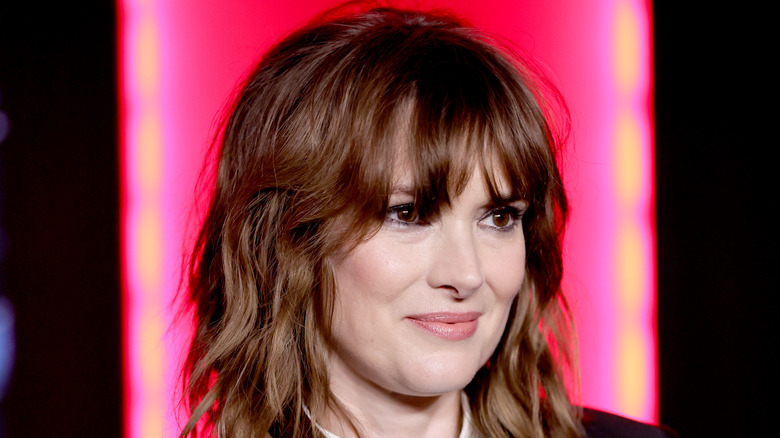 Theo Wargo/Getty Images
Winona Ryder, known for "Girl, Interrupted," "Beetlejuice," and to the younger generation for playing frazzled mom Joyce Byers in "Stranger Things," has had her fair share of famous exes throughout her career. Though Ryder has never been married, she has been linked with several famous faces since she first burst onto the scene in the mid- to late 1980s.
Since 2011, Ryder has been dating fashion designer Scott Mackinlay Hahn. Though they have made a few red carpet appearances together, the pair choose to keep their relationship on the private side, which definitely isn't surprising considering the scrutiny Ryder has faced over her love life in the past.
However, before Mackinlay Hahn, Ryder was thought to have dated a bunch of celebs, mostly throughout the late '80s up until the early 2000s. From musicians to filmmakers and (mostly) fellow actors, here's a round-up of Ryder's most famous exes and all the details we have on her relationships with them.
Rob Lowe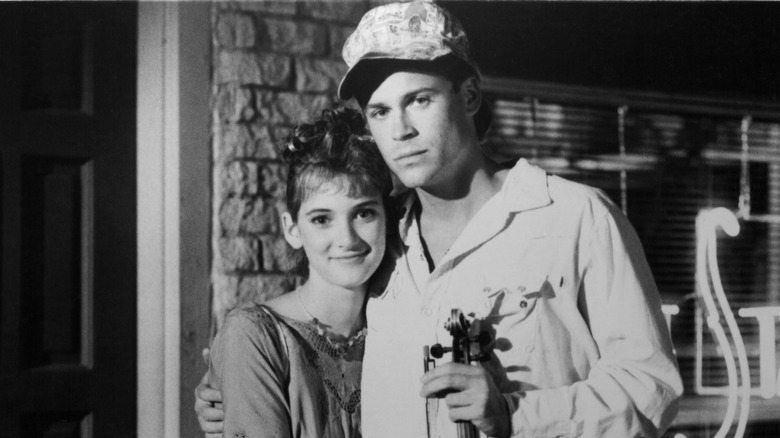 Michael Ochs Archives/Getty Images
Firstly, Winona Ryder and Rob Lowe. Though there is no exact timeline for their relationship, Lowe, at that time best known for "The Outsiders," and Ryder, who was new on the acting scene, apparently dated sometime in the mid- to late 1980s. The pair starred in "Square Dance" together in 1987, and attended the 1988 Golden Globes as a couple. Their relationship was notoriously private, meaning not much information is known about them even now.
The age gap between the couple was relatively large, too, which may have been why Ryder and Lowe just didn't work out. Ryder was just 16 when filming "Square Dance," whereas Lowe was about 23, giving them a seven-year age gap.
Neither Lowe nor Ryder have mentioned each other in interviews or spoken about their supposed relationship at all, so we can only assume it was either a very quick fling or they pledged to keep everything a secret.
Christian Slater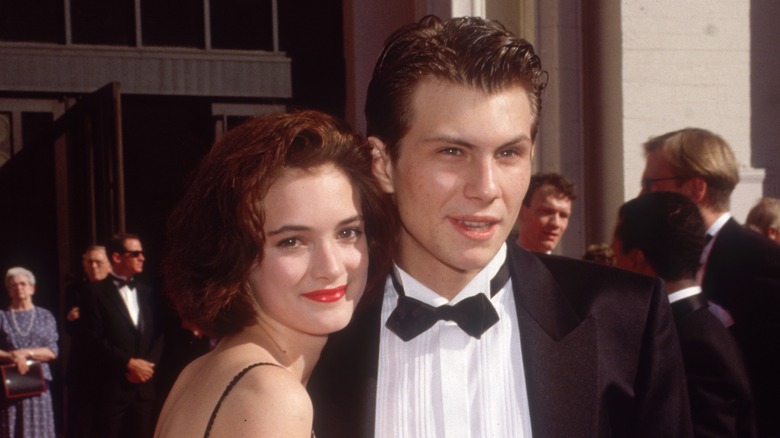 Darlene Hammond/Getty Images
Due to Winona Ryder and Christian Slater playing a couple in the 1988 dark teen comedy "Heathers," it was perhaps inevitable that they would end up dating. 
However, according to Ryder, she and Slater only dated for two weeks. In a 1993 Vogue interview, Ryder clarified that, despite the rumors, she had only ever dated one co-star, and that was Christian Slater. "I went out with (Slater) for two weeks, and he broke my heart. Or I thought he did at the time," she revealed. Though we're not sure if two weeks can be considered a romance, Slater can definitely be considered a famous face, hence his inclusion in the list.
At the time they dated, Slater was much closer in age to Ryder than Rob Lowe had been. He was 19 at the time "Heathers" came out, and Ryder 17. At least their romance didn't end up like the love story of their characters in "Heathers" — that really would have been a disaster.
Johnny Depp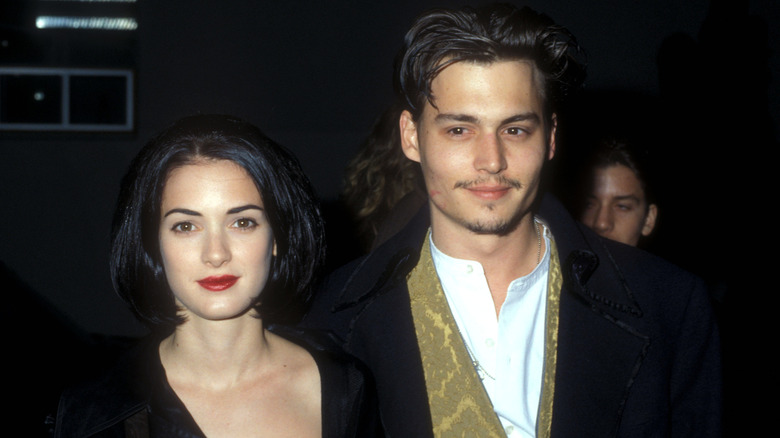 Barry King/Getty Images
Arguably her most famous ex, Winona Ryder dated Johnny Depp for four years. The couple met in 1989 when Ryder was 17 and Depp 25, giving them an eight-year age gap. Going on to star in "Edward Scissorhands" together in 1990, the pair became engaged only five months after their first date but ultimately broke things off in 1993, leaving Depp to change his "Winona Forever" tattoo to the far less romantic "Wino Forever."
Per StyleCaster, Ryder shared intimate details of their relationship in a past interview. "When I met Johnny, I was pure virgin. He changed that. He was my first everything. My first real kiss. My first real boyfriend. My first fiancé. The first guy I had sex with. So he'll always be in my heart. Forever," she revealed.
She also spoke candidly about the impact her breakup with Depp had on her in a 2022 Harper's Bazaar interview. The actor discussed how overwhelmed she felt at the time and how she turned to a therapist to help her process the split. Ryder also credited "The Age of Innocence" co-star Michelle Pfeiffer for supporting her through her pain and telling her that things would get better.
Matt Damon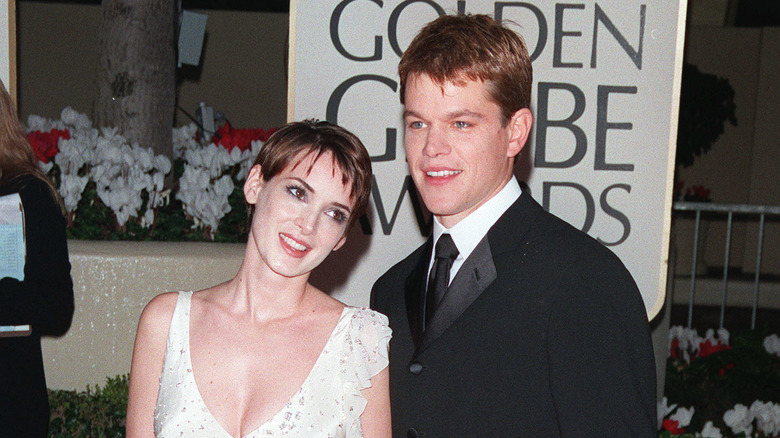 Frank Trapper/Getty Images
Matt Damon and Winona Ryder's relationship was kept on the down low, which was probably a refreshing change from the intense scrutiny she felt in her relationship with Johnny Depp. The pair were thought to have been introduced in late 1997 by Gwyneth Paltrow, who starred alongside Damon in "The Talented Mr. Ripley" and was reportedly Ryder's roommate for a while.
In a 2004 Playboy interview, Damon mentioned that he and Ryder were together for a "couple of years," which tracks with the announcement that the pair broke up in 2000. In the same interview, Damon revealed that he and Ryder split "for reasons far more pedestrian than, say, a mad orgy at the Four Seasons during which my feelings were hurt because Richard Gere was too interested in her (a reference to "Autumn In New York," a film Ryder and Gere starred in together)." In another 2004 interview, this time with Sydney's Sunday Morning (via Today), Damon reaffirmed his belief to only date "civilians," i.e. non-celebrities. 
The relationship doesn't seem to have ended badly on Ryder's end, either, as she told Black Book in 2009 that Damon "couldn't be a greater, nicer guy" and that they were on "good terms."
Other famous faces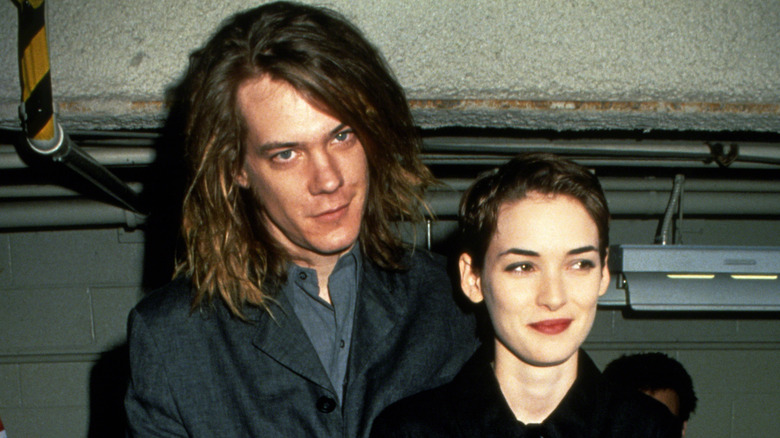 Images Press/Getty Images
Finally, a brief round up of (almost) everyone else Winona Ryder had been rumored to date (or officially dated). From 1994 onwards, Ryder dated "Soul Asylum" lead vocalist David Pirner. The pair met at an "MTV Unplugged" session and broke things off in 1996. Also in 1996, Ryder was linked to "X-Files" alum David Duchovny, though their relationship seemed to be more of a fling than anything serious and was thought to fizzle out shortly. 
In 2000, Ryder was spotted with musician Beck. In a 2002 Rolling Stone interview, Beck was somewhat biting about the dating rumors, stating, "If you're seen standing next to somebody, you're together with them. I've been keeping to myself mostly. I met her when I was younger, right before my first record came out." He also mentioned that he "hung out" with Ryder for a couple of months, which seems like all the confirmation we'll ever get.
In 2001 and 2003, Ryder was linked with musician Pete Yorn and "Helmet" frontman Page Hamilton, respectively. In 2006, she dated filmmaker Henry Alex-Rubin, with the pair supposedly meeting on the set of "Girl, Interrupted," and in 2007 she dated musician Blake Sennett. Fast forward several years: Ryder has been dating Scott Mackinlay Hahn since 2011.