How You Should Style Thong Boots Into The Warmer Months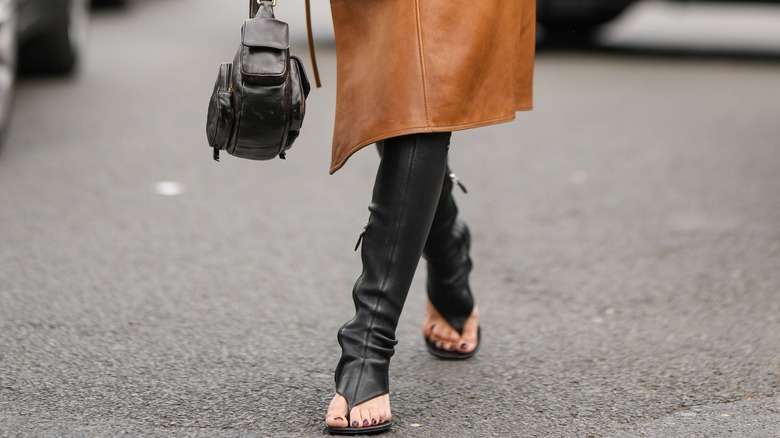 Edward Berthelot/Getty Images
Looking for a controversial fashion item to spice up your closet? Look no further than the thong boot. Ever since Miu Miu debuted their thong boot designs at Paris Fashion Week in October 2022, people have been debating whether or not this wacky flip-flop/boot combo should even be a thing. Some people feel like it's the worst of both worlds — too hot to be worn in the summer, and too cold for the winter. Which might be fair . . . but what if it's the best of both worlds?
Call us weird, but we support this daring fashion choice. It's got tons of potential in our book. Beloved by supermodels and celebs alike and heralded as the ultimate transitional shoe, we think we can convince you to try these out for the warmer months. Don't listen to the naysayers: there are plenty of ways you can style thong boots, and we're going to explore a lot of options. Who knows? They might become your new favorite thing.
Thong boots with dress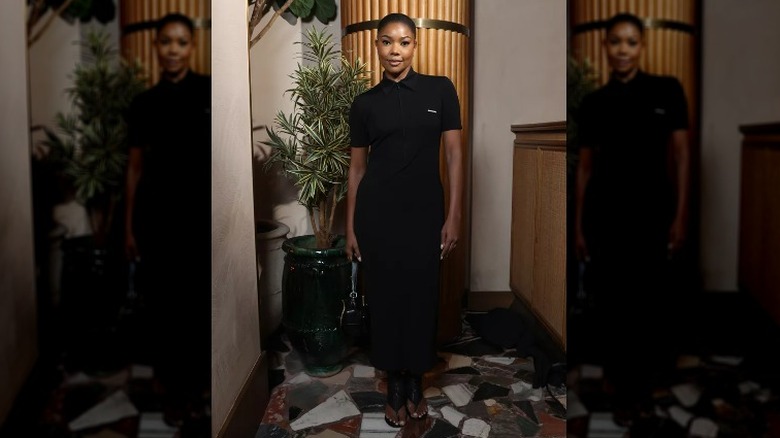 Getty/Victor Boyko
It's time to break out your favorite maxi dress. They go with everything, and are a summertime staple. When wearing a dress for warmer weather, material with light fabric works best. You can style a similar outfit with a long, swishy skirt. Black, as seen here, can work well if you're going for a monochrome look, though it can get quite hot in the summertime. A dress with brighter colors, like pinks or light blues, would also go with these shoes.
Beige and white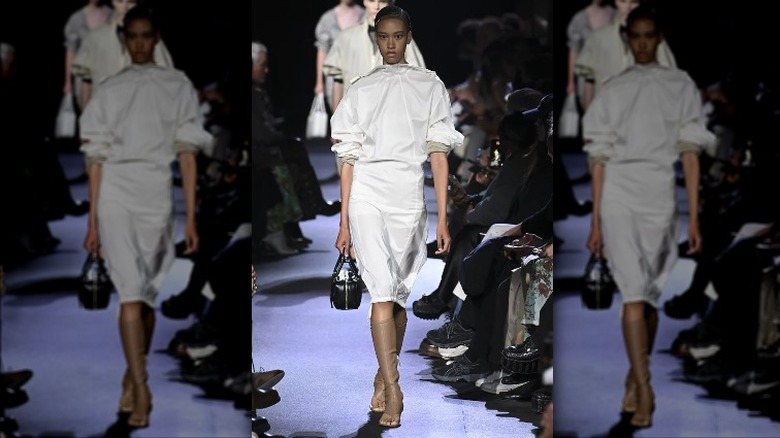 Getty/Victor VIRGILE
These beige boots work in tandem with the white outfit, creating a classy, subdued look. If you're drawn to these boots' inherent wackiness, but are afraid to totally take the plunge, a subtle outfit like this could be your thing. The boots' style and these colors balance each other out quite nicely — not every summer look has to be super bright and in-your-face. It's totally possible to style a solid outfit that'll keep you stylish and cool in the warm weather without those aspects.
Black and white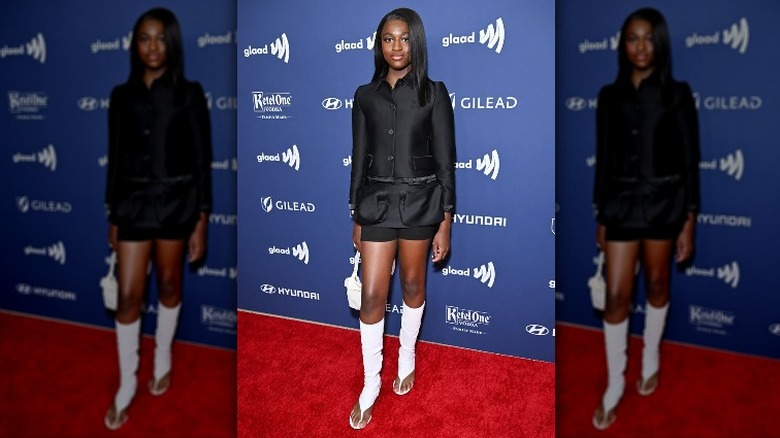 Getty/Axelle
White is one of the best neutral colors for the summertime. Though black and white looks might not be the first that comes to mind when you think of the warmer weather, they are a timeless classic. If you're going for a striking look, a black outfit/mini skirt accessorized with white might be ideal. Accessories, though, can make or break any outfit. A black pedicure would provide some nice contrast against the white boots. For a playful look, opt for some chunky white earrings and a little matching handbag.
Short skirt, loooong jacket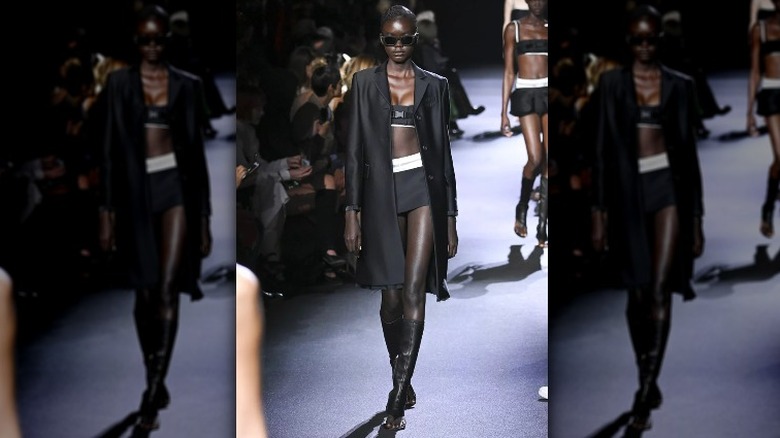 Getty/Victor VIRGILE
If you're someone who borrows fashion inspo from "The Matrix," we've got you covered. This sleek black look, complete with sunglasses, will help you channel your inner Trinity. The long black coat will protect you from any breezes, while the little top and mini skirt will help you have fun in the sun. The thong boots are the cherry on top of this outfit, combining that cool, secret agent vibe with a more practical sandal to keep you from sweating.
White on white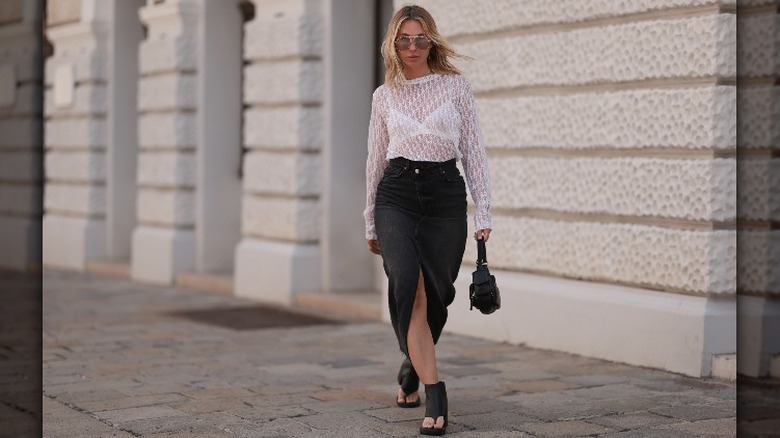 Jeremy Moeller/Getty Images
This look brings the class and the sass. The simple, black and white color scheme keeps the outfit subdued, while the clothing pieces themselves bring a carefree vibe that's hard to pass up. You'll be bringing the heat to summertime with a sheer white top, a cute bralette, a slitted black skirt, and a pair of ankle thong boots. Accessorize with a white mani-pedi and a black purse. While the model's sunglasses in this pic don't match the color scheme, a pair of sunglasses with black lenses and chunky white frames will complete the look.
Canary yellow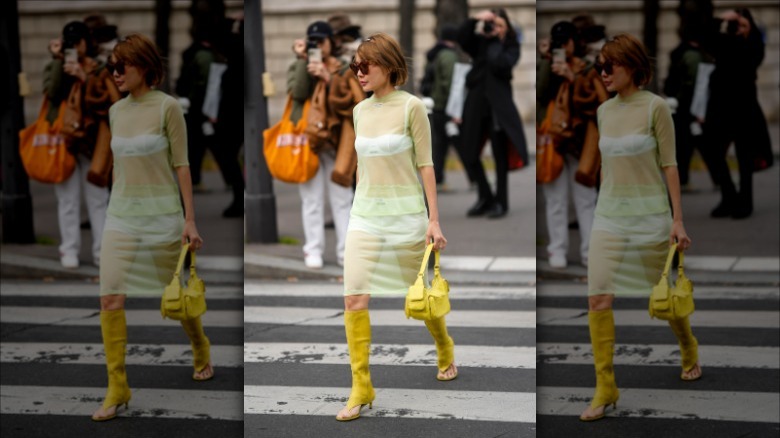 Edward Berthelot/Getty Images
The next time you find yourself reaching for a bold shoe to elevate your look, consider sliding these on. An outfit like this has got it all: sheer garments, fun accessories, and yellow, ankle-length thong boots that pop. An outfit like this practically screams summertime. Colors and textures like these should be your next beach party go-to. You're bound to turn heads, especially with shoes like these. You can also wear these shoes with other shades throughout the summer.
Colorful skirt
Calling all skirt lovers — for this outfit, the skirt will be your centerpiece. This bright blue and white skirt is super cute and classic, not to mention great for temperate weather. If you've been looking for a way to combine vintage-esque styles with more modern clothing pieces, you'll definitely want to try this outfit, especially if you're uncomfortable in shorter skirts. Since this will be for the warmer months, you'll want to swap out the jacket for a t-shirt, tube top, or tank top. 
Midi slitted skirt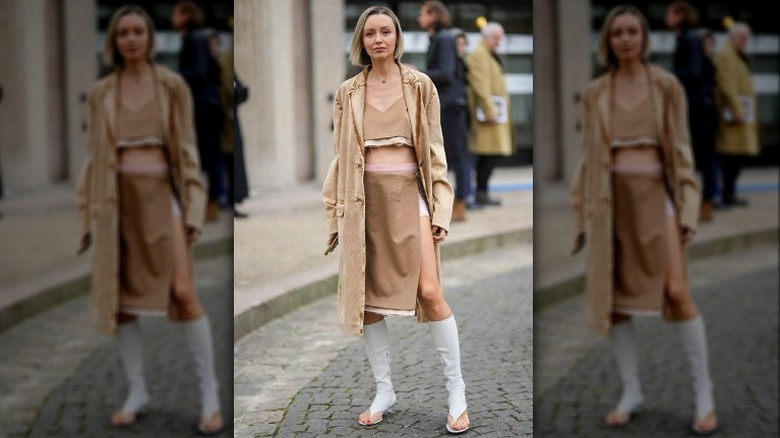 Getty Images/Edward Berthelot
There are lots of clothes you can pair white thong boots with. A midi skirt like this is the versatile staple your spring wardrobe needs, and a slit will show off the whole boot. Since you're styling these boots for the warmer months, you can forego the long jacket, especially if it's of a heavier material. A bralette can work as a top and can match either the boots or the skirt (though a white bralette will make the different-colored skirt stand out more).
Denim skirt with slit
These taupe boots pair well with denim, especially when it's of the lighter variety. What's more, the slit on a skirt like this will show off the whole boot, while still keeping you cool. While the top depicted in the TikTok is cute, you can also go in a different direction. A white crop top or tank will keep your outfit sweet and simple. Complete the look with some gold jewelry and a white mani-pedi.
Brown jacket
Sure, thong boots are a daring fashion choice, but you can still make them look chic. A short, collared dress like this has a preppy flair, with the added benefit of keeping you cool. Add an oversized brown jacket like this one if it's not too hot out. You'll want to keep the accessories minimal; a little black purse will do the trick. With a sleek outfit like this one, the sidewalks will become your own personal runway. 
Pink and black
Jeremy Moeller/Getty Images
This outfit practically oozes summer. The bright pink, the thin material, the sunglasses, the cut of the skirt, and, of course, the thong boots, all make for an outfit that's equal parts cheery and beachy. Though black goes with everything, pink thong boots would also go with this outfit, creating an overall more eye-catching and daring look. If you do go with the pink boots, a black mani-pedi will tie the outfit together by matching the black stripes. 
All that glitters
A shimmery dress like this one is bound to stand out, just like these equally flashy boots. When it comes to looks like these, you'll want to let the dress take center stage. A pair of black thong boots will tie the outfit together without stealing the spotlight. The slanted style of the dress also manages to show off the whole boot, which is always a plus. As for accessories, keep them plain and black to match the shoes. 
Chunky black heel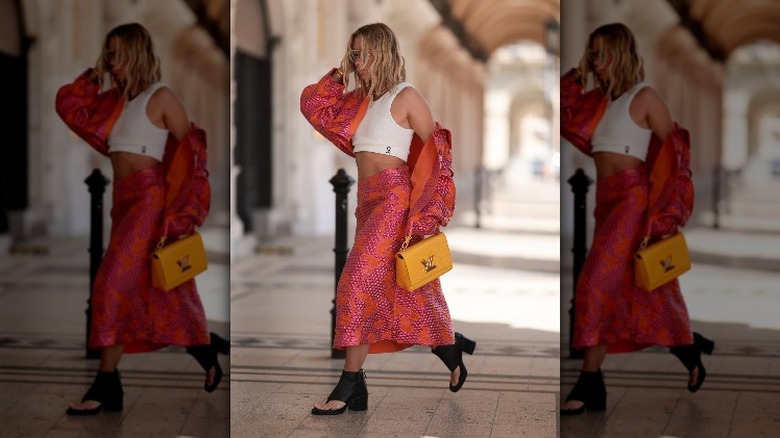 Jeremy Moeller/Getty Images
Want to strut your stuff? Try out a pair of chunky black thong boots. These are great shoes for making a bold fashion statement. They'll keep you from getting too warm, and can go with any color. If you're already a fan of platform flip flops, these are perfect for you. And they're much less likely to fall off, which is an added bonus. Pair them with a hot pink and white ensemble to channel your inner It Girl.  For some color contrast, get a white pedicure.
Blue and white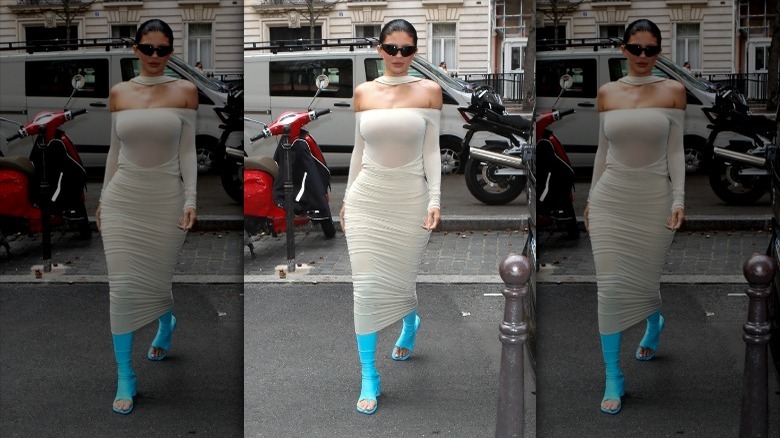 BACKGRID
You don't need to be Kylie Jenner to pull this look off. With the right dress, you can show off your thong boots with pride. These bright blue boots in particular are great for ushering in the summertime. The white dress is super stylish and will flatter your figure while ensuring that the boots aren't outshined. The off-the-shoulder style and semi-sheer fabric will make sure you don't get overheated. You can match your sunglasses to the rest of the outfit, too — wear sunglasses with white or matching blue frames. 
Button-up with open toed shoes
If you're still a little hesitant about the thong boots, open-toed boots like these can be a great alternative. Not only will they keep you cool during the spring and summer months, but they're also super stylish. A loose button-up will make your outfit look effortless. To maximize the outfit, tuck it into a skirt or shorts. The shirt should be the outfit's centerpiece, while the shoes act as a smaller component: reserve the loud colors for the button-up.
Fluffy and green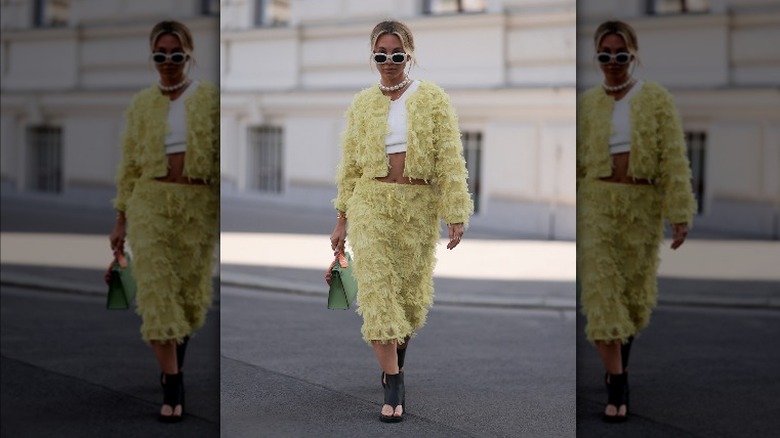 Jeremy Moeller/Getty Images
Sick and tired of dressing down? This outfit can be your antidote. The fluffy texture of this set looks like nothing else, and, paired with your favorite ankle-length thong boots, can fix all your boring-clothes-woes. However, balance is always key. Notice how the model styles this set with a plain white crop top. Anything with a bold pattern or neon color would throw off the outfit. The skirt and jacket are meant to draw all the attention — let them. You can switch out the black thong boots and green purse for white to match the top.
Pool party dress
A dress like this can serve as a trendy cover-up for a swimsuit. If you've got a pool party coming up, now would be the time to wear one of these with a pair of thong boots. It might not be great if you plan on doing a ton of swimming, but definitely ideal when it comes to lounging by the pool with a cocktail. Thong boots also dress up the outfit more than flip flops would, making the outfit a lot more upscale than it would've been otherwise. 
Shades of brown
Here's a pro-tip on putting together cohesive outfits: wear varying shades of the same color. Here, we have pieces in dark brown, tan, and beige. If you're ever unsure on how to style a particularly attention-grabbing shoe or garment, this trick will make sure that everything goes off without a hitch. Since you're wearing this outfit in the warmer months and these boots are long, styling them with a short skirt will make sure your legs have the necessary space to breathe. 
Blue dress
This outfit is another example of the dress being the outfit's centerpiece. The boots, in this case, are an accessory, and should be styled as such — match your jacket and purse with the boots. If the dress's material ends up being a little too thin for your taste, the length of the boots will keep you warm. Mismatched gold rings add fun little details to the look, while the bold lipstick pushes it to a more daring edge.
Black boots with skirt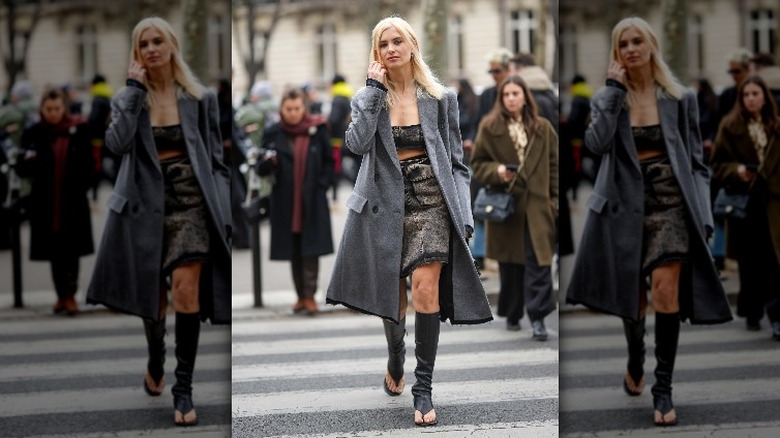 Edward Berthelot/Getty Images
Skirts are, of course, a summertime staple, keeping you feeling cool and cute in the hot weather. Show off your pedicure and stand out at your next summer party with these black thong boots. You gotta admit: an outfit like this is a lot less boring than your run-of-the-mill tee shirt and jeans. Plus, the black, acid-washed denim of this skirt pairs well with the solid black boots. You might want to ditch the jacket, though (unless there's a chill in the air).